How can I work at home and still keep family time a priority?

How can I convince my spouse that I'm not wasting my time or our money with reselling?

My family doesn't get that selling online is a real job.

How can I get my spouse on board with reselling?

I'm single and run my online business by myself. How can I find a support system? (Yes, this book is for singles too)

My spouse thinks my online business is "nice," but won't lend an ounce of help. 

How can I balance my business budget with my personal budget
For those who have a "normal" 9-5 job, the moment we get home in the evening, we can usually disconnect from thinking about work and just enjoy time with our family and friends. But for many resellers, the whole concept of working at home is a new frontier filled with complicated issues. 
To help address these issues, my wife and I set out to write up an article to help resellers and their families find true balance. What started out as a blog post evolved into a book that addresses all these issues.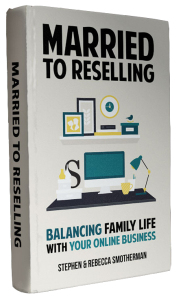 While most reselling ebooks focus on helping you make more profits, the focus of this book is to prioritize your family. You might become very successful selling online, but you don't want to neglect your family. We believe you can succeed in relationships and business at the same time. To read more about Married to Reselling, click here.
BONUS: If you act now, you'll get a special introductory deal of 33% off regular price!