It's happened to all of us at one time or another. You find a great product to list for amazing profits via Amazon FBA, but there's one not-so-tiny catch: You're restricted from selling the item on Amazon.
Restrictions for selling on Amazon are one of the biggest annoyances for FBA sellers, regardless of whether you've been selling on Amazon for 4 days or 4 years. But there are steps you can take to get approved by Amazon to sell restricted items, and I want to walk you through those steps.
Now, before we get started on the actual steps to take, I want to give the caveat that I cannot go into details for how to get approved for every single item that you might be restricted in. If I tried to do that, this blog post would be waaaay too long, because different types of items have different specifics for the approval process. But I can give you a framework that should get you started on the approval process for most items, and if you run into items that require a more detailed process, you should at least have the tools at your disposal to take it from there.
Along those lines, you need to understand that there are different types of restrictions when it comes to selling on Amazon:
Brand restrictions –Sometimes Amazon will restrict an entire brand for some sellers. Some examples might be Nike, Cuisinart, or Hasbro. In these cases either Amazon or the brand owner has decided that the entire brand needs to be protected on Amazon, and you will need approval to sell that brand.
Category restrictions –Sometimes Amazon will restrict an entire category for some sellers. In the past such categories as Clothing, Shoes, Grocery, and Beauty have been restricted (or gated) categories, and you would need to either be grandfathered in or apply for approval in these categories. At times Amazon will suddenly begin gating a category for new sellers, and at other times they will suddenly ungate the category for all sellers.
Subcategory restrictions –Sometimes Amazon will leave an overall category ungated, but they will gate certain subcategories within the main category. You might be ungated in a main category but gated in a subcategory. You would need to get approval for the subcategory before you can sell items within that subcategory. One example is that you might be approved to sell in Toys & Games, but not approved for Building Block Toys or Learning Game Toys.
ASIN restrictions –Sometimes Amazon will restrict specific individual ASINs (the unique letter-number combo assigned to each product page on Amazon) and will require approval before a seller can list that particular ASIN for sale.
There may be other types of selling restrictions that come up, but the ones I've listed above are the main ones that impact most FBA sellers.
Let's jump in now to talk about how you can get approval to sell restricted items on Amazon.
1.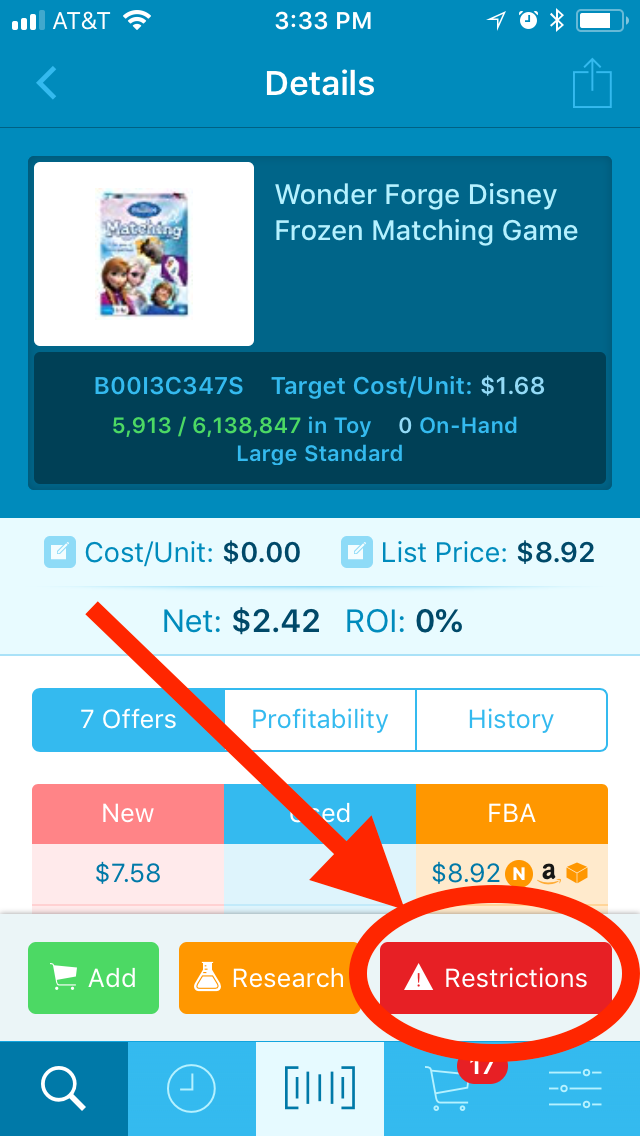 Check to see if you're restricted.
At the risk of sounding too basic, the first step in the process needs to be checking to see if you're even restricted from selling an item on Amazon. Whether you are out sourcing in a retail store or at home looking for items online, you need to check whether or not you're restricted before you purchase an item to resell. There's a few ways to check your restrictions.
Use the Amazon Seller app to scan the barcode of the item.
Use the Scoutify app to scan the barcode of the item. (This is the app I use for retail arbitrage sourcing; it comes bundled with the InventoryLab listing and accounting program.)
Use "Add a Product" on the Seller Central website to enter an ASIN or UPC and check your restrictions.
If you check your restrictions and find a button that says "Sell Yours," then you're not restricted on the item and you're free to list it for sale on Amazon. If you get a notification that you are restricted, just keep reading…

2. Apply for approval to sell the item.
Once you know you're restricted to sell an item, you can apply for approval within the Seller Central website.
Note: If you're using the Scoutify app to check for restrictions, you can tap the "Research" button, and then scroll down and click on "Amazon Restrictions" to take you directly to the correct Seller Central page to apply. Here's a quick video showing you how it's done:
Sometimes the approval process is quick and easy – just click that you want to apply for approval, and you will automatically be approved. Other times Amazon will ask you for more information or documentation as part of the approval process. This info may include the following:
Wholesale invoices
A letter from a manufacturer/brand owner
A monetary fee
Other types of documentation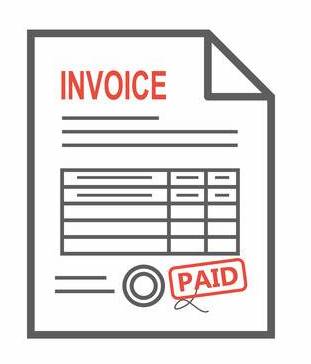 Obviously, some of the info/documentation is easier to obtain than others. Typically you wouldn't want to pay a large fee for approval in a brand unless you have an ongoing relationship with a reputable supplier and know for certain you will have a long-term source of high quality, profitable inventory. But in the case of simply needing to provide wholesale invoices, it can be relatively straightforward to acquire the necessary documentation.
If you apply for approval and you're denied, don't worry – the story is not over. Denial or a request for more info doesn't mean you can't apply again in the future. As you sell for a longer period of time on Amazon, your seller metrics (including return rate, seller feedback, and other metrics) will build up to the point where you qualify for approval in more categories and brands. It just takes time for Amazon to see that you are a solid, dependable FBA seller. Which leads me to my next step…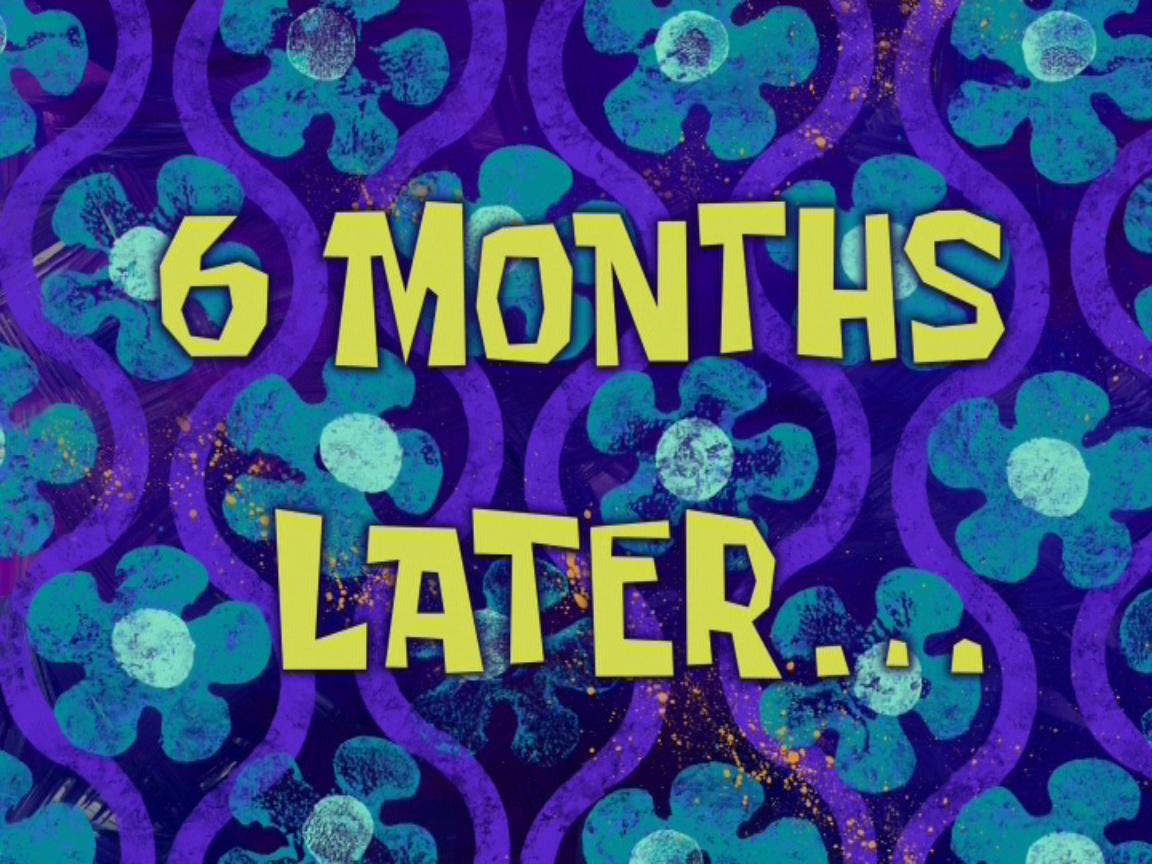 3. Apply again later, if necessary.
If you are denied a quick approval by Amazon, be sure to go back and reapply 3 to 6 months in the future. Many times you will be automatically approved later down the road because you have improved your seller metrics or gained longevity in your selling account.
Make a habit of regularly going into Seller Central and checking your active applications to see if you can reapply and get a quick approval. I recommend setting a reminder on your calendar every 3 to 6 months to go in and check the status of these applications and reapply where necessary.
To find your active approval applications, you can follow these steps:
Log in to Seller Central.
Under the "Inventory" tab, click "Add a Product."
Scroll down to where it says "To manage your selling applications, click here" and click the link.
You should see which applications are still in draft form, and you can click to go to the application. You will receive either a notification of your approval or a request for more info.
Make a reminder on your calendar to come back in a few months and check your drafts again to see if you can get auto-approval.
Let me tell you just how easy this process is – as I was working on this blog post (it's July as I'm writing it), I went to Seller Central to check on my selling applications and make notes on the steps I listed above. While I was making notes, I clicked on my drafts and was given instant approval on two applications I first submitted this past week. One was for a particular ASIN and the other was for a brand. It really can be as simple as clicking a few times and you get approval if you have good seller metrics!

To find out more information about the requirements for each of the Amazon categories, you can check out this quick link: www.fulltimefba.com/whatcanisell. This link will take you directly to the Seller Central page with an overview of categories, which ones require approval, what the requirements for approval are, and a link to start the application process.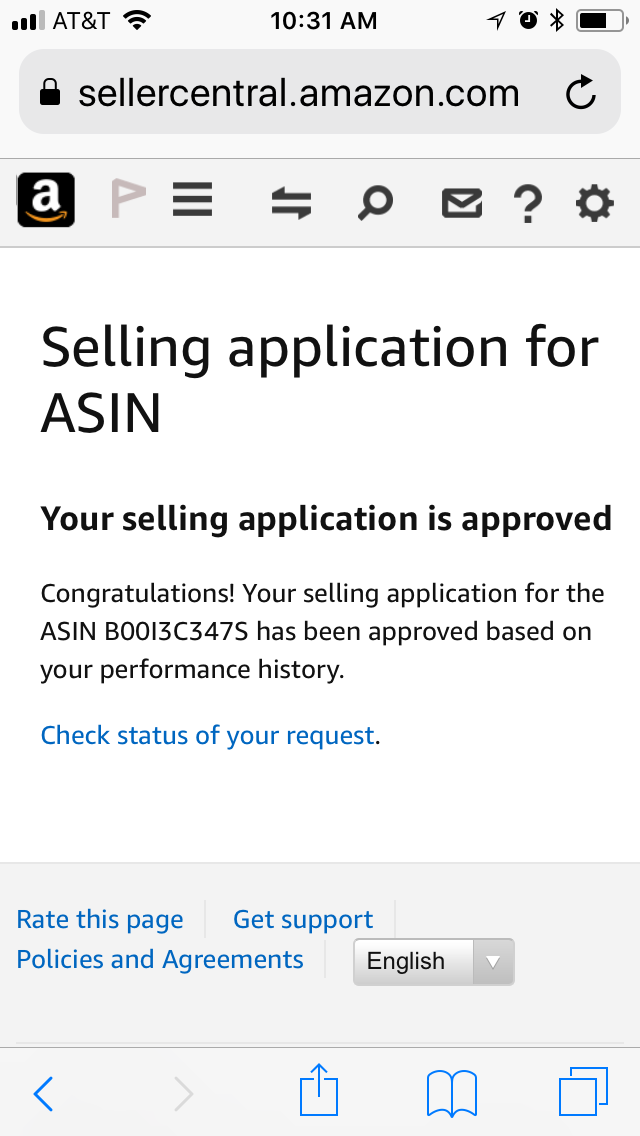 Hopefully this blog post has helped you see a general formula for seeking approval in restricted categories, subcategories, brands, and ASINs on Amazon. Again, it's not a perfect formula for every single item on Amazon, but if you follow these general steps you should be able to start the application process for most restrictions on Amazon.
This formula requires patience over several months of time, it requires consistency in building up your selling metrics and developing a good track record on Amazon, and it requires discipline to go back and check your applications on a regular basis. But if you stick with it, you should be able to get approval for more and more products to sell on Amazon, and you should see an increase in your sales and profits as your inventory expands.
Now I'd love to hear from you in the comments below. How has the approval process worked for you? Have you been able to get approved for brands you were once not approved to sell? Let us know how long it's taken you to get approved. I'm sure some of you have experienced instant (auto) approvals, while maybe other items you've had to wait a few months to get approved to sell. Let me know in the comments.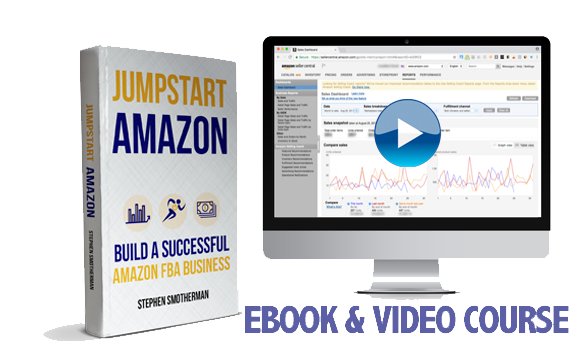 By now you know that running a successful Amazon business takes hard work, but you also want to be sure you spend your time focusing on Amazon FBA strategies that are actually proven to provide the results you're looking for. If you're ready to finally get serious about your Amazon FBA business, then I invite you to check out JumpStart Amazon: Build a Successful Amazon FBA Business.
JumpStart Amazon is a combination video course and ebook. The ebook is over 220 pages filled with the content and graphics you need to start a successful Amazon business from scratch. The video course features 5 main sections, 19 content-packed modules, and over 40 videos adding up to over 10 and a half hours of video training. This training is set up to help you build a solid foundation and then know how to find growth and success on top of the basics. This course is packed with more results-focused knowledge than any other ebook out there centered around starting an Amazon business. Find out more about JumpStart Amazon today.