It's happened to all of us at one time or another. You find a great product to list for amazing profits via Amazon FBA, but there's one not-so-tiny catch: You're restricted from selling the item on Amazon.
Restrictions for selling on Amazon are one of the biggest annoyances for FBA sellers, regardless of whether you've been selling on Amazon for 4 days or 4 years. But there are steps you can take to get approved by Amazon to sell restricted items, and I want to walk you through those steps.
Now, before we get started on the actual steps to take, I want to make sure you understand two things:
There are multiple words that all mean the same things when it comes to Amazon restrictions. The words ungated and unrestricted are both used to mean that you're approved to sell that item on Amazon. And the words gated and restricted are both used to mean that you are not approved to sell that item on Amazon. These words are sometimes used interchangeably, so I wanted to bring some clarity and to be sure we're all on the same page.
I also give the caveat that I cannot go into details for how to get approved for every single individual item that you might be restricted in. If I tried to do that, this blog post would be waaaay too long, because different types of items have different specifics for the approval process. But I can give you a framework that should get you started on the approval process for most items, and if you run into items that require a more detailed process, you should at least have the tools at your disposal to take it from there.
Along those lines, you need to understand that there are different types of restrictions when it comes to selling on Amazon.
Different Types of Amazon Restrictions
Brand restrictions –Sometimes Amazon will restrict an entire brand for some sellers. Some examples might be Nike, Cuisinart, or Hasbro. In these cases either Amazon or the brand owner has decided that the entire brand needs to be protected on Amazon, and you will need approval to sell that brand.
Category restrictions –Sometimes Amazon will restrict an entire category for some sellers. In the past such categories as Clothing, Shoes, Grocery, and Beauty have been restricted (or gated) categories, and you would need to either be grandfathered in or apply for approval in these categories. At times Amazon will suddenly begin gating a category for new sellers, and at other times they will suddenly ungate the category for all sellers.
Subcategory restrictions –Sometimes Amazon will leave an overall category ungated, but they will gate certain subcategories within the main category. You might be ungated in a main category but gated in a subcategory. You would need to get approval for the subcategory before you can sell items within that subcategory. One example is that you might be approved to sell in Toys & Games, but not approved for Building Block Toys or Learning Game Toys.
ASIN restrictions –Sometimes Amazon will restrict specific individual ASINs (the unique letter-number combo assigned to each product page on Amazon) and will require approval before a seller can list that particular ASIN for sale.
There may be other types of selling restrictions that come up, but the ones I've listed above are the main ones that impact most FBA sellers.
Let's jump in now to talk about how you can get approval to sell restricted items on Amazon.
Get Approval to Sell Restricted Items
1. Check to see if you're restricted.
At the risk of sounding too basic, the first step in the process needs to be checking to see if you're even restricted from selling an item on Amazon. Whether you are out sourcing in a retail store or at home looking for items online, you need to check whether or not you're restricted before you purchase an item to resell. There's a few ways to check your restrictions.
Use the Amazon Seller app to scan the barcode of the item or enter in the barcode under "Add a Product." If you're restricted, you'll see a message that the item "Requires Approval."
Use the Scoutify app to scan the barcode of the item. (Scoutify is the app I use for retail arbitrage sourcing; it comes bundled with the InventoryLab listing and accounting program.) If there are restrictions, you'll see a a blue oval button with the Amazon "a" logo crossed out and the letters AMZN. You'll also see an orange "Product Alerts" button pop up. You can click on that button to see which conditions/formats are restricted and which ones are approved for you to sell.
Log in to Seller Central, hover over 3 horizontal lines in the upper left hand corner of the screen, hover over the "Catalog" header, and click on "Add a Product." Next, enter an ASIN or UPC and check your restrictions for that item. If you check your restrictions and find a button that says "Sell Yours," then you're not restricted on the item and you're free to list it for sale on Amazon. If you see a notification that says, "Apply to Sell" then you are currently restricted from selling that item, but here's what to do next…
2. Apply for approval to sell the item.
Once you know you're restricted to sell an item, you can apply for approval within the Seller Central website. click on the "Apply to Sell" button and Amazon will let you know if your current seller metrics are good enough to be automatically approved to sell the item (often called by Amazon sellers "auto-approved," or Amazon will tell you what steps you need to take next in order to become approved to sell.
Note: If you're using the Scoutify app to check for restrictions, you can tap the blue  "Research" button, and then scroll down and click on "Amazon Restrictions" to take you directly to the correct Seller Central page to apply. Here's a quick video showing you how that's done: (note the video below is slightly out of date when it comes to how things look, but the overall content is still how things work in Scoutify).
Again, Sometimes the approval process is quick and easy – just click "Apply to Sell" and you will automatically be approved based on your current seller metrics. Other times Amazon will not automatically approve you, but instead ask you for more information or documentation as part of the approval process. This info may include one or more of the following:
Wholesale invoices
A letter from a manufacturer/brand owner
A monetary fee
Other types of documentation
Obviously, some of the info/documentation is easier to obtain than others. Typically you wouldn't want to pay a large fee for approval in a brand unless you have an ongoing relationship with a reputable supplier and know for certain you will have a long-term source of high quality, profitable inventory. But in the case of simply needing to provide wholesale invoices, it can be relatively straightforward to acquire the necessary documentation.
I applied and didn't get
approved

… what next?

If you apply for approval and you're denied, don't worry – the story is not over. Denial or a request for more info doesn't mean you can't apply again in the future. As you sell for a longer period of time on Amazon, your seller metrics (including return rate, seller feedback, customer service rating, and other metrics) will build up to the point where you qualify for approval in more categories and brands. It just takes time for Amazon to see that you are a solid, dependable FBA seller. Which leads me to the next step…
3. Apply for approval again later, if necessary.
*This is the one step that most people never do… and it's causing them to miss out on getting approved to sell more brands on Amazon.*
If you are denied a quick approval by Amazon, be sure to go back and reapply 3 to 6 months in the future. Many times you will be automatically approved later down the road because you have improved your seller metrics or gained longevity in your selling account.
Make a habit of regularly going into Seller Central and checking your active applications to see if you can reapply and get a quick approval. I recommend setting a reminder on your calendar every 3 to 6 months to go in and check the status of your applications and reapply where necessary.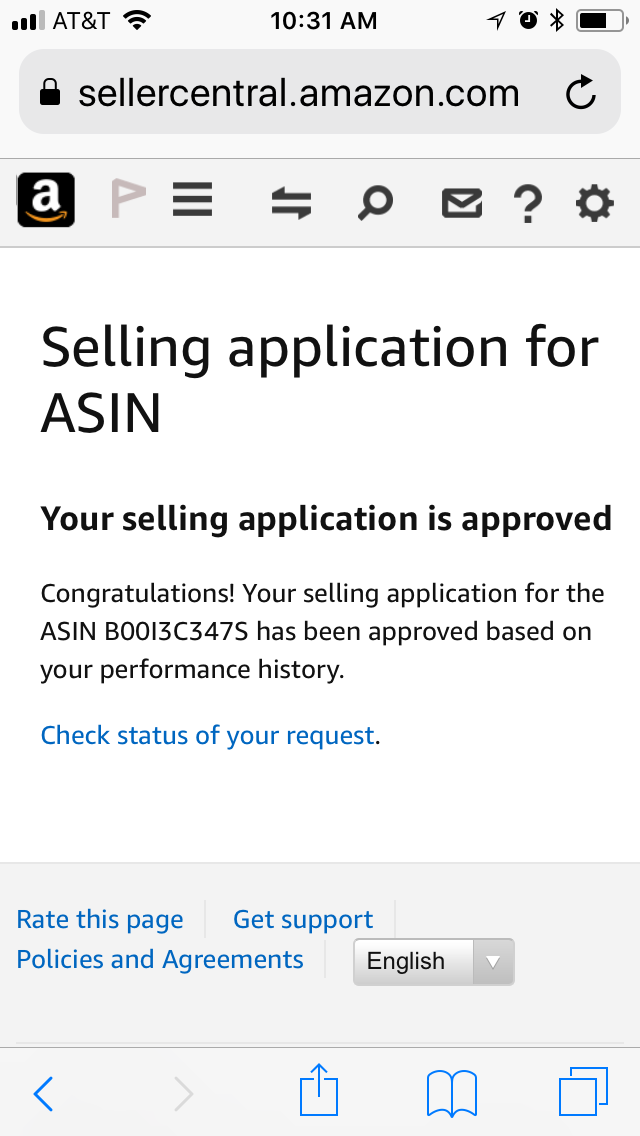 Hopefully this blog post has helped you see a general formula for seeking approval in restricted categories, subcategories, brands, and ASINs on Amazon. Again, it's not a perfect formula for every single item on Amazon, but if you follow these general steps you should be able to start the application process for most restrictions on Amazon.
This formula requires patience over several months of time, it requires consistency in building up your selling metrics and developing a good track record on Amazon, and it requires discipline to go back and check your applications on a regular basis. But if you stick with it, you should be able to get approval for more and more products to sell on Amazon, and you should see an increase in your sales and profits as your inventory expands.
Now I'd love to hear from you in the comments below. How has the approval process worked for you? Have you been able to get approved for brands you were once not approved to sell? Let us know how long it's taken you to get approved. I'm sure some of you have experienced instant (auto) approvals, while maybe other items you've had to wait a few months to get approved to sell. Let me know in the comments.
*This post was updated for 2023

The Amazon Income Accelerator Workshop
Free 5-day online workshop focused on how to realistically make a full-time income selling on Amazon in 2023
Starting Monday, April 24 at 12:00pm (Eastern) / 11:00am (Central)
We're going to show you…
Why Amazon is the best place to focus your time and energy to grow a reselling business that brings in a full-time income.
How to find unlimited inventory to sell on Amazon for consistent profits.
How to make the best inventory sourcing decisions (what to resell, what to pass on, how deep to go on a buy, how to replenish your inventory, etc.).
The full-time income success path and how you can snowball your Amazon profits.
How to turn impossible roadblocks into meaningless speed bumps.
And so much more!