Let's talk profitability, shall we?
You've likely heard us mention that we use the Inventory Lab software package to streamline our process of listing inventory on Amazon FBA and for sourcing inventory through the Scoutify app. Today we want to share with you another feature of Inventory Lab that we've come to depend on: the ability to track supplier profitability through Inventory Lab reports.
Sometimes it's easy as a reseller to get caught up in the rush of sourcing for inventory, sending it in to the FBA warehouse, and seeing the pending sales in Seller Central. Honestly, isn't the thrill of the hunt and the excitement of the sales one reason we all do this business?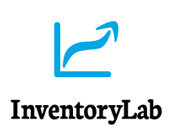 But if we stop and dig a little deeper into those sales, would we still be as excited about the raw numbers? Sales numbers can be deceiving at times, and if we don't take the time to look at and think about our actual profit, then we don't really know if our business is as successful as we want it to be.
Inventory Lab allows you to enter the total cost of an item when you list it on Amazon. Inventory Lab then takes that cost, your sales price, and associated fees to calculate profit and return on investment (ROI). You can see the projected profit and ROI for a batch when you're listing through Inventory Lab, but you can also run reports to show you the actual profit and ROI based on payments from Amazon for your inventory items.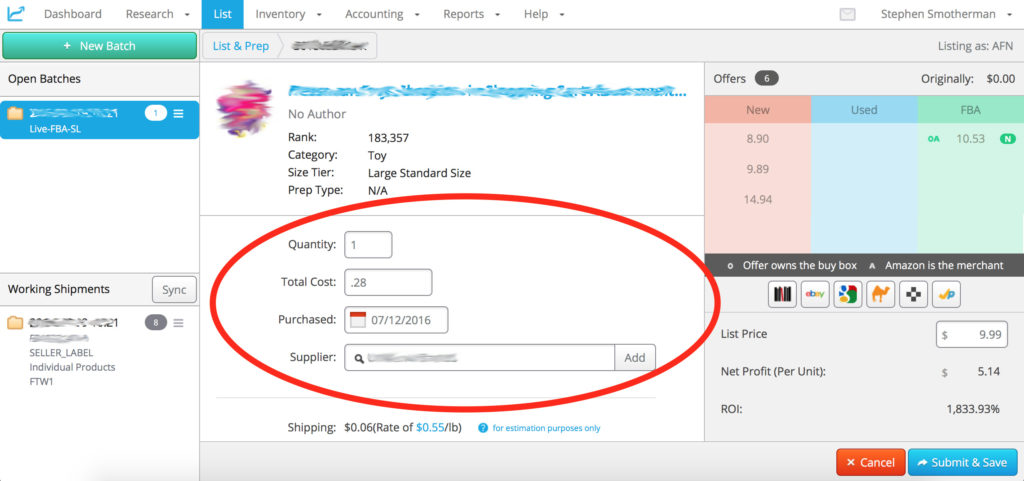 Prices may change from the time you enter a batch to when the item actually sells – it's fun to think about a batch having 150% ROI when you send it to the warehouse, but it's more useful to look at the ROI when you are actually paid for the sale of those items. From time to time we need to stop and analyze our numbers and ask ourselves, "Am I making the ROI I want/need on my inventory? How do I need to tweak my business to get the ROI I want?"
You can take the profitability question a step further by entering not just your total cost for each inventory item, but also the supplier. Then the question becomes, "How do I need to tweak my sourcing from each supplier to get the ROI I want?"
We currently use the supplier profitability report in several ways:
To track how much commission on sales we need to pay our helper who sources for us
To track the profitability of our online arbitrage subscription services
To track the profitability of our retail arbitrage sources
To track the profitability of our wholesale sources

In order to run the supplier profitability report, you will first need to enter a supplier at the time of listing an item. Inventory Lab comes with many retail sources already listed as options for supplier, but you can easily add your own. For instance, we use our helper's initials as the supplier when we're listing items she has sourced for us. We use other abbreviations for tracking each of the OA subscription services we use (e.g. Tactical Arbitrage is TA, Gated List is GL, etc).
After this info is entered and enough time has passed to have generated some sales, you can run the supplier profitability report by following these steps:
Go to the top menu on Inventory Lab.
Click on Reports.
Choose Supplier Profitability.
(Note: You will see there are several other useful reports you can run to analyze your inventory's profitability.)
The default selection will be for the last month, but you can click Advanced Search to choose more date range options. You can choose within the last 1, 3, or 6 months or the entire date range since you started tracking. You can also choose a specific date range from a drop down calendar.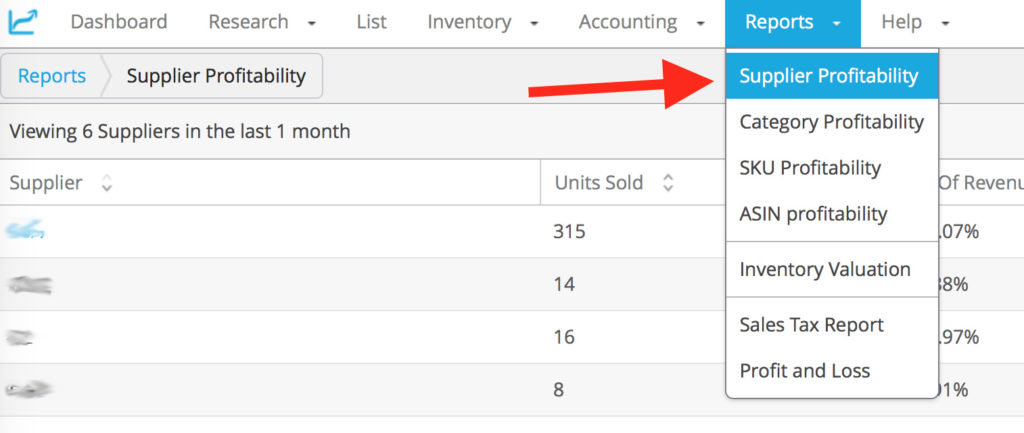 Once you've pulled up your report, you can sort by supplier, units sold, revenue, % of revenue, profit, ROI %, and on hand (number of units currently on hand in your inventory).

Depending on the circumstances, each of the fields might carry a different weight for you as a seller in your decisions for how to adapt your business to improve those numbers. Some sellers like to have 100% ROI on everything they sell; others have a business model that supports 50% or even 30% ROI. The point of running these reports isn't to compare your numbers to someone else, but to look at your own results and see if they meet your own business model's criteria.
Let's look now at practical ways that we use our supplier profitability report.
To track how much commission on sales we need to pay our helper who sources for us
At the beginning of each month, we run the supplier profitability report and look at the line with our helper as the supplier. We look at the dollar amount for the previous month under the Profit column, and we pay her commission out of that amount.
To track the profitability of our online arbitrage subscription services
We also look once a month at the lines for each of our subscription services as the supplier. First, I look at the profit and make sure it's more than the amount we're paying for the subscription. This is an easy way to put solid numbers together to show yourself whether or not it's worth it to pay for that particular subscription.
I also will look at trends as far as profit and ROI go. I don't rush to cancel a long-standing subscription if I randomly have an off month, but I do look at whether a service seems to be deteriorating for me over time and make my decision whether to keep subscribing or not.
I also don't rush to cancel a subscription if I think that I'm the problem rather than the service. For example, a while back I saw in my monthly report that my units sold and ROI for Tactical Arbitrage were not what I would prefer. A quick look back over my schedule for the previous weeks reminded me that I hadn't been spending the same amount of time using Tactical Arbitrage each day as I had in the past. Of course those numbers are going to go down! If I'm not prioritizing my time to use the product as often as I should and actually send in items I sourced with it, the problem is me, not the product. So I made some adjustments to my schedule, made more time each day to use Tactical Arbitrage and the numbers the following month were back up where I wanted them.
We've also started using Inventory Lab to track supplier profitability for retail arbitrage sources as well as our wholesale sources. Are there other ways you use the supplier profitability report in Inventory Lab? We would love to hear your ideas and experiences in the comments!