As Amazon FBA resellers, we're all looking for ways to save time and money in processing our inventory. One of the biggest ways I encourage FBA sellers to save time by spending a little money is to use a third-party listing service, rather than listing your FBA inventory directly through Amazon Seller Central.
The fewer times you can touch a piece of inventory as you process it, the better. By listing through Seller Central…and then printing your labels on a sheet of 30…and then separating the items out into the various fulfillment centers, you are spending a lot of time touching each inventory item over and over and over again. This doesn't include the time it takes to sort your products after you bring them back from sourcing, removing any stickers, and prepping the products with poly bags or shrink wrap.
The best way to streamline the listing process is to use a third-party listing software so that you can scan the item into the software, print and attach the individual label, and sort the item into the correct fulfillment center's box – all in one step.
For our Amazon FBA business, we use the Inventory Lab inventory management software. We love how it helps us streamline the process of listing our inventory, along with many other useful functions that we use on a regular basis. It is well worth the monthly fee to pay for this software and save a ton of time, not to mention gain access to useful reports for our business (we'll get into that a bit more below).
Here are the reasons we find Inventory Lab to be a beneficial program to use in our Amazon FBA business:
1. Inventory Lab is a feature-rich listing service.
We use a desktop barcode scanner to scan an item into the system, and Inventory Lab pulls up the item with all the information we need to price it. It shows the FBA, Merchant Fulfilled, new, and used prices, as well as whether Amazon is selling the item and who owns the buy box. It gives quick links to Keepa for the ASIN of the item, so we can check out sales rank and price history as we're pricing the item.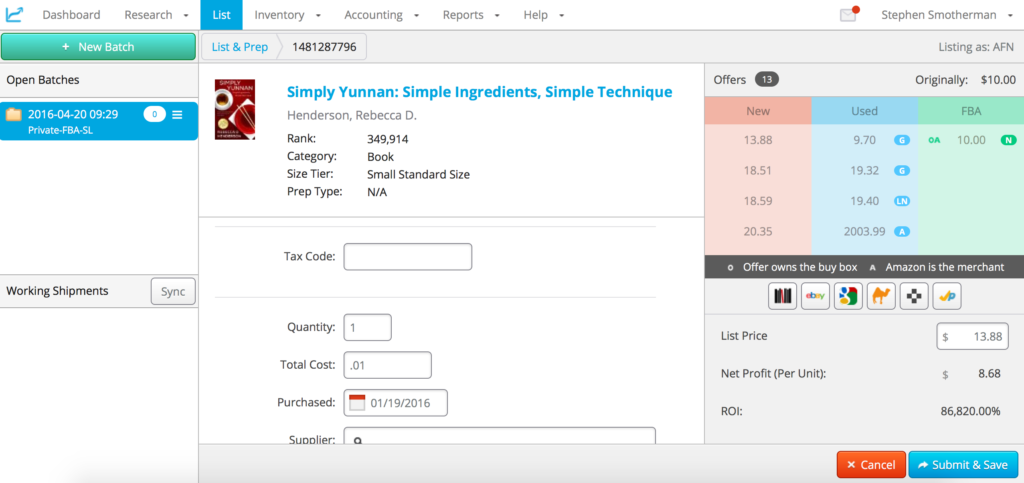 Inventory Lab also lets us know the item's current sales rank, category, size tier, and any prep needed, like poly bagging. We can also enter our buy cost, min/max price, and the supplier for each inventory item, so we can later generate reports to help us keep track of things like return on investment or the profitability of certain sources.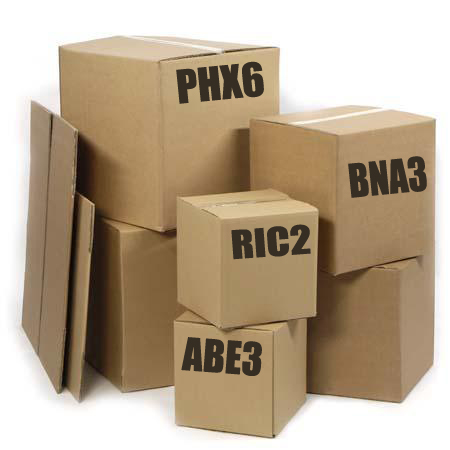 2. Inventory Lab can limit the number of FBA warehouses we send out inventory to.
As we start a batch in Inventory Lab, we can choose "Live" or "Private" for the "Workflow Type." When the "Private" workflow is chosen, nothing is submitted to Amazon until the batch is completed. The "Private" workflow sometimes changes the final warehouse destination of some of the inventory items (so you'll have to double check later that the right items are going to the right warehouses). The good news is that using "Private " workflow almost always sends our inventory to fewer total fulfillment centers than if we had chosen the "Live" workflow or if we had listed our inventory directly in Seller Central. Gone are the days of sending in 45 items to 8 different warehouses. Personally, we prefer to use the "Private" workflow when processing our inventory batches for this very reason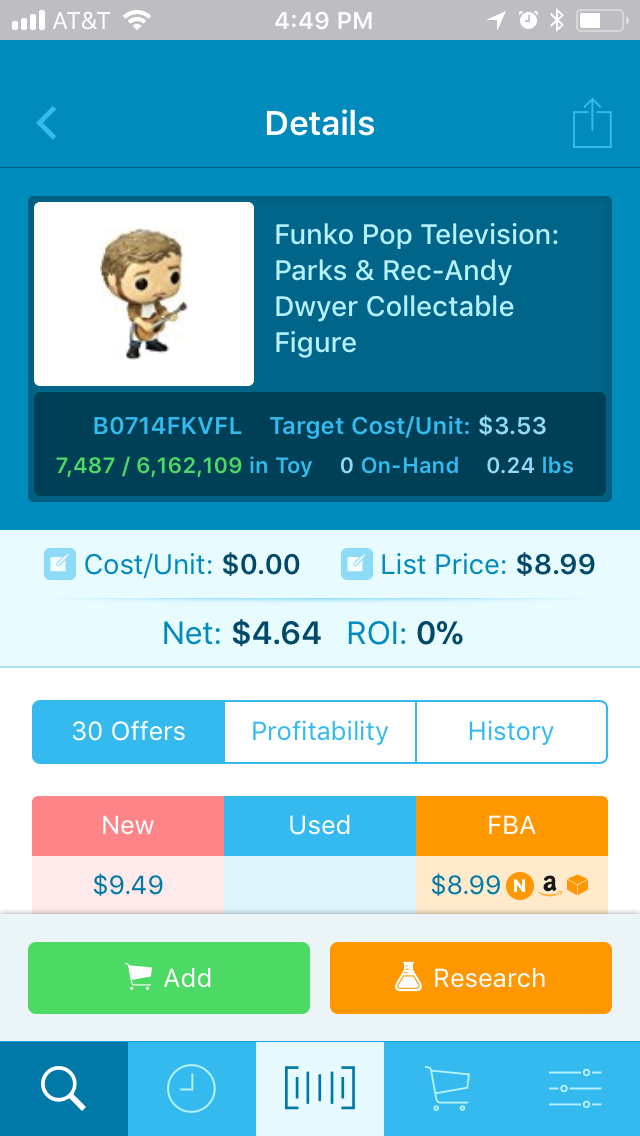 3. Inventory Lab comes bundled with the Scoutify sourcing app.
We can't image sourcing for inventory without the using the Scoutify smartphone app when doing retail arbitrage. We can quickly scan the barcode of an item and have all the information we need at our fingertips to tell us if the item would be a good buy for resale.
Scoutify can quickly show you each item's competitors' prices, whether Amazon is in stock, potential profit, ROI, sales rank, sales rank percentage, if you're approved or restricted from selling the item, how many you already have in stock, how many you've already sold, plus quick links to request approval for restricted items, and (my favorite) the ASIN's Keepa graph, just to name a few. With Inventory Lab, we can get both our listing service and our sourcing app at one low price.
4. Inventory Lab has amazing accounting capabilities.
Inventory Lab is capable of organizing all of your finances with their helpful bookkeeping tools. If you want to make your Amazon FBA business profitable, you have to know your numbers. You can't just assume because you're getting disbursements from Amazon that your business is actually making money. You have to know where your money is coming from and where it is going.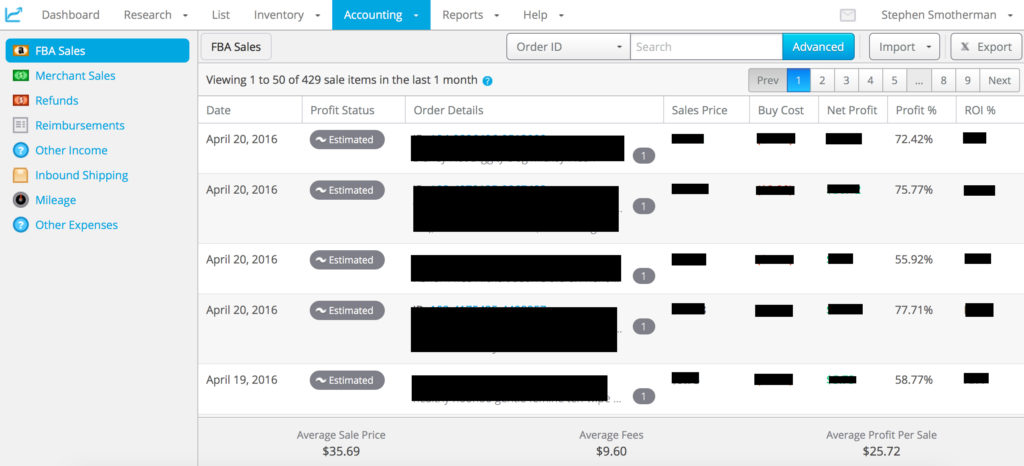 You can use Inventory Lab to keep track of your buy prices, sales prices, return on investment, inbound shipping costs, money going out for refunds, money coming in from reimbursements, and more. You can even track your mileage, cost of supplies, and anything else financially related with your Amazon business – all within Inventory Lab! These are the types of numbers you need to know in depth for your business so that you can make better decisions for sourcing, for repricing, and for other services you might need to purchase.
5. Inventory Lab shows us reports on profitability, profit and loss, and sales tax.

One of the really cool features of Inventory Lab is that you can generate reports about profitability of your inventory. You can see the profitability of an entire category in your inventory, a particular ASIN, or a SKU.

If you entered in a supplier during the listing process, you can generate reports on supplier profitability. You can use the supplier profitability feature several ways:
to keep track of inventory purchased by different sourcers you've hired
to see if certain stores or wholesale accounts are more profitable than others
to analyze how profitable an online arbitrage deal list is for your business over time
You can also generate reports about your profit and loss and your sales tax. Again, the more you know these types of numbers for your business, the more you're able to make good decisions for your business.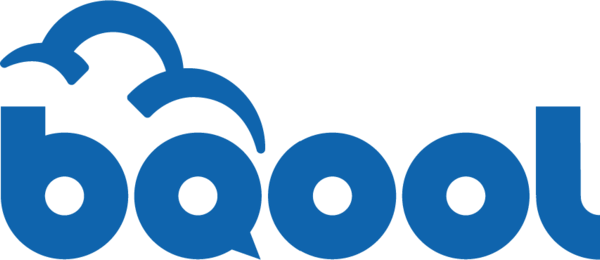 6. Inventory Lab can be synced with the BQool repricer service.
We started using the BQool automatic repricer service in September of 2018. One of the reasons we started using it is because we can, at the click of a button, import all of our buy costs from Inventory Lab directly into BQool's Repricing Central. This is such a big time saver! Before you could sync your numbers, a Bqool user would have to manually enter their original buy cost. Now, Bqool just imports the buy cost — a huge help when it comes to setting up your minimum and maximum prices within Repricing Central.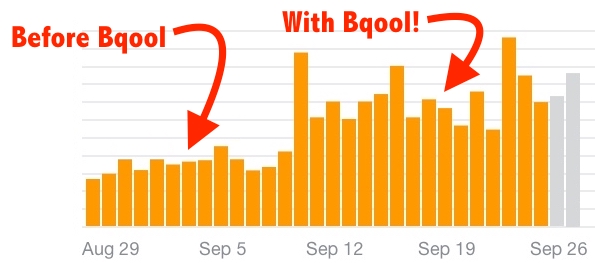 Side note: If you're wondering how well Bqool works, just know that for the first month of using Bqool, our sales literally doubled. This was obviously a game changer for us, and we never would have even tried it before the Inventory Lab / Bqool integration. For a 2-week free trial of Bqool, click here.
7. Inventory Lab can be accessed by a 3rd party prep service.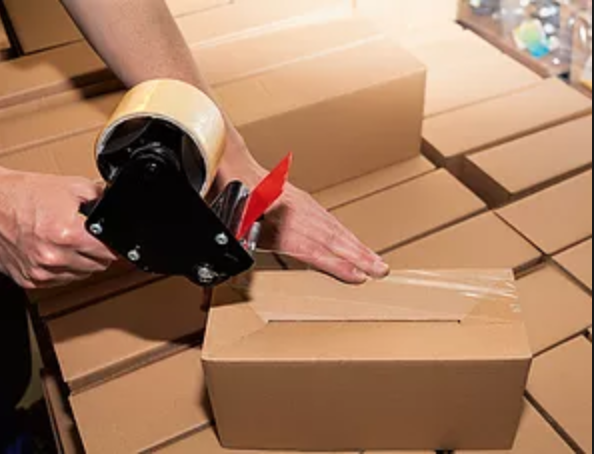 One of the most important steps to finally make a full-time income selling on Amazon is to find other people to do some of the easier tasks for you. One of the easiest things to outsource is the inventory prepping, packing, and shipping, especially when it comes to online arbitrage or wholesale purchases that you can shave shipped directly to a prep center to help you ship it to Amazon. With Inventory Lab, you can set up multiple employee accounts to create shipments, FNSKU labels, and everything else needed to properly ship your inventory to an Amazon warehouse. Note: the employee sub-accounts do not have access to your financial information.
The prep center we use and recommend is My Prep Center. Learn more about why you should use a prep center and how to choose a quality prep center.
Inventory Lab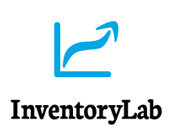 has so many features — we've really just scratched the surface in this review. There are so many ways to maximize this software in your business, and we're more impressed with its usefulness every day.
If you're interested in learning more about Inventory Lab, we recommend doing a 30-day free trial. You can play around with the features, send in some shipments, generate some reports, and see how Inventory Lab can work for you.
Do you use Inventory Lab? Is there anything you love about it that we didn't mention here? Please let us know in the comments!