Have you ever looked at a Keepa graph and thought, "Are you sure those are Amazon prices and sales ranks? It looks more like the results of a crazy lie detector test."
Keepa is great tool that, when used correctly, can provide you with the vital information you need to make smart sourcing decisions. We use Keepa throughout each day as we work on our Amazon FBA business, whether it's out sourcing retail arbitrage, at home doing online arbitrage or wholesale research, or in repricing our inventory.
If you'd rather see a video introduction to Keepa, then scroll down toward the end of this blog post and I'll show you a video walkthrough on how to understand Keepa graphs.
Take a look at a Keepa graph for a product on Amazon.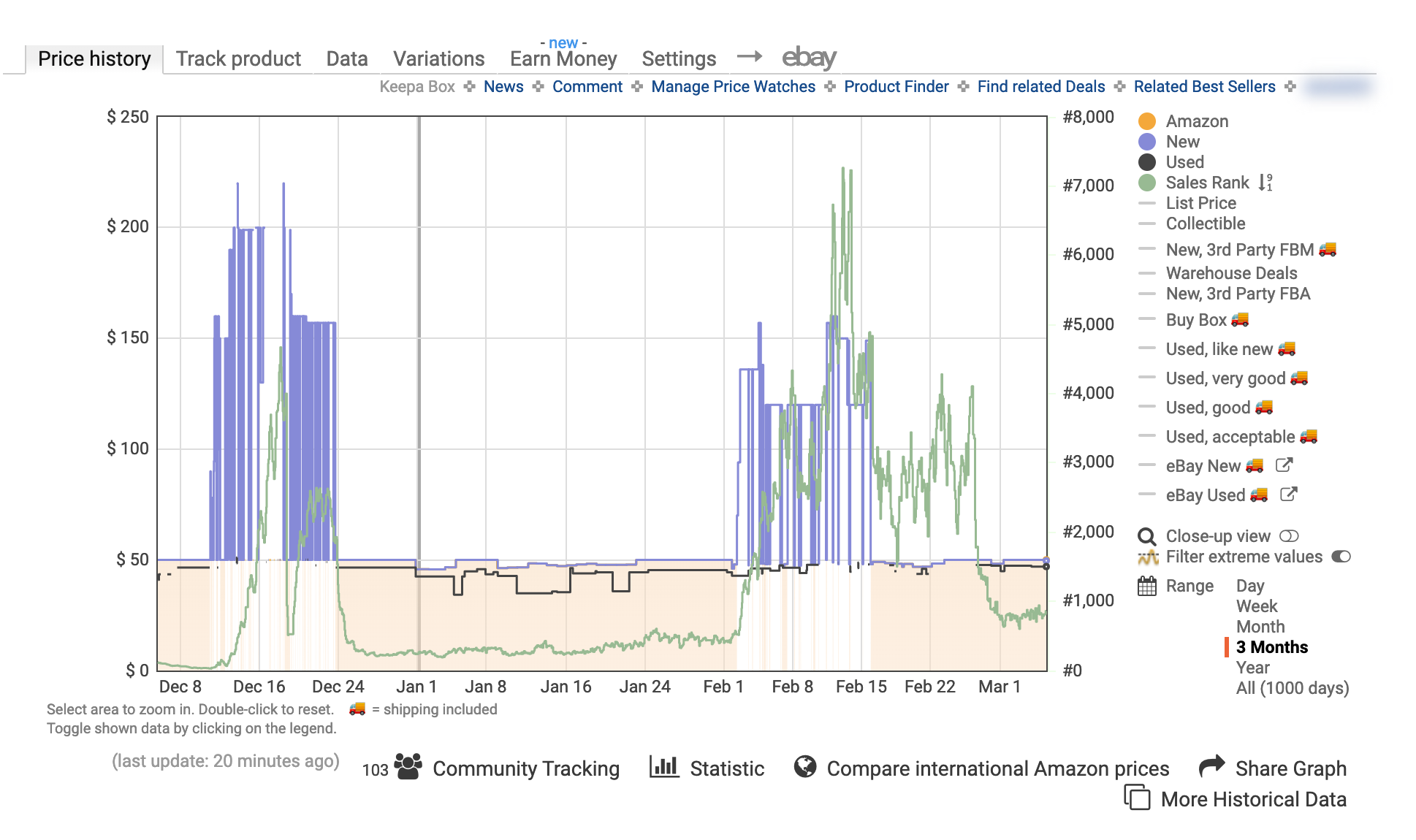 At first this graph can look like nonsense – just a lot of blue, black, and green squigglies with some orange and white shading thrown in. But all of these colors and lines will make sense to us shortly.
Keepa Color Key
If you look to the right of the graph, you'll see a box with a key to the colors on the graph:
Amazon = orange
Marketplace New = blue
Marketplace Used = black
Sales Rank = green
Under the first four lines of the Keepa key there are many more data options you can choose to view, which can be very helpful, but for right now, we'll focus on reading and understanding the data from these first four lines (Amazon, Marketplace New, Marketplace Used, and Sales Rank).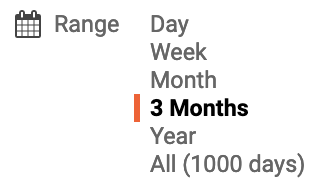 How Far Into the Past Do You Want to Go?
Below this key, there's a list of date ranges where you can select the period of time you wish to look at: day, week, month, 3 months, a year, or all the data Keepa has ever tracked on this item.
Dollars and Dates on Keepa
Along the left side of the graph are dollar amounts, with the lowest amount at the bottom and the highest at the top. Along the bottom of the graph are the dates you have selected for the graph, with the most recent date on the right and the oldest date to the left. Along the right side of the graph are the sales rank numbers, with the lowest at the bottom and the highest at the top.
You can click to remove each of the sets of data in the color-coded key to the right of the graph. If you click Amazon, Marketplace New, Marketplace Used, and Sales Rank, you're left with a plain white graph with no lines or shading.
Amazon In Stock or Out of Stock?
If you click to add back the Amazon data, now you will see orange shading that indicates when Amazon has had the item in stock. If the area is orange, Amazon is in stock. Wherever you see white gaps on the graph, Amazon is out of stock. If you click on the different date ranges you can have Keepa display how often Amazon is in or out of stock on the item.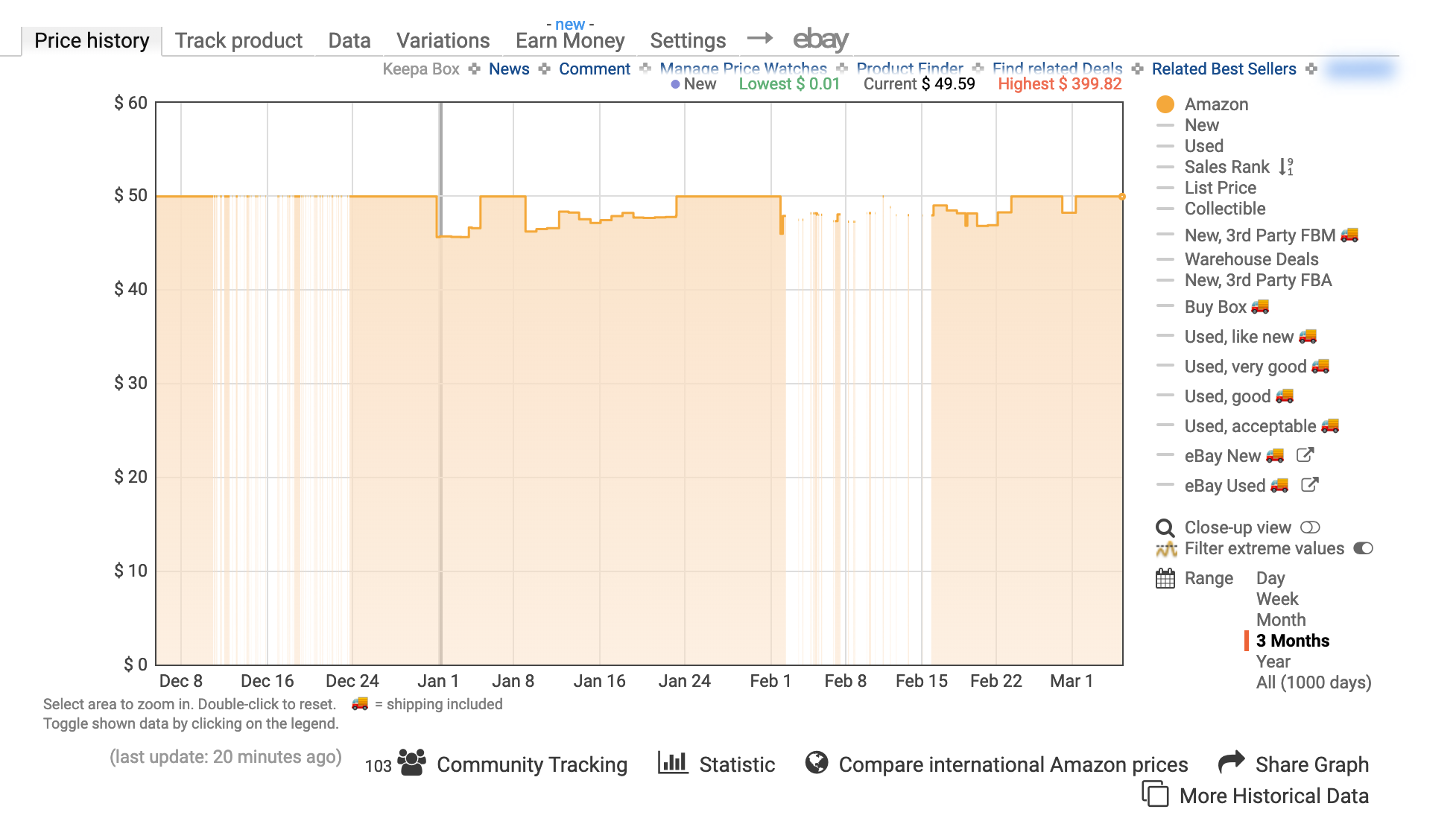 Keepa Sales Rank History (need paid subscription for sales rank)
Now, if you click the orange circle to remove the Amazon data and click the green circle to bring up the sales rank data, then you'll see a green line come up on the graph to show the changes in sales rank over time. Notice that the higher sales rank number is at the top of the graph and the lower sales rank number at the bottom.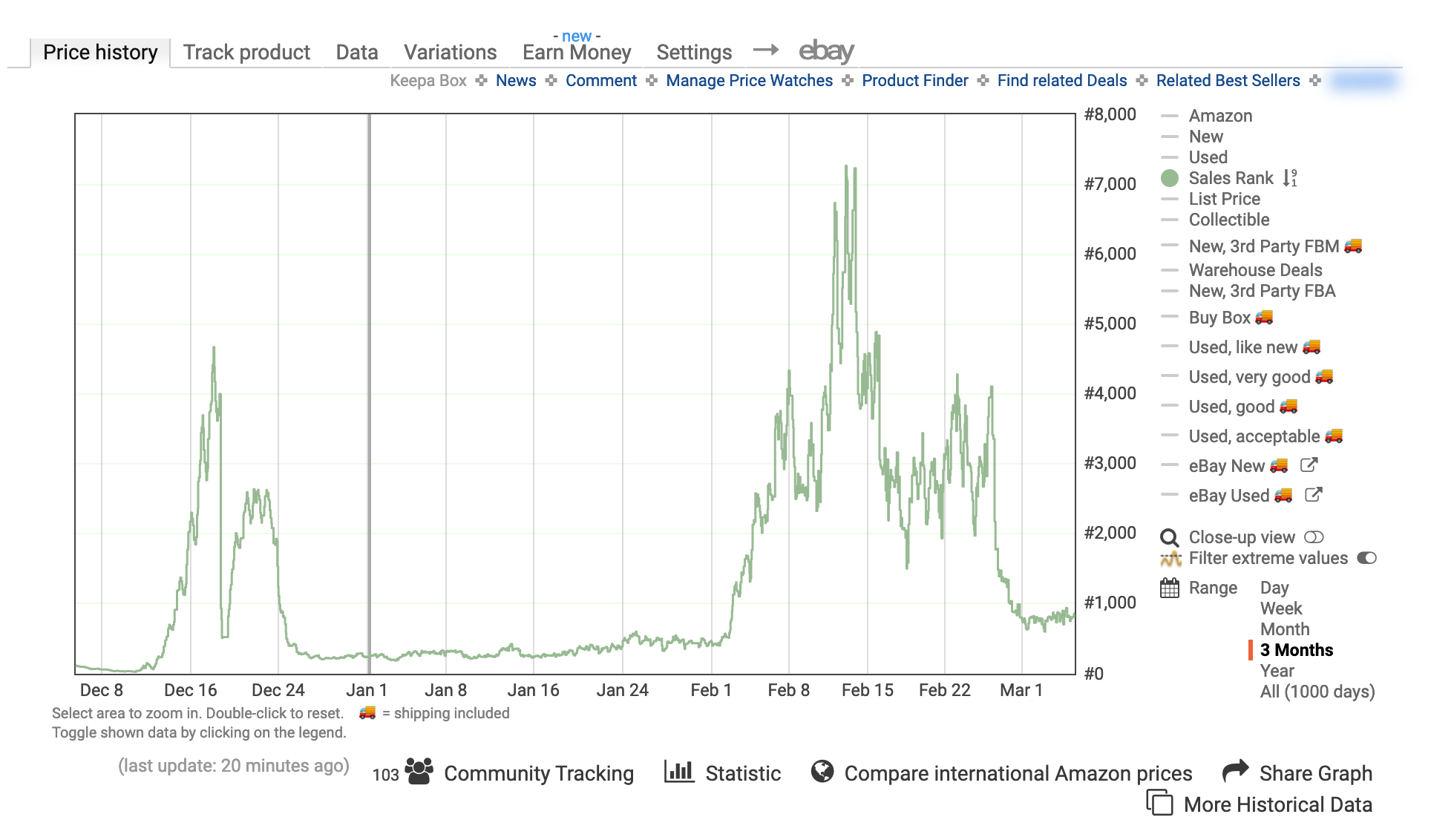 BIG TIP: Any time the sales rank number significantly moves from a larger number to a smaller number indicates at least one sale has occurred. Sometimes the improvement in sales rank means multiple sales. There is not a way to know for sure the algorithm for how Amazon sales impact the item's sales rank, but the more sales the item gets over a recent time period, the better (lower) the sales rank number gets.
All the Data You Need in One Place
If you move your cursor over the graph, you'll see small boxes that pops up near the cursor to tell you all of the data (that you have activated on the Keepa key) at that particular point in time. Around the cursor, you can see Amazon's price, the Marketplace New price, the Marketplace Used price, and the Sales Rank. At the bottom, there will be a box that shows you the date that the data is from. As you slide your cursor across the graph, you can see where the price and sales rank goes down or up over time.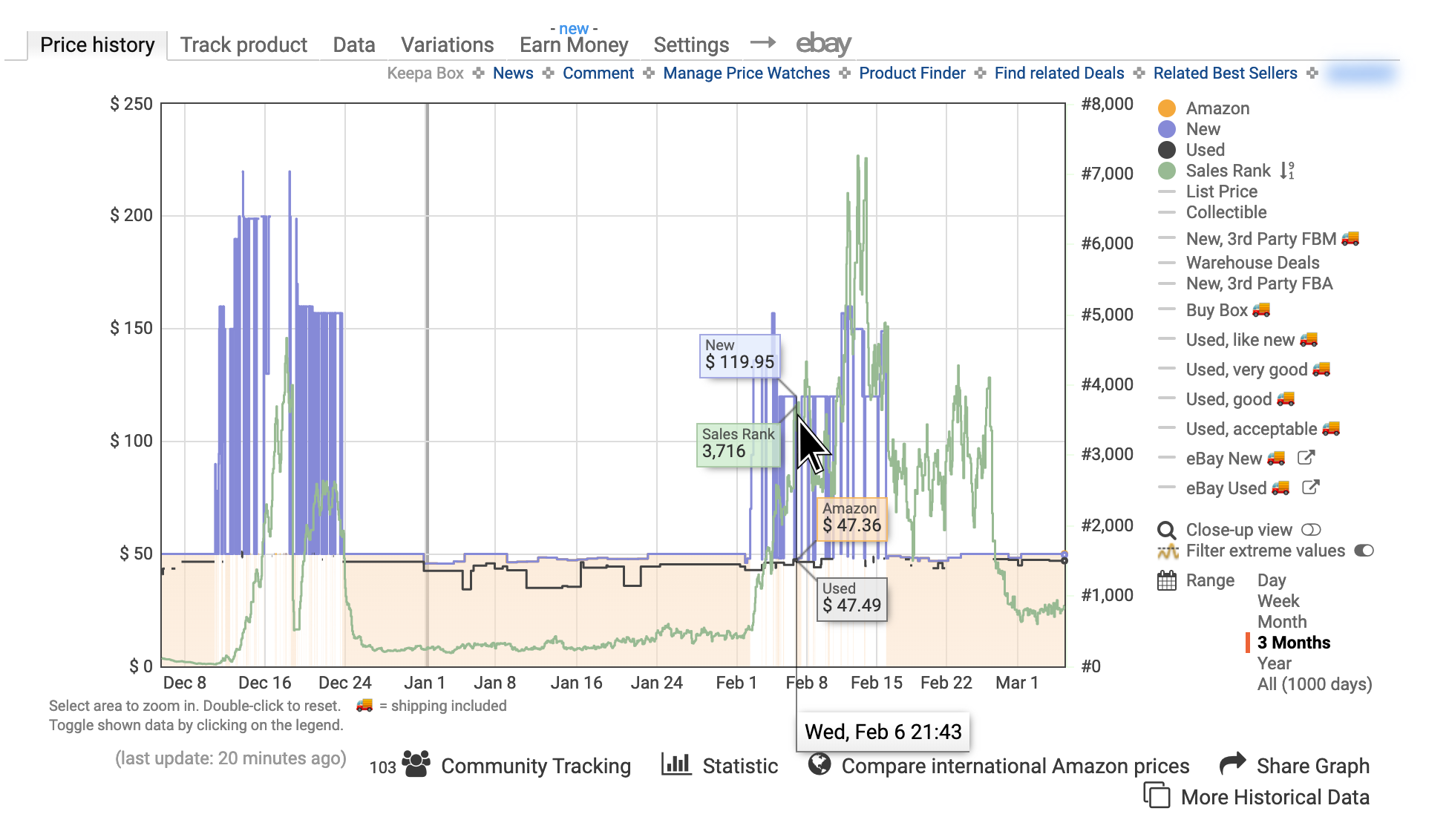 Keepa is 100% Vital to Success on Amazon

I can't imagine my Amazon FBA business without using Keepa on a daily basis. Right now, the pricing history for Keepa is free, but the sales rank (and some other vital data, like buy box history) is included in a minimal paid subscription. For more information on how to sign up for a subscription to Keepa, click here. I think that the Keepa data plan is 100% worth the cost, and I think you will too.

Limited-Time Keepa Coupon Code
Keepa has a very rare, limited-time coupon code available right now! If you want to try Keepa today, use the coupon code HISTORY at checkout and you'll save 20% off your first 5 months of Keepa. This is the first time ever in the 9+ year history of Keepa that they have ever offered a discount coupon code, so be sure to use it when you sign up for Keepa today.
Keepa Video Walk Through
Be sure to check out the screen capture video below where I'll show you a basic walk-through of how Keepa works. Also, don't forget to subscribe to the Full-Time FBA YouTube channel for notifications when we add new videos (which is often).
Watch this video in full-screen mode for better viewing. 
The above blog post and video are only scratching the surface on what is possible with Keepa. I only showed you how to read and understand a few of the data points, but Keepa has so much more that can help you make the smartest sourcing and pricing decisions for your Amazon FBA business.
I want to encourage you today if you're making sourcing decisions without using historical sales rank and pricing data from Keepa  — there is a better way to buy Amazon FBA inventory! You can make smarter sourcing decisions. Your business will hugely benefit if you take the time to learn how to use Keepa the right way.
How about you? Do you use Keepa? What is your favorite thing about Keepa? I'd love to hear from you in the comments below.

You know how I use Keepa? Not only does Keepa show me the sales rank history and pricing history, it also shows me other important data, like buy box history, used item history, Amazon in stock history, competitor's stock levels, and so much more.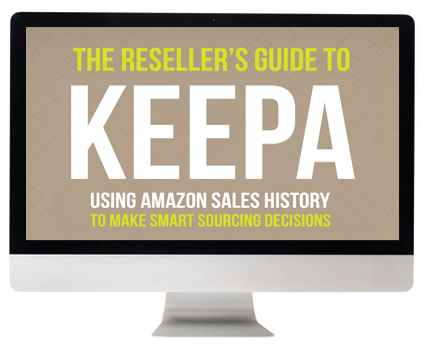 To find out everything there is to know about using Keepa to make smart sourcing decisions, be sure to check out our course, The Reseller's Guide to Keepa: Using Amazon Sales History to Make Smart Sourcing Decisions.
This course will walk you through everything you need to know to make sense of Keepa in ways you've never thought of. With this course, you'll make better sourcing decisions, better pricing decisions, and you'll grow your Amazon business to the next level by selling your inventory faster and at higher prices!
I can't wait to share all of this info with you in our updated course, The Reseller's Guide to Keepa.