UPDATE: Amazon has recently updated their Inventory Age report, and this post is now outdated. What I teach below still works, but there is now a much easier way to find what you're looking for. 
Click here see my latest training report on how to find out exactly which items will be charged a Long Term Storage Fee. 
————————————————————————-
If you've been selling on Amazon at least 6 months, then it's possible you have recently received a FBA Aged Inventory Notification email from Amazon. This notification from Amazon is to warn you about upcoming Long Term Storage Fees (LTSF). To read more about what the LTSF are, why Amazon charges them twice a year, and some timely tips on how to avoid these fees, then click here. 
Most Amazon sellers would be wise to find out which items in their inventory will be charged the LTSF and how much they'll be charged. Unfortunately, Amazon does not give you this information directly, but there is a way to find out using one of Amazon's reports found in Seller Central. 
Here is exactly how you can find out which items in your inventory are going to be charged a LTSF on August 15th (and how much you'll be charged per item):
1. Log in to Seller Central.
2. Hover over Reports and click on Fulfillment.
3. On the left side of the screen, under the Inventory heading, click on Show More.
4. Click on Inventory Health.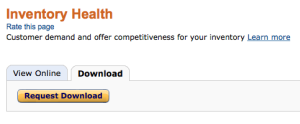 5. Click on the Download tab.
6. Click on the Request Download button. 
7. After about 60 seconds (or possibly longer) the report will be generated, and you'll be able to download it.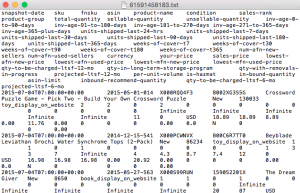 8. After the report downloads, open up the file in a spreadsheet. My download automatically opens up a Text file, so I just copy and paste it into Excel. Based on your computer's available programs, you should be able to open up the file (or at least copy/paste the text) in your computer's spreadsheet program. 
9. The text in the file contains many columns of information that you really don't need in order to assess your long term storage fees. You can keep the ones you want, but I delete all of the columns in the file except the following:
sku
asin
product-name
qty-to-be-charged-ltsf-12-mo
projected-ltsf-12-mo
qty-to-be-charged-ltsf-6-mo
projected-ltsf-6-mo
10. To make the chart easier to read, I change the names of the last 4 columns to:
12mo
12mo$
6mo
6mo$
11. To make the data easier to read, I also do the following (this is just a personal preference, so you may want to skip this step):
Change the document page setup to landscape.
Center align the last 4 columns.
Change the size of the last 4 columns to be smaller.
Change the size of the product name column to be bigger.
12. Select all of the text (CTL-A for PCs or Command-A for Macs)
Now, its' time to sort. In Excel, you can sort by clicking on Data from the top menu bar, and then select Sort. 
13. Sort the 12 mo column and choose descending. 
14. Sort the 6 mo column and choose descending. 
15. When I'm done, my spreadsheet looks more like this: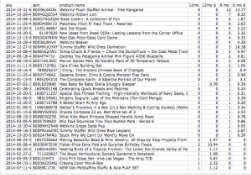 Now, your spreadsheet will show you on the first pages which items will be charged a LTSF, how many will be charged, and how much the charge will be. My next step is to print out the document, but I only print out the pages that contain the information about LTSF. If I printed the whole document, then I'd waste a lot of paper as most of my inventory is not affected by the LTSF. 
Now, it's important to know how to read and understand the data in the spreadsheet. Under the 12mo and 6mo columns, you'll see how many items will be charged in the upcoming LTSF on August 15th. In the 12mo$ and 6mo$ columns, you'll see the total amount that will be charged if that item is not sold or removed from your inventory. 
For example, your chart might read something like this for an item: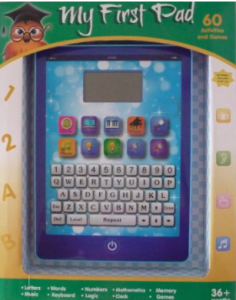 The above example shows that the My First Pad item will not be charged a 12 month LTSF, but will be charged a 6 month LTSF of $8.32. Since you have 7 of these items that will be charged a LTSF, you can do the math and see that it will be a charge of about $1.19 per My First Pad. (Remember: one unit of each SKU is exempt from LTSF, so you actually have 8 of this item in stock, not 7.)
The next step is to decide what you want to do with the inventory that is affected by LTSF. In a previous blog post, I've discussed all the ways you can avoid Long Term Storage Fees, but for the rest of this post, I'll only discuss the most popular method of avoiding the fee: lowering your price to get the next sale.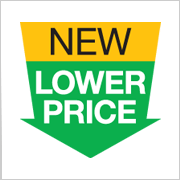 Lowering the price might indeed get you the next sale, but there are more important aspects to consider. Remember, in our example above, you'll be charged $1.19 for each item for the LTSF, so if you lower the price by over $1.19, just be sure you don't think you'll ever sell the item for the price you want over the next 6 months. If you do some CamelCamelCamel (CCC) research and see that you'll probably get your original price come Q4, then maybe pay the fee, and then wait for the sale to come during Q4. On the other hand, if you don't think you can sell this item for the price you want, then it might be a good idea to lower the price and avoid this fee. 
Again, with our example, say you have the item priced at $19.95, but the current low FBA price is $11.95. If you  lower your price by $8.00 to $11.95 to share the Buy Box, you might indeed get the next sale… but lowering 7 items by $8 each, you'll be losing out on $56.00 in order to avoid a $8.32 fee. Is this worth it? Well, we'll need to check CamelCamelCamel to see if we think the price will go back up during Q4. If CCC shows that the price will probably go back up in Q4, then maybe it's a good idea to pay the $8.32 fee in order to make the profits come Q4. On the other hand, if CCC shows that the price will probably never again go up, then maybe it'll be a good idea to lower your price in order to sell out before August 15th. As always, different items will require different actions, so do your research and make the best decision for your inventory.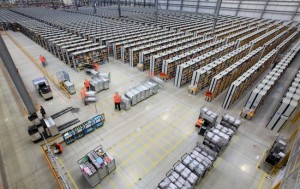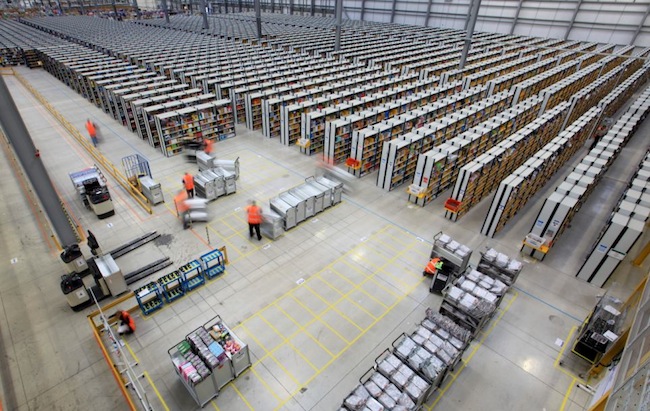 You might be thinking that this requires a lot of work and thought, but the LTSF is something to take seriously, as it's currently $11.25 per cubit foot for items stored over 6 months, and $22.50 per cubic foot for items stored over 12 months. Currently, my LTSF would be over $100, but I've been keeping track of my potential LTSF for over a month now. If I didn't use these tactics to avoid long term store fees, then the fee would be even higher.
So how about you? What are some of your strategies for dealing with these Long Term Store Fees? I'd love to read them in the comments below.