Today we're discussing our final Seller Central Tip in this series: Tip #5 – Fixing Stranded Inventory.
For a recap of our Seller Central Tips, here are the previous posts:
Tip #1 How to Check if "Returned" Items are Actually Returned to FBA
Tip #2 How to Get Reimbursed for Unfulfillable Inventory
Tip #3 How to Handle FBA Inbound Shipment Problems
Tip #4 How to Check for Reimbursable Lost Items
"Stranded inventory" refers to your items at a FBA warehouse that do not have an active offer on the Amazon website. Every few days, we check our inventory to see if any items have popped up in our stranded inventory list, and we take action according to the options provided in the drop-down menu beside each item.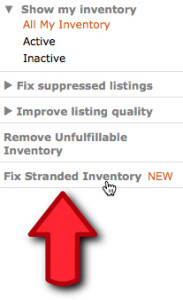 To get started, log into Seller Central, and under the "Inventory" tab click "Manage Inventory." In the left sidebar, click "Fix Stranded Inventory." This brings up a list of all your items currently at a FBA warehouse that do not have active offers on Amazon.com. When we first began cleaning up the problems with our inventory on Seller Central several months ago, I (Rebecca) brought up this list and discovered we had six pages (six pages!!) of stranded inventory, requiring several hours of work to sort through the mess and take the appropriate actions. Now, I look at the stranded inventory every few days and never find more than a couple of items at a time that need to be addressed — often, these are items that I've already dealt with when checking for unfulfillable inventory, so I don't need to do anything more with them.
In the "Status" column, you'll see a few different reasons why your inventory might be "stranded." The statuses we've encountered are Inactive, Incomplete, and Out of Stock. There might be others that we're unaware of, but these are the ones we've personally had to deal with. If you have experience with other statuses, please leave a comment below, and tell us how you dealt with it. Now let's look at each of these statuses and their implications.
Inactive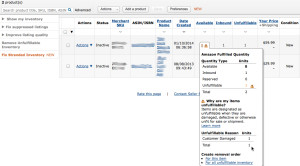 One possibility for an inactive status is that an item has been returned by a customer and is unfulfillable, either because the customer damaged it (likely, he or she opened the package) or the customer said it was defective. If you've been checking your unfulfillable items as we learned about in Seller Central Tip #2, you will have already created a removal order for these items, and there's no reason to take further action here. If you haven't already created the removal order, there's the option to do so in your stranded inventory list by clicking the drop-down menu under the "Actions" column.
Sometimes, however, there's a problem in the Amazon system that causes an item to be listed as inactive for no reason that we've been able to figure out. In these cases, when we know that the item isn't unfulfillable, we chose "Relist" from the "Actions" column and fill in the appropriate information in the "Offer" tab of the Amazon product page.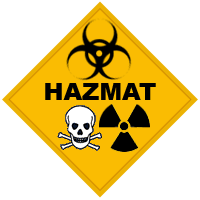 On occasion we've discovered that "Relist" is not an option for certain items, particularly DVDs, automotive items, and health and beauty products. Movies and TV shows by certain studios (Warner Bros. and BBC, to name a couple) have become restricted items in an effort to control authenticity of DVDs for sale on Amazon. Also, anything that may be considered hazmat is restricted. Sometimes these restrictions come into place after you've sent an item to a FBA warehouse. In the case of movies, you can create a removal order and try to sell the item on eBay or at your next garage sale. For hazmat issues, sadly we've found that Amazon won't allow us to create the removal order and have the items shipped back to us, for safety reasons. The only option is to cut your losses and have the item destroyed by Amazon.
Out of Stock or Incomplete

When I first encountered those six long pages of our stranded inventory, many of our items had the "out of stock" status because of a glitch occuring during the initial process of scanning and entering them in the Amazon system. Somehow, even though we were scanning them into the system as Fulfilled By Amazon and sending them to warehouses across the U.S., the glitch caused them to be recognized as Merchant Fulfilled and listed them as stranded inventory. To fix the problem, I clicked on each "out of stock" item's "Action" drop-down menu and chose "Change to Fulfilled by Amazon." Almost immediately these items became available for purchase. Since our initial inventory clean-up, we haven't encountered this problem again, but if we ever do in the future, we'll know how to handle it.
These are just a few of the issues we've encountered with stranded inventory. Sometimes the fault is ours, sometimes it's a glitch in the system, sometimes it's unexplainable. Regardless, you'll want to check your stranded inventory and see if there are items that you can have relisted and available for purchase — inactive listings do not bring any profit!
Have you encountered these or other problems in your stranded inventory list? We would love to hear from you in the comments below.
***********************
Imagine knowing exactly what to expect in your Amazon FBA business every month of the year.
Imagine what it would feel like knowing you were not missing out on any of the opportunities that will come your way this year.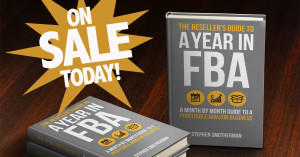 Imagine working on your Amazon business knowing exactly what your priorities are, what you need to avoid, and what you need to accomplish during each month to make progress toward making this year your best sales year ever.
Find out more about The Reseller's Guide to a Year in FBA: A Month by Month Guide to a Profitable Amazon Business today. The package includes a 200-page ebook, monthly live webinars, and 4 special bonuses.