Does this look familiar?
Hello (AMAZON USER NAME),
      We discovered a problem while we were receiving your inbound shipment (SHIPMENT ID). We are taking the necessary steps to remedy the situation and receive your inventory.
      Please note that select problems may result in an unplanned service fee.
The problem was discovered for the shipment named "(SHIPMENT NAME)" on February 14th, 2014.

For some reason, many FBA sellers have been getting an influx of emails from Seller Central concerning "problems" that a FBA warehouse worker has found with our inbound shipments. In my 3+ years of selling on Amazon, I have never had this many emails notifying me of errors I have made. To make things more frustrating, 99% of the "problem" notifications are completely inaccurate.
Here are the "problems" that I've been flagged on (so far):
I've been told that I didn't polybag an item that needed polybagging (Except that I did).
I was told that one of my labels was not readable. (Ok, I'll accept that one. Maybe I smudged it by accident).
I was told that a shrink-wrapped item required taping (It's shrink-wrapped, it doesn't need tape).
I've been told that a toy needed to be polybagged (It was in a box that had no holes. No bag needed).
I was told a boxed set of drinking glasses needed bubble-wrapping (Except that I did bubble wrap them).
I was told that a board game required a suffocation warning label (Is the box going to suffocate someone?)
I've been told that a plastic bottle required bubble wrapping (This is getting ridiculous).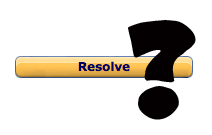 When these alerts first started showing up in my inbox, I just rolled my eyes, clicked the "resolve" button, and moved on with life. WARNING: DO NOT CLICK THE "RESOLVE" BUTTON unless the inbound shipping problem notification is accurate. If you indeed made a mistake, then you need to own it, learn from it, and move on. But if you are positive that you did nothing wrong, then I strongly advise you to open up a case with Seller Central and inform them of their mistake. If you take responsibility for an error that you did not make, it will hurt your bottom line (you'll be charged fees for Amazon "fixing" those problems), and possibly it will hurt your seller metrics.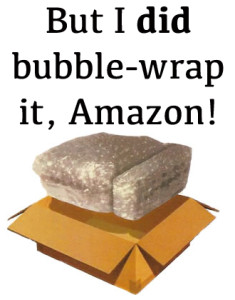 If you don't fight these false accusations, then you are only admitting to Amazon that you don't care to follow their rules. If, in the eyes of Amazon, you continue to make shipping mistakes, then they will stop allowing you to send in certain items, and they could eventually close your FBA selling account. Again, do not click the "resolve" button unless you have, indeed, committed the offense they are notifying you of.
This is what I do to fix these problems:
1. Log-in to Seller Central and click on the Help link.
2. Click on Contact Seller Support.
3. Under "What is the problem?" I click Fulfillment by Amazon.
4. Next, I click "Other Fulfillment by Amazon issues."
5. I use the subject line "FBA Inbound Shipment Problem."
6. I fill in the necessary information (Shipment ID, ASINs, etc)
7. Then, I address the false accusation. Example: "I was told that this item required polybagging, but it was already polybagged when the item arrived at Amazon," or "I was told this item required polybagging, but it does not require polybagging per Amazon rules." I also like to include a statement saying, "Please research and remove this flag" — just so the Help desk is clear that my purpose in writing them is to have the flag removed!
8. Submit your request.
A few seconds after you submit your request, you'll get an email from Amazon about your new case. Within about 6-12 hours you will get a response from Amazon. 99% of the time I get a response like this:
Greetings from Amazon Seller Support, 
     We have received confirmation from our fulfillment center and removed the inbound problem defect rate for your Shipment: (SHIPMENT NAME).    
Thank you for selling with Amazon, (SUPPORT STAFF NAME)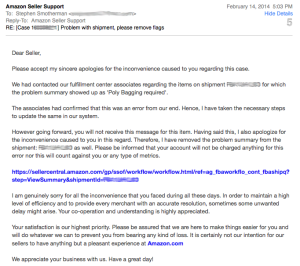 And sometimes they really go at great lengths to apologize, as the image to the right shows.
While 99% of the time, Amazon removes the flag and corrects its mistake, the other 1% of the time I'll get a response stating that the original accusation was indeed true and that I am still going to be penalized for my error. When this happens, I always reply, state that my question was not properly answered, and request they investigate again. 100% of the time they follow up agreeing that I was indeed correct and that they are removing the flag, along with any fees associated with the issue.
The important thing here is to protect your metrics. If you make a mistake, accept responsibility, learn from it, and move on. But if Amazon incorrectly accuses you of making a mistake, stand up for yourself, and politely correct Amazon.
Have you had these "problem" emails showing up in your inbox lately? How have you best responded? I'd love to hear what you have tried to correct these issues.