This post comes from Stephen's wife, Rebecca, who helps him make full-time selling on FBA a reality.
The further you get into selling through FBA, the more you'll see that Amazon's inventory system doesn't always, um, work just like expected. When I started working with Stephen on his FBA business, I would look at our inventory from time to time and wonder why there were items flagged as inactive, incomplete, or unfulfillable — and why Amazon didn't do something to fix those inventory items. When those items are flagged, they're not available for purchase, and that's just not good for business!
So, I started learning the process of doing a few simple tasks to correct these flags, get reimbursement for damaged or lost items, or have items returned to us, whichever the case may be. I came to realize that these problems with inventory items are our responsibility to remedy, not Amazon's responsibility. I became determined to get our inventory list under control and in order — and stop losing money on items that are just sitting there in a warehouse but unavailable to purchase.
Over time, we settled into a routine where I regularly check for certain flags or errors in the system. When I first got started, it took me a few hours over the course of a few days to wade through the mess that our inventory had become. For so long we had been operating under a habit of buy, buy, buy, pack, pack, pack, ship, ship, ship, and then go buy, buy, buy again. We weren't making time to keep up with the endless paperwork (or screenwork, as the case may be) that comes with maintaining a large inventory. As a result, let's just say we had a mess on our hands, and it took some serious effort on our part to get it straightened out with Amazon. The result of those hours was many items reimbursed by Amazon and many items relisted and finally sold, so it was totally worth it. But I don't recommend waiting as long as we did to start working on these issues!
Now I spend a few minutes every two or three days checking for common flags or errors in Amazon's system, and I'm able to keep on top of our inventory discrepancies without getting overwhelmed. I'll share several of these inventory issues with you in upcoming blog posts, but today I'll tell you about the first thing I do when I log into Seller Central to check on our inventory: I check for any items that have been damaged by the warehouse or distributor and can be reimbursed to our account.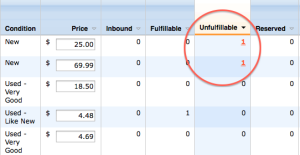 When you log into Seller Central, under the Inventory tab, click on Manage FBA Inventory. This pulls up your entire FBA inventory list. Towards the right of your list, there's a column heading called Unfulfillable — click on this heading to sort your items so that the unfulfillable items come to the top.
If you have any unfulfillable items, there will be a red number in the Unfulfillable column indicating how many of that inventory item are actually unfulfillable. Click on that red number to bring up a box showing why that item is being listed as unfulfillable. There are several options available to the warehouse workers when they mark your inventory as unfulfillable. I will list these options below, along with the actions you can take to remedy the problems.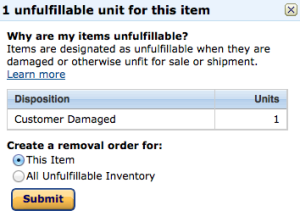 1) Customer Damaged — This flag is used when a customer returns an item, and the item has either been merely opened or actually damaged. Either way, you'll want to follow the steps on the pop-up box to create a removal order, have the item returned to you, and decide from there what to do with the item. If it's an item that's only been opened and isn't damaged, you can either relist it as Used – Like New, or you can put it in the garage sale box in your attic to be sold at a later date.
2) Defective — This flag is used when the customer returns an item and says it is defective. Again, you'll want to create a removal order to have the item returned to you. The item may be truly defective, or the customer may have told Amazon it was defective in order to get free shipping on their return, when in fact they just changed their mind or didn't like it. There's no way to know until you have the item returned to you.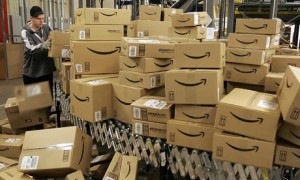 3) Warehouse Damaged — This flag is used when an item has been damaged at the FBA warehouse. You could choose to have the item returned to you and decide if it's worth trying to sell by another method — or you could request a reimbursement from Amazon. 100% of the time, we choose this second option for warehouse damaged unfulfillable items. It's just not worth the time, money, or effort to have the item returned. To request the reimbursement, on the Help page of Seller Central click on Contact Seller Support. Under the Inventory tab on the left side of the page, click on Other Inventory Issues to open a case letting Amazon know you're requesting a reimbursement for the item in question.
4) Distributor Damaged — Similar to Warehouse Damaged, this flag is used when an item is damaged en route to the warehouse. Sometimes UPS is to blame for this damage. If so, follow the same steps in (3) above to request reimbursement from Amazon. Other times, distributor damaged items are your fault, and of course, you don't get reimbursed for items you did not properly protect during packing and shipping.
5) Expired — If you have any grocery, health, or beauty items with expiration dates, the item will be listed as unfulfillable once the expiration is less than 50 days away. You will need to create a removal order to have the item returned to you. We've learned the hard way that it helps to keep a spreadsheet of expiration dates for these items and set up reminders to lower your prices so items sell quicker when they get close to Amazon's expiration cut-off.
It takes a matter of seconds to check on these unfulfillable items every two or three days. Now that I've made it part of my work routine, we've received reimbursements much quicker and kept our inventory list clean of items that are damaged or expired. I hope you're able to use this info to work on your own inventory list and get some reimbursements! Look for more inventory clean-up tips in the future.
Update: I also want to add, any reimbursements you get from Amazon for warehouse or distributor damaged items will be minus the FBA fees for that item.
For more Seller Central Tips, just click here!
***********************
Imagine knowing exactly what to expect in your Amazon FBA business every month of the year.
Imagine what it would feel like knowing you were not missing out on any of the opportunities that will come your way this year.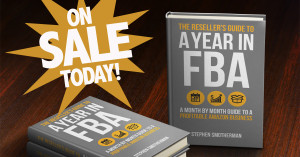 Imagine working on your Amazon business knowing exactly what your priorities are, what you need to avoid, and what you need to accomplish during each month to make progress toward making this year your best sales year ever.
Find out more about The Reseller's Guide to a Year in FBA: A Month by Month Guide to a Profitable Amazon Business today. The package includes a 200-page ebook, monthly live webinars, and 4 special bonuses.