Recently we've been running a blog series called Seller Central Tips, including posts on the following topics:
Today we'll look at Tip #4: How to Check for Reimbursable Lost Items
As we discussed in Tip #2, Amazon warehouses handle millions of items a day, and it's understandable that a small percentage of items would become damaged in the shipping and handling process. Such damage is inevitable, and Amazon is usually very reasonable about reimbursing FBA sellers for this damage — IF you look for the flags in your inventory and request the reimbursement.
The same goes for items that are lost at FBA warehouses. We've made it part of our regular routine to check our Seller Central Shipping Queue for shipments with item number discrepancies, and we think you should too! To do this routine check, follow the steps below:
1) Log in to your Seller Central account. Under the "Inventory" tab, click on "Manage FBA Shipments" to pull up your Shipping Queue.
2) Filter your list of shipments by clicking the radio button "At the fulfillment center." This will pull up your list of shipments that have a status of Receiving, Delivered, or Checked-In.
3) Look for shipments that are marked as "
Receiving
" but have a delivery date more than three days earlier than the current date. Any shipment still marked as "Receiving" but with an older date might contain a lost item. The FBA warehouse does not mark a shipment as "Closed" until every item in the shipment has been scanned and accounted for. If the time frame hasn't

passed, the shipment will contain a message stating you can't reconcile discrepancies yet.
4) For any shipments older than three days past delivery with a "Receiving" status, click the shipment name to bring up the shipment info, then click "Reconcile" to see what problems might have occurred during the process of
scanning in your items at the warehouse. You will see either a positive number or a negative number in the "Discrepancy" column, depending on whether the warehouse workers found extra items or whether they couldn't find an item. Either way, at this point you'll need to click the drop down menu under the "Action Required" column.
5) If there is a positive discrepancy, you need to choose whether you accidentally shipped an extra item or whether this is an unexpected discrepancy and request the warehouse to research it. For a negative discrepancy, under the "
Action Required
" column you can choose "Units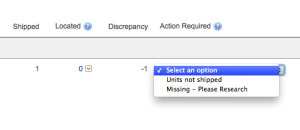 not shipped" (if you forgot to include the item in your shipment) or "Missing – Please Research." When we've asked Amazon to research missing items from shipments in the past, we've received one of two responses: either they research the case, find the item in the warehouse, and return it to our inventory — or they research the case, can't find the item, and reimburse us for the loss. For either of these possibilities, you want to stay current in checking your shipping queue for these discrepancies.
The sooner the warehouse resolves the discrepancy, the sooner you can be reimbursed or have the item back in your inventory and available for purchase.
You would be surprised what types of items can be lost in an Amazon warehouse and need to be researched. Most typically we have lost smaller items likes books or tiny toy packets, but recently we lost three oversize toys from the same shipment. I requested the warehouse research these lost items, and within one day Amazon notified us that we would be receiving a reimbursement.
Have you had any experience reconciling discrepancies in your FBA shipments? We hope this Seller Central Tip allows you to find missing items from your shipments or receive reimbursements where they are due.