* Updated for 2019
Who doesn't love a do-over?
Hindsight is 20/20, and I'm sure all of us can think of ways we would improve our Amazon FBA businesses if we could start over from scratch. I know I can think of plenty of things I wish I had known back in 2011 when I started selling on Amazon!
Since I don't have a time machine, I can't revisit 2011 and get that do-over for my business. Instead, today I'm going to share with you the products and services I would invest in from the very beginning if I had to start over from scratch doing Amazon FBA with only $500.
These items are the essentials, folks. The bare minimum for starting Amazon FBA and finding success in a sustainable yet timely fashion. In fact, you'll see that with my plan below, of the total $500, you'll actually get to spend $268 for investing in inventory. Not a bad amount to start sourcing with!
Here are the ways I would spend my $500 if I got to start over on my Amazon FBA business today:
1. A Pro Merchant account with Amazon –(around $40/month)
Yes, I know that you can start off with an Individual Merchant account and save the $40 fee per month for the Professional Merchant account. But Individual Merchants pay 99 cents per sale, and a little quick math shows that selling only 40 items per month means you're paying the same as a Pro Merchant.
There's a ton of huge benefits, however, to setting up that Pro Merchant account from the very beginning. It gives you accountability, a $40 incentive every month to send in plenty of items to Amazon FBA so that you're making at least 40 sales per month to make that account worth it from the very beginning. If you can start off giving yourself the goal of at least 40 sales per month, you will gain momentum more quickly than if you allow yourself to be satisfied with only 20 sales. Another benefit is that Pro sellers are able to get the buy box – which is where 80% of all of Amazon sales come from.
The Pro Merchant account is also necessary for other reasons that we'll get into below.
2. Inventory Lab for listing and sourcing – FREE for first month ($49/month afterwards)
We use Inventory Lab to process our FBA inventory, list it on Amazon, and keep track of our accounting for that inventory. You can list your inventory directly through Seller Central, but the process is much slower than listing through a 3rd party program like Inventory Lab. Using Inventory Lab allows me to touch each inventory item fewer times during the listing process because I can label it and divide it into shipments at the time of listing, rather than waiting until I'm finished listing everything.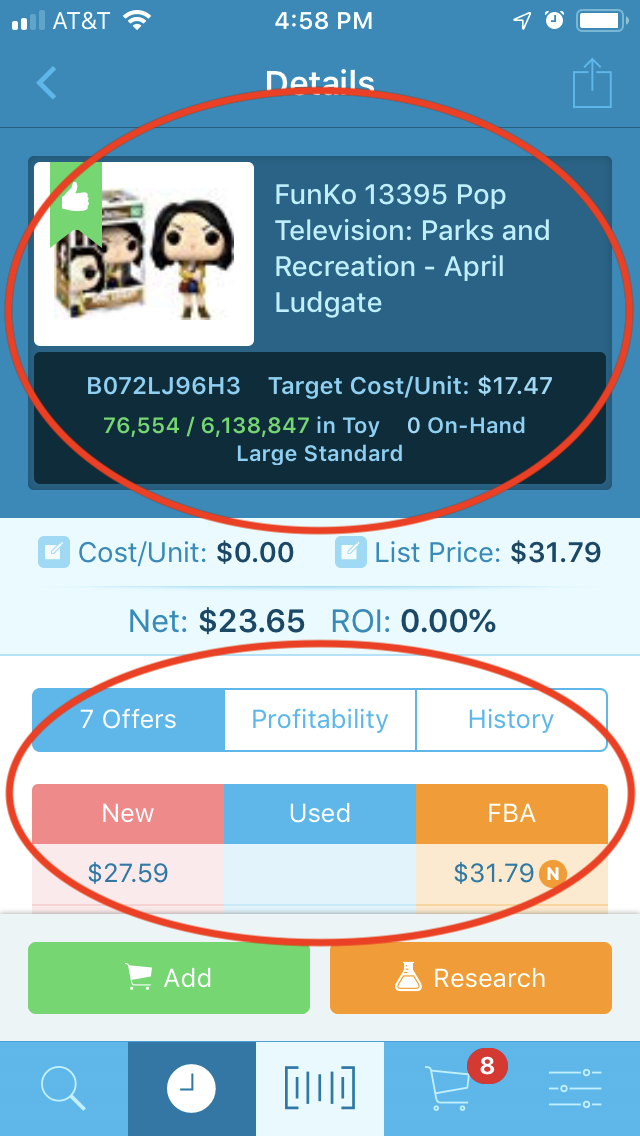 Inventory Lab comes bundled with the Scoutify sourcing app, which I use for scanning inventory at retail stores, garage sales, and thrift shops. I prefer to use Scoutify rather than the Amazon Seller app mainly because Scoutify gives me direct access to sales rank and price history on Keepa, which is essential for me to a make a smart sourcing decision.
You must be a Pro Merchant to use Inventory Lab, another benefit to going ahead and making the commitment as a Pro Merchant from the very beginning.
If you sign up for Inventory Lab through our link here, you can get a free 30-day trial of their listing software and Scoutify sourcing app. After the first month, Inventory Lab and Scoutify cost $49/month, but they are absolutely worth it to my business.
3. Barcode scanner – $35
A barcode scanner connects to your laptop through USB and saves a ton of time (and errors!) when entering the UPCs from the barcodes on your inventory. Simply place the cursor in the correct field of your listing program, scan the barcode, and presto! No more squinting at tiny numbers and pecking out the UPC on your keyboard.
Every little bit of time counts when you're working at building an Amazon FBA business, and using a barcode scanner is a simple way to help scale your business more quickly.
Note: You can skip this cost if you want to, by signing up for Amazon's FBA labeling service. I still recommend doing it yourself when you're starting out, but some people prefer to let Amazon do this step.
4. DYMO LabelWriter 450 – $79 new
A DYMO LabelWriter is another essential for scaling your business and saving precious time. When used in conjunction with Inventory Lab or other 3rd party listing programs, the DYMO will allow you to print a label for each individual item as soon as you have it listed. Scan the item, enter your price and other accounting info, and then print the label. If you have the "live" listing flow turned on in Inventory Lab, you will know at this time which fulfillment center the item will be sent to, and you can sort it into boxes immediately. No need to print 30-up labels and sort back through inventory at the end of your listing process. The printer comes with a sample pack of labels to get your started.
5. Scotty peelers – $6 for 3-pack
These are an essential tool for scraping the price stickers or other residue off my inventory before I send it to Amazon. The Scotty peelers come in a pack of 3, and we use them for several months before the ends become too dull to work easily.
6. Goo Gone – $9
Another must-have item for cleaning up inventory before sending it to the FBA warehouse. Goo Gone takes off the sticky residue left over from price sticker adhesive. (Note: be careful not to use Goo Gone on certain types of non-glossy cardboard boxes or book covers, as it will soak in to the material and stain it.) To see how I use both Scotty Peelers and Goo Gone in order to remove price stickers, click here.
7. 3-inch tape gun – $18
8. 3-inch tape – $15 for 4-pack
I started out using a 2-inch tape gun when I first began selling via Amazon FBA. That 1-inch difference may not seem like a lot, but it's a huge difference when it comes to the number of times you have to swipe the tape gun across a shipping box in order for the tape to hold the box flaps together. With the 3-inch tape on my 3-inch tape gun, it's one swipe, and I'm done – saves time and tape.
9. Feedback Genius – FREE for first month 
Getting control of the Buy Box is a crucial component of getting sales through Amazon FBA. Some aspects of who controls the buy box are a mystery, but having a positive feedback score is known to be one important factor. Having a high number of positive feedbacks and limiting your number of negatives will help you gain the buy box more often. Feedback Genius is a simple way to automate contacting buyers after a sale in order to limit your negatives and increase your positives. Feedback Genius also alerts you when a negative feedback is received so that you can quickly and appropriately handle it.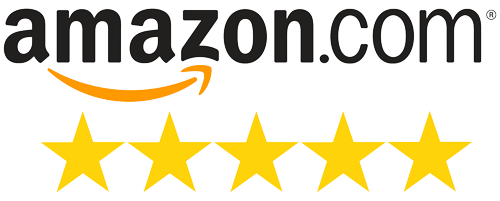 I wish I had started using Feedback Genius from the very beginning of my Amazon FBA business. If you sign up through our Full-Time FBA link, you can use the coupon code GOPROSMO to get 30% off your first 3 months of Seller Labs Pro (which comes with Feedback Genius and more).
Using Feedback Genius requires a Pro Merchant account, so go back up to #1 in this list and sign up for that account if you haven't already!
10. UPS self-adhesive labels – FREE from UPS.com
UPS offers a great partnered rate for Amazon FBA sellers on their inbound shipments, and they also provide you with free self-adhesive labels to use for your shipments. If you sign up for a free account with UPS.com, you can order the labels to be sent directly to you for free.
11. Shipping boxes – FREE from grocery stores, friends, etc
In the early days of just starting an Amazon FBA business, I recommend getting free shipping boxes from friends who have just moved, from grocery stores, or from other locations where people are wanting to recycle their boxes. Just make sure they're sturdy enough to hold the weight of your shipment, and cover or remove any previous barcodes before adding your Amazon and UPS shipping labels.
12. Scale – $30
If you don't already have a scale at your house, you will need to buy one in order to weigh your inbound shipments to the Amazon FBA warehouse. You can get a scale on Amazon for around $30 – $60 depending on the model you choose. I like the smaller scales with a long extendable cord which allows the user to read package weight easily no matter how big the item. The ones I recommend are here, here, here, and here. I'm giving you multiple options because the scales sometimes sell out, and I don't want to leave you without another option.
In summary, here's a list of the items and prices:
A Pro Merchant account with Amazon – $40/month
Inventory Lab for listing and sourcing – FREE for first month ($49/month afterwards)
Barcode scanner – $35
DYMO LabelWriter 450 – $79 new
Scotty peelers – $6 for 3-pack
Goo Gone – $9
3-inch tape gun – $18
3-inch tape – $15 for 4-pack
Feedback Genius – FREE for first 2 months ($20/month afterwards)
UPS self-adhesive labels – FREE from UPS.com
Shipping boxes – FREE from grocery stores, friends, etc
Scale – $30
NOTE: Prices of these tools and services will change over time, so be sure you double-check all prices and fees before purchasing. Some prices might go up, while other prices might go down.
If you add up the amount of those items for the first month of starting an Amazon FBA business, the total comes to $232. That leaves us with $268 to spend on buying inventory. I would recommend looking for low cost (or even free!) inventory with low ranks and high return on investment (ROI), so that you can reinvest your profits and grow your available capital quickly. When I started Amazon FBA, I frequented garage sales and thrift shops while I was learning the ins and outs of how the business works and while my capital was growing. I would follow that same method again today.
Here's some more help in the form of FREE webinar training:
Garage Sale and Thrift Store Profits
Retail Arbitrage Strategies to Double Your Inventory in 30 Days
If you would like to watch an older video where I show the items from the above list, check out this video on our YouTube channel:
Do you have anything you would add to this list? Or do you have questions about any of the items or services I mentioned? We would love to hear from you in the comments!