When it comes to retail arbitrage, removing the price tags (or any other stickers) from your products is the most annoying thing you have to do before you can sell them on Amazon. Sure, you could use your fingernail to try and slowly peel the sticker off the box, but that takes a lot of time and sometimes the price sticker still causes a tear in the box.
I'm here to show you there is a better way. In fact, toward the bottom of this blog post will be a video of me showing you exactly how I remove price stickers.
How to Safely Remove Price Stickers:

1. Heat up the price sticker.
Use this heat gun to heat up price stickers so they can be removed easier. When heat is applied to a price sticker or label, the sticky part of the adhesive gets soft and makes it so much easier to remove the price sticker from the item's packaging. Just be careful. The heat gun can easily burn your skin, so make sure the focus of the heat is only on the price sticker.
2. Use a Scotty Peeler to peel the price sticker off.
This handy little tool is the perfect way to peel off the stickers from the item without damaging the original package or ruining your fingernails. Plus, if you just used the heat gun, the box might still be hot, and these tools are much better to use than your fingernails.
3. Use Goo Gone to remove any excess sticky residue.
If there is any remaining sticky residue on the item's packaging, then use some Goo Gone Spray Gel. This spray gel is the perfect solution to help get any excess sticky "goo" off your item. Simply spray some Goo Gone onto the sticky residue, and it will wipe off fairly easily. For really stubborn "goo," use the Scotty Peeler in combination with the Goo Gone to scrape away the excess goo. Note: There are many different products that you can use to remove the sticky adhesive left behind from a sticker. Some other alternatives are Un-Du and even lighter fluid.
4. Use a paper towel to clean up any left over mess.
I use the choose-a-size paper towels because I rarely ever need a full-size paper towel when removing stickers. I always just tear off one small sheet of the choose-a-size paper towels and tear that sheet in half. I use one half to spray the Goo Gone onto the item (see step 3 above), and then the other half I'll use to clean what's left of the Goo Gone and residue.
Here's a video to see these steps in action! After you watch the video, don't forget to scroll down this post for bonus tips on removing price stickers from inventory items.
BONUS TIPS!
Peeling stickers off of plastic – Sometimes the price sticker is stuck on the clear plastic window or blister of an item. When this is the case, it's important to be very careful with the heat gun. Plastic melts in heat, and you don't want to ruin your inventory item because you melted the plastic. I'll usually keep a close eye on the plastic area when I'm using the heat gun, and the moment I see the plastic start to warp, I'll turn the heat off. After some practice you'll start knowing the best times to turn the heat gun off before the plastic even begins to melt.
When the sticky just won't come off – In a perfect world, all of the sticky residue would come off easily, but there are times where it just won't go away. This is also a concern if the item you're removing the sticker from could potentially be damaged if there were too much Goo Gone absorbed into the packaging. When this happens, I place a clean label over the sticky part or perhaps a Thank You sticker.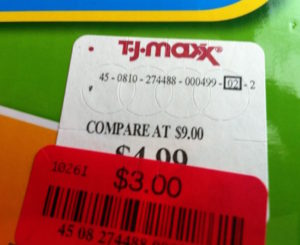 Removing pre-cut price stickers – Have you ever had to remove a price sticker that is impossible to peel off all in one piece? You know, you start to peel the sticker off, but it's pre-cut so you end up having to peel off multiple pieces? That can waste time and cause frustration, but I've found a simple solution. Put a piece of tape over the price sticker. That way, when you peel it off, it will all come off as one piece
Outsource – Peeling of price stickers is a job that almost anyone can do and provides a great opportunity to outsource. I currently have our assistant remove most of the price stickers for our items, but I've also had my kids perform this job. If your child is old enough to handle the heat gun, then now is a good time to train them how to use it properly. Perhaps you can even show them the video from above to teach them.
Ok, now you are equipped with the knowledge of the best ways to properly remove a price sticker. Did I miss something? Do you have another way that works best for you? I'd love to hear how you remove stickers in the comment below.
*This post was updated for 2022

JumpStart Amazon
Build a Successful Amazon FBA Business
By now you know that running a successful Amazon business takes hard work, but you also want to be sure you spend your time focusing on Amazon FBA strategies that are actually proven to provide the results you're looking for. If you're ready to finally get serious about your Amazon FBA business, then I invite you to check out JumpStart Amazon: Build a Successful Amazon FBA Business.
JumpStart Amazon is a combination video course and ebook. The ebook is over 220 pages filled with the content and graphics you need to start a successful Amazon business from scratch. The video course features 5 main sections, 19 content-packed modules, and over 40 videos adding up to over 10 and a half hours of video training. This training is set up to help you build a solid foundation and then know how to find growth and success on top of the basics. This course is packed with more results-focused knowledge than any other ebook out there centered around starting an Amazon business. Find out more about JumpStart Amazon today.