"I need to buy more inventory, but I don't have very much money to spend on my business!"
We've all been there, right? Most of us started out as Amazon FBA sellers with very little capital to spend on inventory. Some folks might start out with a significant chunk of change they want to invest, but typically FBA sellers start out with limited funds.
In this blog post I want to give you a list of ways you can find Amazon FBA inventory for little or no money. My inspiration for this post comes from a common question in our Facebook group or on our YouTube channel: "Should I take out a loan to buy more FBA inventory?"
We've discussed in a previous blog post that we highly discourage new sellers from taking out a loan to buy inventory, and you can read our reasoning for that advice here. But if you shouldn't take out a loan, how do you get more inventory?
Good question, glad you asked. Here are a few ways we suggest finding Amazon FBA inventory for little to no money, as well as ways to earn some extra money to spend on inventory:
Free inventory at home
Take a look around your home and see what kinds of things you have right in front of your eyes that you can send in to FBA as inventory. Look for anything you have at home that is brand new, never opened – maybe you bought it with good intentions but never opened it, or maybe it was given to you as a gift and you don't need/want it. Also take a look at your bookshelves and see what books you no longer need that are in good condition, or look in your game cabinet for board games or video games (either new or used) you don't use and can sell. Be sure to use the Amazon Seller app or Scoutify to check your eligibility to sell items.
Freecycle
Check out the website Freecycle for postings in your geographic area. Sometimes folks would rather give away items to people who can use them, rather than donating them to a thrift store or throwing them away. It's worthwhile to keep an eye on Freecycle and see what kinds of items are available in your area that you might be able to resell. Note: For all of the websites in this list that require meeting a stranger to pick up an item, be sure you practice safety measures such as not going alone or having a friend on the phone during the pick-up.
Facebook Marketplace
Same goes for Facebook Marketplace. You might be able to find items for free or low cost that you can resell.
Local Facebook Buy/Sell/Trade/Free Groups
Be sure to join your local Facebook buy/sell/trade groups – some of them even have posts for free items! It's also a good idea to be in these types of groups so that you can make your own posts of items for sale if you have Amazon overstock or returns that are no longer suitable for sale on Amazon.
Craigslist
You can often find inventory for free or low cost on Craigslist. You'll need to do your due diligence to research the items and ask the right questions ahead of time. Check out this post with my top ideas of items to buy on Craigslist to resell on Amazon.
Local recycling centers
This one might be surprising to you – local recycling centers sometimes give away or sell for low cost items that have been dropped off for recycling but are still usable, including books.
OfferUp free
OfferUp is another website similar to Freecycle that has listings of items people are needing to get rid of, sometimes for free. You can get books, board games, etc from these types of websites.
Letgo free
Same deal with Letgo, a website with local listings of items folks want to get rid of. Check out the postings and see if there's anything you can resell on Amazon!
Library free book box
Sometimes you'll see a box at the library with books that are available for free. You never know what you'll find there that can be listed on Amazon and make you some extra money to buy more inventory.
Garage sales
Garage sales can be a great place to get low cost inventory with a high ROI (return on investment). Check out my free garage sale webinar for more details on how to make money on Amazon by sourcing from garage sales.
Garage sale leftovers
This suggestion is going to require more time and effort, but I used to do it on a regular basis and was able to earn a good amount of money to snowball into more funds for Amazon inventory. When I first started selling on Amazon, I did quite a bit of sourcing at garage sales. I printed a business card that said "I will haul away your garage sale leftovers" and put my contact info on it. At every garage sale where I scanned for books or other items, I gave my business card to the person running the sale. When folks are finished with their garage sale, they often aren't interested in cleaning up what's left over – they just want it gone so that their garage is no longer cluttered. So they would call me at the end of the day, and I was able to fill up my minivan with their leftovers and then resell the items on Amazon, eBay, or even my own garage sale. Be sure to check out Craigslist and other sites with garage sale listings so you know where to go each week.
Thrift stores
Thrift stores can be another excellent place to source for low cost inventory with a high ROI. At thrift stores be sure to look for used books, board games, or collectible toys that are in complete condition with no missing parts.
Library sales
Most libraries will have annual or periodic sales where they clear out excess books or media, and you can find used items to sell on Amazon.
Estate sales
Similar to garage sales, you can sometimes find great inventory for sale at estate sales for a relatively low cost with high potential ROI. Even if the items you find aren't suitable for Amazon, you might be able to sell them on eBay and roll those profits over into more sourcing capital for your Amazon FBA business. Don't forget that a lot of estate sales will mark everything down 50% on the final day of the sale.
Host your own garage sale
I know, I know, more on garage sales…but you can really maximize garage sales to earn sourcing money for your FBA business when you're just starting out. Our first tip was to look for inventory around your house to sell on Amazon. But even if you can't sell stuff from your house on Amazon or even eBay, nothing is stopping you from doing a complete household decluttering and having a big garage sale to earn money for sourcing capital. In the past we've even had friends and family give us stuff that they've decluttered, so we can add that to our garage sale.
Side job
An obvious way to earn some money for sourcing capital is to get a side job and use those funds to buy inventory. If you have a full-time 9-to-5 job, look for something you can do nights or weekends, like security guard or cleaning houses. You could drive for Uber, Lyft, Door Dash, whoever, and use the earnings to buy more inventory. Having a side job like this is definitely a sacrifice of time and energy for you and your family and relationships, but if it's for a short period of time it might be worth it to earn some more capital.
Sell on Poshmark
You can sell your gently used clothing and shoes on Poshmark to earn money for sourcing capital. We even sell our Amazon returns and overstock on Poshmark and love it! Check out this blog post from Rebecca for more details, and don't forget to use the code UZGDS to get a $5 credit when you sign up to buy or sell on Poshmark.
Swagbucks
You can use the Swagbucks website to earn credits toward cash back or free gift cards. We use Swagbucks to earn money back on online purchases, and sometimes we take silly surveys or polls to earn credits. You can use the gift cards you earn through Swagbucks to buy more inventory.
Rakuten
The Rakuten website and Chrome extension is another way we earn cash back on our online purchases. We're always careful to shop through Rakuten for both personal and business purchases so that we earn the maximum amount of cash back.

This list is just scratching the surface of ways you can earn money for sourcing or find free/low cost inventory to sell on Amazon FBA. Please leave a comment below if you have other (legitimate and legal) ideas for how to boost your FBA inventory without going into debt.

If you're ready to start or grow your Amazon FBA business with a solid plan that will lead you toward long-term success, then I invite you to check out the JumpStart Amazon course.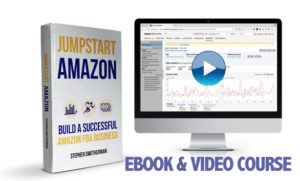 In JumpStart Amazon, you will know exactly, step-by-step, how to build up a successful Amazon FBA business from scratch. From setting up your seller account to finding profitable inventory to knowing how to best use your profits, I'll show you the proven strategies for how to start your Amazon FBA business off on the right foot.
After you experience JumpStart Amazon, you'll be able to:
Understand multiple proven strategies to find profitable inventory that sells quickly on Amazon
Know the right steps that will help make your first Amazon paycheck a big one
Easily decipher the most misunderstood aspect of selling on Amazon
Recognize the right inventory items to sell and which ones you should avoid
Handle brand and category restrictions with ease so that you can sell even more products (and get more brand approvals)
Know the biggest problem with sourcing inventory (and how to overcome it)
Know the strategies to have your products sell more often than your competition.