When it comes to sales rank, every Amazon seller has their own idea of what a "good" sales rank is. For me, I'll almost always buy a toy that is consistently ranked under 150,000. I'll even buy a toy that is ranked much higher, as long as the number of competing sellers is low and the ROI of the toy is high. But a toy ranked over 1 million? What reseller in their right mind would buy a toy ranked over 1 million? Well… me.
Do I buy up all toys ranked over 1 million? No, I don't. Sales rank is just one part of the decision process I go through to when I'm making my buying decisions. In fact, here is the full checklist I consider when it comes to buying decisions.
As you spend more time selling on Amazon, you begin to realize that sales rank is just a number that signifies how recently a particular item has sold. A toy with a really low sales rank (1-1000) sells possibly many times per day, whereas a toy with a higher sales rank could possibly only sell once a week, once a month, or even once a year. A low sales rank does not ever guarantee that a particular item will sell. It only states how recently and often an item has sold.

A few years ago, I came across an electronic "Are You Smarter Than a 5th Grader?" handheld game. It was still brand new in its original packaging and the store was asking $4.99, so I picked it up and scanned it. The information that was returned to me told me that this toy was ranked over 1.2 million, and had no current sellers. I checked Keepa and it did not have any recent pricing history. Many times, I would have put this toy back on the shelves and kept on sourcing, but I just couldn't let it go.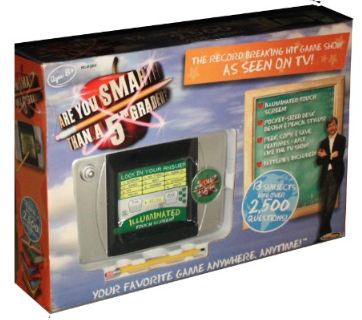 I knew that "Are You Smarter Than a 5th Grader?" was a popular game. I had sold a few of the board game versions in the past with great success. I didn't know that they made an electronic handheld version. I had also had some success with selling electronic handheld games, but that didn't mean that this game would be guaranteed to sell fast.
I started to think… Since this game had no current sellers, it's possible that the rank was so high because it had been so long since it was even available to be sold on Amazon. The longer an item has no sellers, the faster its sales rank will rise, until, at one point, the sales rank might disappear all together.
I decided to investigate further on Keepa by adjusting the date range. In my Scoutify sourcing app, I clicked on the Keepa quick link (here's how to add that to your Scoutify app) and looked at the lifetime sales rank and pricing history.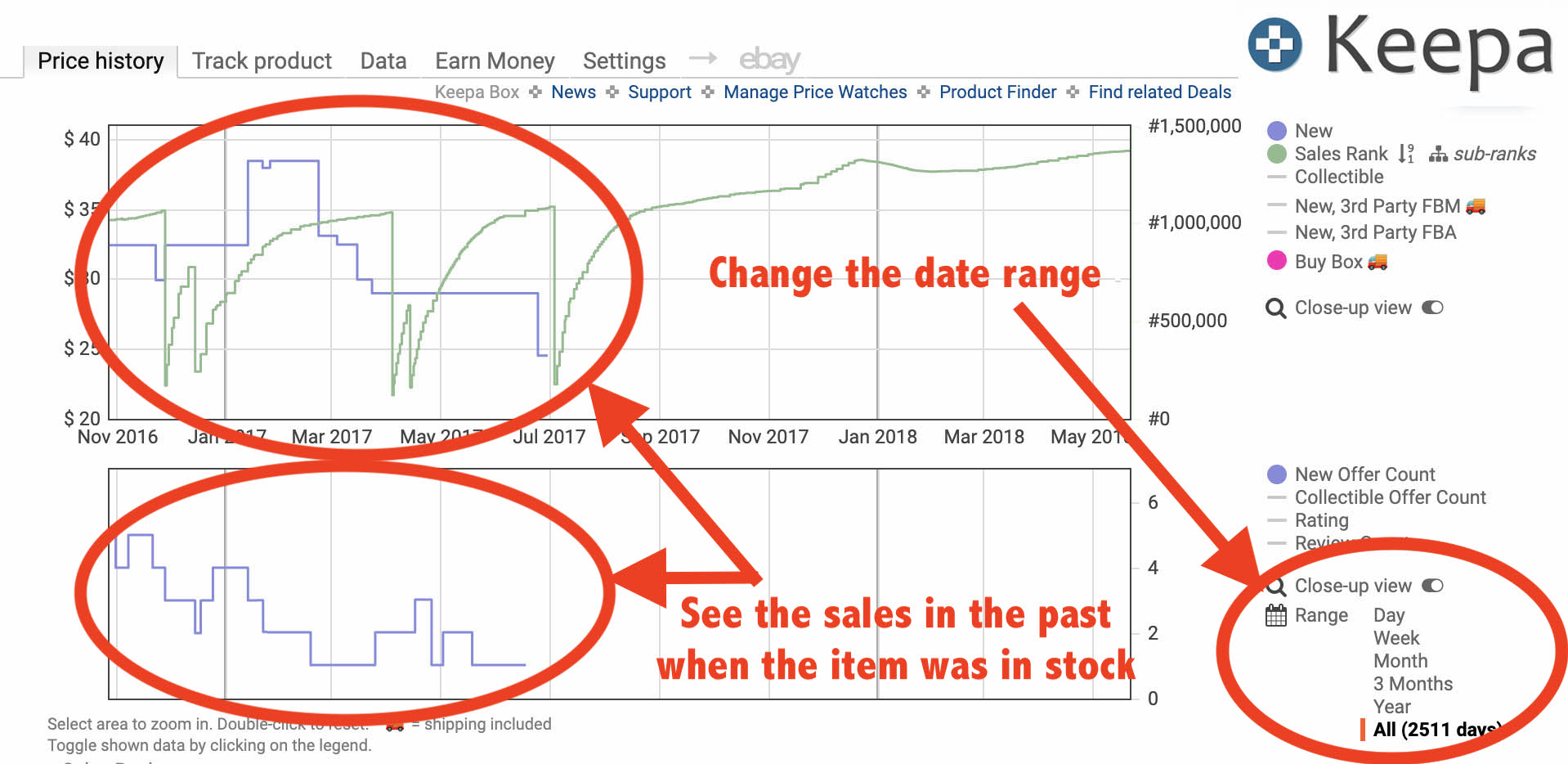 When taking a deeper look at Keepa, I saw that the item had some sales when it was in stock, and I even was able to see the lowest price of those sales thanks to Keepa. With this data, I felt confident that the item, if in stock, would sell soon so I purchased the 1.2 million ranked toy to sell on Amazon.
Since the item was out of stock, I could pick my own price. I priced a little higher at first with a plan to lower the price if the item did not sell within a month.
I bought this item from Goodwill for $5.00 and two days later, it was on its way to an Amazon FBA warehouse. I'm happy to inform you that only a few weeks after the toy went live on Amazon, the toy sold at my $39.99 sales price. Now, I'm wondering if I should have priced it even higher. In any case, I turned a $5.00 investment into a $40 sale. I'll take that any day, and all it took was one minute researching the Keepa app to see the pricing and sales rank history for that toy.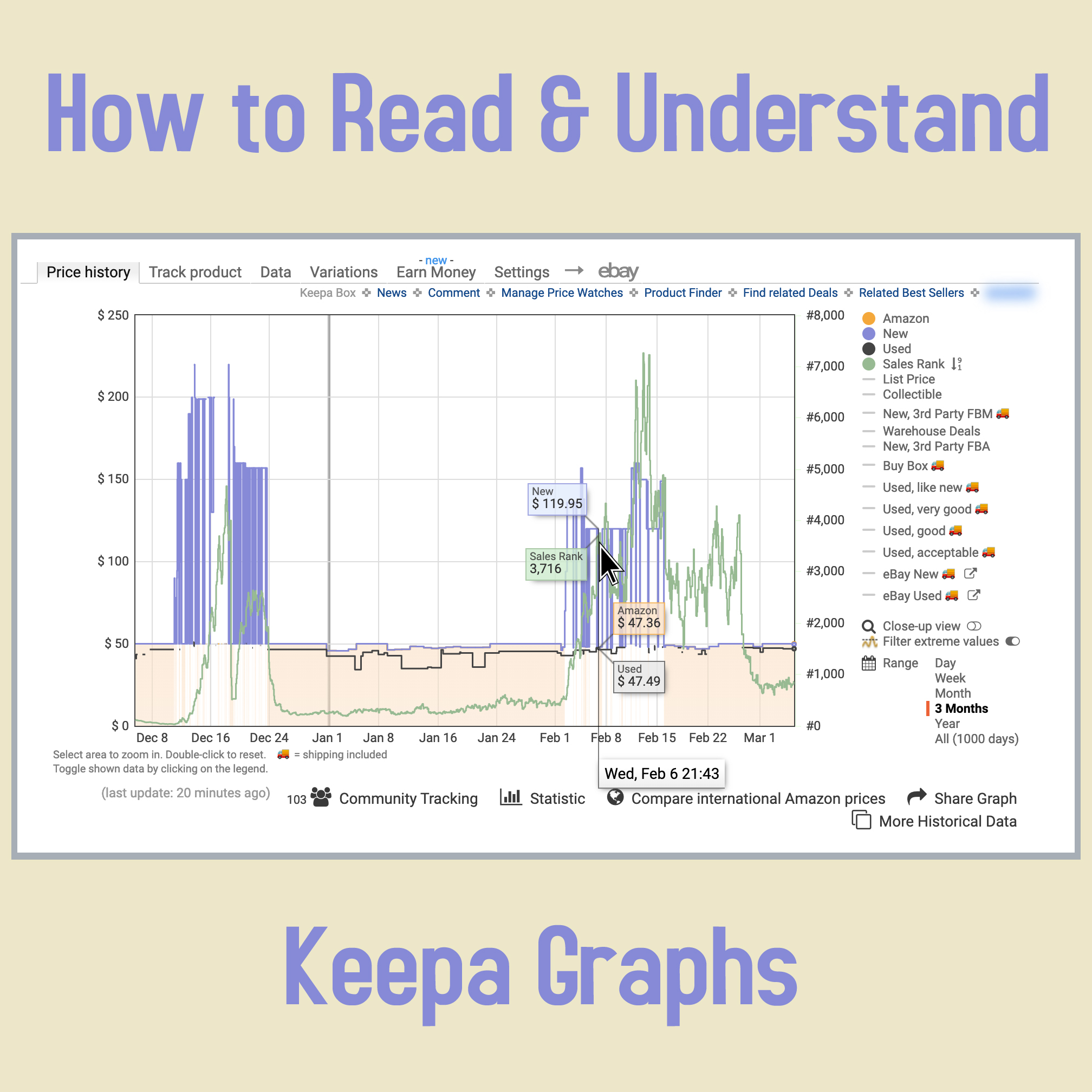 If you need a free intro to Keepa video showing you how to read and understand a Keepa graph, then check out this helpful video.
Note: If you want a FREE PDF download of the latest Amazon Category Sales Rank, all you gotta do is click here.
So what about you? What other things do you think about when you making your buying decisions? Have you ever taken a gamble with an item ranked super high? How did it turn out for you?
*This post was updated for 2021

The Reseller's Guide to Sales Rank
Sales rank is easily the most misunderstood aspect of selling on Amazon. What is a good sales rank? What does a sales rank of zero mean? What do I do with sales rank for sub-categories?
Why does sales rank have to be so confusing so much of the time?
I'm here to tell you it doesn't have to be that way! You can finally get the clarity you need on the issue of understanding Amazon sales rank numbers. We at Full-Time FBA have launched a mini-course called The Reseller's Guide to Sales Rank: Understanding Amazon Best Sellers Rank for Maximum Profits. The mini-course is a combination ebook (30+ pages) and video course (almost 2 hours).
Check out The Reseller's Guide to Sales Rank mini-course to see how you can master the concept of best sellers rank and be on your way toward smarter sourcing decisions for your Amazon FBA business!