"Selling at a loss?! Why would an Amazon FBA seller do that? I'm here to make money – isn't everybody?"
It might be strange, but selling inventory at a loss is a situation that comes up from time to time in the Amazon FBA world. If you think the idea sounds ridiculous, you're not the only one. When we first heard of this happening when we were newbie sellers, we couldn't understand it at all. Isn't the whole point of selling on Amazon to make profits, not lose money? Why would you go ahead now and sell an item at a loss, rather than waiting it out to make extra money or trying to sell the item somewhere else and get even a small amount of profit?
In the rest of this blog post, we are going to walk through why sellers might be inclined to use this "sell at a loss" strategy and how their actions affect you as a seller. There are actually several smart strategies that some sellers employ (at the right times) when they are deciding to sell an item at such a low price.
Let's take a look at several reasons why a seller would sell at a loss and how these strategies could impact your own Amazon business:
They are liquidating their inventory.
Liquidation is likely the most common reason people sell items at a loss on Amazon. They could need to liquidate their items for any number of reasons – they need their capital back, they want to avoid a potential restriction, etc. Whatever the reason, these sellers have decided to lower their price as low as necessary to get rid of the item through selling it at a loss, rather than having to return the item to their location and deal with it further. Many automatic repricers even allow you to set up a "liquidation setting" in their rules to take care of this issue automatically. We have needed to liquidate inventory in the past and have set up liquidation rules in our BQool automatic repricer. Want our non-liquidation profit maximizing BQool repricer rules that doubled our sales too? You can get those by clicking here and reading to the bottom of that article.
They want to avoid storage fees.
If an item has been sitting in the FBA warehouse for a long time without selling, a seller might be interested in selling at a loss in order to avoid any potential upcoming storage fees. Those fees could be the regular monthly storage fees, the long-term storage fees charged after 12 months at the warehouse, or the increased storage fees associated with Q4. Depending on the numbers involved, it might make more sense for a seller to slash their price to get rid of the item than to pay a storage fee on an item that may or may not sell in the future. For a quick link to Amazon's Seller Central page on storage fees, check out fulltimefba.com/storagefees.
They are trying to improve their seller metrics or IPI.
Sometimes sellers aren't as concerned about making a profit on a particular item in the short term as they are about protecting their Amazon seller account for potential long-term profitability. If they have poor seller metrics or a low IPI (inventory performance index), they might be concerned about their account health preventing them from continuing to sell and make great profits long into the future. One way to improve seller metrics or a low IPI is to sell more items at a faster pace in order to increase your sell-through rate and reduce your potential for excess inventory. Some sellers choose to sell off their current inventory at a loss to improve those metrics, instead of or in addition to going out to source more inventory that will sell at a faster rate.
They are trying to improve their feedback score.
This reason is similar to the one above. A seller might be wanting to increase their overall number of feedback or to improve their feedback score after getting some negative or neutral scores. For a seller in this situation, their overall account health and their ability to get the buy box (which has some relation to feedback score) is more important at the moment than making a profit off the item they've chosen to sell at a loss.
They want to get approved to sell Merchant Fulfilled toys for Q4.
During November and December Amazon typically places a restriction on which sellers can sell toys using the Merchant Fulfilled method. Being able to Merchant Fulfill toys in the weeks leading up to Christmas can expand your ability to make big profits with fast turnaround, rather than waiting to make sure those toys are shipped and checked in to an FBA warehouse in time to sell quickly before the holiday rush is over. In order to qualify to sell toys Merchant Fulfilled in Q4, Amazon typically requires sellers to have a certain number (usually 25 or so) of Merchant Fulfilled sales in August through October to provide a proven track record of successful order fulfillment. If an FBA seller doesn't usually sell Merchant Fulfilled, they may decide to sell enough items at a loss to qualify to sell during Q4, with the hopes that their Merchant Fulfilled profits during Q4 will more than outweigh the losses incurred for qualification.
They're not selling at a loss – they're buying it cheaper than you.
If you've ever sourced at a retail store or website, found a potential item to resell, but see the third-party price on Amazon is at or around the same price you're seeing in the retail store, then you've possibly felt confused as to why these sellers would be selling products "at a loss." We see comments like this in our Facebook group from time to time: "Why do these low-ball sellers keep the prices on Amazon so cheap? How are they making any money reselling it when the buy cost is the same as the selling price?" The answer we always come back to with this question is "You don't know what their buy cost was." Just because you see an item all around you in every retail store for the same buy cost doesn't mean that other seller bought it at that price. In fact, that other seller is who you want to become as an FBA seller! Become the seller who other people are scratching their head at and wondering, "Why are they selling at a loss?" when you know that actually you're making big profits because you have a lower buy cost than anyone else.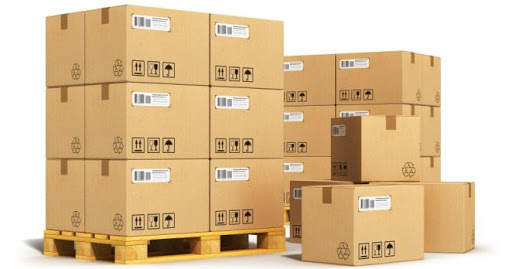 How do you do that? Wholesale sourcing! With wholesale sourcing you can purchase large quantities of items at a deep discount compared to the price you could buy it at a retail store or website. You can price your inventory lower than people using retail arbitrage or online arbitrage sourcing methods because you still make profits even at the lower price. You can capture more time in the buy box because you have both a lower price and larger quantities in stock. Wholesale sourcing can be the key to having the most competitive price on your Amazon listings and making great profits as a result.
Now we want to hear from you! What are some of the strategic reasons you might sell your inventory at a loss – on purpose? Comment below and share what has worked for you.

The Reseller's Guide to Keepa
Have you heard about Keepa? It's a tool (with both a free and a paid plan) that can dramatically lower the risk of sourcing inventory items that end up tanking in price. I'm sure you know how it feels to buy an item expecting it to sell for a high price only to see the price tank soon after you send it to Amazon. With using Keepa the right way, you can protect yourself from that happening!
Basically, Keepa tracks the vital data on almost every item on Amazon. It can quickly show me the sales rank history, pricing history, buy box price history, used item history, Amazon in stock history, competitors' stock levels, and so much more. With Keepa, I can easily look at the data from the past and better know what to expect in the future when it comes to price and sales velocity.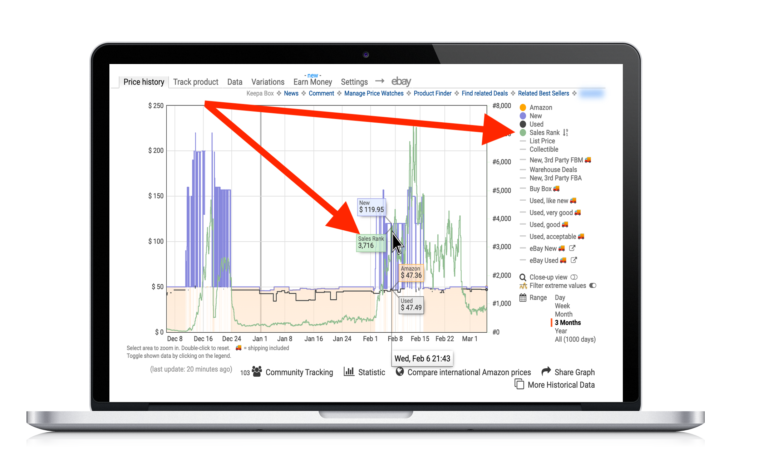 To find out everything there is to know about using Keepa to make smart sourcing decisions, be sure to check out our course, The Reseller's Guide to Keepa: Using Amazon Sales History to Make Smart Sourcing Decisions.
With this course, you'll make more confident sourcing decisions, better pricing decisions, and you'll grow your Amazon business to the next level by selling your inventory faster and at higher prices!