I admit the topic of "end of year reports" is not all that exciting, but it's very necessary… in fact, if you don't do this right it could have some negative impacts on your business.
No matter if you sell on Amazon as a serious income stream or as an occasional hobby, you're still required to report your income to the IRS. It's important to know that there are several reports you should be sure to send to your CPA (or whoever is doing your taxes).
Before we go any further I want you to know that I am not a tax specialist or giving you any tax advice. I highly recommend hiring a local CPA who is knowledgable of online sales and all the tax implications for your state. Today, I'm only showing you how to get the reports that you need to add to all of your other 2018 tax documents.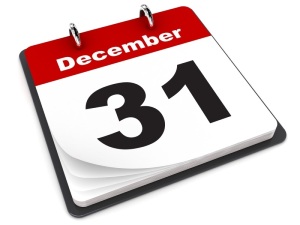 Download your Inventory on Hand report
Ok, there is one report that you MUST run after December 31st. The easiest day to run this report is on December 31st (or early in the day on January 1st). This report will let you know how much inventory you have still stored at Amazon at the end of the year. The reason you need to run this report on December 31st is because it's the easiest time to to find out what inventory you had in FBA warehouses on specific dates in the past. There is another way to run this report if you were not able to run it on December 31st/January 1st, and I'll show you how to do that later in this blog post.
To pull this report, follow these simple steps:
Log in to Seller Central.
Hover your pointer over "Reports," and then select "Fulfillment."
Under Inventory, click on "Amazon Fulfilled Inventory" on the left side of your screen. you might have to click "Show more" to find it.
Click on the "Request Download" button.
The report status column will state that this report is "In Progress" until it's completed.
Once the report is completed (usually a minute later), a "Download" button will appear next to the most recent time the report was requested. Press the "Download" button.
Your report is now downloaded to your computer as a .txt file. Open up the file.
Some computers will open this file into a spreadsheet program; if this is the case for you, simply skip to step 11.
For other computers, the report will open in a notepad type program with a lot of hard to read (and hard to organize) text. If this is the case for you, simply select all the text (Control-A for PC users or Command-A for Mac users).
Open up an Excel type spreadsheet and paste the text you just copied. The data will now be more organized in a spreadsheet format.
Save the file with a name like "2018 Amazon Year End Inventory."
Note: Do not print this document out. If I would have printed my document out, it would have used 784 pages. That's because the document also contains all of the items in your inventory that are sold out and are at zero quantity. If you rarely (or never) delete any of your MSKUs that you no longer use (because you're sold out and don't plan on selling again), then you may have a file even longer than mine. So don't print the file, but do save it and email it to your CPA (or whoever is doing your taxes).
An additional step (that might make your CPA's life easier) is to take the spreadsheet information and sort the "Quantity Available" column from largest to smallest, and the scrolling down and deleting all of the lines that include a quantity of zero. Since you are sold out of these items (hence the quantity of zero), you and your CPA don't need that information for a report about inventory on hand.
Other reports on the same Reports/Fulfillment page that your CPA would probably like to see are the following: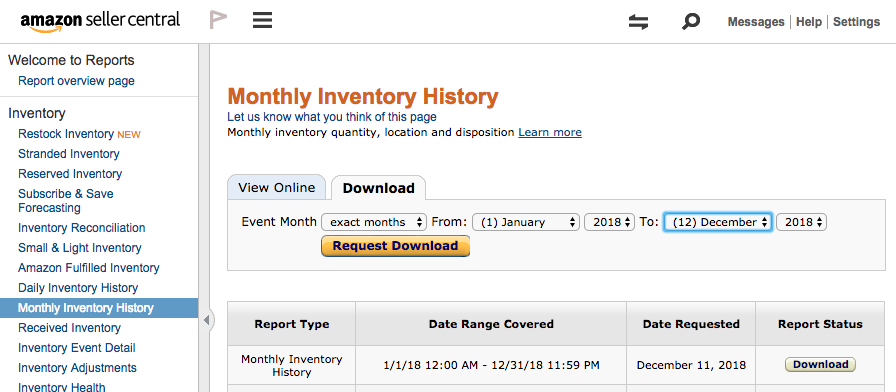 – Monthly Inventory History – Found under Reports, then Fulfillment, then on the left sidebar click the Show More link in the Inventory section, then Monthly Inventory History. Click on the Download tab and run this report for the full year (choose "exact months" and January to December of the current year for the report time period) and it will show you a monthly breakdown of what you sold each month.
NOTE: If you didn't run the main report above on December 31st or January 1st, then you can use the Monthly Inventory History report in its place. It has the same information as the Inventory On Hand report, but it's a lot harder to read, organize, and understand because it's broken down into the months of the year and includes different lines for each item per individual fulfillment center.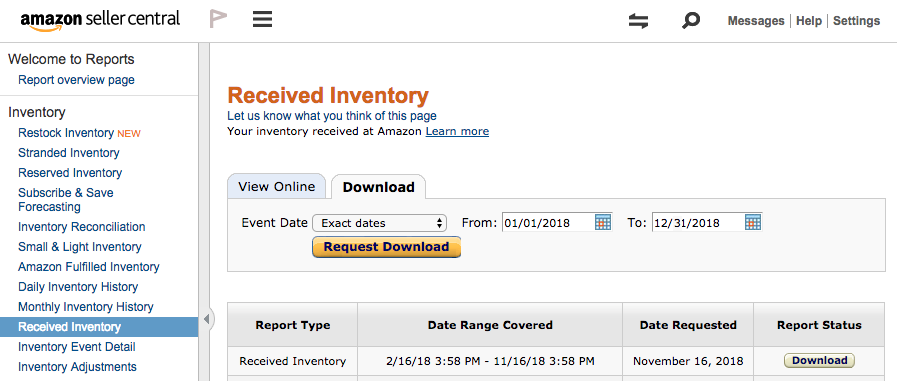 – Received Inventory – Found under Reports, then Fulfillment, then Show More, then Received Inventory. Click on the Download tab and run this report choosing "last 12 months" as your time period. This shows what inventory items Amazon received from you this year.
Note: As with the "Year End Inventory" report, be sure to move the report over to a spreadsheet program (like Excel or Google Sheets) so that it's easier for you or your CPA to read.
When you run these reports, don't forget to choose "last 365 days" or "last 12 months"  0r "exact dates" (with January 1st being the start and December 31st being the end) for your report dates. You want the reports for the whole year, not just the current month.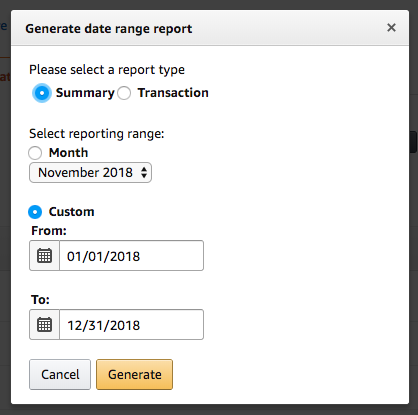 Your CPA would also like to see a report of your sales, fees, and income from Amazon. The way to find and run this report is a little different than above, so here is how you do it:
Log in to Seller Central.
Hover your mouse over "Reports," and then select "Payment."
Click on the "Date Range Reports" tab.
Click on the "Generate Report" button.
Select Report Type: Summary
Select Date Range: Custom
Enter in this date range: "01/01/2018 – 12/31/2018"
Click "Generate" to get the report started.
Once the reports are ready, they will be available to download.

Note: If you are running the "01/01/2018 – 12/31/18" report before December 31st, then the report will not be ready to download until after January 1st. Set a reminder somewhere to come back and download the report on January 2nd. If you are running this report after January 2nd, then it should be ready to download in a few minutes.
Get all of these reports to your CPA ASAP. You really don't want to be late on getting the tax process started. Again, if you don't have a CPA, I highly recommend getting one as soon as possible. It might seem costly, but you want to be sure your numbers are right, and you want a professional to do the work that would eat up way too much of your time if you did it yourself.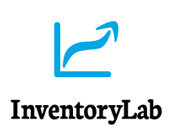 Of course, these aren't the only numbers you'll need to give to your CPA. They will also need to know your cost of goods (you logged your receipts, right?) and any other business-related expenses you will deduct from your sales numbers. I recommend using InventoryLab to keep track of all your business expenses like cost of goods, mileage, supplies, etc. If you don't have all of your expenses' data stored in one place, I highly recommend using InventoryLab – especially at the start of a new year so you can have all of your financial data in one place from the start of the year. Get a free month of InventoryLab by clicking here.
If you are an InventoryLab user, then here is a video on how to use InventoryLab to make sure you're ready for year-end tax reports and what you need to do before and after December 31st.

Make 2019 your Best Amazon Sales Year Ever! 
Imagine knowing exactly what to expect in your Amazon FBA business every month of the year.
Imagine what it would feel like knowing you were not missing out on any of the opportunities that will come your way in 2019.
Imagine working on your Amazon business knowing exactly what your priorities are, what you need to avoid, and what you need to accomplish during each month to make progress toward making 2019 your best sales year ever.
Find out more about The Reseller's Guide to a Year in FBA: A Month by Month Guide to a Profitable Amazon Business today. The package includes a 220+ page ebook, interactive training webinars throughout the year, 12+ hours of video training, and 4 special bonuses.

If you liked this post and found it helpful, scroll back up to the top and subscribe to the blog. I'll update you about once a week with helpful tips on how you can make a full-time income with FBA.
Ok, 2018 is almost over. What other things are you doing during the last week of the year in order to prepare for 2019? I'd love to hear what you're up to this week!