Recently on the Full-Time FBA blog I've been talking with you about how important it is to keep your inventory prices updated if you're wanting to increase your sales and profits. I've shared with you how to manually reprice your inventory, when it's best to manually reprice, and if you should consider using Amazon's Automate Pricing repricer tool. Now, I'm going to share with you the best repricing solution I've ever experienced: BQool.
Bqool is, hands down, the best tool that I've added to my Amazon business in the last 4 years. Only InventoryLab and Keepa (both of which I started using over 5 years ago) have eclipsed BQool in the impact that they've had on my Amazon business today.
After I started using BQool, my inventory was optimized to have the most competitive prices on Amazon. Notice, I didn't say the "lowest" prices, but the most competitive. BQool helps lower my price a little if I need to, but it also helps raise my prices when the opportunity is there! My sales and profits have never looked better.
Let me tell you more in this video: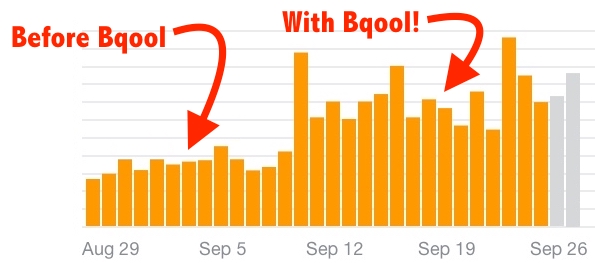 As you can see, using BQool helped my Amazon business get to the next level. My sales increased and my profits increased. Not only that, but I've spent less money on storage fees (both monthly and long-term) because my inventory is selling much faster than before. BQool has helped raise my IPI score, and improved the health of my overall Amazon business.
Imagine what your Amazon business would look like with an increase in sales like this. You'll get bigger disbursements which will lead to more sourcing money. The faster you can reinvest your sourcing money into more profitable inventory, the faster you can grow your overall profits. It's like a snowball effect that will grow your Amazon profits again and again.
I want to give you my own personal BQool pricing rules that literally doubled my sales the first month I used it. 

If you sign up for BQool via my link, then I'll send you my own personal BQool repricer settings that helped me double my sales the first month of using it. Just contact me from the same email you used to sign up for BQool (so I can verify your free trial) and once verified, I'll send you my personal BQool repricer settings.
Now, I'd love to hear from you. Have you considered using an automatic repricer? What would you do if you were able to increase your Amazon FBA sales by using BQool? Any fears you might have about using a repricer? What excites you most about the idea of using BQool?
*This post updated for 2021