You found some great products, bought them, priced them, labeled them, and sent them off to Amazon. Now what do you do? Of course you go out and look for even more inventory, but how often do you think about the prices of your inventory that's sitting in a FBA warehouse? Prices in brick-and-mortar stores change all the time, and this is equally true with Amazon. As time goes by, your inventory will both gain and lose competition. Other FBA sellers will possibly undercut your sale price, while other sellers might sell out of an item. Just because you priced your item competitively three months ago doesn't mean that it's still priced to compete right now.
Smart FBA sellers take the time to evaluate the prices on their items to make sure they are priced to sell quickly and maximize profits. Repricing your inventory on a somewhat regular basis in order to keep prices competitive is a wise business decision. As you think about pricing strategies, you'll soon learn that repricing doesn't always mean lowering your price, but can often mean raising your price. We'll talk more about repricing strategies in an upcoming blog post.
Now, let's go over how to reprice your items manually. Use the image below to see a visual representation of each step.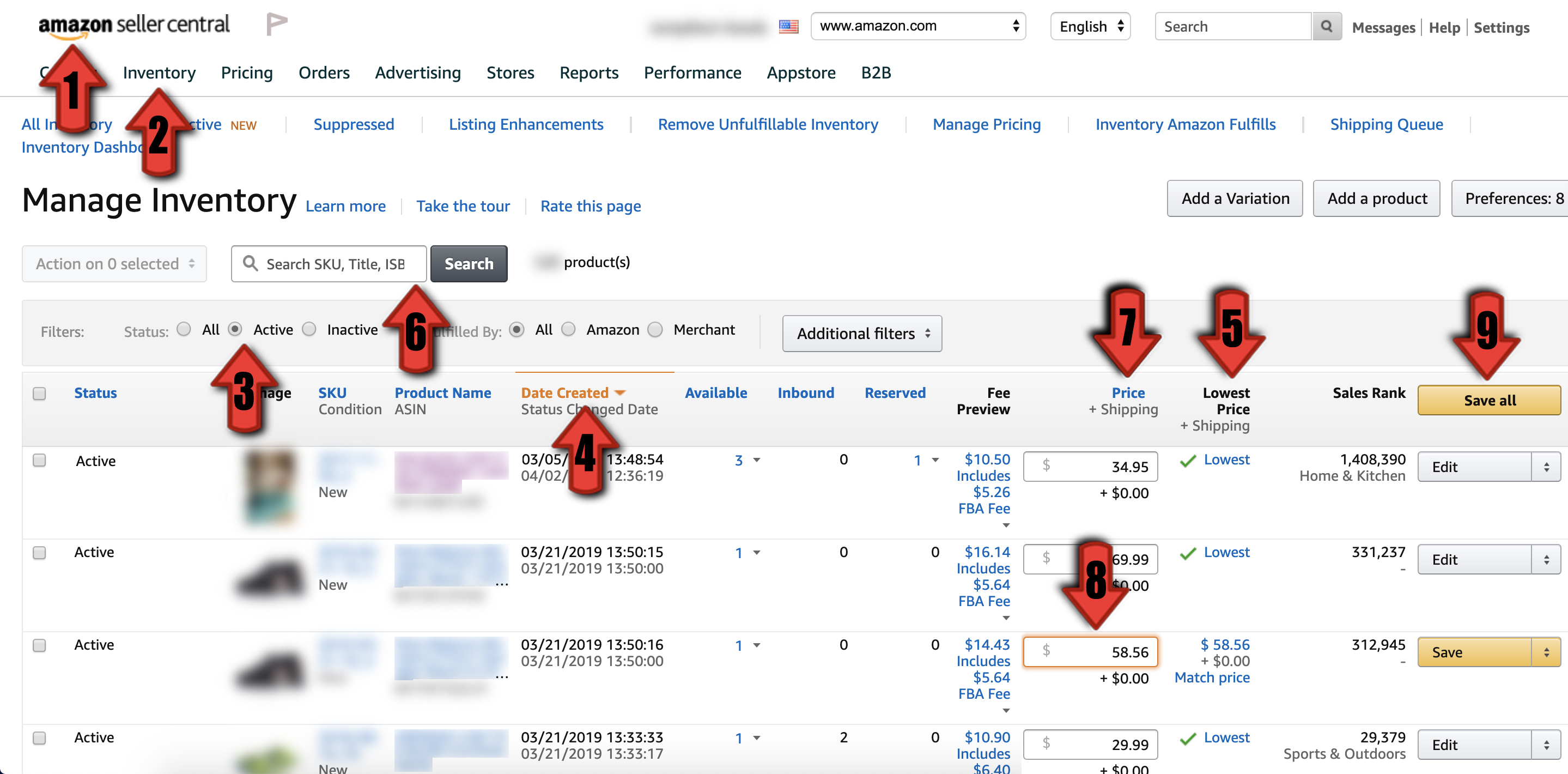 1. Log in to Seller Central
2. On the top left of the screen, click "Inventory."
3. On the filters row be sure that only the "Active" option is selected. This will show you what items are currently in stock (no need to reprice something you don't have in stock anymore).
4. The default setting is to sort your inventory by Date Created, but you can change that to however you want to sort your inventory (by product name, SKU, quality available, quantity inbound, quantity reserved, and your price).
5. In this list, Amazon provides you with the current low price + shipping for each item, but be very careful with this information. Don't just automatically click on the "Match price" option. Sometimes Amazon will give you the lowest used price even if you are selling a new item. It's always best to open up the individual item's product page to see for yourself what the current buy box price is, as well as what the competition is selling that item for, and then decide for yourself how you want to price your item. A quick click on the ASIN/UPC link will open up the Amazon product page where you can get all the info you need to reprice wisely. Note: If you see a little check mark in the "Low Price" column, that means that you have the current lowest price.

6. If you're looking to reprice a specific item, you can search for that item in the search bar located near the top left of the screen. You can search by product name, MSKU, ASIN, UPC, FNSKU or ISBN.
7. Under the "Your Price" column, you'll see a column of boxes where you can update the price of the items you wish to reprice.
8. Simply type in the new price you want. The price box will be outlined in a yellow/orange glow indicating that you have updated the price, but have not submitted it to Amazon yet.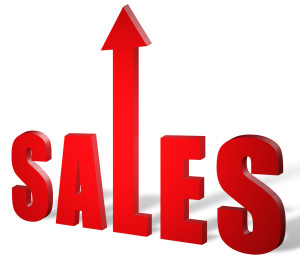 9. Submit your new prices to Amazon. You can either do a hard return in the price text box, click the save button on that item's line, or wait until you are done updating prices on select items on the page, and then click the "Save" button on the top of the Save All column. Once submitted, it takes only a few minutes for Amazon to update the prices for your items.
There you have it. You are now equipped with the skills to reprice your Amazon inventory. Keeping your prices current and competitive is a key component to a successful and profitable Amazon business. In our next blog post, I'll share with you my 6 most profitable repricing strategies.
Comment below if you have any questions about repricing. I'd love to help you in any way that I can.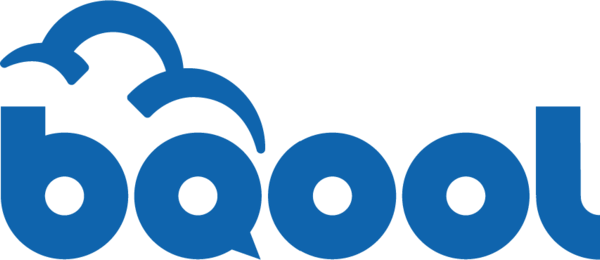 Why reprice manually when you can automate repricing?
Manually repricing is great when you have lower inventory levels and can handle repricing from time to time, but once your inventory levels start to get larger, you might want to consider using an automatic repricer like BQool.
We started using the BQool automatic repricer service in September of 2018, and now we wonder how we ever ran our Amazon business without it.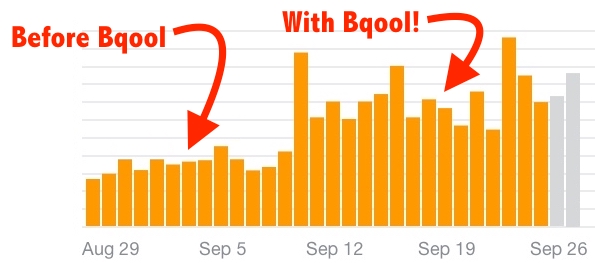 If you're wondering how well BQool works, just know that for the first month of using Bqool, our sales literally doubled. Not only that, but BQool syncs with our InventoryLab account and automatically imports my buy costs. This is a huge time saver.
For a 2-week free trial of Bqool, click here.
Free BQool Bonus – If you sign up for BQool via the link above, then I'll send you my own personal BQool repricer settings that helped me double my sales the first month of using it. Just contact me from the same email you used to sign up for BQool (so I can verify your free trial) and once verified, I'll send you my personal BQool repricer settings.

Note: This post was originally written in 2014, but has been recently updated for 2019.