There are multiple situations where it's in your best interest to remove some of your items from your Amazon FBA inventory. Here are just a few:
To remove dead inventory that seems like it will never sell
Because the item has become restricted and you can no longer sell it
To lower your monthly storage fees on larger items
and more…
Before 2016, there were only two options if you wanted to remove your inventory: You could have it returned to you or have it destroyed. In 2016, Amazon has added a new option called Amazon Liquidate. If you choose to liquidate some of the items in your inventory, then it's possible that you will actually get paid for "selling" your items to a liquidator via Amazon. I'll give you the details of how much money you could get later on in this post.
The Amazon Inventory Liquidation Program is still in beta, so it might not be available to every Amazon seller, but Amazon plans on trying out this program to see if it can help both Amazon and Amazon sellers make some money from sellers liquidating some of their inventory.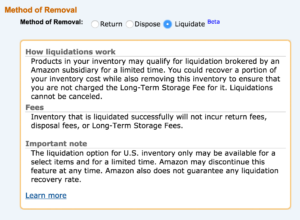 Here's how the program works:
You chose the specific items you want to be removed from your inventory.
You are given the option to return, dispose, or liquidate your items. Note: If the liquidate option is not available, then either that option has not rolled out to your account yet or that item has already been deemed ineligible for liquidation.
Once you submit your items for liquidation, Amazon will spend up to 60 days looking for a liquidator who is interested in buying your chosen liquidation inventory.
During the 60 days, Amazon will not charge you any Long Term Storage Fees (THIS IS HUGE).
During the 60 days, Amazon also will not charge you any Monthly or Long-Term Storage Fees for items successfully liquidated.
If Amazon finds a buyer for the items you submitted for liquidation, Amazon will keep 10% of the liquidation payment and will give you the remaining 90%. Note: It's pretty normal for a liquidator to only offer to buy liquidation items for around 10% of the average selling price, so basic math tells me you can expect to receive around 9% of the average selling price as a liquidation payment.
If Amazon does not find a buyer in 60 days, then once again you are left with 2 options to remove your inventory: return or dispose.
Once an inventory item has been selected to be liquidated, there are no options for you to cancel this process.
Payments for all liquidated items will appear in the "Miscellaneous adjustments" section of your Payments Report in Seller Central. You should receive the payment within 60 days from the date you submitted the liquidation.
If you don't get the liquidation payment, then it's a good idea to open up a ticket with Seller Central and have them investigate.

So when are the best times to use the Amazon Inventory Liquidation Program?
If you think you can get more from the liquidation program than from any other method of selling that item (like on eBay, at a garage sale, through Craigslist, etc)
If you would have originally paid to dispose of that inventory, then liquidate it and possibly get paid for it instead.
If you don't want to deal with returning items to your house/business.

The Amazon Inventory Liquidation Program is still fairly new, and even Amazon says there is no guarantee they won't suddenly pull it without warning. It's an interesting option, however, to think about when you're faced with removing items from your inventory.
If you're curious how to set up a removal order (either to return, dispose, or liquidate) on Amazon via Seller Central, check out this quick video:
So what do you think about the Amazon Inventory Liquidation Program? Do you think you'll try it out? If you do, be sure to check back here and share your experience with the rest of us.