Have you ever looked at a CamelCamelCamel graph and thought, "Are you sure those are prices and sales ranks? It looks more like the results of a lie detector test."
If so, this blog post should help you get a basic understanding of what is involved in reading a CamelCamelCamel price or sales rank history graph while you're sourcing for your Amazon FBA business. Toward the end of this blog post I'll show you a video walking through how to understand these graphs directly on the CamelCamelCamel website.
You know we talk about CCC all the time on this blog, but that's because we just don't source without using this valuable website. We believe you shouldn't make buying decisions for your Amazon FBA inventory based solely on today's sales rank and pricing alone; you really need to make decisions based on the historical data.
Let's start with the price history graph because that's what comes up first when you search for a product on CamelCamelCamel.
On the left of the graph you'll see the range of prices for which this item has been offered on Amazon. Along the bottom of the graph is a range of dates.
On the right side of the graph is a sliding bar where you can adjust the date range visible on the graph to 1 month, 3 months, 6 months, 1 year, or all data available.
You can also adjust the type of pricing information shown in the graph by selecting the price for Amazon (green), 3rd Party New (blue), or 3rd Party Used (red).
Next let's look at a sales rank graph. You can toggle back and forth between sales rank and pricing history on the tabs above the graph.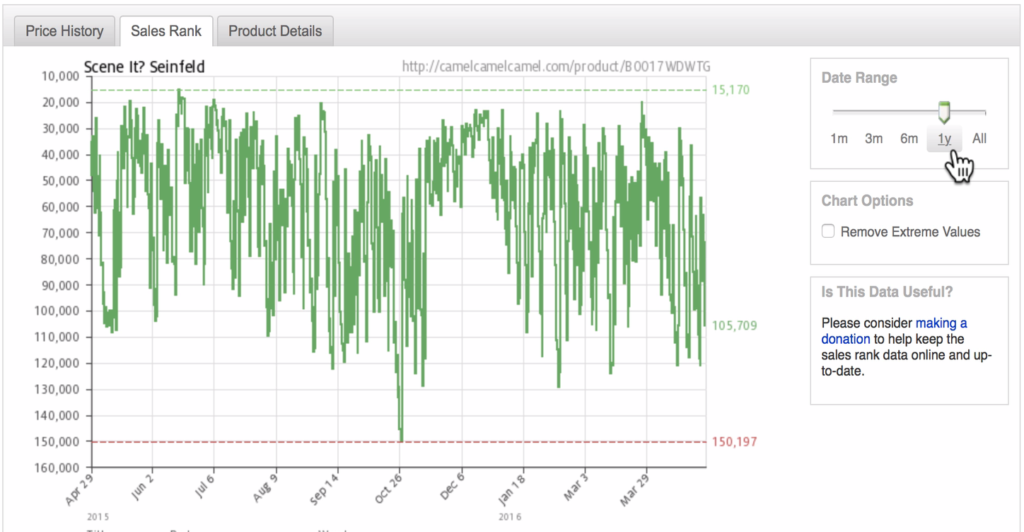 With sales rank, you will find the dates are still located along the bottom of the graph. Now, however, you will find a range of sales ranks along the left side of the graph, with the higher sales rank at the bottom and lower sales rank at the top. Again, you can adjust the sliding bar on the right to show you different date ranges on the sales rank graph.
One handy use of the CamelCamelCamel sales rank graph is to count the sales for a product during a certain period of time. You can tell if a sale has occurred by finding a sharp rise on the sales rank graph, which indicates a sharp drop in the sales rank. When the sales rank drops, it means a sale has occurred; a lower sales rank means more sales.
You can practice counting sales on a sales rank graph that we've included here. As you read across the graph from left to right, any time the line has a sharp uptick, that means at least one sale has occurred. If the line rises even more sharply, there were possibly two or more sales.
Go ahead and look at the graph and count how many sales you see.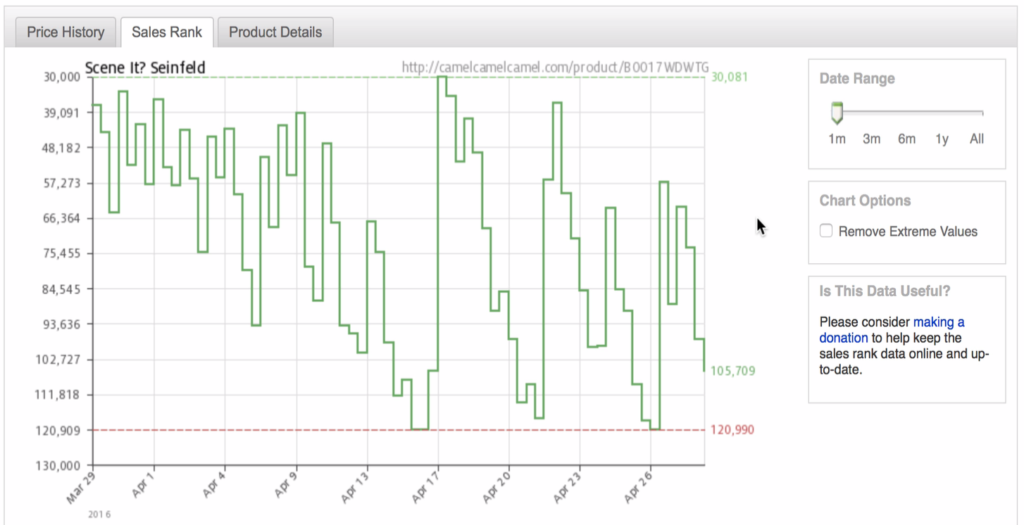 How many sales did you get?
We count 36 or 37 sales. There's no way to know exactly how many sales occurred, but this is our educated guess based on this particular sales rank graph.
If you would like to see a video with a short walk-through of the above information in action on the CamelCamelCamel website (including why we think there were around 36 or 37 sales from the above graph), be sure to check out this CamelCamelCamel Tutorial on our YouTube channel. Also be sure to subscribe to the YouTube channel to get notifications when we post new videos (usually 1 or 2 times a week).
I want to encourage you today if you're making sourcing decisions without using historical sales rank and pricing data from CamelCamelCamel — there is a better way to buy Amazon FBA inventory! You can make smarter sourcing decisions. Your business will hugely benefit if you take the time to learn how to use CamelCamelCamel.
This blog post is just scratching the surface on what I can teach you about CamelCamelCamel. To find out everything there is to know about using  CamelCamelCamel to make smart sourcing decisions, be sure to check out our course, The Reseller's Guide to How to Keepa Camel: Using Amazon Sales History to Make Smart Sourcing Decisions. This course is a combo ebook and video course where I walk you through everything you need to know to make sense of both CamelCamelCamel and Keepa in ways you've never thought of.
How about you? Do you use CamelCamelCamel? What is your favorite thing about Camel? I'd love to hear from you in the comments below.