Are you dragging your feet in starting your Amazon FBA business? This post is for you.
OR…
Have you already started your Amazon FBA business, but you're tempted to quit? This post is also for you.
Many contingencies and what-ifs might be plaguing your mind right now when it comes to thinking about building a successful Amazon business, but we want to help fill your mind with TRUTH, not fear – and we want to help you stay the course in building your business, even when the times get tough.
It's easy when you first hear about the opportunity of earning money through selling via Amazon FBA to get excited and want to learn more. We can start making plans to start a business. We can start talking about what it would be like to have a business. We can start thinking about how we would use all that money we'll make from our business. But what we really need to do is start the business!
Today we're going to discuss 4 fears of getting started in Amazon FBA and how you can conquer those fears with the truth. If you've already started FBA, going back over these 4 truths will help you refresh your memory about how to keep up your progress in selling online.
FEAR #1: I don't know enough to start my own Amazon FBA business.
TRUTH #1: You can always learn!
And there are plenty of places to learn – some places for a fee and some really great places to even learn for free. Don't let your lack of knowledge become an excuse for inactivity.
The best place to get a basic understanding of what you need to know for starting an Amazon FBA business is right there within the Amazon guidelines. Every seller must be responsible to read and apply the guidelines for him or herself.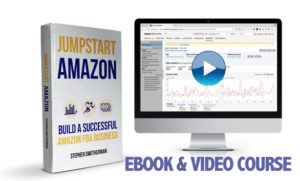 For a step-by-step video course on how to sell on Amazon FBA, we recommend JumpStart Amazon: Build a Successful Amazon FBA Business. The course is a combination of video modules (10+ hours) and ebook (200+ pages) showing you how to start an Amazon FBA business that's set up for long-term success. The videos and ebook share the same content, so you can decide how you best want to learn (read or watch).
If you're looking for information on taxes as related to selling on Amazon, check out the awesome services of TaxJar.
And as always, you can get tons of information for free here at the Full-Time FBA blog (subscribe to the newsletter for some free PDFs!) and on our YouTube channel. We also have a Facebook group where you can search the archived posts or ask questions. Only have time to listen to audio, check out our podcast, The Full-Time FBA Show. See, you have no excuse that you can't learn what you need to know to succeed.
FEAR #2: I don't have any inventory to grow an Amazon FBA business.
TRUTH #2: There are great places to find inventory all around you – you just need to start scanning barcodes!
Note: We like to use Scoutify for our scanning app because it comes packaged with InventoryLab for listing and accounting.
Our favorite places to look for low-cost FBA inventory are
Garage sales (check out our series of Garage Sale Tips on the blog)
Estate sales
Thrift stores
Clearance sections of retail stores and online stores
Regular price sections of retail stores and online stores
Your own house
That last one is our favorite place to find inventory when we don't know where else to look. Look on your bookshelves for books you haven't gotten around to reading in years. Look through your kitchen cabinets for a gadget you got last year for Christmas but never even opened. Look for old board games that have no missing pieces, but you just never play them any more. All of these items could be potential profits on Amazon FBA.
Need some podcasts to help you find inventory? Here are a few to get your started from The Full-Time FBA Show:

FEAR #3: I don't have enough money to start an Amazon FBA business.
TRUTH #3: Yes, it does take some capital to get started with a business. But unlike many businesses that require a great deal of investment up front, you can get started with Amazon FBA with a relatively small amount of capital.
In fact, we have a YouTube video that shows how you could potentially start FBA with as little as $500 (and $300+ of that money would go towards inventory!).
If you're looking for items around your house, at garage sales, or in thrift stores, you can buy inventory for less than a dollar and potentially sell it for $10, $20, $30 or more. The potential return on investment (ROI) for these types of items gives you a lot of momentum when you're just getting started.
If you are truly strapped for cash and want to start FBA, we recommend saving up a few hundred dollars first. Some people work a part-time job for a few months in order to save up some capital, and others have a garage sale of things around the house to make some money to invest in FBA.
We do not recommend using credit cards or taking out loans to start FBA. There is too much risk involved in learning the business to run up debt in the process. Instead, focus on finding low-cost, high-ROI items and start your business slowly. You'll be surprised at how quickly you learn and how quickly you can turn your profits into a snowball of disbursements from Amazon!
Need a podcast to help you earn money for inventory? Here is one from The Full-Time FBA Show: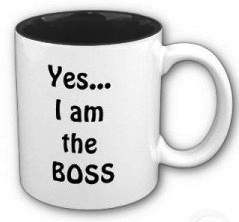 FEAR #4: I'm just not sure I can do this. Do I have what it takes to run my own business?
TRUTH #4: Maybe you've tried out other ventures in the past that haven't turned out so well, and you're afraid to experience the same kind of results. The fear of failure is holding you back. This fear is valid and real. But it can be overcome!
You have to disconnect the event of failing from you as a person. You may have failed in the past, but you are not a failure. My dad likes to emphasize this truth to me in a quote from Zig Ziglar: "Failure is an event, not a person."
For all of us, there will be times that we fail. No exceptions. This applies to everyone. But you can't take your failures personally. If you do, that's where your business will start to break down (or never get off the ground!).
Instead, we learn from our failures. We leverage our mistakes into educational experiences that can't be gained for any amount of tuition at a business school.
When we're starting out at any new venture, we're like a new baby learning to walk. The baby may fall down a few times (OK, a lot of times), but never does that baby decide, "You know what, this walking thing is too hard. I just can't get it. I think I'll crawl the rest of my life." No, the baby gets up, tries again, and eventually starts walking. Then running. Then skipping. The same can be true for any of us in our Amazon FBA business.
Now is the time to put your fears aside and start taking action. Let's look at the acronym for the word START:
Schedule The Action Required Today!
What action do you need to schedule to take the next step in starting or advancing your Amazon FBA business? Don't get overwhelmed with everything you need to do, but instead, just focus on the next step.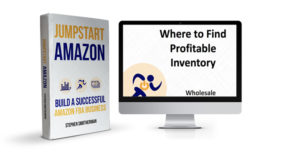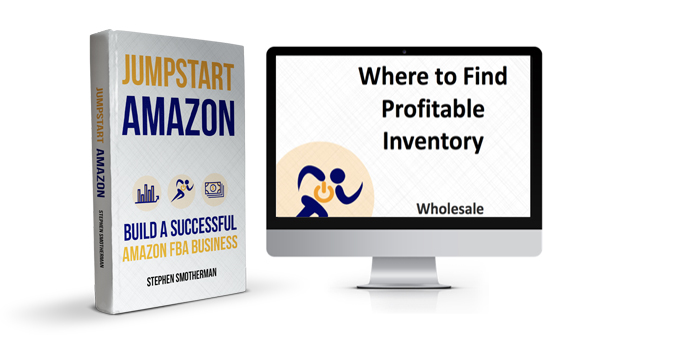 So what is your next step?
Learn more? Grab the JumpStart Amazon course.
Source more? Plan a time to go sourcing for inventory. And go!
Ship more? Send all that inventory you have at home in to Amazon.
Do you have any other fears that are holding you back from starting Amazon FBA? Do you ever face the temptation to quit your FBA business? Let's talk in the comments!
*Post updated for 2023

JumpStart Amazon
Build a Successful Amazon FBA Business
By now you know that running a successful Amazon business takes hard work, but you also want to be sure you spend your time focusing on Amazon FBA strategies that are actually proven to provide the results you're looking for. If you're ready to finally get serious about your Amazon FBA business, then I invite you to check out JumpStart Amazon: Build a Successful Amazon FBA Business.
JumpStart Amazon is a combination video course and ebook. The ebook is over 220 pages filled with the content and graphics you need to start a successful Amazon business from scratch. The video course features 5 main sections, 19 content-packed modules, and over 40 videos adding up to over 10 and a half hours of video training. This training is set up to help you build a solid foundation and then know how to find growth and success on top of the basics. This course is packed with more results-focused knowledge than any other ebook out there centered around starting an Amazon business. Find out more about JumpStart Amazon today.