Nothing is more frustrating than trying to get your point across to a Seller Central representative and feeling like you are continually being misunderstood.
In previous blog posts, we have covered ways to handle different glitches within the Amazon inventory system – some of which require opening a case and sending a written message to ask for an investigation, a reimbursement, or some other type of assistance.
To open a case, you will need to log in to your Amazon seller account, and click on "Help" in the top right corner of the screen. A box will pop up where you can click "Contact Us" at the bottom.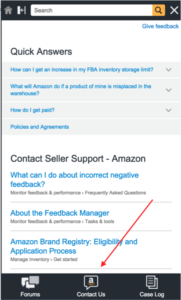 Next, you will see the question "What service can we help you with?" You'll want to click "Selling on Amazon," which will bring up a list of options for the type of issue you are having.
You can browse through the list of issues to find the one that best fits the problem you need assistance with.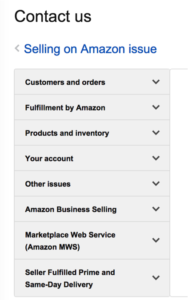 When you're communicating with a Seller Central representative through the "Contact Us" button, there are a few things you will want to keep in mind:
1. Be prepared with the correct info.
You will need to provide the basic information about the specific issue you are having problems with, so it helps to have that information handy before you open your case. If it's a shipment problem, be sure you know the shipment number. If it's a problem with a particular product, be sure you know the ASIN or UPC. Any other details you can provide, including screen shots, would be helpful to the representative who assists you.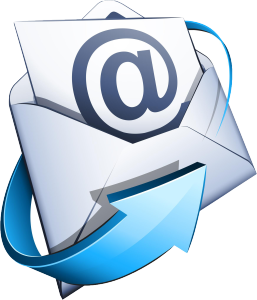 2. Always start with e-mail.
You will be given the option to have the representative respond to you via e-mail or phone. We recommend always sending an e-mail detailing your issue and requesting an e-mail response. It's good to have a paper trail proving what happened in the course of your case. You may not need that paper trail in the future, but it's good to have it just in case. Also, sometimes the representative will call you even if you request an e-mail. Other times they call to tell you they've e-mailed you (a bit of overkill, don't you think?). It's a good idea to save the Seller Central number in your phone's contacts so you'll know Amazon is on the line the next time they call.
3. Be polite.
Your mom was right: Politeness goes a long way in this world. So be polite! Even if you're answering your third or fourth response in your case, stay polite with the Seller Central representatives. Always thank them for their time and always use the magic word "please."
4. Use the "magic words."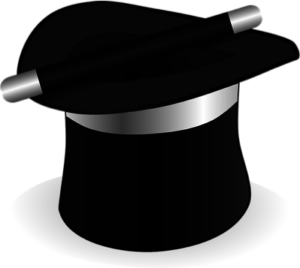 Besides the word "please," Seller Central representatives also respond well when you use a few other magic words. Amazon corporate training emphasizes core concepts that you, too, can emphasize in order to help the Seller Central representative understand your request better:
"The customer experience" – You're likely aware that Amazon desires to be the most customer-centric store on the planet. They want customers to have an amazing experience shopping on their website, in order to keep them as loyal buyers in the future. Seller Central representatives are trained to prioritize the customer experience over other concerns, including your own requests as a third-party seller. If you can find a way to tell the representative how your problem is affecting the customer experience, you are much more likely to get a positive response. Here's an example of writing the same request two different ways, one using the magic words:
Not so effective: Please help me change the title of this product so that I can get more sales. The current title is wrong, and I can't get my product on the first search page.
More effective: The current title of this product is affecting the customer experience because customers cannot easily find it in a search using the correct title. Please change the title of the product to improve the customer experience.
"Take ownership" – Amazon trains their representatives to take ownership of problems and work to find the best solution. If you are having problems with getting the run-around on your case and the representative isn't being helpful, you can gently remind them to take ownership of this issue.
Example: Thank you for continuing to assist me. We have already been working on this problem for over a week now, and we still haven't solved the problem. Please take ownership of this issue and help me investigate the best solution.
4. Be persistent.
Sometimes you won't get a good answer on your first (or maybe even second) try at communicating with Seller Central. If you know the answer you receive on the first response is not correct, be persistent (but always politely persistent!) and reopen the case. This might be a good time to use the "take ownership" phrase – or you can try another magic word: escalate.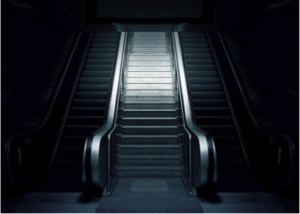 Example: Thank you for continuing to assist me on this issue. The reimbursement amount I received is unfair. Please refer to the numbers I have provided you below. If you aren't able to help me get the correct reimbursement, please escalate this case to your supervisor. I appreciate your help!
Hopefully you are able to use the tips in this blog post to learn some ways to more clearly communicate with Seller Central representatives. As Amazon sellers, we always want to keep in mind that there's a human at the other end of our e-mails to Amazon. Communication can be difficult in any situation, but there are ways to make improvements on our end when it comes to opening cases in Seller Central.
Now, I'd love to hear from you! What "magic" words or strategies have you used in order to effectively communicate with a Seller Central representative? Share your tips in the comments below.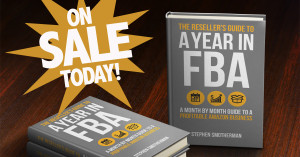 Imagine knowing exactly what to expect in your Amazon FBA business every month of the year. Imagine what it would feel like knowing you were not missing out on any of the opportunities that will come your way this year. Imagine working on your Amazon business knowing exactly what your priorities are, what you need to avoid, and what you need to accomplish during each month to make progress toward making this year your best sales year ever. Find out more about The Reseller's Guide to a Year in FBA: A Month by Month Guide to a Profitable Amazon Business today. The package includes a 200-page ebook, month-by-month training videos, and 4 special bonuses.