Last time, we talked about Amazon Split Shipments and the options you have between Distributed Inventory Placement (DIP) or Inventory Placement Service (ISP). Today, we're going to take the conversation to the next level and talk about how to make the most of whatever placement decision you make. For most of us, this decision should not be a one time decision where we set things up and forget about it. A lot of time and money can be wasted if you don't have a strategy in how you choose to react to Amazon split shipments.
The following are different shipping situations I have found myself in. I'll do my best to explain how I have dealt with Amazon split shipments and why I felt it was the best decision to make.
Note: When I mention BNA3, PHX6, RIC2, etc, I am referring to the code names of individual Amazon fulfillment centers that are spread throughout the country.
A. Shipment contains 250 items.
138 → BNA3   70 → PHX6   42 → RIC2
I leave this shipment with Distributed Inventory Placement (the default). There are more than enough items in each individual shipment to warrant the shipping costs. It's not worth it to pay $0.30 per item to send them all to the same FBA warehouse.
B. Shipment contains 30 items.
26 → BNA3  2 → PHX6  1 → RIC2  1 → ABE2
You have four options with this situation:
1. You can send the items in under Distributed Inventory Placement, but you'll overpay in shipping costs to send only two items to PHX6, one to RIC2, and one to ABE2. This option might cost you about $15-$20 more than it needs to cost.
2. You can turn on Inventory Placement Service and pay around $0.30 per item. This will make sure (most of the time) that they will all go to the same fulfillment warehouse. In this example, you will be charged a fee of $9.00 ($0.30 x 30) for all 30 items to be sent to the same FBA warehouse. Note: Inventory Placement only promises not to split up quantities of ASINs, not that all of your shipment will go to the same place – although most of the time that's what happens.
3. You can send in your shipment of 26 items to BNA3, and then delete the other shipments. Maybe next time you enter them in, they'll all go to the same fulfillment center. Important: I do not recommend deleting shipments on a regular basis. This will hurt your seller metrics in the long run, and should only be used in rare circumstances.
4. You can go ahead and send in your shipment of 26 items to BNA3, but leave PHX6, RIC2, and ABE2 open. While leaving these shipments open, you can add more items on a future date. Once you have enough items (maybe 8-10 items or 8-10 pounds worth of items), then you can proceed with sending them in.
The tricky thing about Inventory Placement Services, is that you need to turn it on before you even start a shipment. If you want to use ISP, then the most likely situations when you would need it would be: 1) if you had a small amount of inventory to ship and/or 2) if you had a smaller shipment with multiples of the same SKU. When you have multiples of the same item, Amazon likes to spread those out at different fulfillment centers. Most likely, these two circumstances would be the times that you would consider using ISP. Just don't forget to turn IPS off when you're about to start a new, large shipment.
Personally, I don't think it's a wise financial decision to pay $0.30 – $0.40 per item to send them all to the same warehouse. If I have a shipment of 50 items where Amazon wants to send 48 items to Indiana and 2 items to Arizona, I am not going to pay $15 just so that I'll avoid paying an extra $10 to ship those two items to a Arizona. To me, it's just not worth it. Most of the time, I'll simply leave the smaller shipment open and wait until I have enough items to make a full box which, overall, makes the shipping cost lower.
On the other hand, just because it's not worth it to me, doesn't mean that Inventory Placement Service isn't a good decision for you. You may not be able to wait for a larger shipment to send your inventory in. You might not have the storage space to hold even a few items at your house, or the item you just bought might be a super hot toy item that needs to get to FBA ASAP. In that case, do the math and see if Inventory Placement Service is right for you. If you decide that inventory placement is a long term solution for you, then be sure you include that in your costs when you are out sourcing an item for resale.
So what do you think about using inventory placement service? Is it worth it to you? What other split shipment situations have you been in? I'd love to hear your thoughts on this.

Imagine knowing exactly what to expect in your Amazon FBA business every month of the year.
Imagine what it would feel like knowing you were not missing out on any of the opportunities that will come your way this year.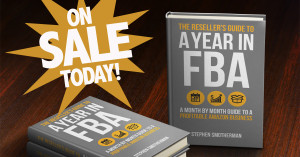 Imagine working on your Amazon business knowing exactly what your priorities are, what you need to avoid, and what you need to accomplish during each month to make progress toward making this year your best sales year ever.
Find out more about The Reseller's Guide to a Year in FBA: A Month by Month Guide to a Profitable Amazon Business today. The package includes a 220-page ebook, monthly training videos, and 4 special bonuses.