It's the number one question I hear from those who are new to selling via Amazon FBA: Why is Amazon forcing me to send my inventory to multiple warehouses all over the country? It's expensive, inconvenient, and it's cutting into my profit margins. What can I do to fix this?
In a perfect world, Amazon sellers would be able to take all of the items they are selling, send them to a single FBA warehouse, and continue to see those items sell quickly. Unfortunately, we don't live in a perfect world. Amazon has their reasons for shipping our inventory to multiple fulfillment centers, so it's important for us to understand why Amazon wants to do this.
As you probably know by now, Amazon is the most customer-centric company ever. Everything Amazon does is to make the customer happy. In relation to inventory, Amazon wants to have as many items spread out across the United States as possible. The closer an item is to the buyer, the faster that item can get there, which helps secure a happy customer. If you have a toy to sell, and Amazon already has that toy in stock in Florida, Dallas, Tennessee, and Colorado, then maybe they'll have you ship your toy to California, where that toy is currently out of stock. When a customer in California wants that specific toy, and that toy is priced competitively, then you have a great chance of winning the buy box and getting the sale.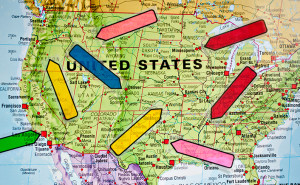 Understanding why Amazon splits up your inventory doesn't always make split shipments any easier. It can be frustrating when the bulk of your inventory is going to Indiana, yet one item needs to go to Tennessee, two items need to go to Texas, and another item to Arizona. For many of us, the cost of sending just one or two items to a separate FBA warehouse can completely destroy our profit margins.
So what is a FBA seller to do? Well, you have two options: Distributed Inventory Placement or Inventory Placement Service. Distributed Inventory Placement is where you let Amazon pick where it thinks your inventory should be shipped to. This is the default for those who sell via Amazon FBA.
The other option you have is called Inventory Placement Service (Click here for Amazon's page outlining inventory placement options). Choosing Inventory Placement will generally create one shipment for most of your standard sized inventory. I say generally, because Amazon actually only promises that they will send all quantities of a single MSKU to a single FBA warehouse. They do not promise that all items in your shipment will be sent to the same warehouse, but more often than not, they will. There are exceptions, such as oversized items, clothes, shoes, and some media (books, DVDs, etc), which will still need to be sent to a specific warehouse other than the main one you usually send inventory to. The inventory placement fee is currently 30 to 40 cents for each standard-sized unit and $1.30 for each oversized item. Click here to see the current fee structure. Remember, this fee is paid for every item that you are sending in to Amazon, not just on the multiples that might get split up if you did not have Inventory Placement turned on.
Here's how to turn Inventory Placement Service on (or off):
1. Log in to Seller Central 2. Go to "Settings" and click "Fulfillment by Amazon." 3. Click "Edit" in the Inbound Setting box. 4. In the "Inventory Placement" section, choose your preferred option (The default is Distributed Inventory Placement) 5. Click "update."  
Before you head on over to Amazon to update your inventory placement settings, it's a good idea to weigh the positives with the negatives of Inventory Placement Service.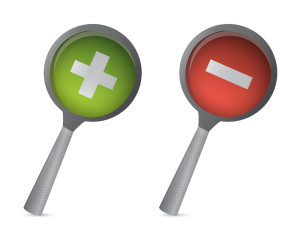 Positives:
1. Multiples of the same MSKU will not be split into different shipments and will all go to the same warehouse.
2. No more shipments of a single item to a different warehouse.
3. Your inventory will most likely be shipped to one of the warehouses close to you. This could mean lower shipping costs and less time your shipments are in transit.
4. Since your inventory will most likely be shipped to a nearby warehouse, you'll get faster processing times, and your inventory could go live much quicker. The faster your inventory is processed, the faster it can be sold.
Negatives:
1. The cost of 30 to 40 cents per standard sized item could add up quickly and eat into your profit margins. If you have a shipment of 100 items, that could cost you $30-$40 in Inventory Placement fees alone. If you're shipping in oversized items or items over 2 pounds, then the fees could be even higher.
2. Inventory placement doesn't promise that all items in a shipment will go to the same warehouse, it only promises that multiples of the same item (MSKU) will not be split into multiple warehouses. So, you still may have to send items to three different FBA warehouses.
3. Here is a little known secret: Amazon ships your inventory to different warehouses without you even knowing it. You might have shipped your inventory to Tennessee, but after it's processed, it could easily be removed and sent to Florida. While Amazon is shipping your item to Florida it's usually considered "inactive" and cannot be sold. Now, there are rare times when Amazon will still try to still sell your item as "back-ordered" to their customer during its transit time, but this is not very common. Basically, I believe that Amazon takes the money it makes from the Inventory Placement Fees and uses that money to reallocate your inventory across the country.
Most Amazon FBA sellers don't like shipping their inventory to so many warehouses, but it's up to you to decide whether it's worth it to pay the Inventory Placement Fees or not. I, personally do not. The fact that Amazon will temporarily deactivate some of my inventory while it moves those items across the country is a deal breaker for me.
To read more about Amazon split shipments and our strategy for how to minimize shipping costs and FBA fees, click here.
So what about you? Do you use Inventory Placement Service? If so, what do you like or dislike about it? Let us know if you have any questions about these options.

Imagine knowing exactly what to expect in your Amazon FBA business every month of the year.
Imagine what it would feel like knowing you were not missing out on any of the opportunities that will come your way this year.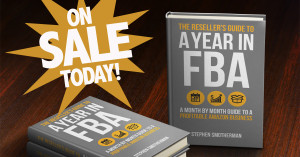 Imagine working on your Amazon business knowing exactly what your priorities are, what you need to avoid, and what you need to accomplish during each month to make progress toward making this year your best sales year ever.
Find out more about The Reseller's Guide to a Year in FBA: A Month by Month Guide to a Profitable Amazon Business today. The package includes a 220-page ebook, monthly training videos, and 4 special bonuses.