Today we're going to look at the sales rank history of a specific book I've been following for over seven months. I first found The Boy Captives at a thrift store near my home and quickly bought it. The book had a rank of about 1 million and was being sold as used on Amazon for over $25. This was my kind of find. My only hesitation was that this book had a rank of over 1 million. I remembered reading that ranks over 1 million won't sell that often and that I should stay away from them… I'm glad I bought that book, for it's given me a huge lesson in sales rank.
As with most of my inventory, I sent The Boy Captives in to FBA as soon as I could. I didn't think much of it and assumed that it would sell someday, but probably not very quickly. I assumed this was going to be a "long tail" item. A few days after the book arrived at the FBA warehouse it sold. I was excited and was wondering if all the "gurus" who warned against selling books over 1 million were right or wrong. I decided to start tracking the sales rank of this book on a daily basis to see what would happen. The results surprised me.
After I sold the book, its sales rank jumped from over 1 million to 247,216. In the book category, this is a great rank. One week later, the book was at 680,293 (still a pretty good rank). Two weeks after the sale, the book was ranked at 1,086,291. The rank was getting worse daily over a two week period — because the book had no sales during that time. Only a few days later the sales rank jumped to 154,950, telling me the book had sold again. The book would follow a similar pattern over the next 7 months. The image below is a screenshot from CamelCamelCamel, showing how the book was purchased about 22 times in 8 months (each spike straight up signifies a sale).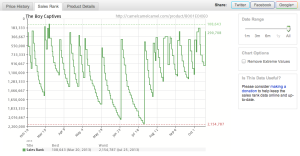 If you found 20 copies of this book in a thrift store when it was ranked 108,645, then you'd probably buy them all to resell. But if you found 20 copies of this book when it was ranked at 2,145,787, then you might pass on all of them. So when you are out scanning books, how can you tell if this is a good book to resell? The answer can be found by looking at factors other than just sales rank.
An additional factor that makes The Boy Captives a good book to buy to resell is the number of sellers. Currently, there are only 7 sellers with this book for sale. The lower the number of sellers, the fewer the sellers who might lower the price of the book in order to seek the next sale. If The Boy Captives had 200 sellers, then it's likely that they might, over time, begin to lower the price in seeking the next sale. The fact that this book sells, on average, every 11 days means that having a lower number of sellers will most likely give you the sale at the higher price you're wanting. If one seller drastically lowers their price to be the lowest, it's not a problem. They'll sell their copy, and about 11 days after that, you can get the next sale.
So when you're out sourcing and find a book with a sales rank of over 1 million, take a look beyond the sales rank and see what else you find. Even finding a 2 million ranked book might bring you back a nice payday sooner than you think. Just look a little harder at the information given to you. You'll make better decisions and your pocketbook will thank you.
How about you? What other factors do you look at when you are buying a book for resale? Leave a comment and let us know about your experiences with books with "high" sales ranks.
Want more info on how to make FBA your full-time job? Scroll up , look at the right side of your screen, and subscribe.
***************
Sales rank is easily the most misunderstood aspect of selling on Amazon. What is a good sales rank? What does a sales rank of zero mean? What do I do with sales rank for sub-categories?
Why does sales rank have to be so confusing so much of the time?
I'm here to tell you it doesn't have to be that way! You can finally get the clarity you need on the issue of understanding Amazon sales rank numbers. We at Full-Time FBA have launched a mini-course called The Reseller's Guide to Sales Rank: Understanding Amazon Best Sellers Rank for Maximum Profits. The mini-course is a combination ebook (30+ pages) and video course (almost 2 hours).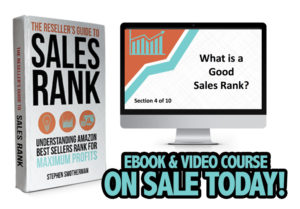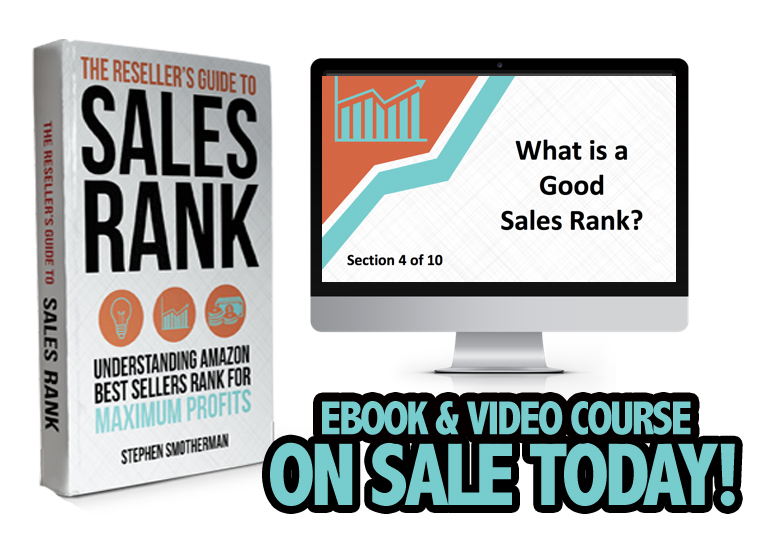 Check out The Reseller's Guide to Sales Rank mini-course to see how you can master the concept of best sellers rank and be on your way toward smarter sourcing decisions for your Amazon FBA business!