When customers request to return a product they bought via FBA, Amazon immediately takes the return funds from your upcoming disbursement and usually gives the customer a shipping label to return the item to the proper warehouse. Customers are on the honor system to return the item they no longer want within 45 days.
When Amazon receives the return from your customer, the warehouse worker will look at the customer's return reason (more on those reasons below) and then make a split second decision on whether the item is still in sellable condition or not.
When customers return an item that is deemed by Amazon as "unsellable," many sellers just click to have Amazon dispose of the item, assuming it's not worth selling anymore. This is a huge mistake because it's very possible the item could still be in sellable condition. Taking a few extra steps to see if that item is actually unsellable or not could help you minimize your loss. Many times the "unsellable" item can still be sold.
Here are the main "dispositions" (Amazon term) in which a customer will return an item and how to best respond to each:
1. SELLABLE RETURNS
Items that are returned as "sellable" will be automatically returned to your active inventory. Unless you're worried that the item is actually not in sellable condition, there is nothing more you need to do once the item is indeed returned to Amazon. If you are worried that the item isn't really in sellable condition, then open up a removal order to inspect the item yourself. Keep reading below to see what to do when a customer has been refunded but the item is not actually returned.
2. DAMAGED RETURNS
There are multiple reasons why an item would be returned as damaged. It's possible that the item was damaged in a FBA warehouse prior to the shipping process to the customer. If the item was damaged in transit, then it's the fault of Amazon (if the FBA worker did not pack the item well) or it's deemed as your fault for not bubble wrapping or protecting the item before shipping the item to Amazon. It could also be your fault if you sent an already damaged item to Amazon. If it's your fault, then there is no reimbursement, but if Amazon is to blame, then you are eligible for reimbursement.
3. CUSTOMER DAMAGED RETURNS
Items that are returned as "customer damaged" will not be returned to your sellable inventory. "Customer damaged" does not mean that the customer bought the item, broke it, and then is attempting to return it. "Customer damaged" means that the customer opened the item, and it is no longer in new condition. Sometimes the customer says they opened the item, but they never really did and it's still in new condition. The best plan of action for these items is to open up a removal order and get them sent back to you. From there you can see if the item is worth being resold as new, like new, or very good condition.
4. CARRIER DAMAGED RETURNS
If the item was damaged in transit, then it's the fault of the shipping company (like UPS, FedEx, USPS, etc) for not taking good care of the package during the shipping process. These returns are ones you should be reimbursed for as it was not your fault the item was damaged. Don't open up a removal order as Amazon will not reimburse you for these if you request for the item to be returned to you.
5. DEFECTIVE RETURNS
The item was returned to Amazon as "defective" and is either obviously damaged/defective or the customer stated that it is faulty. When this happens, the FBA customer is refunded, but (when returned) the item stays in your inventory as "unsellable." The best plan of action here is to create a removal order and have the item returned to you for inspection. Some buyers return an item to Amazon and say it's defective in order to get free return shipping, but the item is not actually defective. I've had many "defective" items returned to me only to find that it's still in brand new condition, some never even opened. If the item can still be sold, then I send it in to FBA again.
Important: If a customer claims an item is defective but in reality it's not, then it's up to you to protect your account and fix this false claim. Too many claims of "defective" can hurt your seller metrics and put your account in danger of suspension. Follow these steps if a customer falsely claims an item is defective in order to get a free return.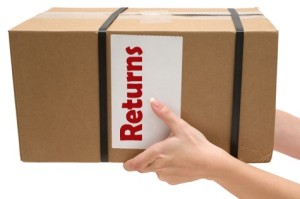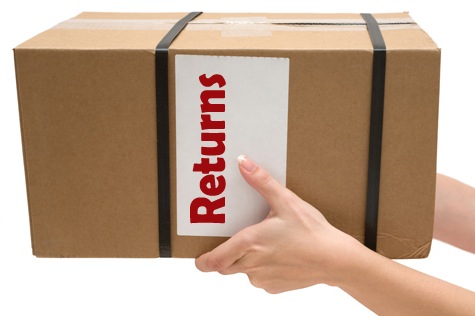 The majority of accepted customer returns are requested within 30 days of the original purchase. The main exception is after November 1st when Amazon gives the customer an extended return window that is open until January 31st of the next year.
After a return is requested, the customer has 45 days to return the item to Amazon. But what happens when a refund has been issued, but the item is never returned after 45 days? This is something that Amazon is supposed to monitor. Amazon should automatically reimburse you when an item is not returned, but this is not done 100% of the time. For some reason, some incomplete returns are missed. When this happens, you'll need to be proactive and request a reimbursement. Just open up a new case with Seller Support and let them know that a refunded item was never returned. Amazon will investigate and eventually reimburse you. It's your money, so be sure you get it.
To find out more about your returned items, log in to Seller Central and then click on Reports > Fulfillment > FBA Customer Returns.
Remember, the occasional return is just part of business and is nothing to worry about. Don't ignore your unsellable returned items as they will just sit in an FBA warehouse and continue to rack up monthly storage fees. Take action and do what you can to get those items to become sellable or, at least, to make sure you get reimbursed for items that were never actually returned.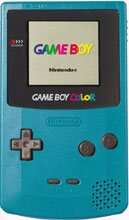 A few years ago, I sold a brand new teal colored Gameboy for about $350. A few weeks later I was notified that the item was refunded. I set up a reminder on my smart phone for 45 days later to check on the status of the return. When I found out that the item was never returned, I opened up a case with Amazon and was quickly reimbursed the full sales price (minus the Amazon FBA fees, of course). Double checking your returned items is worth your time.

Make this year your Best Amazon Sales Year Ever! 
Imagine knowing exactly what to expect in your Amazon FBA business every month of the year.
Imagine what it would feel like knowing you were not missing out on any of the opportunities that will come your way this year (and for years to come).
Imagine working on your Amazon business knowing exactly what your priorities are, what you need to avoid, and what you need to accomplish during each month to make progress toward making this year your best sales year ever.
Take action now and get The Reseller's Guide to a Year in FBA: A Month by Month Guide to a Profitable Amazon Business. The package includes a 220-page ebook, training webinars throughout the year, and 4 special bonuses.

So what about you? Are you experiencing more returns than normal? Do you have a story about a returned item that you were able to recoup your losses on? I'd love to hear from you in the comments below.
*This post has been updated for 2023