Has this ever happened to you? You go sourcing for inventory to sell on Amazon and find some good stuff… I mean, the prices are good, the sales rank is good, but once you finally get these items to Amazon, the prices for many have either tanked, or they just never sell. You check in with these items later and see that the sales rank is now horrible, and if you decide to match the lowest price you might actually lose money. What's going on here?
Today, I'm excited to share with you how I'm able to find inventory that not only sells quickly, but sells at the high prices I expect it to sell for. No matter if it's retail arbitrage, online arbitrage, or even wholesale, when I'm sourcing for inventory, I'm confident that the prices will hold strong and sell soon.

How do I do it? Here's a hint… I use the data gather from a serve called Keepa. If you've heard of Keepa then you know just how important it can be to making smart sourcing decisions. If you have never heard of Keepa here is a quick summary: Keepa is a program that tracks the pricing history and sales rank history of almost every item sold on Amazon. They do a whole lot more, but that's what Keepa is most famous for.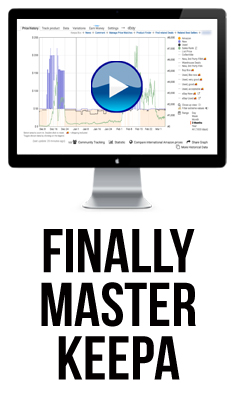 Most people only know the basics of Keepa and are missing out of all the ways they could maximize this service to help grow their Amazon FBA business. For you to really find success with making a full-time income with selling on Amazon, you really need to know and understand everything about Keepa. Once you know just how powerful Keepa can be, you'll wonder how you ever ran your business without it. If used correctly, Keepa can revolutionize your Amazon business. And I don't just say "revolutionize" lightly. It really will greatly impact your profits in a way you could never imagine.
To learn all that Keepa has to offer you and your Amazon FBA business, I've put together this video course, The Reseller's Guide Keepa: Using Amazon Sales History to Make Smart Sourcing Decisions. The course has 5 hours of over 30 laser-focused video training walking you through everything you need to know in order to make smarter sourcing and pricing decisions. Not only that, but the course will teach you how to grow your Amazon FBA business to the next level.
The course includes lifetime updates (every time we update the book or add a video, you get it for free) and a 60-day money back guarantee. To find out more about the course and to read the testimonials of those who have already watched the course and have found success, then click here.