At the beginning of 2014, Stephen and I (Rebecca) sat down and discussed our goals for the coming year — individually, as a family, and for our business. We both love setting goals and working towards them, relishing the feeling of success that comes from seeing improvement as a result of consistent work. (If you haven't read our post on SMARTER goals, you should take a look at it and see if it gives you some ideas for goal setting in your FBA business.)
One of our top goals for the FBA business this year was to branch out into sourcing at liquidation stores. Coming out of Q4, we had a nice amount of capital to invest, and we felt the time was right to push ourselves beyond the places we'd been sourcing in 2013. We took that opportunity to conduct a little "liquidation store experiment" — you can read more about our first liquidation store visit and our experience with Jessica Larrew's book Liquidation Gold in this blog post. The short version is this: we enjoyed our first visit and have since made liquidation stores a part of our normal sourcing routine.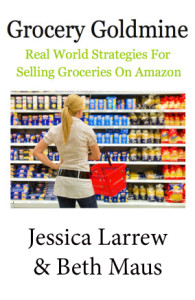 So far, we've had more success at finding grocery items to resell from liquidation stores than items in health, beauty, or any other category. Because of this success, we wanted to broaden our knowledge of sourcing for grocery items. Once again we turned to Jessica Larrew, this time to her book with Beth Maus, 
Grocery Goldmine: Real World Strategies for Selling Groceries on Amazon
.
Just as 
Liquidation Gold
 gave us both knowledge and motivation to find liquidation stores in our area and start sourcing, 
Grocery Goldmine
 helped us think strategically about our goals for our grocery inventory and how we wanted to accomplish them. Jessica and Beth don't just write out a list of items or stores and say, "Here's where to go and what to buy. Get after it." They walk you through the thinking behind certain decisions you'll make for your grocery inventory: how to get the highest profit margin possible, how to be competitive in a growing market, how to make the tough decision to pass up an item that's good for an item that's great.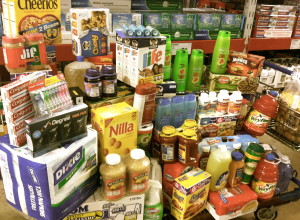 At the end of each section, they give
"Real World Examples"
and
short assignments
for you to complete. I found this part of each section to be extremely helpful. The Real World Examples make the concepts concrete, and the assignments are designed to get you started on putting into practice what you've learned. They aren't theoretical assignments, either — I mean, at the end of one section, I turned off my Kindle and immediately went to the grocery store to finish the assignment. I guess I could have waited to go, but I was so pumped about the potential for finding new inventory that I just got up and left. I came home that day with five items to test selling through FBA.
Within this past month since that first trip, all but one item has sold already, and we've restocked one of those five items multiple times.
We've started sourcing at a handful of other stores in our area and continue to come up with new ideas for where to source for groceries.
Overall, we've been very pleased with the addition of grocery items to our inventory this year. We're not slowing down with our previous big selling categories (toys, books, home, kitchen), but grocery has added a nice stream of income along with the other categories. We really like that the additional sourcing for groceries keeps our schedule each week different and interesting, and it has the potential for a measure of stability (translation: people buy groceries from Amazon all year long, not just in Q4).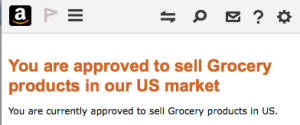 Let me finish up with a word about the restrictions Amazon has put in place for the grocery category. Don't let the restriction scare you off. If you've been selling grocery items on Amazon before now, then you should already be approved to sell in that category. If you have not been approved, all you need to do is follow this link (sign-in required) to apply.
My friend, Jessica has put together the exact steps you can follow to get approved in grocery (as well as other categories). To find out exactly what to do, click here, and then type this into the search bar: "how to get approval in the restricted categories on Amazon for FBA Sellers." That will lead you to a page that will help walk you through many categories and how to get approved.
Once approved (most requests take about 24-48 hours to process), then you can start adding grocery items to your growing Amazon business model.
Grocery Goldmine
is worth its weight in gold. It includes over 25 chapters with 80 pages of information that will get you excited about adding grocery to your Amazon sourcing strategy. The book also includes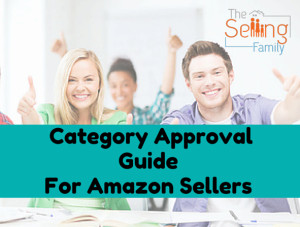 4 bonuses. The bonuses include a video on creating multi packs, a bonus chapter of creating bundles, a video on photo editing for new grocery listings, and more.
So what about you? What successes have you found in the grocery category?