As I've stated before, the fourth quarter selling season on Amazon almost always brings your highest income possibilities of the year. Most Amazon sellers find that their sales sometimes multiply ten-fold from what they're used to during the other three quarters. How you handle your increased profits can possibly help propel you into even more profits in the year to come. Here are some ideas:
1.  Invest in time saving equipment – What are you doing now that can be done much faster with the help of some new equipment? Now is the time to research quality tools that can lessen your work load. Two years ago I purchased a 16 inch shrink-wrap machine and heat gun. Last year I purchased a box re-sizer and a newer laptop. Think about what tools can help you speed up your current work process. Could you be in the market for a Bar Code Scanner or Scan-Fob? Maybe you'd like to get a Dymo label printer. There are so many tools out there that help save time and money.
2. Invest in time saving programs – Maybe you've been listing your items directly on Amazon and are ready to save some time by signing up for  Inventory Lab, ScanPower or other listing tools. These programs help save a lot of time and help with many other areas of your business too (like repricing, financials, etc).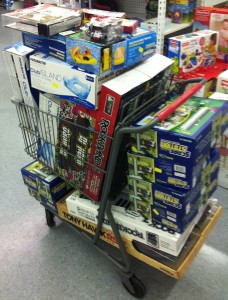 3. Purchase more inventory – In the weeks leading up to Christmas, many stores start to put toys and other gift items on sale at really great prices. If you wait a little longer, right after Christmas, many stores start mega clearance sales. You'll find sales in brick-and-mortar stores as well as online. If you don't want to get out and source inventory in the cold weather, you can find many great sales at stores online. In store and online, there will probably be more items you can buy for resale than you have money for. Amazon sales in January are still really good as people have Christmas gift cards burning a hole in their pockets, so it's wise to keep stocking up your inventory into the new year.
4. Purchase supplies in bulk – What items do you buy all year long? 3-inch Packing tape, shipping boxes, Dymo labels, and printer ink are just a few of the items that I buy all year long. It would be wise to buy these items in bulk now (at much better prices per item) instead of spending more money to buy them later in smaller quantities. Click on the following links to see more about the supplies I use in my processing desk and shipping station.
5. Pay off debt – As Dave Ramsey says, "Debt is not a wealth building tool." If you have any debt, the wisest thing you can do is to pay it off as fast as you can. Imagine giving yourself a raise by doing the same amount of work you do now! When you are no longer paying debt interest fees, that's money that you can use for your business. If you are in debt, I highly recommend Dave Ramsey's Financial Peace University. For more information on getting out of debt, check out his book, The Total Money Makeover and his program, Financial Peace University.
6. Treat yourself – Sometimes we can be so focused on work that we forget ourselves. Getting too wrapped up in work can lead to burnout. If you can, give yourself a Christmas bonus and treat yourself to something fun.
7. Inv
est in Your Mind – Is there an Amazon FBA related book, course, or program that you have been interested in buying? This might be the best time to buy FBA training materials so that you can learn how to improve your current Amazon business. You are the number one asset to your business. Invest in yourself. The more you can learn, the more you can earn!
8. Give generously – If you have yet to discover the joy of giving, I challenge you to try it this holiday season. There are so many worthy causes and organizations that need your financial help. Remember to find out if the money you are giving is tax deductible or not. If it is, be sure to keep receipts for your tax records.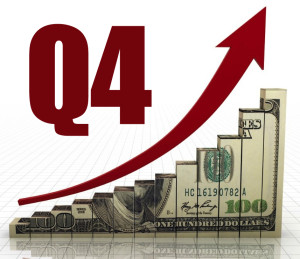 So what about you? How do you best use your Q4 income to help you and your business succeed? I'd love to hear your ideas, so leave a comment below.
*This article is an updated blog post from 2014.