As someone who runs an online business, it's vital to keep yourself ahead of the game. When it comes to success, the right book at the right moment can be a game-changer and give you a crucial advantage over your competition.
I really enjoy reading. In fact, while I was in college and seminary, I worked part-time at a local bookstore. I think most of my pay check ended up going right back to the bookstore as I was buying books all the time. 
Today, I want to share with you the 14 books that have helped me build a full-time FBA business. The books are broken up into 5 categories. To make things easy, I've included a link to the Amazon product page so you can choose your favorite book format (Hardcover, Paperback, Kindle, or Audiobook). Once you're on Amazon, you can easily get the books or add them to your wish list. These 14 books have personally made a huge difference for me. In fact, they're some of the best books I've ever read.
PRODUCTIVITY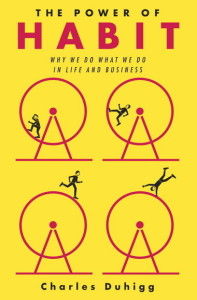 The Power of Habit by Charles Duhigg
We all have both good and bad habits, but how did they get there? And are there ways to purposefully create good habits that will help us improve both our personal and business lives? The answer to the second question is a resounding, "YES!" The book outlines how we can equip ourselves to succeed by breaking down our bad habits and setting ourselves up with good habits. This book was an interesting and easy read. 
The One Thing by Gary Keller
If you chase two rabbits, you won't catch either one of them. This book will help you cut through the clutter, achieve better results in less time, build momentum toward your goals, overcome that overwhelming feeling, dial down stress, revive your energy, stay on track, and master what matters most to you. This book will help you find your "one thing" that will take your Amazon FBA business to the next level.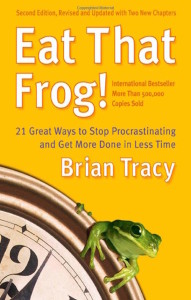 Eat That Frog by Brian Tracy
This book outlines 21 ways to stop procrastinating and get more done in less time. Mark Twain said, "If it's your job to eat a frog, it's best to do it first thing in the morning. And if it's your job to eat two frogs, it's best to eat the biggest one first." This book has helped me recognize what the "frogs" are in my Amazon FBA business and how to stop procrastinating and get the most important things done quickly and done well. 
TRANSITION FROM JOB TO WORKING AT HOME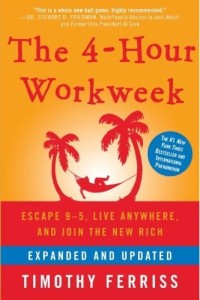 The 4-Hour Workweek by Tim Ferris
While you probably won't be working only 4 hours a week after you finish this book, you will have your eyes opened to the possibilities of how you can escape your 9-5 job, work more from home, and free up a lot of your time to pursue things you are most passionate about. If you are serious about making the transition from a job to becoming your own boss, this book is the best place to start. 
48 Days T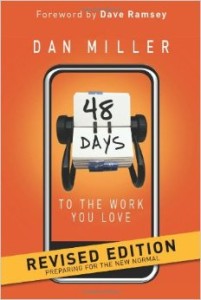 o The Work You Love by Dan Miller
I first read this book in 2011 when I was both broke and unemployed. I had been trying for over a year to get a job and was failing miserably. This book lead me in the direction of finding work that I truly loved. After reading this book, I turned my hobby of selling online (via eBay) into a full-time job selling online (via Amazon FBA). Just over 6 months after reading this book, I was selling on Amazon FBA and making a full-time income.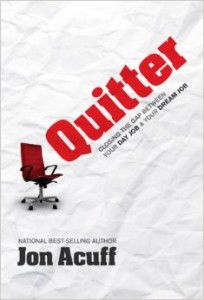 Quitter by Jon Acuff
This book will help you close the gap between your day job and your dream job. Quitter is a very easy read and often hilarious. If you've ever sat in a cubicle and thought, "I don't want to do this job for the rest of my life," then this book is for you. Many people want to leave their 9-5 job and become their own boss, but it can be very, very risky. This book helps you minimize the risks involved and find success in transitioning from a job to working from home. 
 AMAZON FBA RELATED
Arbitrage by Chris Green
If you are a beginner when it comes to selling on Amazon, then this is the absolute best book for you to form the right foundation to build a solid FBA business. When anyone asks me where they need to start when learning selling on Amazon, I recommend this book. Chris Green is an excellent communicator and teacher. If you are looking to succeed with FBA, you can't go wrong starting with this book.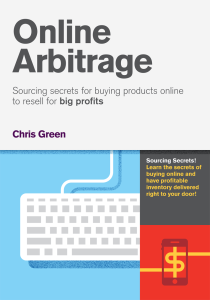 Online Arbitrage by Chris Green
This is more than just a book; it's a complete course. I see this book more like a textbook filled with everything you need to know in order to find profitable inventory from the comfort of your home. This book is the only book in this list that I have not completed reading yet (it's 480 pages), but even the parts that I have read have revolutionized my FBA business — not to mention, my wife Rebecca is constantly quoting ideas from this book to me as we discuss our business. The book is well worth the price tag attached to it. If price is an issue, there is a black & white edition that is less expensive.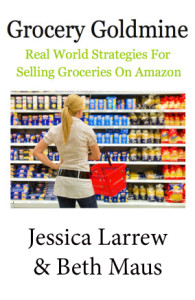 Grocery Goldmine by Jessica Larrew & Beth Maus
This book opened up my eyes to a whole new world of inventory possibilities. The book answered every single one of my questions and addressed all of my fears about selling groceries on Amazon. At first I was worried about finding profitable groceries and dealing with expiration dates, but not anymore. This book guided me to all the best methods of selling profitable groceries. The book even comes with a 60-day risk free guarantee, so there is nothing to lose by getting this book. If you want to read more of my thoughts on this book, I did an entire blog post about adding grocery items to my Amazon business model. Read more here.

The Book of Bundles: A Guide to Creating and Selling Bundles on Amazon by Anita Breeze
I've always known that one of the best ways to avoid competition on Amazon was to create profitable bundles! The problem was that I didn't know how to create a bundle that will actually sell to customers on Amazon. I was also confused about all the rules surrounding how to pick a the right UPC or how to apply for a GTIN exemption. That was all alien talk to me until I read The Book of Bundles. Now, I can create bundles with confidence that they will sell well and that I'm save from competitors tanking my prices. 
FINANCES
Introduction To Sales Tax for Amazon FBA Sellers by Kat Simpson & Michael Rice
The topic of sales tax on Amazon doesn't have to be the most confusing part of selling online. With this book, you will gain a better understanding of today's sales tax laws. Understanding how sales tax impacts you and your Amazon customers not only helps you stay out of trouble with the tax man, but it can also boost your bottom line. You don't need to ignore tax issues just because they seem complicated. It's in your best interest to read, understand, and follow all the sales tax rules. 
The Total Money Makeover by Dave Ramsey
Are you hoping your Amazon FBA business will help you get out of debt and build wealth? This is the proven step-by-step plan that my wife and I have been following for years. If you fail to plan, you are planning to fail. Don't manage your finances aimlessly. This book has helped give my wife and I the financial peace that we need for today and in the days ahead, and it can help you too. 
 INSPIRATION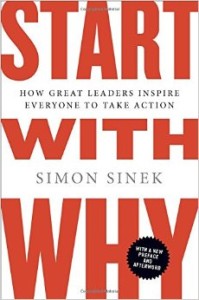 Start With Why by Simon Sinek
If you are wanting to avoid burnout, or you sense burnout approaching your Amazon FBA business, then this is a great book to keep the fire burning strong. We often lose our passion when we lose our why. The why is what motivates us towards accomplishing big goals. What is your why? Family? Financial security? Meeting goals? Building a successful business from the ground up? Whatever you want to accomplish in life, finding your why is the best place to start.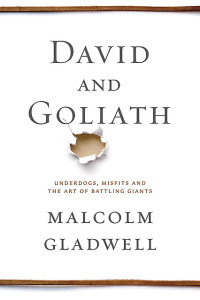 David and Goliath by Malcolm Gladwell
Do you ever feel like the underdog who is facing an impossible-to-beat giant? If you can relate, then this book is for you. David and Goliath will change how you think about your current obstacles and disadvantages in your life and in your business.  You'll start to see things from a new perspective and learn how to find success despite enduring what most people see as setbacks. When you are tempted to give up, this book will inspire you to keep pressing on. (This book also gets Rebecca's vote for one of her favorites.)

S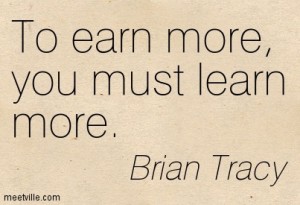 ome of the above books are like roadmaps, while others are like toolkits, but they are all books that have improved how I run my FBA business. They have all had a direct impact on the success I've experienced so far.   
Everyone knows that knowledge is power, and one of the best ways to gain more knowledge is to read books. Picture, for a moment, where you would like your Amazon FBA business to be in 5 years. What does it look like? Charlie Jones, author of Books Are Tremendous, says "Five years from now, you will be the same person you are today except for the people you meet and the books you read." I could not agree more. 
What books have been an inspiration to you and your online business? Comment below and let me know what books have had the biggest impact for you.