As someone who runs an online business, it's vital to keep yourself ahead of the game. When it comes to success, the right book at the right moment can be a game-changer and give you a crucial advantage over your competition.
I really enjoy reading. In fact, while I was in college and seminary, I worked part-time at a local bookstore. I think most of my paycheck ended up going right back to the bookstore as I was buying books all the time.
Today, I want to share with you the 12 books that have helped me build a full-time FBA business. The books are broken up into 5 categories. To make things easy, I've included a link to the Amazon product page so you can choose your favorite book format (Hardcover, Paperback, Kindle, or Audiobook). Once you're on Amazon, you can easily get the books or add them to your wish list. These 12 books have personally made a huge difference for me. In fact, they're some of the best books I've ever read.
PRODUCTIVITY BOOKS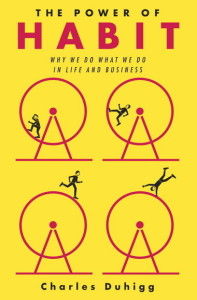 The Power of Habit by Charles Duhigg
We all have both good and bad habits, but how did they get there? And are there ways to purposefully create good habits that will help us improve both our personal and business lives? The answer to the second question is a resounding, "YES!" The book outlines how we can equip ourselves to succeed by breaking down our bad habits and setting ourselves up with good habits. The Power of Habit helped me form the habits I needed to create in order to be consistent with growing my Amazon FBA business. This book also tackles overcoming your bad habits that are holding you back from finding the success you seek. This book was an interesting and easy read.
The One Thing by Gary Keller
The book starts off with this proverb: "If you chase two rabbits, you won't catch either one of them." When we see the wisdom in this proverb, it can revolutionize our productivity. This book will help you cut through the clutter, achieve better results in less time, build momentum toward your goals, overcome that overwhelming feeling, dial down stress, revive your energy, stay on track, and master what matters most to you. This book will help you find the "one thing," such that by doing it, will make everything else become easier or even possibly unnecessary. This book will play an instrumental role in taking your Amazon FBA business to the next level.
Digital Minimalism by Cal Newport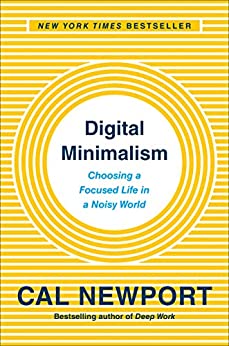 The world we live seems to always be screaming for our attention and causing us to lose focus on the things that actually matter. In this book, the author will challenge you to rethink your current relationship with technology and help you possibly see a better way of handling all the things we allow into our heads. You'll learn that technology is intrinsically neither good nor bad. The key is using it correctly to support your goals and values, rather than letting it use you. This book shows the way. If you like this book, then you'll really like one of the author's previous books, Deep Work, which will give you the rules for focused success in a distracted world.
GOAL SETTING AND ACHIEVING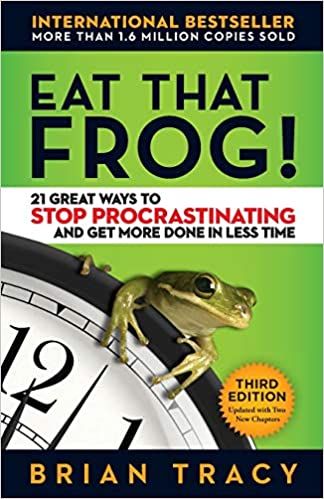 Eat That Frog by Brian Tracy
This book outlines 21 ways to stop procrastinating and get more done in less time. Mark Twain said, "If it's your job to eat a frog, it's best to do it first thing in the morning. And if it's your job to eat two frogs, it's best to eat the biggest one first." This book has helped me recognize what the big "frogs" are in my Amazon FBA business and how to stop procrastinating and get the most important things done quickly and done well. This book is a very quick but powerful read that will impact your life and help you get things done in a much more efficient manner. Be sure to get the updated 3rd edition (with the green cover).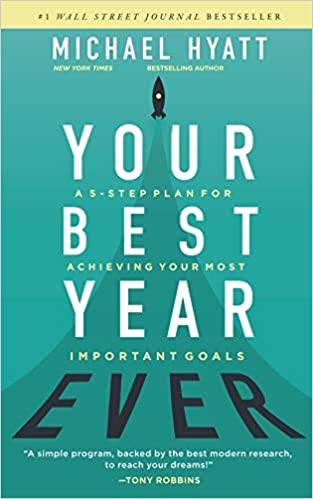 Your Best Year Ever by Michael Hyatt
This is the book that taught Rebecca and I the framework of how we develop our yearly goals for growing our Amazon FBA business (as well as growing other business and personal goals). If you're looking to understand how to create the right goals, as well as how to meet and potentially to exceed your goals, then this book is perfect for you. With Your Best Year Ever, you'll be able to come up with the right goals for you and also find the fuel you need to stick with your goals until they are finally met. This book is a great book to read around New Year's as you're thinking of planning where you want to be in the months ahead, both personally and financially.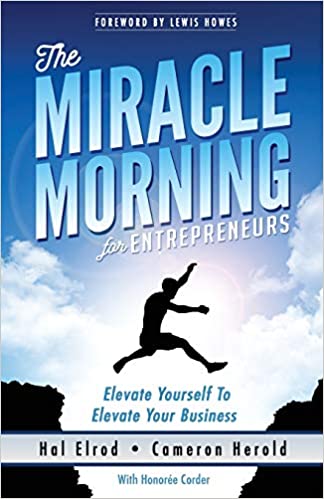 The Miracle Morning for Entrepreneurs by Hal Elrod & Cameron Herold
Did you know that the way you start your day has a drastic impact on how the rest of that day goes? This book goes into the six daily practices that will fuel your efforts to create and sustain positive change in your life. The author's first book, The Miracle Morning, was so well received that he has collaborated with other authors to come up with a "Miracle Morning for…" book series focusing on different types of people. For us Amazon FBA resellers, I highly recommend The Miracle Morning for Entrepreneurs as growing an Amazon business from home is very entrepreneurial. If you are interested in seeing what his other Miracle Morning books are, then click here.
TRANSITION FROM JOB TO WORKING AT HOME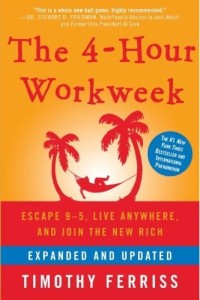 The 4-Hour Workweek by Tim Ferris
While you probably won't be working only 4 hours a week after you finish this book, you will have your eyes opened to the possibilities of how you can escape your 9 to 5 job, work more from home, and free up a lot of your time in order to pursue things you are most passionate about. This book will open your eyes to how much time you may be wasting and how to better organize your current "job" in order to transition to making a full-time income becoming your own boss. If you are serious about making the transition from a job to becoming your own boss, this book is the best place to start. Be sure to grab the expanded and updated edition of this book.
48 Days To The Work You Love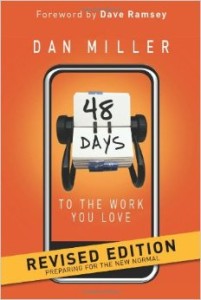 by Dan Miller
I first read this book back in 2011 when I was both broke and unemployed. I had been trying for over a year to get a job that could support me and my family and was failing miserably. This book lead me in the direction of finding the type of work that I truly loved and was passionate about. After reading this book, I turned my hobby of selling online (via eBay) into a full-time job selling online (via Amazon FBA). Just over 6 months after I finished reading this book, I was selling on Amazon FBA and bringing home a full-time income. The book has recently been updated and revised, so be sure to grab the latest edition of this book.
Quitter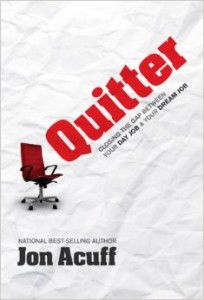 by Jon Acuff
This book will help you close the gap between your day job and your dream job. Quitter is a very easy read and often hilarious. If you've ever sat in a cubicle and thought, "I don't want to do this job for the rest of my life," then this book is for you. Many people want to leave their 9 to 5 job and become their own boss, but it can be very, very risky. This book helps you minimize the risks involved and find success in transitioning from a job to working from home. After you read this book, you'll probably also want to read the author's other books Start (to help you overcome the fears you need to start new) and Finish (to help you follow through and finish what you started).
FINANCIAL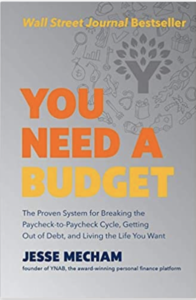 You Need a Budget by Jesse Mecham
You might be familiar with YNAB because of their award-winning software for budgeting, but have you read the book You Need a Budget to explain the overall YNAB philosophy? I can't recommend the budgeting and money management principles from this book highly enough. Are you hoping your Amazon FBA business will help you get out of debt and build wealth? This book contains the proven principles that my wife and I have been following for years. If you fail to plan, you are planning to fail, so don't manage your finances aimlessly. These concepts have given my wife and I the confidence and excitement about our finances that we need for today and in the days ahead, and it can help you too.
 MINDSET
Mind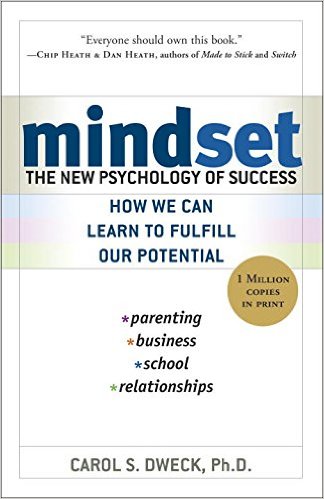 set by Carol Dweck
If you have heard or read anything I have ever said or written, then you know just how important I think your mindset is to the success of your Amazon FBA business. This book brilliantly breaks down the difference between the growth mindset and the fixed mindset and how these mindsets impact every aspect of your life. Mindset will help you see the ways you are thinking in a new light and will even help you learn how to move from a fixed mindset (where you think you're stuck and unable to change things) to a growth mindset (where you know you can grow, learn, and achieve new and exciting things). Mindset will impact your entire life, including how you grow your Amazon FBA business. This is definitely a book that I recommend reading more that once.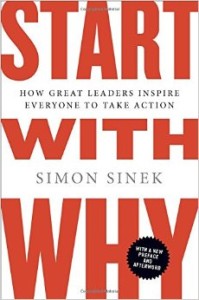 Start With Why by Simon Sinek
If you are wanting to avoid burnout, or you sense burnout approaching your 9 to 5 or your Amazon FBA business, then this is a great book to keep the fire burning strong. We often lose our passion when we lose our why. Your why is what motivates you towards sticking with and accomplishing your big goals. What is your why? Family? Financial security? Meeting goals? Building a successful business from the ground up? Whatever you want to accomplish in life, understanding your why is the best place to start. After you read Start With Why, you might also want to look into the author's follow-up book, Find Your Why, in order to discover what your why is and how it can inspire you to meet or even exceed your goals.

S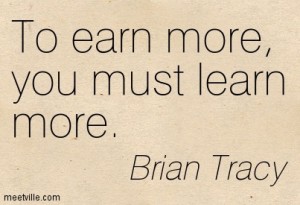 ome of the above books are like roadmaps, while others are like toolkits, but they are all books that have improved how I run my FBA business. They have all had a direct impact on the success I've experienced so far.
Everyone knows that knowledge is power, and one of the best ways to gain more knowledge is to read books. Picture, for a moment, where you would like your Amazon FBA business to be in 5 years. What does it look like? Charlie Jones, author of Books Are Tremendous, says "Five years from now, you will be the same person you are today except for the people you meet and the books you read." I could not agree more.
What books have been an inspiration to you and your online business? Comment below and let me know what books have had the biggest impact for you.
*This post was updated for 2020