You might be convinced that selling shoes on Amazon can be a profitable addition to your Amazon business model, but you may still be asking, "What are the best strategies and methods for sourcing profitable shoes?"
Since my last two interview videos with Rebecca were so well received, I decided to sit down with her and record another Q&A interview video with her focused on sourcing shoes to sell on Amazon. Rebecca has such a wealth of knowledge about sourcing and selling shoes, and you'll learn a lot in this video.
In the video below, you'll learn:
Our buying parameters for sourcing profitable shoes
The best shoe sizes we like to source
How the number of shoes we sell per month impacts our business
Are shoe accessories (shoe racks, laces, shoe polish, etc) a profitable niche?
How to increase your chances that the shoes you buy will sell quickly
What's better – sourcing shoes brand new to the market or older shoes?
How Keepa helps us source even though Keepa doesn't give the sales rank history of shoe variations
The types of shoes we'll never buy to resell on Amazon
And more!
Watch and enjoy the video.
Have you ever tried to source for shoes on Amazon? What was your experience like? Do you prefer retail sourcing or online sourcing when it comes to shoes? Have any questions about sourcing shoes? Leave us a comment below if you have a specific shoe question, and we'll see about addressing that in a future blog post or video.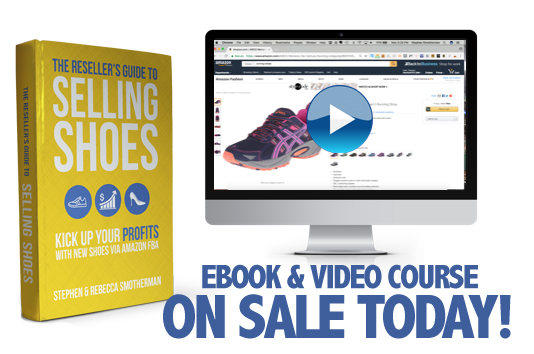 If you're ready to step up your game with selling shoes on Amazon, check out our course, The Reseller's Guide to Selling Shoes: Kick up Your Profits with New Shoes via Amazon FBA. It's a combination ebook (100+ pages) and video course (over 4.5 hours of no-fluff content) that will help you avoid all the mistakes we made and get your shoe selling off on the right foot.
Click here to find out more about how this course can impact your Amazon profits.