One thing Amazon wants to be known for is having the most customer-centric online marketplace in the world. Amazon truly takes "the customer is always right" to the extreme – just look at their super lenient return policy if you need an example. They want happy customers. Customers who will come back again and again. Customers who trust Amazon. Customers who leave raving reviews. Customers who tell all their friends how much they love Amazon.
Amazon wants the customer experience on their website to be the best in the world.
And that's a phrase you as an Amazon FBA seller should remember and ingrain into your psyche: the customer experience. If you can begin to focus on how you as a seller can contribute to the customer experience on Amazon, you can begin to increase your profits and decrease your returns as an FBA seller.
The easiest way to make this mindset shift is to think like an Amazon customer. Shift away from always thinking like an Amazon seller…shift toward thinking like an Amazon customer.
Shift away from thinking only about your bottom line as a seller…shift toward thinking about how the customer will react when they open your product after their delivery arrives.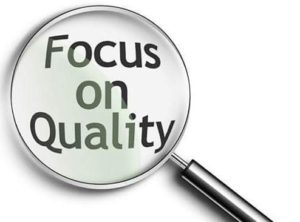 One tendency many of us resellers have developed over time is frugality. We are always on the lookout for a good deal, and we're willing to overlook some minor flaws in order to save a few bucks. When customers go to Amazon, however, to purchase new items, they are looking for good deals but not at the expense of quality. They don't want to receive an item with dinged up packaging or crushed corners. They want their merchandise to arrive in pristine, gift-quality condition.
As resellers, we absolutely cannot send in inventory to FBA warehouses that will cause customers to lose trust in Amazon or have an unpleasant customer experience. We must look for ways to positively impact the customer experience by providing quality merchandise. And when we give customers a great experience, it can increase our profits by giving us more sales, more product reviews, and more positive feedback.
Here's how your contribution to the customer experience can increase your profits:
Thinking like an Amazon customer opens your eyes to see more items to source.
Too often when we're sourcing we pass up quality inventory because we think, "No one would ever buy that!" But if you're thinking like an Amazon customer, your mind is open to the possibility that even the oddest item could be something customers are searching for. Scan everything (we use the Scoutify sourcing app), and don't just disqualify items because you personally would never be interested in buying them. Pay attention to sales ranks and sales rank history, and you'll begin to learn trends in what Amazon customers are buying.
Thinking like an Amazon customer helps you find higher ROI items.
ROI is return on investment – and in general we as Amazon sellers want to get the biggest ROI possible. As you're scanning items and keeping an open mind about what customers are looking for, you can start finding items that other sellers would overlook, but that have great ROI potential!
Often we make assumptions that items aren't worth anything, but when we do the work of 1) thinking like a customer on the search for these types of items, 2) scanning anything that fits the description of what an Amazon customer would be looking for, and 3) paying attention to sales rank and how it works in different categories, then we can start finding items that stand out and have higher ROI than if we just follow what every other seller is doing and chase after the latest BOLO.
Now let's look at the other side of this coin of thinking like an Amazon customer. Here's how you can begin to decrease your return rate:
Think like an Amazon customer while you're sourcing.
When you're sourcing for inventory, the biggest way you can positively impact your return rate is to stop sourcing borderline items. It may be a hard habit to break, but for the sake of your seller account, I highly recommend you not buy items that are at all questionable as to their condition – and that includes packaging.
This means no more dinged tins, crushed corners, broken plastic, or missing shoebox lids. The reseller thinks, "They're just going to throw the box away. What difference does it make?" But the customer thinks, "What's the deal? Why is this packaging all messed up? Is something wrong with the item also? Guess I should return it."
While you're standing there in the clearance aisle sourcing, stop looking at the dollar signs on your scanning app for a moment and think about how your customer would feel opening an Amazon box and finding this particular item. Would they be pleased with their purchase? Or would they be disappointed because of how it's presented? There are plenty of high quality inventory finds out there for you to source, so if you think the customer will be disappointed at all with the item in your hand, put that item down and keep moving down the aisle. Your return rate will thank you.
Think like an Amazon customer while you're listing.
When you're listing your items for sale on Amazon, always round down on the condition. You're not going to be making it out of the store with borderline items anymore, right? But sometimes inventory items make it home with you and you find out too late that there's a defect in the packaging or something else about the item that makes it not in new condition. In these cases, always round down on the condition. Do not list them as new. List them as like new or very good.

Think like an Amazon customer. If someone buys a book in like new or very good condition, but they open it up and see that it's way better than they imagined, they're going to be pleased (and possibly leave you positive seller feedback). On the other hand, if they order a new book but open it up to find it has shelf wear of any kind, that book might be on the fast track to your return pile (and your seller feedback might take a hit). Always round down on the condition, not up.
It's not worth it to make 5 extra dollars on a sale but risk the return or the impact on your seller account – it's not even worth it to make $50 extra! Amazon sellers must stop putting their bottom line ahead of the customer experience.
It may seem counterintuitive to think like an Amazon customer, but really, try it! Next time you're out sourcing or back at the computer listing, start thinking about your products and how a customer would respond to these products if they receive them in an Amazon shipment. It may sound crazy, but thinking this way will begin to increase your profits and decrease your returns.
Have you found some ways to think like an Amazon customer? If so, we'd love to hear from you in the comments below.
*This post was updated for 2021

The Reseller's Guide to a Year in FBA
Imagine knowing exactly what to expect in your Amazon FBA business every month of the year.
Imagine what it would feel like knowing you were not missing out on any of the opportunities that will come your way this year.
Imagine working on your Amazon business knowing exactly what your priorities are, what you need to avoid, and what you need to accomplish during each month to make progress toward making this year your best sales year ever.
Find out more about The Reseller's Guide to a Year in FBA: A Month by Month Guide to a Profitable Amazon Business today. The package includes a 220-page ebook, live webinars throughout the year, and multiple special bonuses.