"Retail arbitrage is dead! No one can sustain an FBA business with the possibility of all the IP claims out there!"
Have you heard this alarm ringing in the FBA communities, particularly Facebook groups? It tends to come in waves, sometimes more intense than others. Intellectual property (IP) or copyright infringement claims, along with claims of selling counterfeit merchandise, can be downright frightening for an FBA seller dependent on retail arbitrage (RA) for their inventory. Some sellers go so far as to say you shouldn't do RA at all out of fear for your account.
Now, if you know me well enough, you are aware I don't take such an extreme position. I have been growing my wholesale business for the past few years, but I still love to do RA (you can check out two recent posts on RA sourcing tips and clearance sourcing tips).
However, I do strongly advocate for taking the necessary measures to protect your Amazon seller account in case you run into any problems with IP or counterfeit claims.
The way these problems generally happen is this: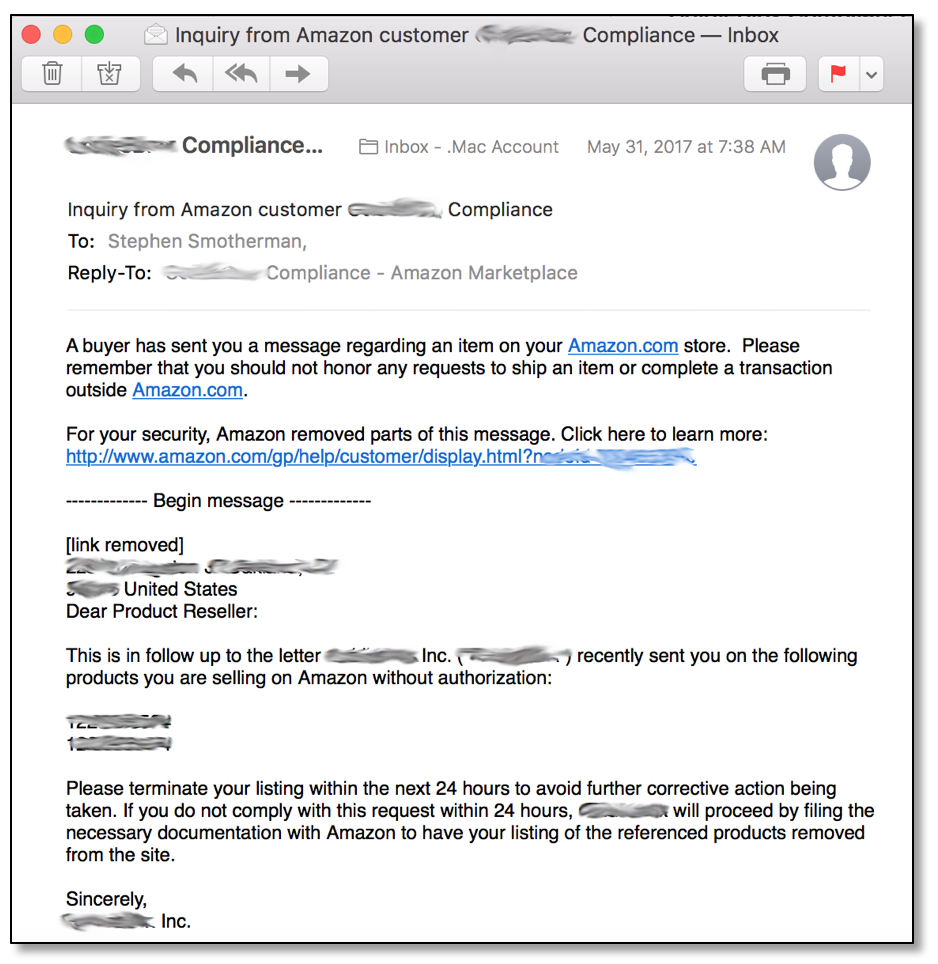 An FBA seller receives an email from someone who looks like the brand owner of an item in their inventory. The sender of the email may or may not actually be the brand owner. In some cases, the sender is, in fact, the brand owner or a legal representative. In other cases, the sender is a competitor on Amazon who is trying to act scary so that other sellers will be intimidated into abandoning the listing.
The email generally contains a demand and a warning. The demand is that the seller stop selling the item on Amazon, and the warning is that the brand owner (real or fake) will take legal action and/or report the seller to Amazon if the demand is not met. Typically the demand for the seller to stop selling is based on an IP or copyright infringement or a counterfeit claim.
An IP or copyright infringement usually involves the photos, bullet points, and description on the Amazon listing. Brand owners want to control use of their company's intellectual property, including the images and words used to sell their items on Amazon or other platforms.
For counterfeit claims, the accusation of the FBA seller usually centers around doubts that the inventory item is authentic or that it was acquired from an authentic source.
It can be hard to tell whether this type of email is legit or not. Sneaky competitors can go to great lengths to make their threats look authentic. You could look for misspellings, typos, or other signs that the sender is not a professional, but not every trickster has poor grammar and spelling.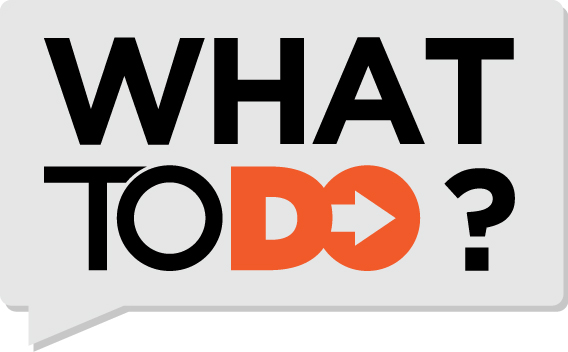 The best course of action is to handle any IP infringement or counterfeit claim email the same way, regardless of whether you suspect the sender is a competitor. Here's what I would do:
Email Seller Central to notify them of the situation and ask for clarification – is the item, in fact, restricted for you to sell?
When you email Seller Central, be sure to copy and paste the email you received, and be sure you include the name and contact info for the person who sent you the email. If the email does turn out to be from a brand owner, you want to have a paper trail showing that you are making every effort to go through the proper channels and do the right thing with Seller Central.
Send a response to the sender of the email.
Include text in the response along these lines: "I apologize for any mistake on my part in selling this item. I did not realize I could not sell it. It is not restricted to me when listing on Amazon. If you do not want other sellers selling the item, I suggest you work with Amazon to restrict your brand. I have reached out to Amazon to find out how to proceed from here."
If you know for sure that the email came from a legitimate brand owner or representative, you could also include a line in your response such as this one: "What do I need to do to get approval from you to sell this item on Amazon and open a wholesale account with you?"
What happens after you send your response could go a couple different ways:
If you receive no further communication, you can probably assume the original email came from a competitor who now realizes you aren't going to be easily scared off the listing.
If you receive further communication from the brand owner, make every effort to work with them and Seller Central to make the situation right. Always create a paper trail showing that you are working to figure out the best solution.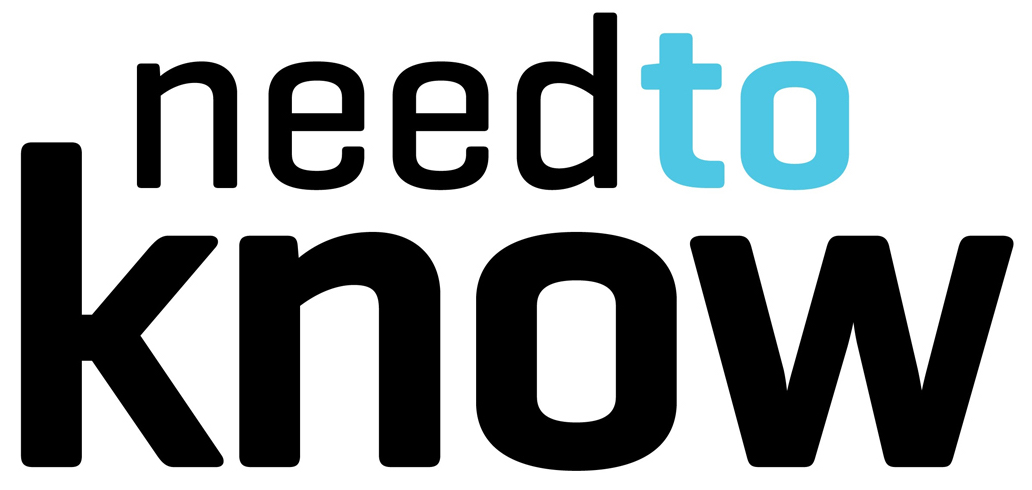 Another strategy that some legitimate brand owners use is to send you an email claiming IP or copyright infringement, but ignore any of your email replies. Instead they only send a second and third email over the span of a few days once again claiming IP or copyright infringement. After they have emailed you three times over a certain period of time, they then go to Amazon and state, "We emailed the seller about their IP or copyright infringement on three separate occasions and the seller refuses to remove their stock from the Amazon sales page." When this happens, Amazon (without any fact checking) suspends your ability to list or sell that item on Amazon.
The best way to respond to this if it happens to you is to email Seller Central and tell Amazon the brand owner won't respond. Include in your message a screen shot of your attempt at communication. Then politely request Amazon to remove the complaint due to the brand owner's lack of response. You can even tell Amazon that the brand might be trying to control the sales of their products through IP and copyright complaints which is against Amazon terms of service.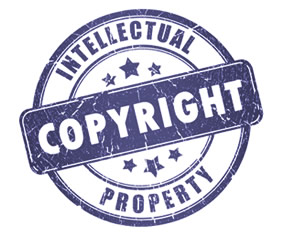 Part of the frustration with receiving a claim of this sort stems from having inventory at the FBA warehouse that you could theoretically no longer sell on Amazon if the brand owner prohibits it. If you only have one or two items in stock, it might not even be worth your time and hassle to deal with trying to sell it on Amazon. In this case I would just remove it from FBA and sell it on eBay or somewhere else.
If you have many of the item in stock, it is still a hassle, but it's likely worth your time and effort to clear up the claim, produce receipts or invoices if necessary, and go through the proper channels to either gain approval or otherwise resolve the situation. Even if you have to remove the items from the warehouse until the situation is resolved and you can send them back in, at least you're only out the money for the removal order and the shipping to send them back.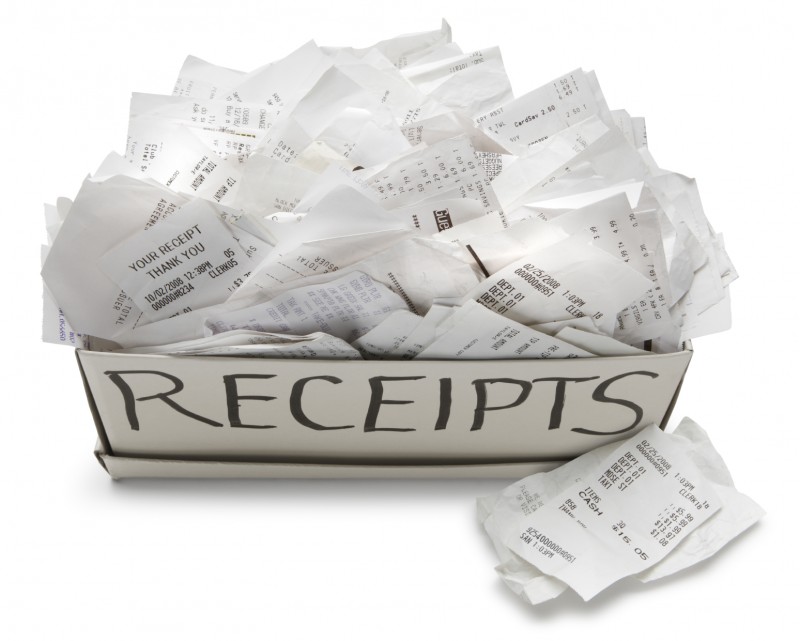 In the unlikely event you as a seller get suspended by Amazon over a situation involving a brand owner, you want to make sure you have created a paper trail such as the one we discussed above and have kept your receipts or invoices. As of the time of this writing, Amazon accepts either retail receipts or invoices from a supplier/distributor as proof of authenticity, as long as they are within a particular timeframe and have appropriate UPC or other identifying numbers tying them to the item in question.
A question that often comes up at this point is "what do I do if I got the item at a garage sale and don't have a receipt?" In this case it's likely that you only have one of the item to sell, so just remove it from FBA and move on to better inventory.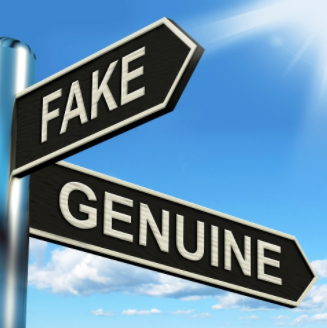 Most of the time when Amazon decides to suspend selling privileges over an IP or counterfeit claim, they don't suspend the seller's entire account at first, but they begin by suspending privileges on one particular ASIN. In these cases, you have time to work things out with Seller Central and the brand owner to clear up the situation, apologize, and promise not to sell the item/brand any more, as a way to protect your overall account.
An account suspension usually doesn't happen after one incident, but after multiple incidents – so take care of problems as they come up, and you really don't need to worry over a sudden, dramatic suspension out of nowhere. Just stop selling the problem item, shake off the dust, learn whatever lessons you need to learn, and move on to finding better inventory to sell on Amazon.
Overall, the possibility of receiving IP infringement or counterfeit claims on your Amazon account should present itself as a speed bump, not a dead end. Many sellers are so fearful of these types of claims that they've declared "RA is dead!" – but I think those types of reactions are exaggerated and unnecessary. Hopefully this blog post has given you a starting point for how to think through the possibilities and handle this situation if it arises for your business.

If you do find yourself with a suspended ASIN (or worse, an Amazon account suspension), then I highly recommend contacting Cynthia Stine of eGrowth Partners. If I was ever suspended, this is the service I would hire immediately to help me get either and ASIN reinstated or even my account reinstated. They have an amazing track record and have helped many Amazon sellers get reinstated very quickly.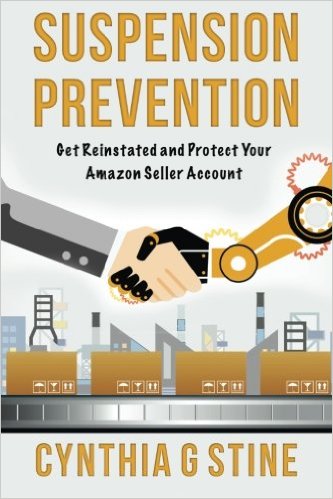 If you'd like to learn more about how to avoid Amazon suspensions, then I highly recommend the book, Suspension Prevention by Cynthia Stine. This book opened my eyes to so many aspects of selling on Amazon that I had no idea about. It was a fascinating read learning about all of the hidden metrics that Amazon keeps track of that we often have no idea about. These metrics are important to keeping our Amazon accounts active, so be sure to check out Suspension Prevention today.
So what about you? Have you experienced any of these situations before? Are there any additional strategies you've found to be helpful? I'd love to hear from you in the comments below.