Earlier this week, we talked about selling seasonal items via FBA. Seasonal items don't just sell during their "proper" season; they sell year round. Getting seasonal items to an FBA warehouse as soon as possible is the smart (and profitable) thing to do. You don't make any money with products sitting at your house. With this knowledge, it's important to think about specific pricing strategies.
If the goal of your business is to have super fast turnaround (i.e. the item sells very quickly after arriving at the FBA warehouse), then you will probably just want to price your item like you usually do. But if you want to make the most money from selling your seasonal product, you'll need to gather all the pricing information to pick the best price possible. With this info in mind, you want to price your seasonal item as if you were going to sell in season.
Keepa is a website that (among other things) tracks the price changes on millions of Amazon products. Multiple times a day, Keepa records the current low new price, current low used price, current Amazon price, as well as tons of other data points.
Searching for price history on Keepa is easy. Just enter the UPC number, ISBN, AISN, or even the Amazon URL in the search box and click "Find Products."
Since Amazon adds hundreds of new product pages a day, not all of the items on Amazon are currently tracked by Keepa. If your search results on Keepa returns an empty graph with no data, then you are probably the first to search their site for that product. From this point, Keepa will now start tracking the product and will have pricing data soon.
Keepa does not tell you the price that an item sells for, but what the lowest prices were for new, used, collectible, Amazon, and other conditions. Most of the time we can assume that when the price changes on a Keepa report, it's because either a sale occurred or someone is now offering it at a lower price.
For now, let's see how to best use Keepa data for pricing seasonal items. As you might assume, seasonal items sell for higher prices during their season. Check out the price history of A Charlie Brown Christmas on DVD (pictured below). The blue line indicates the lowest new price at each point in time, and the red line is the lowest used price.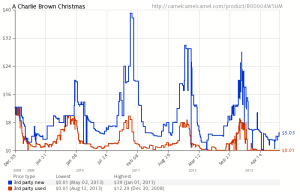 Let's say you're sending in the item and pricing it this week, August 2013. If you wanted to make the most profit for this DVD and were to price it by looking only at the current prices on Amazon right now, then you just might price this item too low. If you look at Keepa for the price history of this item, then you can choose a much higher price and, most likely, get the higher price sale.
As you can see, the lowest prices for this item are much higher in November and December (in season) than compared to the lowest prices in August. If you had a new copy of the DVD and only used the data from August, then you might price it for $8.00. On the other hand, if you looked at the price history, then you know that you have a pretty good chance of selling this same item for $25.00 in December! I don't mind paying FBA storage fees of a few pennies a month while I wait for the price to go up so my item can sell at its most profitable price.
If you have any seasonal items sitting around the house, send them in to FBA today. Check out Keepa and find the best price for your item. The crazy thing is that sometimes when you price an item for the season it's "supposed" to sell in, it still might actually sell at the higher price out of season. This happens all the time and could happen to you too.