It's August, and you just found some Valentine's Day themed toys at a garage sale that should bring a nice profit come February. Do you wait until January to send them in to FBA? At another garage sale, you find a profitable Halloween themed children's movie. Do you send it in now or wait until October? Don't you need to worry about FBA storage fees if you send these items in "too early"?
The bottom line is this: products that are stored in your home are not making you any money. Get these items to an FBA warehouse as soon as possible! Don't make the assumption that these items will not sell until their season. The truth is seasonal items sell year round.
Some FBA sellers see multiple sales of Christmas items in the summer because of "Christmas in July" parties. Just because it's 100 degrees where you are doesn't mean that someone else in the world isn't looking for a snowblower. And even though you'd never buy a Thomas the Train Inflatable Lawn Decoration in May, someone else probably will.
Do you want proof? Below are examples of items I have sold very recently.
The 365 Kittens-A-Year 2013 Wall Calendar Bought at a thrift store on February 26 and sold on August 7 (with only 4 1/2 months of 2013 left).   Victoria's Secret Limited Edition Valentine's Day Glam Wristlet Bought at a thrift store on February 27 and sold on May 3.
  Nickelodeon Jimmy Neutron Holiday Christmas Ornament Bought at a garage sale on May 10 and sold on August 9.   Barney's Halloween Party (VHS Tape) Bought at a garage sale on May 22 and sold on June 10.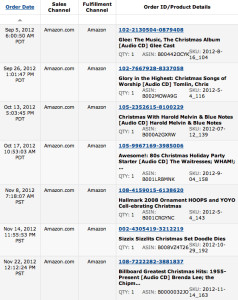 I could easily keep going with examples of items that are sold outside of their season. In fact, I've captured a few screen shots of my sales reports of selling only Christmas themed items. The first image shows Christmas items sold in 2012 that were sold well before "Christmas time."  The image below shows many of the Christmas themed items I have sold in 2013. I'm not showing you the report of Christmas items sold in December because that page would go on and on. As you can see, I sell Christmas items almost every month!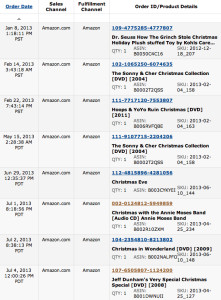 The only drawback to sending items to FBA as soon as possible are the storage fees. Yes, you might have to pay for 6 months of storage fees if your Super Mario Ornament doesn't sell until December, but it's just pennies a month per item. If one or two cents per month are cutting into your profit margins, then you really need to find items with a higher return on investment.
So if you're wondering if you should send something in to Amazon now or sit on it until the "proper" season comes, then I hope by now you are convinced to send it in. Remember: products that are sitting at home are not making you any money!
Now, I'd love to hear from you.  What items have you sold that were "out of season" that surprised you? Be sure to leave a comment with your story.
NEXT blog post in the Selling Seasonal Series: FBA Pricing Tips on "Out of Season" Products.