Most resellers rely on Sales Rank when making purchasing decisions. For reasons known only to Amazon, the category of Electronics often does not provide a category wide sales rank. Many times when scanning an Electronics product, a scouting app (like Scoutify) will return a sales rank of 0 or N/A (Not Applicable). In almost all other categories, a rank of N/A really means that the sales rank is zero. To read more about why an item would have a zero sales rank, click here. Sometimes, however, the scouting app will return a numerical sales rank, but be very careful what you decide to do with that number.
When an Electronics sales rank number is given, it's almost always the rank of an Electronics subcategory. One time I was out scouting and found multiples of an item that showed a rank of 92 in Electronics. The store clearance priced them at only 50 cents each! With over 27 million items in the Electronics category, 92 looked like an amazing rank. I bought a few of those items and brought them back to the house. I was preparing to send them in to FBA when I noticed that the sales rank was now showing N/A. I looked back on my scouting app and it still was showing a rank of 92. I did some more research and found out that the item I had was not ranked 92 out of the 27,000,000+ items in Electronics, but was ranked 92 out of 120 in the subcategory of Electronics > Accessories & Supplies > Blank Video Media > Minidiscs.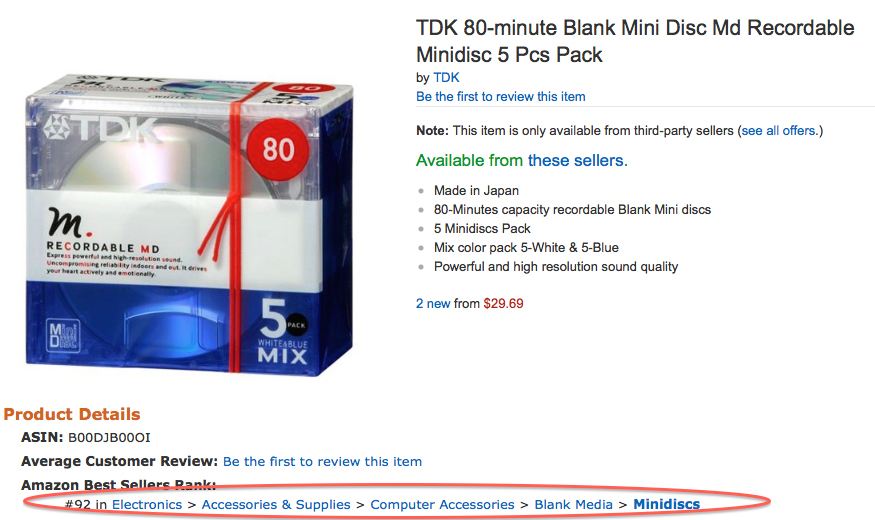 I was curious if this item could still possibly sell well on Amazon. I went to check Keepa to see what information they could provide about this product.
Keepa is a website that provides sales rank and pricing history for most Amazon products. Their data is not perfect, but it can give the reseller a good idea how often and for how much an item might sell. When I checked Keepa, there was no current sales rank or pricing history, so that was a dead end.
Since Keepa lead me nowhere, I decided to look at the reviews on the item's sales page on Amazon. At first, things looked good. This item had over 100 reviews, mostly 5 star, but then I noticed that the most recent review was from 2009. The review before that was from 2008. The bulk of the reviews came from 2006-2007. Even a well-reviewed product might not still be selling today.
I concluded that this item was not worth sending in to Amazon. I now do this research (checking Keepa and product reviews) on almost every electronic item I might purchase to sell. Needless to say, I was glad I only bought a few of these items as they quickly were added to my garage sale pile.

Ok, now it's your turn to try this out. I'm going to give you an Electronic item, and I want you to do the research yourself. Check out Keepa, the product reviews, and anything else you might think would help, and see if this is an item you would like to purchase for resale.
Product: Adonit Jot Pro Fine Point Stylus – Silver ASIN:
B00931DHKM
Clearance price at Target: $3.94 Total available for sale: 20  
No really, don't just keep reading. Do the research. I promise… it'll only take you a few minutes and will help you tremendously in the future when you are sourcing and come across electronic items. Bonus points if you practice doing the research on your smart phone instead of the computer.
In the comments below, let me know if you would buy the item, how many, and why. I can't wait to read what you have to say. And no cheating! Do your own research before reading what others have to say.
UPDATE: To find out what I would do for this item and what my thought process was when I made my decision, click here.
NOTE: This post was updated for 2019 (originally written in 2014)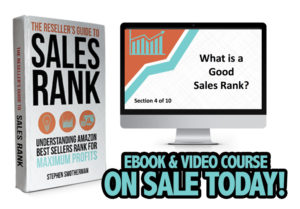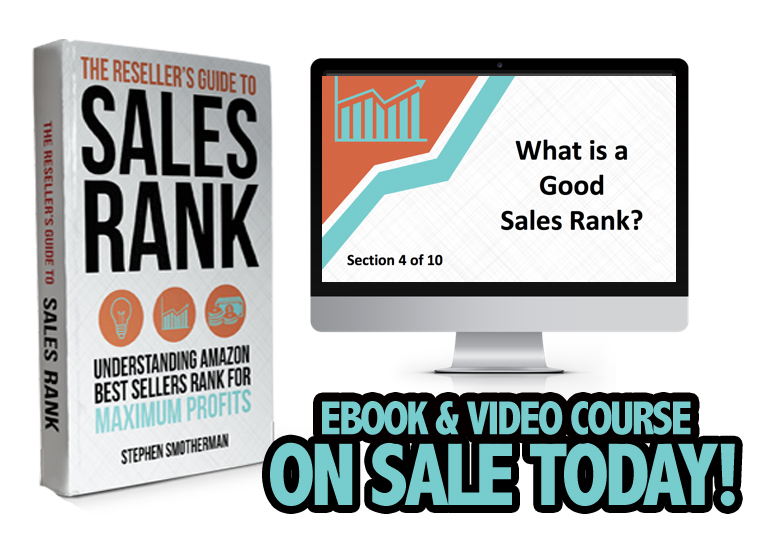 Sales rank is easily the most misunderstood aspect of selling on Amazon. What is a good sales rank? What does a sales rank of zero mean? What do I do with sales rank for sub-categories?
Why does sales rank have to be so confusing so much of the time?
I'm here to tell you it doesn't have to be that way! You can finally get the clarity you need on the issue of understanding Amazon sales rank numbers. We at Full-Time FBA have launched a mini-course called The Reseller's Guide to Sales Rank: Understanding Amazon Best Sellers Rank for Maximum Profits. The mini-course is a combination ebook (30+ pages) and video course (almost 2 hours).
Check out The Reseller's Guide to Sales Rank mini-course to see how you can master the concept of best sellers rank and be on your way toward smarter sourcing decisions for your Amazon FBA business!