Today's post comes from Stephen's wife, Rebecca, who works alongside Stephen in their full-time FBA business.
We've posted in the past about ways to get "free money" to use for sourcing, and I've also posted about how I incorporate sourcing into my day-to-day schedule running a household with four kids. Today I want to share an app I've been using during my regular sourcing and shopping for the family that is earning us gift cards at popular locations: Shopkick.
The basic premise of Shopkick is that you use the app on your smartphone to "walk in" as you enter stores or to scan items within the store, earning points called "Kicks" for every walk-in or scan. Once you've accumulated enough Kicks, you can redeem them for gift cards. The gift card options include stores like Target, Starbucks, Old Navy, JCPenney, Macy's, Lowe's, and ToysRUs.
Since I do most of the shopping for our family as well as helping with sourcing at stores around town, I've found that Shopkick is an easy way to earn rewards doing something that I'm already doing anyway. Different stores participate in different cities, but in our area of town alone (not including other parts of town where we also shop) I can earn Kicks just by walking through the doors of Target, JCPenney, Walgreens, CVS, Walmart, Kohl's, Home Depot, or Albertson's. These are stores where we regularly source or do our family shopping — it takes a matter of seconds to check in as I enter, so why not earn rewards while I'm at it? The rewards can rack up even faster during the before- and after-Christmas clearance shopping when we're sourcing at retail stores even more than other times of year.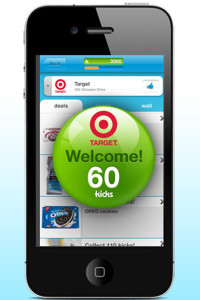 I've found that checking in is the easiest and most time-efficient way to earn points on Shopkick, but I've also done a little scanning to earn extra Kicks when I have a minute to spare. Within the app, each participating store has a list of products that you can find and scan to earn Kicks throughout the store. For example, right now at my local Target I could scan a wide variety of items including toilet paper, air mattresses, men's and women's clothes, food products, and health and beauty items.
For me the key to making the most of scanning items in Shopkick is to pick only products that earn a high number of Kicks and products that include several items on the same aisle. For instance, yesterday at Target I scanned three different types of toilet paper and three different types of hair care products that each earned a high number of Kicks. I skipped going to find the two clothing items in the list because one was in men's and one was in women's, and both of them were relatively low earning.
Stephen also pointed out to me that scanning items for Shopkick could be a way to get you out of your comfort zone in your regular retail sourcing and put you in an area of the store where you're more likely to notice a good resale item that you wouldn't have seen otherwise. If you always head straight to the toy clearance at every store, scanning Shopkick items on another aisle might help you find a new resale item in the health and beauty category, for example. You never know!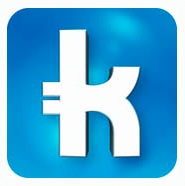 If you use it strategically, Shopkick could help you earn "free money" while doing something you already do anyway — shopping. You could easily waste a lot of time running around a store searching for items for Shopkick, when you could be focusing your energy doing something more productive and profitable — so be careful. But if you're already going to a store and you're already on the aisle scanning other items anyway, it could be worth it to spend a few seconds "walking in" or scanning products to earn some rewards.
To find out more about Shopkick, just click here and download it to your iPhone or Android device. If you follow the above link, you'll get 50 Kicks just for joining!
Have you used Shopkick? Have you found it to be useful or a distraction?