Bundle up, baby! No matter what the weather is outside, it's a good time to talk about selling bundles on Amazon and whether they're a good fit for your FBA business.
In the bulk of this blog post, I want to walk you through why you should consider adding bundles as an Amazon FBA profit strategy to differentiate yourself from other sellers. But before we get into that, I want to define bundle for you.
What is a bundle on Amazon? A bundle is a combination of two or more complementary products sold together on Amazon on one ASIN, as one item. For example, you could create a bundle of 6 or 7 unique kitchen utensils to sell together on one ASIN. Remember, the items should be complementary.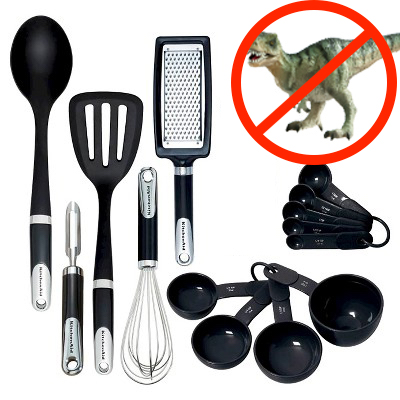 You shouldn't have 7 kitchen utensils and 1 random dinosaur toy (unless in some weird way the dinosaur toy complements those kitchen utensils).
Note: A bundle is not a multipack. A bundle consists of complementary, different products. A multipack consists of multiples of the exact same product sold together on one ASIN, as one item.
Before you start creating and selling bundles on Amazon, you need to read up on Amazon's most current guidelines on bundles, which you can find by clicking here.
Here are my top six reasons why you should consider selling bundles on Amazon:
1. Own the buy box – 100% of the time!
This is a huge reason to start selling bundles on Amazon. If you're creating unique bundles, you own the buy box. There is no competition if you create a bundle that is unique enough other sellers cannot copy it. Back to our example of the kitchen utensil bundle – you would want to have several unique utensils, but you could also include a set of 10 unique recipes in your bundle that no one else can copy and include in their bundle. You essentially eliminate your competition in this way.
2. Higher ASP and lower total fees
Having a high ASP (average selling price) for your items on Amazon is a great way to lower your fees and increase your disbursements. (Side note: If you want a free download explaining important Amazon acronyms like ASP and others, you can click here.) We have a blog post detailing the reasons why increasing your ASP is a good idea, but here is the basic premise behind the concept: It's more efficient and profitable to sell 1 item for $100 than to sell 10 items for $10 each / $100 total. I don't know about you, but I love to find ways to make my business more efficient and profitable!
3. Provide convenience and value to customers
A top reason customers come to Amazon to shop is because they love the convenience — and they love finding ways to make their shopping even more convenient. Imagine a parent coming to Amazon to buy birthday party supplies for their kid's Teenage Mutant Ninja Turtle party next week. As an Amazon seller, you could provide added convenience and value to this customer by putting together a birthday party bundle, including everything needed to throw an awesome TMNT party – decorations, paper goods, party favors, wrapping paper, you name it. This is just one example of the many ways you can make shopping even more convenient for your Amazon customers by putting together bundles that eliminate their need to search for each individual item.
4. Works for all seller types
Bundling items to sell on Amazon works for all types of sellers, no matter how you source your inventory: retail arbitrage, online arbitrage, wholesale, or private label. It doesn't matter where you are sourcing your items for bundles, so long as you can find enough of each item in the bundle to make it worth your while to create a listing and sell multiple units of the bundle. Again, your goal here is to source unique items that will set you apart from the competition, and this strategy works with numerous types of suppliers.
5. More control of the listing

I've lost track of the number of times I have found a great RA item to sell, but the photo on the Amazon listing is horrible or the description is full of typos and poorly written. Sure, you can try to fix these types of issues on listings once you have an item in stock, but sometimes it is difficult to make these types of edits if you didn't create the listing. When you're creating bundles, you are also creating the listing – which means you have control over the photos, the title, the description, the bullet points, etc. You can control just how awesome the listing is for your bundles, which means you have the potential to gain more traffic and more sales.
6. Possible Replenishable 
A replenishable (sometimes called a replen) is a product that sells often enough that the seller must continually restock again and again. One of the best ways to have long-term success and make good money on Amazon is to find a profitable replen, but finding them in retail or online stores can be harder than it sounds. Instead of finding one, maybe you could make one with a bundle. Imagine continually selling your bundle over and over and having to replenish your inventory again and again because it just keeps selling. Creating a replenishable bundle could be a gold mine of Amazon sales.

Bundling isn't for everyone – it takes time and creative energy to make stellar bundles and their listings, and not everyone selling on Amazon wants to invest their time and energy that way. But bundling can be a profitable addition to your Amazon FBA business if done correctly, so it's worthwhile to consider whether bundles are a good fit for you.
One final note: As stated above, I highly encourage you read Amazon's guidelines for bundling before you dive in. Bundling is not against the Amazon terms of service; in fact Amazon encourages the creation of bundles – but you must follow their rules for bundling, or you risk having your listings deactivated.
Stay tuned for our next blog post, where I'll give you my top tips for how to create high-quality, profitable bundles. In the meantime, do you have any questions about bundling items to sell via FBA? I would love to hear your thoughts in the comments below.
*Post updated for 2023

Bundle Webinar Reply
Recently, I hosted a free webinar where I've invited my good friend (and million dollar Amazon seller) Kristin Ostrander to come teach you how to add profitable wholesale bundles to your Amazon business. Wholesale bundles just might be the solution to many of your sourcing problems.
Watch the replay for a limited time: Adding Wholesale Bundles to Your Amazon Business


The Wholesale Bundle System Course
I once thought that creating bundles was not a good use of time, but then I discovered the video course, Wholesale Bundle System. After taking that course, my mind was opened to the profit possibilities bundles offer Amazon sellers.
This course showed me why some bundles sell frequently and why some are duds. The videos opened up my eyes on how to create professional looking photos without having to be a professional photographer. The Wholesale Bundle System also showed me how to find the most relevant keywords customers are using to search for the bundle I want to sell. The course really does tell you exactly what you need to do to create and sell successful bundles.

With step-by-step instructions for those who are new to bundling, as well as advanced tips for more seasoned bundlers, this course is filled with profitable strategies and suggestions on creating fast-selling bundles on Amazon. They even simplify and explain the sometimes confusing step of getting UPC exemptions for bundles.
A special bonus from me PLUS a $500 off coupon code!

I've personally been through the Wholesale Bundle System, and I know this is the real deal. So if you enroll on the Wholesale Bundle System, I'm going to throw in my own special bonus!
If you enroll in the Wholesale Bundle System, I'll give you access to my "Boost Your Bundles" master class! In this master class, I'll share with you the secret ingredient to Wholesale Bundle success.
In fact, if you enroll today just email me here and let me know you that you got the Wholesale Bundle System course, and I'll email you a link to the bonus master class. Just be sure you use the same email address to email me as you did to enroll in the course, so I can verify your purchase.
I don't know how long I'll offer this bonus master class, so take advantage of this opportunity today. If you're thinking of adding bundles to your Amazon business, and you want to be sure you're doing everything the right way, then I highly recommend the Wholesale Bundle System.
$500 off coupon code!
If you use the coupon code FTFBA at checkout you'll be able to take $500 off the cost of The Wholesale Bundle System course! But be sure to hurry, as the $500 off coupon code expires in only: