Recently we launched a new ongoing series of blog posts dedicated to bringing you tips and tricks for making the most of your garage sale visits. Today's tip is absolutely essential in making the most money for the time you invest in sourcing at garage sales. 
Garage sale tip #2 is basic: how to find 'em. Some of the methods I use to find garage sales are pretty obvious, but others, not as much.
1. Craigslist
Go to craigslist.org and find your city (or nearest city listed). In the "For Sale" section of your city's page you will find a link for garage sales. From here you can enter in your zip code in the search bar. If you live just outside a major city, you can also search for your city's name to find the sales closest to you. Be sure you look at the dates in the listings. You don't want to go to a garage sale that was advertised for last week or is advertising for next month.
 2. City Websites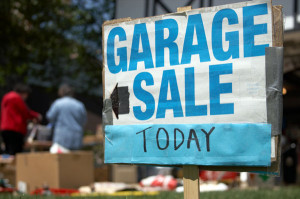 Many cities require garage sale permits before someone can host a garage sale. Most of these cities use the permit information to advertise those garage sales. If your city doesn't offer up a list of sales, then take a look at cities that surround yours. Chances are, you'll find a few of them have plenty of garage sales for you to visit.
3. Garage Sale Websites
Most of these sites just pull from craigslist, but sometimes, people add their garage sale directly to the site and skip posting on craigslist altogether. Some quality websites include:
yardsalesearch.com
yardsales.net
gsalr.com
garagesaletracker.com
garagesalefinder.com
4. Garage Sale Smart Phone Apps
Again, most of these pull from craigslist, but often, you'll find sales only posted on these apps. Some of the apps are the mobile versions of the websites listed above. Many of these apps will show you maps with directions to the sale. Here are my favorites:
Yard Sale Treasure Map 
Garage Sales by Map
The above links go to iTunes, but if you have an Android phone, there are garage sale apps for you too.
5. Newspapers
Some people still advertise their garage sales in the newspaper. I don't suggest you subscribe to a newspaper solely for the purpose of finding garage sales, but if you already are a subscriber, be sure to look at the ads. Some newspapers include garage sale ads for free on their websites, so be sure you look at your city's newspaper's website.
6. Drive Around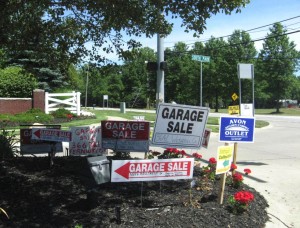 Last year, one of the towns I garage sale shop in posted its list of garage sales on Thursday nights. By the time I got the list, I would see that 9-10 of those sales started earlier that day. When I showed up on Friday to a garage sale that started on Thursday, I wasn't getting first pick. So what did I do? I decided to drive around town, on the main roads, looking for garage sale signs. On average, I'd find just over half of the sales that would be on the list later that day. This was worth it to me to get there first. I found some great items to resell on Thursdays that I knew would not be there on Friday. So, if you don't have any garage sale leads, go out and find 'em yourself!
7. Craigslist (again!)
Yes, we're back at craigslist.org to find more garage sales, but we're going to search a little differently. This time, type these words into the search bar: "neighborhood sale" or "church sale" or "rummage sale." The search results will give you another option for your garage sale trek. Searching for a "neighborhood sale" will give you ads for neighborhoods that are having multiple garage sales in close vicinity to one another. It might not be worth your time to travel 25 minutes to visit one garage sale, but if you knew that there would be a whole neighborhood filled with garage sales, then the trip would be worth it.
So what about you? Where do you find your garage sales? Got any tricks you'd like to share? I'd love to hear how you find those "hidden" garage sales that nobody else seems to find.