Today's tip is absolutely essential in making the most money for the time you invest in sourcing at garage sales. 
Garage sale tip #2 is basic:
How to find 'em. 
The more garage sales you find, the more profits you can make. Some of the methods I use to find garage sales are pretty obvious, but others, not as much.
How to Find More Garage Sales Near You
1. Craigslist
Go to craigslist.org and find your city (or nearest city listed). In the "For Sale" section of your city's page you will find a link for garage sales. From here you can enter in your zip code in the search bar. If you live just outside a major city, you can also search for your city's name to find the sales closest to you. Be sure you look at the dates in the listings. You don't want to go to a garage sale that was advertised for last week or is advertising for next month.
2. City Websites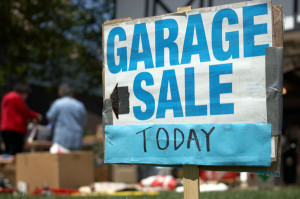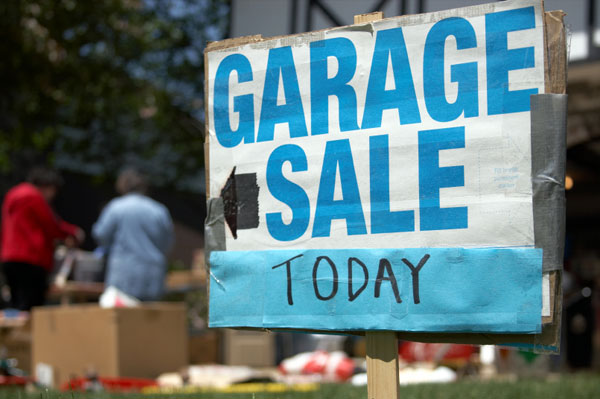 Many cities require garage sale permits before someone can host a garage sale. Most of these cities use the permit information to advertise those garage sales. If your city doesn't offer up a list of sales, then take a look at cities that surround yours. Chances are, you'll find a few of them have plenty of garage sales for you to visit.
3. Garage Sale Websites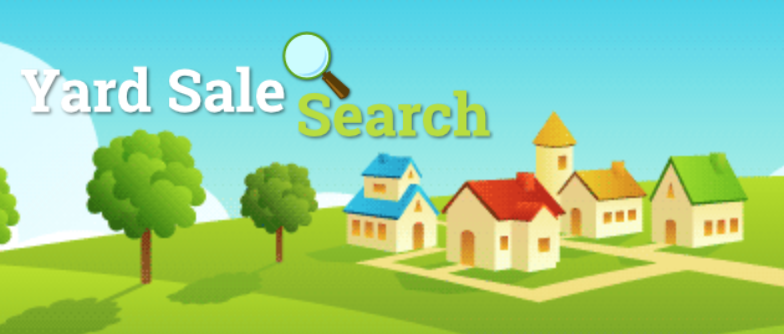 Most of these sites just pull from craigslist, but sometimes, people add their garage sale directly to the site and skip posting on craigslist altogether. Some quality websites include:
yardsalesearch.com
yardsales.net
gsalr.com
garagesaletracker.com
garagesalefinder.com
4. Garage Sale Smart Phone Apps
Again, most of these pull from craigslist, but often, you'll find sales only posted on these apps. Some of the apps are the mobile versions of the websites listed above. Many of these apps will show you maps with directions to the sale. Here are my favorites:
Yard Sale Treasure Map 
Garage Sales by Map
The above links go to iTunes, but if you have an Android phone, there are garage sale apps for you too.
5. Newspapers
Some people still advertise their garage sales in the newspaper. I don't suggest you subscribe to a newspaper solely for the purpose of finding garage sales, but if you already are a subscriber, be sure to look at the ads. Some newspapers include garage sale ads for free on their websites, so be sure you look at your city's newspaper's website.
6. Drive Around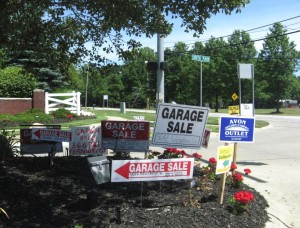 Last year, one of the towns I garage sale shop in posted its list of garage sales on Thursday nights. By the time I got the list, I would see that 9-10 of those sales started earlier that day. When I showed up on Friday to a garage sale that started on Thursday, I wasn't getting first pick. So what did I do? I decided to drive around town, on the main roads, looking for garage sale signs. On average, I'd find just over half of the sales that would be on the list later that day. This was worth it to me to get there first. I found some great items to resell on Thursdays that I knew would not be there on Friday. So, if you don't have any garage sale leads, go out and find 'em yourself!
7. Local Facebook Groups
It seems that almost every neighborhood or area of town in the US has its own Facebook group. If you're not in these local groups, you might be missing out on some great garage sales that are posted in the groups. To find these groups, go to Facebook and search for the names of your local neighborhoods and subdivisions. When people in the neighborhood have garage sales, they often post it in these groups.
8. The Nextdoor App
If Facebook doesn't have a group for your neighborhood, there's a great chance that Nextdoor does. The main focus of Nextdoor is to bring neighborhood's together. With Nextdoor, neighbors can interact with each other on the app and help build up the community. People usually post questions about what's going on in the neighborhood ("What's that construction truck doing on Maple Street?"), ask for recommendations ("Who knows a good plumber?"), or post pictures of stray dogs ("Whose dog is this in my yard?"). One thing neighbors also post about is if they're having a garage sale, sometimes asking if someone is planning a neighborhood wide garage sale. Check out Nextdoor and find more garage sales.
9. Craigslist (again!)
Yes, we're back at craigslist.org to find more garage sales, but we're going to search a little differently. This time, type these words into the search bar: "neighborhood sale" or "church sale" or "rummage sale." The search results will give you another option for your garage sale trek. Searching for a "neighborhood sale" will give you ads for neighborhoods that are having multiple garage sales in close vicinity to one another. It might not be worth your time to travel 25 minutes to visit one garage sale, but if you knew that there would be a whole neighborhood filled with garage sales, then the trip would be worth it.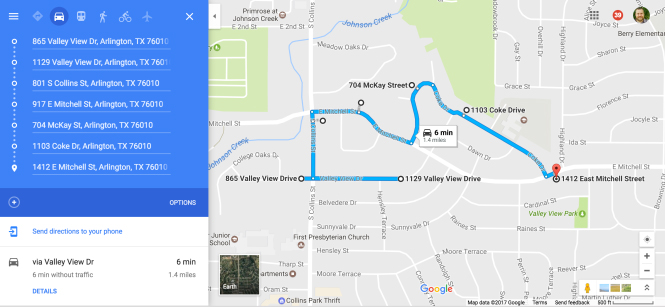 The Next Step: Plan the Best Route.
Once I find all the garage sales in my area, my next step is to create my garage sale routes. Most garage sales are on Friday and Saturday, but some start as early as Thursday and end as late as Sunday. Be sure to note the dates of the garage sales when you are making your route. I'll usually create these routes with Google Maps (or Speedy Route if there are many garage sales). I plan out my routes like this:
Thursday route – All garage sales scheduled to start on Thursday.
Friday route – All garage sales that start on Friday and any from Thursday I missed.
Saturday route – All garage sales that start on Saturday and any from Friday I missed.
Always prioritize the garage sales that start on the day you are sourcing. It's best to be one of the first people to arrive to maximize your inventory possibilities. Be sure to take note of any garage sales you miss (or don't have time for) so you can add those stops to your route for the next day.
So what about you? Where do you find your garage sales? Got any tricks you'd like to share? I'd love to hear in the comments below how you find those "hidden" garage sales that nobody else seems to find.


Limited Time Sale!
The Reseller's Guide to Board Games
Updated 4.0 Edition
My number one favorite item to buy from garage sales and thrift stores to sell on Amazon is board games! The awesome thing about board games is that they sell for really good money in both new and used (collectible) condition.
In fact, I have discovered the secrets to making hundreds of dollars a week selling new and used board games, and I want to pass on my strategies to you.
I find profitable board games at garage sales, thrift stores, retail stores, online stores, and so many other great places. I'll honestly run out of money before I run out of board games to find and resell. It's because of this abundance of opportunity that I decided to create The Reseller's Guide to Board Games: How to Turn Play Money into Real Money. This course is a combination ebook and video course that walks you through everything you need to know about making big profits buying and reselling board games.
To celebrate the updated 2022 edition (and for a limited time), use the coupon code GARAGE to take $10 off the cost of the course! Just know that pretty soon, the coupon code will expire AND the price of the course will be increasing…. so take action and enroll in the course today.
The coupon code expires AND the price permanently increase in only: