Perhaps the most important goal of any Amazon FBA seller is getting more sales, so today I want to cover a topic directly tied to the majority of sales on Amazon – the Amazon buy box.
If you look on an Amazon product page, the buy box is the little box in the top right corner of the page where you can buy that product. The buy box should say something like "Add to Cart" or "Buy Now," depending on the settings for your Amazon account.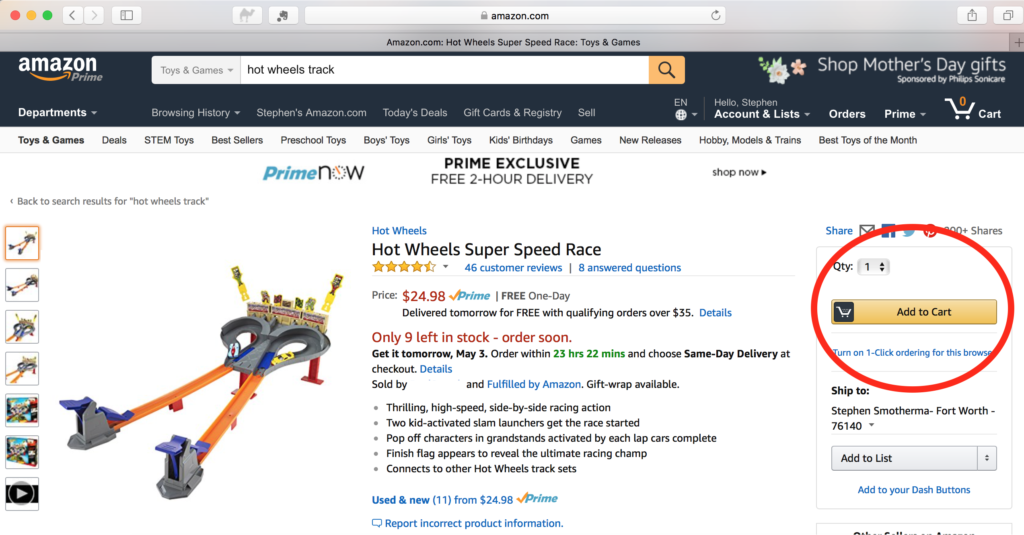 The buy box is one of the most important topics to learn when you're selling on Amazon, but it can also be very confusing because Amazon doesn't always make their guidelines on the buy box clear. Amazon does not reveal their algorithm for which seller receives the buy box, but we as sellers can still deduce certain information about how the buy box works and thus make informed, intelligent decisions on sourcing and pricing inventory to get the buy box.
For the rest of this post, I want to share with you 6 important points that you need to know about the Amazon buy box.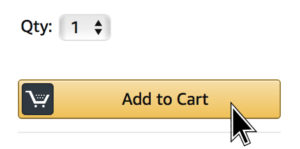 1. 70-80% of Amazon sales come from the buy box.
This is a staggering number. Let it sink in. When a customer lands on a product page and is deciding to buy an item, 70-80% of the time (possibly more, on certain items) the customer buys the product from the seller who has the buy box. Most buyers aren't looking for the small line lower on the page that says "11 more new and used offers," and rather than clicking to see more prices and more sellers, they click the yellow box that says "Add to Cart." If upwards of 80% of sales come from the buy box, you as a seller want your item to get time in the buy box. Which leads me to my next point…

2. The buy box rotates.
Unless someone is the only seller of an item, one seller won't keep the buy box 100% of the time. Amazon will rotate the buy box throughout the sellers who are eligible for the buy box. That rotation will depend on Amazon's algorithm, but it generally rotates according to all the sellers who are priced competitively, typically within a percentage of the current buy box price. Which leads me to my next point…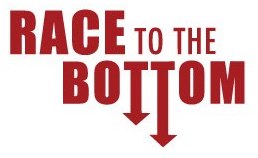 3. Having the lowest price does not guarantee the buy box.
The buy box price is not always the lowest available price on Amazon. Most customers assume the buy box price is the lowest, and most new sellers assume they have to price their items to match the lowest price in order to get the buy box – but that just isn't true. Sometimes the buy box price will be $1 or $2 higher than the lowest price, and on certain items it can even be up to $5 higher than the lowest price. Many new sellers use a pricing strategy where they price their items a penny or a nickel lower than the lowest price thinking this will guarantee the buy box, when they could be pricing higher than the buy box and achieve the same results because (remember point #2?) the buy box rotates and doesn't depend on who has the lowest price. Which leads me to my next point…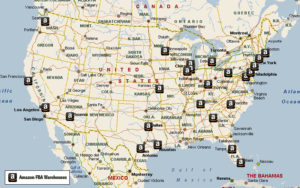 4. The buy box is geographical.
Sometimes an Amazon buyer sees a certain seller in the buy box based not on the price of their item, but on the location of that seller's inventory in the FBA warehouse. If the customer is on the west coast and is a Prime member, Amazon will likely show them an offer in the buy box based on the fact that it's located in a west coast warehouse and should be easier for them to deliver within the 2-day Prime window than an item that's priced $1 cheaper but is located on the east coast. I could be sitting here in my office in Texas looking at the exact same product page at the exact same time, and I could see a different seller in the buy box than that west coast customer because Amazon wants to ship my purchases from a Texas warehouse.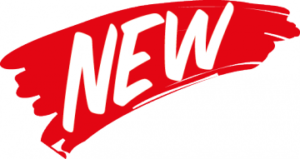 5. The buy box is for items in new condition only.
If you are selling an item in used or collectible condition, you aren't going to be eligible to get the Amazon buy box for that item. The exception to this rule is on certain media items, where you can see both a new buy box and a used buy box.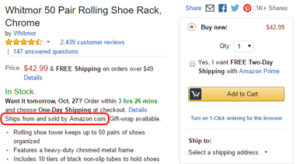 6. Sometimes Amazon as a seller shares the buy box with third party sellers, but usually not.
Most of the time, if Amazon is one of the sellers of an item, they will hog the buy box and not share it with other sellers who are priced competitively. Sometimes they will give the buy box to a seller who is priced significantly lower, but even then it's no guarantee. In these instances, third party sellers generally have to wait for Amazon to go out of stock before they are able to gain the buy box and get sales of that item.
Amazon hogging the buy box is just one of many reasons why I love to use Keepa to do sourcing research. Keepa is a free program that will show you if Amazon is in stock on an item or if they've ever been in stock in the past. When I'm sourcing for inventory, I typically avoid buying items where Amazon is in stock because I know they probably won't share the buy box with me. I use the Scoutify app to do my retail arbitrage sourcing, and there's a button on the app that I can click to see the Keepa data on the item I'm researching. Looking at the Keepa data makes my decision making process so much easier because it clearly shows me whether Amazon is likely to be my competition if I sell an item.
If you want more information about how to interpret Keepa data, check out my blog post on How to Read and Understand Keepa Graphs. The post includes a video tutorial about reading Keepa graphs and is a great introduction to the program.
Now, you might be wondering at this point, "So how do I actually win the buy box?" That question is big enough that I'm going to cover it in its own blog post, so stay tuned for the next post later this week.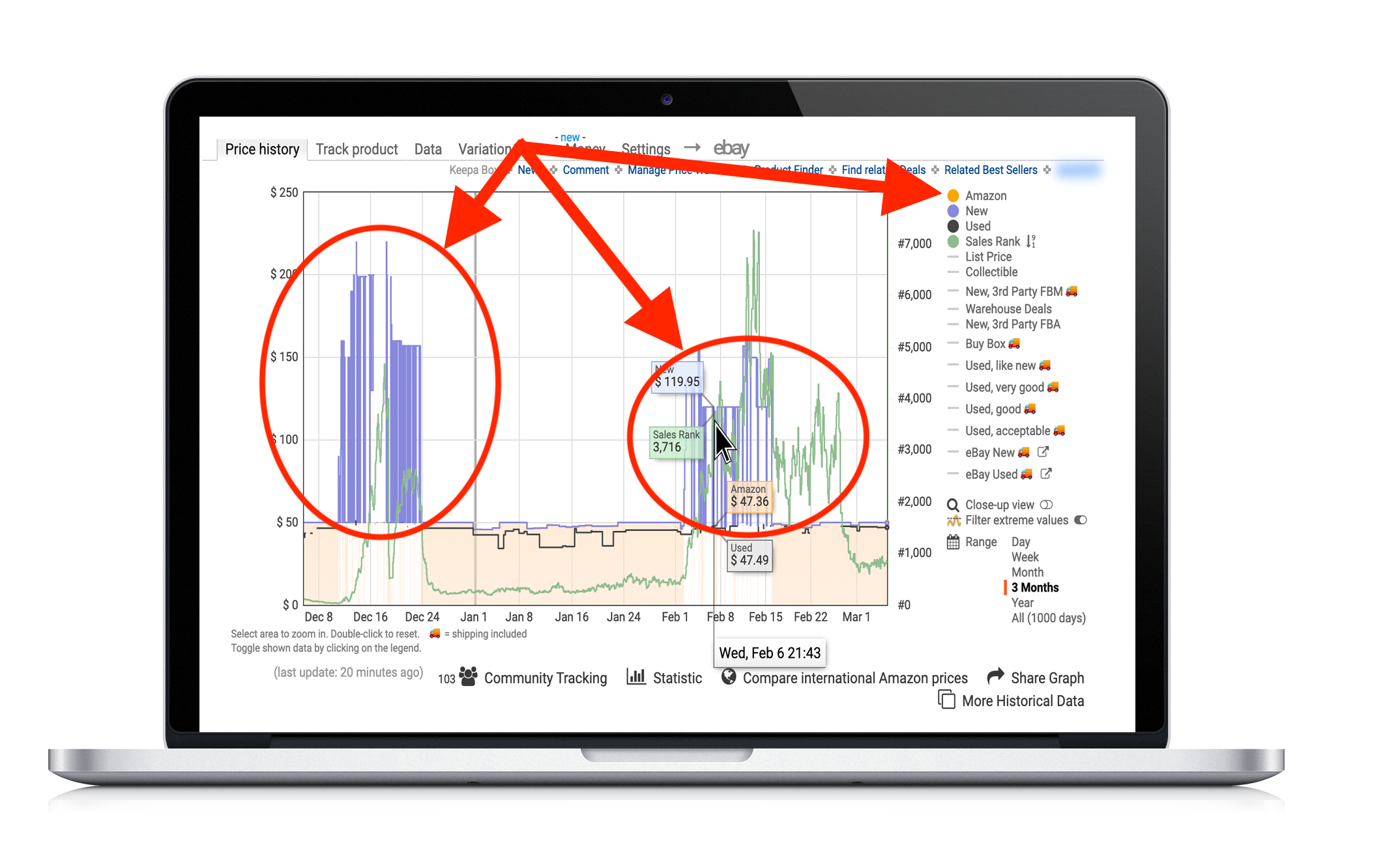 Did you know that sales ranks on Amazon change around 24 times a day… and prices on Amazon change every second? With Keepa tracking both prices history and sales rank history (and more!) for almost every item on Amazon, you now can have the power of using the sales history of an item to predict future sales.
The best way to learn how to win the buy box is to use Keepa!  Not only does Keepa show me the sales rank history and pricing history, it also shows me other important data, like buy box history, used item history, Amazon in stock history, competitor's stock levels, and so much more.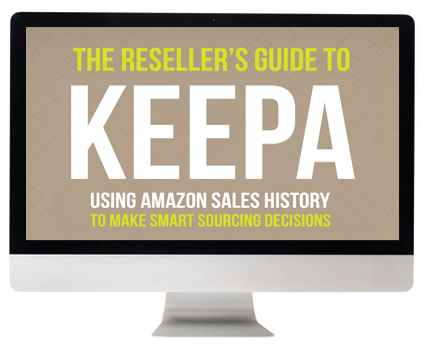 To find out everything there is to know about using Keepa to make smart sourcing decisions, be sure to check out our course, The Reseller's Guide to Keepa: Using Amazon Sales History to Make Smart Sourcing Decisions.
This course will walk you through everything you need to know to make sense of Keepa in ways you've never thought of. With this course, you'll make better sourcing decisions, better pricing decisions, and you'll grow your Amazon business to the next level by selling your inventory faster and at higher prices!
I can't wait to share all of this info with you in our updated course, The Reseller's Guide to Keepa. 

Have you made any other observations about how the buy box works that we didn't cover in this post? We would love to hear from you in the comments!