Most people believe that you need to be a brand owner or private label seller to benefit from advertising on Amazon, but today we discover just how beneficial it can be for your FBA reseller business. If you're someone who gets their inventory via retail arbitrage, online arbitrage, or even wholesale, advertising your inventory is a great way to separate yourself from your competition and increase your sales.
This week on the Full-Time FBA Show we welcome back our friend Jo Ann Zimmerman to talk all things Amazon Ads, particularly for resellers like us! Jo Ann fills us in on why it's a good idea to consider advertising on Amazon, how it can save money in the long run, and which categories she finds are the most suitable to advertise in. Tune in for some insider intel into the world of Amazon advertising for resellers, from someone who has dedicated her time to experimenting with it, understanding it, and generously sharing her findings.
Listen on the podcast player below.

Like what you hear? Tell a friend… and be sure to leave us a rating and a review. Here's how.
Key points from Episode 119:
Why so many Amazon resellers choose not to advertise on Amazon or are unaware of the opportunity.
How spending money on advertising can actually increase your profits.
How inexpensive it is for resellers to reap the benefits of advertising.
The straightforward nature of Amazon advertising and the learning curve to expect.
The eligibility requirements for advertising on Amazon.
The new Seller Central feature that indicates whether your prices are competitive.
Which categories you should not spend money on advertising in.
Which inventory items have the best return thanks to advertising.
The vast difference between advertising as a reseller versus as a private label seller.

And more!
Links and resources mentioned in this episode:
AMAZON ADS 101 video course
Use coupon code FULLTIME20 to take $20 off the course
Previous podcast interviews with Jo Ann Zimmerman:
Right-click here and save as to download this episode to your computer.
More Episodes from the Full-Time FBA Show podcast:
Don't miss an upcoming episode! Subscribe, download episodes, and review the Full-Time FBA Show:

AMAZON ADS 101
Did you know you can increase your FBA sales without buying any more inventory? Get your listings in front of many more buyers? Increase your time in the buy box without dropping your prices? Avoid losing your profits on listings where other sellers are "racing to the bottom"? Compete against Amazon and win? You can do all this and more once you learn the right way to run PPC ads on Amazon.
AMAZON ADS 101: PPC FOR RESELLERS is a comprehensive video training program that includes complete and detailed explanations on all things advertising on Amazon.
While other trainings for advertising on Amazon are aimed at private label sellers and brand owners, whose goals and needs are very different from resellers like you and me, this course is designed specifically for Amazon resellers (who do retail arbitrage, online arbitrage, and wholesale sourcing) and includes everything you need to know to get started and succeed with Amazon ads.
In this course you'll get clear and detailed explanations of how ads work, how to set them up, how to know if they're working, and how to fix ones that aren't working, as well as multiple examples from actual Amazon product listings in each lesson.
Check out AMAZON ADS 101 course today and use the coupon code FULLTIME20 to take $20 off the cost of the course today.

Back to the main page for The Full-Time FBA Show

Episode 119 Transcript: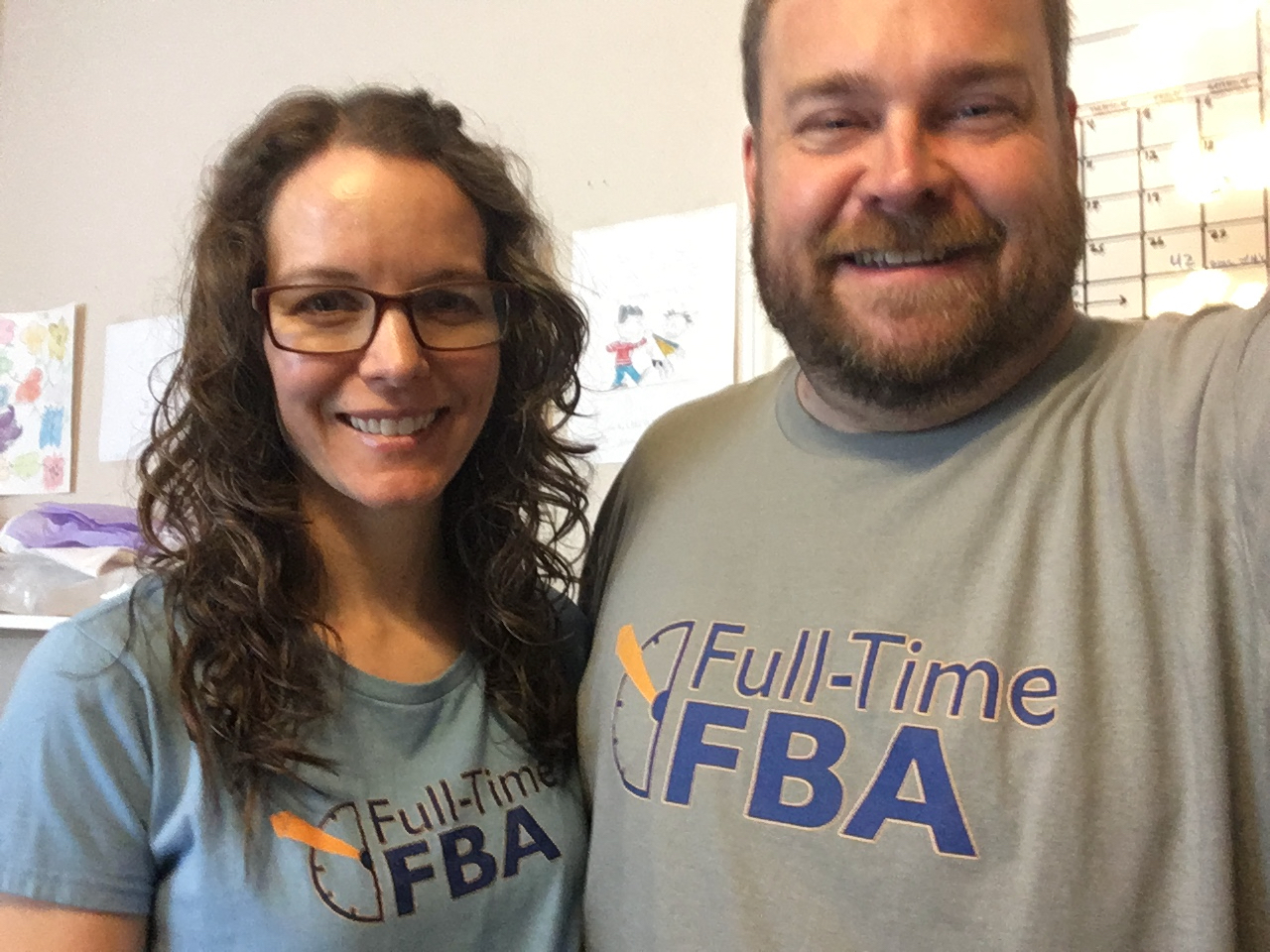 [INTRODUCTION]
[0:00:01.8] ANNOUNCER: Welcome to The Full-Time FBA Show. In each episode, it's our goal to help you turn part-time hours into a full-time income, selling almost anything on Amazon. Now, your hosts of the show, Stephen and Rebecca Smotherman.
[0:00:21.5] REBECCA: Hello there and welcome to episode number 119 of the Full-Time FBA Show, we are so glad you are tuning in today to check out this episode, you are going to really enjoy it. Today, we have back with us Jo Ann Zimmerman, she has been on the show a couple of times before and we always love hearing what she's up to, we love learning from her, she has a lot of knowledge and some really helpful areas of Amazon FBA that we think are really going to benefit your business. Today, we're going to be talking about Amazon advertising with Jo Ann.
In this interview that Stephen did with Jo Ann, she's going to get into the reasons why you should consider advertising for your Amazon FBA business, why you should consider advertising on Amazon. This is going to be great information for you, even if you're not a brand owner. A lot of people think that you need to be a brand owner in order to benefit from advertising but she talks about how resellers really can benefit from it and I know that was something that I enjoyed hearing about and learning from and we're excited to put that into practice in our business. Hopefully you'll be inspired as well to look into it and to try it.
She goes into her own experience with ads, we always love hearing Jo Ann's stories and her experience with her FBA business, she's a great teacher and she goes into more detail on how you really can save money by spending that advertising money, you're going to save money on storage fees in the long run, you're going to be able to get your money back sooner that you've invested in your inventory if you spend a little bit of money on advertising.
I find it helpful that she goes into this interview, the categories that she likes to advertise in, and which category she doesn't like to advertise in. Overall, there's just a ton of helpful information, you might want to take notes on this one or check out the transcript afterwards if that's a better way for you to do it. Either way, I hope you enjoy this interview with Jo Ann Zimmerman about Amazon advertising.
[INTERVIEW]
[0:02:20.0] STEPHEN: All right, I am here with Jo Ann Zimmerman, she is back on the show, we're excited that she's back for a third time. Jo Ann, welcome back to The Full-Time FBA Show.
[0:02:28.9] JO ANN: It's great to be here again.
[0:02:31.5] STEPHEN: Yeah, today, we're actually going to be jumping into the topic of advertising on Amazon and it comes to a surprise to me and maybe to you, but there's a lot of Amazon resellers, people who do online arbitrage or retail arbitrage, even wholesale that don't either know about the opportunity to advertise or choose not to advertise on Amazon. Why do you think that is?
[0:02:55.1] JO ANN: I think a lot of resellers may not know about advertising because they don't have to. It's something that, if you are a brand owner or a private label seller, you must do. You absolutely have to establish yourself on Amazon, you're bringing a brand-new product to the market and so, you have to advertise.
Resellers like us don't mix that much with private label sellers. I belong to a number of Facebook groups for Amazon and there's not much crossover. Private label guys are the private label guys and the resellers are the resellers and there's not much cross chatter. I don't think resellers really know all the advantages of advertising on Amazon.
[0:03:43.1] STEPHEN: Yeah, I know that that was me at some point. I didn't do any advertising at all and then I realized, "Oh wait, there are some actual benefits to that, I can get from advertising."
[0:03:54.3] JO ANN: Absolutely.
[0:03:55.8] STEPHEN: How did you first get involved with advertising? Figure it out and learn all you have?
[0:04:01.1] JO ANN: Well, when I started out in, oh my gosh, 2015 now. I started out selling books and then I branched out into some online arbitrage, some retail arbitrage, and then maybe a year and a half after that, I did get into selling my own private label products. For about 18 months, I had a couple of things going, they were pet products and I absolutely had to advertise them, so that was a big part of what I was doing.
It was hugely successful, the advertising part, not necessarily my private label business. I'm not so good at the other parts of it. I realized that that wasn't for me, the writing product listings and creating variations and seller central and taking photos and researching product niches and all of that, that is not me. I'm not good at that part of it but I absolutely saw the benefits of advertising firsthand.
When I focused again on my arbitrage and wholesale business, it just made sense to me to continue advertising because there are such big payoffs.
[0:05:14.3] STEPHEN: Yeah, absolutely. I've noticed the same thing. I am not at all interested in getting involved with private labels, trying to find items to bring to the Amazon marketplace and start from scratch to try to get traffic to buy those items, and set all that stuff up. I, just like you, love finding profitable items that are already selling on Amazon. They already have a long track record, they already have consistent sales.
They have consistent pricing and selling those items, I mean, it's just joining the party and I love that and now, finding a way to distinguish yourself from the other sellers that are selling those items with advertising, just puts you at the head of the game. What other kind of benefits do you see and have experienced, advertising on Amazon for your reselling items?
[0:06:05.1] JO ANN: There is tons of ways that advertising helps me in my business. We just came out of Q4, for instance. I hope everybody had a good one but one downside to Q4 is of course, the storage fees are insane. I had some things where normally, meaning, the rest of the year, for nine months, the storage fees are maybe 28 cents a month and the storage fees were over a dollar a month for these items and you have to send in a fair amount at once for Q4 so that it gets received and it can sell in time for the holidays, so storage fees would absolutely have killed me if I hadn't been able to move the stuff fairly quickly.
Getting things out the door fast by putting yourself in the buy box more often with advertising is a big benefit. You don't pay those storage fees and you get your money back sooner. I mean, fast turnover is always preferable, for me anyway, to get my cash out and get the next good buy and it also helped me a lot when everybody else started jumping on the same listings and the prices would start to tank the way they do.
By advertising my listing and staying competitive with my price and by the way, you don't have to be the absolute lowest offer to advertise. You just have to be competitive to be eligible for advertising. Getting my offer in the buy box more often help me sell out faster and I could get my products sold at the 18 to 19 dollar range for example, instead of the 12 to 13 where it would end up a week or two later for people who were just trying to get the buy box by cutting their price.
It actually made more sense for me to spend a few bucks and advertise and get my money back.
[0:07:53.1] STEPHEN: Yeah, I totally agree with you, I mean, the Q4 storage fees for standard items are basically four times as high as for the other three quarters of the year and yeah, that can – if your item isn't selling very fast, totally eat away at your ROI and we want as much ROI as possible, which kind of leads me to my next question.
How does spending money on advertising actually increase your profit? I mean, it's the old saying, you got to spend money to make money, it's an annoying thing but it's true. How does it work when it comes to advertising, spending some money to advertise but you actually get more in your pocket at the end of the day?
[0:08:32.3] JO ANN: You totally do get more in your pocket at the end of the day. For example, the race to the bottom that we just talked about but there's also the type of product that is in some ways seasonal or is out-of-stock a lot. Right now, for instance, early January, I'm sending in some Valentine's Day stuff.
I see that the ranks, the sales ranks for a lot of these things that have been out-of-stock since last April or May are really poor. I mean, in the grocery category for instance I just sent in some Valentine's candy where the sales rank was about 160,000 but once my inventory was in stock, I spent just $5 a day advertising it for four days and the rank is now below $50,000 and I'm the only seller right now. I'm sure more people will come on but I want to sell mine fast.
Advertising it improved the rank enormously by letting buyers know that it's available again. When you run an ad, it appears top of search on that page, and people are now switched from Christmas to Valentine's Day and they think, "Oh wow, I should get candy for my wife or I'm in big trouble." You get sales by advertising that way, you spend a little bit but you make a lot more.
[0:09:56.6] STEPHEN: Yeah, you put some money into an item and it sells faster and that really is the name of the game right now in Amazon. Fast returns, if you are selling long-tail items that take a long time to sell, that's going to lower your IPI score, it's going to have lower metrics when it comes to how fast you're turning. Amazon wants us to sell stuff as fast as possible and one of the great ways to do that and to increase your IPI score is to advertise, to be able to get that going.
What about the people who say, "Okay, advertising is a good idea, I like it but aren't ads expensive? I mean, isn't that going to totally kill my profits to spend money on this?" What are your thoughts on that?
[0:10:39.9] JO ANN: It hasn't been my experience, no, it doesn't really take all that much money to see the benefit of advertising. I gave the example of the $5 a day ad that I used for the Valentine's Day candy and that one's still running right now. First of all, I'm not going to run it much longer because once I establish the sales rank is better and my ad is converting, people see it, they click on it and they buy it, then it ranks higher in Amazon's organic search.
Their algorithm picks up on the fact, "Hey, people are buying this" and it will come up higher in organic search when people type in the box, Valentine's Day candy, so I won't need to advertise it very much longer to make sure that it's at the top of search. It's maybe a week to establish that it's back in stock and people will see it without me spending the money.
Even apart from that, the idea of advertising is insanely expensive, I think comes from the private label world because you do spend an awful lot of money when you're trying to establish a new brand. Bring something totally new to the market, you're in a competitive niche, you have to spend a lot of money on advertising. We're resellers, we're not trying to establish a brand. Sometimes, we just really need to move a couple of Harry Potter mugs and it doesn't take a lot of advertising bucks to do that.
[0:12:09.2] STEPHEN: Yeah, absolutely and so, if someone's listening to this and they're like, "Okay, I'm sold on advertising, is it complicated to set that up?" I mean, managing the ads, is it easy to learn? What are your thoughts on that is the advertising aspect of getting into seller central and setting up the right numbers and figuring out what to spend, is that complicated?
[0:12:30.2] JO ANN: The advertising part of the private label world is probably the easiest part. I have to give props to Amazon. I know that sometimes, we are frustrated with certain of their systems but they really do have a streamlined system when it comes to how to advertise because they want you to do it. It makes money for them when you pay to advertise.
Amazon is now the third-largest advertising revenue receiver in the world, they're behind only Google and Facebook right now and that happened almost overnight like within four or five years. They became a huge player in the advertising world and that's because of the money that we spend on advertising and they want us to do it so they make it really fairly straightforward.
Now with that being said, there is a little bit of a learning curve and you have to go through the steps in the right order and you have to avoid a couple of places where you might get yourself into trouble but fortunately, there is a course that will teach you how to do all of that and that is the Advertising 101 PPC for Resellers course that is launching in my gum road store in a couple of weeks.
I really hope that people will check it out and see that it's really not as difficult as it is, first of all, if you're a private label seller and second of all, as a lot of people make it out to be. It's really not that hard.
[0:14:04.0] STEPHEN: Yeah, the good news is that you don't have to wait a couple of weeks to get this course. We are recording this in early January but the podcast is actually going to drop and be sent out to all the listeners and subscribers on the launch day. January 17th is when the course is available to the public, you can go to fulltimefba.com/amazonads and that will forward you to the page where you can get this course, Amazon Ads 101, and learn everything that you need to learn.
We'll talk a little bit more about how you can get a coupon code a little bit later in the podcast but let's keep talking about Amazon advertising. So, I'm sold, I figured out how to advertise on Amazon, can I advertise all my products?
[0:14:51.2] JO ANN: Yes and no. It kind of depends, you need to be buy box eligible in order for you to advertise anything and that has to do with not only your products but you as a seller. Sometimes people are surprised to learn this but you need to meet certain criteria in order to advertise on Amazon. I mean, you must have a professional seller account, for instance, individual sellers do not qualify for advertising.
There's a couple of other things that might affect you as an individual and then your products have to be eligible. You have to be buy box eligible. You have to be in stock obviously, you can't advertise something you don't have and there's a couple of other things that you have to do, you have to be within a certain price range of what they call the featured offer, which is the offer that's in the buy box.
You do not, let me say again, do not have to be the absolute lowest offer. In fact, I don't know if you were noticing Stephen, in seller central within the last two days, I noticed a change that they've made in the display on the manage inventory page.
They now show whether or not you are competitive, whether your price is competitive so that it shows you the buy box price, the lowest price and if you are competitive, it will say, "competitive price" next to your offer. For quite a few of mine, I'm five or 10% above the absolute lowest price and it still says competitive. That's the requirement as far as the price goes.
[0:16:25.8] STEPHEN: That's a really cool feature that Amazon just added, I have not noticed that yet, so I will be looking for it now and I'm excited about that because yes, that makes advertising even easier because you know that Amazon says you're competitive so you kind of know which items to advertise.
Is it better to advertise certain products other than others? I mean, how do you go about picking what you're actually going to advertise?
[0:16:50.3] JO ANN: Yeah, there are absolutely products that will give you a better return for your ad spend than others and it is important to be smart about how you have limited funds, you want to spend them on the right products.
In my experience, shoes and clothing, for instance, have a lot of variations. That's a tough thing to advertise because even if you do get your product seen, let's say you're selling some sneakers and you have a men's size seven navy sneaker that you're selling.
You can advertise it and people will click on it and yes, they will come through to your offer, that's the thing about advertising, people come to your offer but unless the person that clicked on it wants navy and wears a size seven, it's not going to convert. They're going to choose a different color or a different size, there's not a lot of flexibility with variations there. I personally do not advertise clothing and shoes items.
Now, other variations, sure. Makes sense to advertise other types of variations, I sell some craft items. For instance, I'm a knitter as I may have mentioned before. I buy yarn and so I sell yarn on Amazon and within reason, advertising those sorts of products does have a good return because if that's the offer that people click through to, they were attracted to it when they saw it so they liked your color of yarn and they clicked on it, your offer is going on the buy box, they're going to buy that.
The ones that I find I have the best return on are either ones that are coming back into stock after having been out of stock for a while because you increase visibility that's the biggest benefit there is that you are going to decrease the product's rank. You don't have to run it very often, maybe a week, and boom, the product is selling organically again. The other one is when there's a lot of sellers and you are competing against a lot of sellers on the same listing.
Before that dreaded race to the bottom happens man, I am going to advertise and get out of that listing. We've all been there.
[0:19:03.4] STEPHEN: Yes, so what about times like there might be people listening who say, "Okay, I tried advertising and it didn't work for me." So how can people, you know first off, know if their ad is even working and set up correctly?
[0:19:16.1] JO ANN: Yeah, that's the thing about advertising is that you can't just set it and forget it. That's not how it works. You do need to go back to it after maybe two weeks and take a look at the data that's available in the campaign manager and again, there's a lot of data available, Amazon wants us to be successful but you do need to know how to interpret that data. The easy answer to "Is my ad working?" is are you getting more sales but sales is a lagging indicator.
It is happening because something else changed, something else increased or decreased or expanded and you need to figure out what that something else is by interpreting the metrics that Amazon gives us and a big part of what the course does is once you've set up your ad and you've let it run for a while is help you understand the data so you can say, "Oh, the problem is I'm not getting enough impressions. Here is how I can fix that."
Or the problem is, "I'm getting a lot of impressions but my click-through rate is too high. Here's how I can fix that" so that you're not wasting your ad dollars, you have to set it up but then you do have to occasionally tweak this or that to get the maximum return. You have to optimize your ads.
[0:20:37.7] STEPHEN: Yeah and that's one of the things I love about your Amazon Advertising 101 course is that you go through examples of what's working, what's not working, why it's not working, what you can do to change and you know, I had a pre-advanced copy of the course to go through and that video, when you were walking through troubleshooting and how to fix the ads that aren't working is the only one that I watched twice.
I am probably going to watch it a third time because it was that good and I wanted to get that knowledge to sink into my brain. It was so good and I think that one video alone is worth the cost of the entire course in my opinion.
[0:21:17.7] JO ANN: Well, if it helps people not quit then yeah, I think so too because I don't want people to give up. You can make advertising work for you but you just have to stick with it, you know?
[0:21:28.1] STEPHEN: Yeah, absolutely. When it comes to learning about Amazon, you know we're talking about this course but aren't there a lot of blog posts or YouTube videos about advertising on Amazon? Can people just go out there and learn free of charge from those videos or blog posts?
[0:21:43.3] JO ANN: You can if you're a private label seller. I learned a lot when I was starting out in that world from a whole lot of videos that are out there and different Facebook group gurus who will show you how to research the most converting keywords but that's not something we do as resellers. We do automatic targeting for the most part. The private label seller will show you how to do negative keyword bidding.
We don't do that so I have myself actually not seen anything that tells you step by step by step how and why to advertise as a reseller and walk you through every step. I mean, in the course I use examples from my own inventory. I show you before and after, you know, here is how many units, here is what the rank was, I advertised it on this date and look at what happened in Keepa, here is the chart and look in my own inventory, it now shows I am out of stock.
It worked so that you know, I want people to understand that it's not that difficult but it is different than what private label sellers do. You do not want to follow what that crowd is doing. It works for them, it is not right for us.
[0:23:03.6] STEPHEN: Yeah, I have experienced the same thing where I have not seen blog posts or YouTube videos teaching resellers how to advertise their stuff. I mean, they focus on, yeah, it's all private-label focus and it's a whole different ballgame, a whole different strategy and so I really appreciate you putting together this Amazon Ads 101 course to show resellers like us who focus on retail arbitrage, online arbitrage and wholesale type of sourcing to get our inventory being sold faster and at a higher profit before the price tanks.
This is a huge, awesome results-focused course. Amazon Ads 101 and to find out more about it, fulltimefba.com/amazonads and again, this podcast drops January 17th and if you are listening to this, within four days of January 17th, we got a special coupon code that will take $50 off of the cost of the course. The coupon code is "fulltime50" and we'll take $50 off of the cost of the course and like I said, one video in that whole course is worth the entire cost of the course, and plus you get a ton more videos setting you up for success with Amazon advertising.
I know there's a 30-day money-back guarantee and it's awesome, again, the link is fulltimefba.com/amazonads and if you're listening to this in the future beyond when that $50 coupon code is active, if you go to our show notes page, fulltimefba.com/119 since this is episode number 119, we might have a coupon code for you as well. It won't be as big but hey, you can still save some money, that's a possibility so go check out that link and get some savings.
Jo Ann, tell us a little bit more about the course and what people can expect to experience.
[0:24:48.9] JO ANN: Sure, we talked about a lot of it but it starts with an explanation of how Amazon search works because a lot of us don't really think about that and then the difference between organic search and sponsored results and how you can make Amazon's algorithm work for you by advertising. Then we move into the best times and types of products to advertise to get the most bang for your buck because we don't have unlimited funds.
We want to spend our money and be smart about it, it's an investment. I mean, a lot of resellers use things like Keepa and Inventory Lab and so on, these aren't expenses. These are investments in our business that help us make more money and I show you how advertising is the same thing and it is actually a lot less expensive than people think and then at that point, we go into explanation step by step by step with screenshots of every step.
How to set up an ad, what you have to avoid because there are two or three places where you don't want to make the right choice. It is not difficult to learn but there are maybe two or three places where if you don't check the right box, you could have a nasty surprise on your invoice at the end of the month. Once we go through setting up the ad, then we let it run for a while, we interpret the data.
We figure out how to fix any problems that there might be and then we organize everything for long term success because it is one thing to set up one ad and that's great but once you have maybe 10, 12, 20 ad campaigns running, you have to organize them and keep them together in such a way that you can monitor them. It is easy to forget what you have going and every time an ad runs, it costs you money for that day, so you want to make sure you still want that ad.
Organizing them in the campaign manager in ways that they're easy to track and monitor is another important part of the process.
[0:27:02.7] STEPHEN: Yeah, I love how your course takes the overwhelming aspect of learning advertising on Amazon. You make it simple to understand and learn and implement and I really appreciate that. I also appreciate you hanging out with me today, answering my questions about advertising. Thanks for being a third-time guest on our show and I look forward to having you back again.
[0:27:20.4] JO ANN: It was super fun, thanks.
[0:27:22.5] STEPHEN: Yep and so that was Jo Ann Zimmerman and we love her to death and again, thank you so much, Jo Ann.
[0:27:28.1] JO ANN: Thanks for having me.
[END OF INTERVIEW]
[0:27:33.0] REBECCA: Well there you have it. We hope that you have enjoyed this interview with Jo Ann Zimmerman. I hope that you got a lot of great info from it for your FBA business. If you want to check out the show notes for this episode, as always, you can find that at fulltimefba.com/119 because this is episode number 119.
You'll find in that show notes section the links to anything that was mentioned in this episode including Jo Ann's new course and the coupon code for that course. You'll also find the transcript for this episode, which will come in handy if you're wanting to take some notes or to remember anything that you learned during this episode, which I know I'll be taking advantage of that myself.
We hope you have a great week ahead and we will be back with you next week for our next episode of The Full-Time FBA Show where we're going to be talking about the top scams that are targeted at FBA sellers. These are things that you as an FBA seller really want to keep an eye out for. These are ways that people are plaguing, targeting FBA sellers trying to take advantage of them, trying to steal from them and you don't want to fall victim to any of these scams, so check that out next week on The Full-Time FBA Show.
[OUTRO]
[0:28:42.9] ANNOUNCER: That is all for this episode of The Full-Time FBA Show. So head over to fulltimefba.com/podcast, where you will find the show notes and links from this episode. While you're there, subscribe to our newsletter where you'll get several free downloads of our popular and helpful Amazon FBA resources. Now, take action on what you have learned today so you can find success at turning part-time hours into a full-time income with Amazon FBA.
[END]