It seems like almost every Amazon seller, at some point, has to deal with being accused of selling an inauthentic item on Amazon – even if we know for a fact that it's not inauthentic at all. If you've never had it happen to you, then it'll probably happen at some point. And when it happens, you'll need to know exactly what to do in order to best protect the health of your seller account.
Today on the show, Stephen interviews Kim Coghlan, an expert on the topic of how to properly handle inauthentic claims. This episode is probably one of the most note-taking-worthy episodes so far on The Full-Time FBA Show. After this episode, you'll be empowered to know exactly what to do if Amazon puts an inauthentic ding on your account and how to properly remove that ding in order to best protect your Amazon account health.
Listen on the podcast player below. 

Like what you hear? Tell a friend… and be sure to leave us a rating and a review. Here's how.
Key points from episode 24:
How an inauthentic claim can impact the health of your Amazon business.
Where exactly inauthentic claims come from.
The difference between an inauthentic claim and an IP (intellectual property) claim.
The exact step-by-step process to follow in order to show Amazon proof of authenticity.
How to create a quality plan-of-action to let Amazon know that you've taken the steps to insure this won't happen again.
Tips to effectively communicate with Seller Central so that you get results faster.
How to know for sure when an inauthentic claim is fully resolved (it's not when you might think it is).
The best strategy to avoid getting inauthentic claims all together.

And much more!
Links and resources mentioned in this episode:
Right-click here and save as to download this episode to your computer.

More Episodes from The Full-Time FBA Show podcast:
Don't miss an upcoming episode! Subscribe, download episodes, and review The Full-Time FBA Show: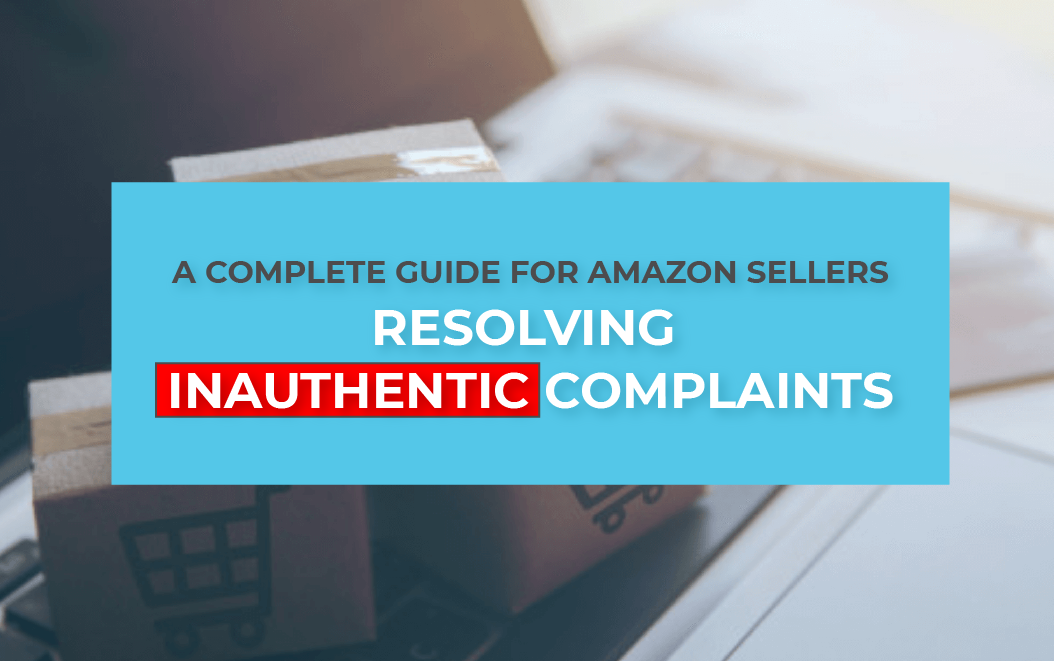 PROTECT YOUR ACCOUNT
Your Amazon account health is very important to keep in good standing. Too many unresolved inauthentic complaints can lead to lower seller metrics (and cause you to miss out on buy box time) and even worse can lead you to a suspended Amazon account.
I'm here to tell you that dealing with false inauthentic claims don't have to sideline your Amazon business. My friend, Kim Coghlan, has created Resolving Inauthentic Complaints: a complete guide for Amazon sellers. It's an easy to follow course on the exact steps to take when dealing with inauthentic claims on Amazon. The course includes video walk-throughs, PDF downloadable worksheets, and everything else you need to know to properly remove these inauthentic complains from your account.
The Resolving Inauthentic Complaints: a complete guide for Amazon sellers course will give you the peace of mind knowing exactly what to do when the false inauthentic complaints start to hurt your Amazon seller account metrics. Be sure to use the coupon code FULLTIMEFBA and you'll get 25% off the cost. I've gone through this course myself, and it opened up my eyes to exactly how to fix these issues when they come up and steps to lower the chances of inauthentic complaints from even happening in the future.

Back to the main page for The Full-Time FBA Show

Episode 24 Transcript:
[INTRODUCTION]
[0:00:01.8] STEPHEN: Welcome to The Full-Time FBA Show. In each episode, it's our goal to help you turn part time hours into a full-time income, selling almost anything on Amazon.
Now, your hosts of the show, Stephen and Rebecca Smotherman.
[INTERVIEW]
[0:00:21.4] REBECCA: Hello there, we are so glad you joined us this week for this episode of the full-time FBA show. This week is going to be a really good one. I'm really glad that you tuned in. Today, we have an interview, Stephen was able to talk with Kim Coghlan about how to handle inauthentic claims on your Amazon seller account. This was a good one. I listened in on this interview that Stephen recorded with Kim and it is note taking worthy.
You are going to want to have pen and paper ready or check out the transcript to this episode, Kim really gives a lot of great information that, I mean, I have taken some notes and I've jotted down some stuff to remember for later and it's been really exciting thinking about, wow, this is going to help a lot of people. Because this is a topic that we all deal with as Amazon sellers in one form or another, whether you've actually dealt with it or you're just really worried about how am I going to deal with this if this happens to me.
Check out what Kim has to say, it's really great, I love her perspective. I love just the wisdom she brings to this situation and how to handle it in a way that is good and solid for your Amazon business. Let's get that interview going now.
[INTERVIEW]
[0:01:41.9] STEPHEN: All right, I'm here today with Kim Coghlan and we have a really interesting topic to talk about today, we're going to be talking about how to deal with inauthentic claims. Maybe you've been selling on Amazon for a while or maybe it's just been a short time but eventually, you're going to get a claim, someone saying that something that you're selling is not authentic and there's a right and a wrong way to deal with it, we're going to talk with Kim about that today.
Kim, how are you doing?
[0:02:08.0] KIM: Hi Stephen, I'm doing great, thanks for having me on here.
[0:02:10.2] STEPHEN: Yeah, we're excited to get into this, it's not like a fun topic to talk about but it's so necessary that we need to make sure that we do the right things, our Amazon accounts are very important, we don't want to do something to mess things up and I think the wisdom that you're going to drop on today's episode is going to help a ton of people, know what to do and what not to do.
[0:02:28.4] KIM: Thank you, I sleep better at night having a good process in place for this, I don't think it's about fear, I think it's about the opposite, it's about risk mitigation. I love teaching people about this and just encouraging them so they have some confidence dealing with issues like this.
[0:02:41.1] STEPHEN: Yeah, that's a great perspective and one that we need to take as well. Pretty much every aspect of our Amazon business for sure. Before we get into that though, why don't you kind of bring us up to date, how did you kind of get started selling Amazon and how are things looking for you today?
[0:02:55.5] KIM: I can go back as far as you want on that one. But most recently, we started in 2014 and we actually had an existing account from years back where we had just kind of dabbled in merchant-fulfilled stuff. We're one of those lucky ones that started out with daily payouts even though we're a little late to the boat as far as getting active on Amazon.
But we had a friend who was doing really great on Amazon FBA and she just kind of randomly reached out to us and told us to take a look at it and we had laughed it off years earlier because who is going to pay those fees, you know? That's just ridiculous, we don't want to pay those fees. But we looked into it again at her urging and it really clicked for us, it solved all of the issues that we'd had over the years with other business attempts and it worked for us, it really just took off.
[0:03:43.8] STEPHEN: Yeah, that's awesome, I remember, I think a lot of people who started Amazon around then also were doing eBay before and it solved a lot of the problems that eBay had like, my garage was stuffed with the inventory, I had stuff all over the house, under my bed, in the bathroom, don't' tell anybody.
But just getting on the inventory to Amazon and having Amazon take care of that and outsourcing that aspect just opened the doors to what was possible with selling on Amazon.
[0:04:07.2] KIM: And not having to create a new listing every single time you listed an item, yeah, it was so much more scalable than anything that we had done on eBay before and that was a big piece of it but also getting those orders out, we dropped the ball a couple of times, we started with a 75% seller feedback rating because six years earlier, out of our four orders, we had failed to ship one in a timely way. Just not having to ship to customers was magical for us.
Perry was working out of state at the time and I started the business and he was just my cheerleader, the more I spent, the happier he was and he soothed all my fears because I'm a really frugal person about spending money because he could immediately see the potential in this business. We built it up together to the point where he could quit his job and come home.
[0:04:58.5] STEPHEN: That's awesome.
[0:04:59.5] KIM: It was huge for our family.
[0:05:00.8] STEPHEN: Yeah, absolutely. I love hearing the stories of dads being able to come home, husbands being able to come home, wives being able to stay home and be able to spend more time with the family but also be able to work from home and be able to build that up, that's pretty awesome.
[0:05:13.1] KIM: Yeah, we have adult children. Now, several of our children work for us too.
[0:05:16.7] STEPHEN: Yeah, I think that's pretty awesome, being able to raise them up and get them on some solid ground with some real world experience in the workforce, showing them that work at home is really possible.
Since our topic today is dealing with inauthentic claims, how did you figure out how to become an expert on this, was it just because of self-preservation, you got inauthentic claims, what happened that sparked that?
[0:05:39.8] KIM: Yeah, I guess that's part of our story too. A lot of people, we started in used books and then from there, we moved quickly into groceries because that was at the time, a gated category and we were trying to move away from competition and from there, within a few months, we shifted over to clothes and shoes because those were really hard to get into that category at the time.
We're always trying to grow and expand but also trying to move away from competition. When you get into clothes and shoes and you're selling a lot of the name brands, that's where you start to see a lot of inauthentics. It just became a necessary piece of our business model, knowing how to keep our account healthy while we're in a relatively risky category. It just grew from there.
[0:06:21.9] STEPHEN: When it comes to inauthentic claims, a lot of people confuse this with like intellectual property –
[0:06:27.0] KIM: IP claims. Yes, thank you for bringing that up, I know there's so much confusion in the community about that and the biggest difference between the two is that an IP, intellectual property is a complaint filed by the brand with Amazon and from there, it goes out against sellers. Sometimes every seller on the listing, sometimes individual sellers but it is started by the brand.
Inauthentic is much broader and it generally starts with a customer complaint and it's not necessarily a complaint that they filed, it's very often usually caused by trigger words within their communication to Amazon. It can be on a product review that customer levels on something you sold, it can be in your seller feedback, it can be in a return comment that was left by a customer, there's a lot of different places that an inauthentic complaint can be triggered and it doesn't even mean that somebody thinks you sold a fake item, you know?
Sometimes it is but very often, it's not. It's more about doubts, there was a question raised about where it came from or what it is, it often comes down to quality control, a lot of times there's manufacturing defects or just something seemed off to the customer that all gets lumped together under 'inauthentic'.
[0:07:40.6] STEPHEN: We sell a lot of shoes on Amazon and I know sometimes we send them to Amazon in their shoe boxes but sometimes, the boxes get damaged but Amazon still sends the shoes to the customer and they have that question, "Wait, this didn't come out of a regular Nike shoebox, is this real, is this authentic? Am I even getting a real Nike? Because it doesn't even have the box." And yeah, that triggers the bots to file an inauthentic claim.
[0:08:04.2] KIM: It can be anywhere from – "Is this real to this isn't really what I was expecting."
[0:08:10.6] STEPHEN: Break it down exactly, what is an inauthentic claim. Is it something that shows up in your performance feedback or is it something that is just Amazon emails you about, what is it, where do you find out that you even have these inauthentic claims?
[0:08:23.3] KIM: Ideally, they should come as performance notifications and they should come in your email. Most of the time, they show up on your dashboard. But none of those three is reliable. You may find it in one or two places and not the third, you don't always find them in the same place, you really need to keep an eye out. But I have found that the performance notifications is the most reliable, pretty much everything shows up there.
[0:08:45.6] STEPHEN: Right.
[0:08:46.0] KIM: It's another good reason to keep an eye on those red flags when they show up.
[0:08:48.7] STEPHEN: Yeah, that makes a lot of sense. Why should we as sellers care about these inauthentic claims, some people are just saying, I just ignore them and move on with my business, is that really a good idea?
[0:08:59.5] KIM: That is a terrible idea. Don't just delete the listing and move on either. Because this is a black mark against your account, this is a question that's been raised, are you selling what you're supposed to be selling. Amazon wants this resolved, it may be entirely fake, you know that it was 100% real and a customer said it was fake, you know it's not true.
You still have to convince Amazon that you're a good actor and that you're fully engaged in their processes and their quality and in keeping their customers happy. Every single one needs to be resolved. Then they stay in the back end of your account forever. But Amazon looks at how many you have accumulated over any rolling six month period and the number is different for everybody but if they think you have too many then it's really easy to find yourself suspended.
[0:09:48.2] STEPHEN: Yeah, you said something about the back end of your account, can you tell what the difference is between what you can see and the back end and what that means?
[0:09:55.2] KIM: Yeah, some of them don't show up on your performance health dashboard but they still see them when they're looking at your account. Seller performance sees them. Even if you can't see it, it still matters. If you only got an email, it never showed up anywhere else, you still have to address it because it still exists.
[0:10:12.6] STEPHEN: What are the steps that we need to take to prove authenticity?
[0:10:17.0] KIM: The first and the biggest step is to keep really good records, because when you get that inauthentic claim, there's two big pieces to y our response to Amazon. One is proving authenticity, proving that you got it from a documented supply chain, you didn't buy it out of the back of somebody's truck, you still have receipts to show that you got it from a reputable source.
Retail receipts are absolutely fine. Don't believe people who say that Amazon doesn't accept them for this purpose, they do, but you have to have rock solid documentation, you have to be able to prove in the last 365 days, if you sent 11 units to Amazon, you need to have receipts for 11 units that tie back directly to your business, that's the first piece, the second piece is the one that's harder for a lot of people.
You need to dig into your account and show Amazon that you understand why this complaint happened. It may not have been your fault, a lot of people say you're going to fall on your sword, you don't, you have to engage the problem and try to figure out why somebody was unhappy and what can you do to keep that from happening again.
Even if you didn't cause the problem, you can be a part of the solution. That's what Amazon wants you to show them.
[0:11:27.7] STEPHEN: Right, that's called the plan of action, is that correct?
[0:11:30.7] KIM: Yes, for everyone, you should send a plan of action and those are the two big pieces, there's some smaller pieces within them but that's the response that Amazon wants from you.
[0:11:39.9] STEPHEN: Yeah, you said before, not to fall on your own sword because that is some advice that some people spread around is you know, to get this over with quickly, just say, I'm so sorry, I didn't mean to, I'm never going to do it again, I'm never going to sell this item again and that's all their response is.
[0:11:55.4] KIM: That doesn't work, it frustrates people but it also doesn't satisfy Amazon because that's not engaging the problem.
[0:12:01.2] STEPHEN: Right.
[0:12:01.8] KIM: You need to look at the listing, you need to say this listing was unclear, they didn't get what they expected because the listing needs to be edited and updated. For every situation, there's a different response and you really need to engage it and think about it.
[0:12:16.2] STEPHEN: Yeah, I understand, there's times when Amazon will update a listing or one of the sellers will update a listing and it's changed from what it was like when you first sourced that item and are you able to kind of figure that out, that you can see that that has changed or what do you do in those situations?
[0:12:33.9] KIM: I haven't figured out a way to go back and look at the listing history but what I can do is say that this listing isn't consistent with the item that I'm selling, I'll look and see that it's the correct UPC so I have a solid link there and I will put in an update on the listing, I don't know what it looks like when I sourced it, I can see now that it isn't accurate so I'll do my best to correct it.
It's not even critical to see that those listings go live, what they want to see is the effort on your part, they can look in the back end and see that you've put some updates on this listing even if those updates aren't live.
[0:13:05.9] STEPHEN: Great, that's good to know. When coming up with your plan of action, how do you make sure that you're covering all your bases because I don't know about how many chances you have to make a plan of action, just a one shot thing, are you able to continually revise it until they're happy? How does that work?
[0:13:22.3] KIM: Yeah, you can revise it, we've got a good process in placed and I don't remember the last time we had when kicked back for a revision. There is a lot of places in your account, places in the listing where you can look for problems and I have a course that this is an appropriate time to mention it. I have a course on inauthentics. I have a free mini course that kind of gives you an outline and then I have a very detailed complete comprehensive course that walks you through every step and every place to look for issues and gives examples of how to address different issues.
Because, really, these problems, there's so many different possible problems, they can be hiding in a lot of places and so you want to be systematic about sleuthing them out. Because you don't want to figure out your process new every time, it really pays to have a process in place where you can just go down a check list. Look here, look here, and then have a basic outline for your response to Amazon too and don't just reuse the same template but if you're asking the same questions every time then that makes it really easy to formulate a unique response for every situation.
[0:14:25.5] STEPHEN: Yeah, that's good. I've been through your course and it is very well-rounded, there's like no fluff, it is all just solid information that can help you deal with inauthentic claims and Kim has also been really nice enough to give us a coupon code to say, 25% off if you use the coupon code 'fulltimefba', that's all one word.
You can save 25% off using that code and we'll put the link and the coupon code in case you forget, in the show notes where you can find it at fulltimefba.com/24. What else can people expect with the course?
[0:15:00.2] KIM: There is a combination of videos. There is a lot of screenshots of the process so I try to make it really easy for people to follow step by step where to look, where to find things. I know sometimes you get written instructions and you can't find what people are talking about. So I was self-conscious about including a lot of screenshots.
[0:15:18.8] STEPHEN: But that is a really helpful part of the course. It is really helpful for those going through.
[0:15:22.1] KIM: Yeah, I try to make it appeal to different learning styles. I know some people are audio, some people are visual. I really try to cover all the learning styles to make it easy for people to take it in because there is a lot of information here. There is a lot of details at play.
[0:15:37.2] STEPHEN: Yeah, so when you are trying to resolve this in authentic claim, when you are communicating with seller central, do you have tips for communicating with seller central to help move things forward and not waste their time or your time or anything like that?
[0:15:51.5] KIM: Yes, keep your responses as short as possible. Some people like to fluff stuff up, make it really, really long and detailed, you are going to make their eyes glaze over. So imagine somebody else reading this, they just want to know if you understand the problem and do you have a good solution for the problem. So don't include a whole lot of fluff. Make your approach reasonable, don't make a bunch of promises for new processes and hires and procedures that you're never going to follow through on.
Make it concrete, make it realistic, make it concise and in your response, use sensible formatting. Make it easy for them to skimp through and find the pieces that they want. Bullet points are great, bold heading is great, make it as clear as you possibly can and if they do kick it back, don't just keep sending them the same response. Try reformatting it to make it easier for them. If it was really short then make it a little longer. Read their response.
I know they use a lot of canned responses and we all want to scream when that happens but they have a couple of different canned responses. So usually they will tell you what you are missing. Either you didn't give enough proof of authenticity or you didn't address that problem. You know there is a couple of options there and it really is helpful and they're looking for something specific.
So don't feel like you are just shooting in the dark. This was a problem that a customer had and you know people just want to scream and blame people. I know they get frustrated, they feel like it is a malicious customer, sometimes it has nothing to do with the customer. You know we had somebody who is talking about the fake pockets in their pants and it triggered an inauthentic because of the word great. That is not the customer's fault.
If there really was an issue, we sent out some stuff branded. A good high name brand bought from a good source but the logo was upside down. Whose fault is that? We should have caught that. That was totally our fault, so customers are not generally malicious.
[0:17:47.0] STEPHEN: Yeah.
[0:17:47.4] KIM: My advice is just go with it with a good attitude and a clear head. They are not trying to destroy you, they had a problem and you can help them fix it.
[0:17:54.3] STEPHEN: Yeah that is a good perspective to have in all things that we are doing. You know try to think about your customer and what they're thinking and going through and then when you are dealing with the seller central, try to think about what if your job was to deal with reading all of these emails all the time? Yeah, don't fill it out too much and make it plain and simple but effective and I know that your course really shows that and helps you understand how to make sure to effectively communicate.
So when it comes to getting emails from people, people will get an email from someone via the customer message system or the potential buyer messages, can you tell the difference between emails that you should take seriously when it comes to inauthentic claims versus the ones that you actually should ignore?
[0:18:38.3] KIM: Oh that is an interesting question. We sell on Mexico and Canada and we very often in Mexico get customers asking if this is authentic and occasionally in the US too. That does happen every now and then and I know some buyers are really frustrated by that. They ignore or they report the message. I just have a template for that. I think there's been enough bad press about the counterfeits and inauthentic on Amazon that it is not an entirely unreasonable question.
And so I'd politely tell them that yes, we are a 100% authentic. We'd buy from a traceable supply chain. Everything is first quality. I do my best to give them confidence to buy because it is not unreasonable of them to be a bit suspicious.
[0:19:23.5] STEPHEN: Yeah that is a really good response and again not to take offense but to just put yourself in their shoes and do your best to serve them as the seller and things could go a long way.
So are there any other dos or don'ts something I haven't asked about that you think is something that people need to make sure that they understand or make sure that they don't do when dealing with this type of situation?
[0:19:46.5] KIM: Stay a 100% above board. If you are missing a receipt, don't try to fake it. That is a good time to fall on your sword because that actually is a legitimate response. What's the problem here? I didn't have any good documentation processes in place. Here is what I am going to do about it going forward. So don't lie. Don't try to fake it. If you really made a mistake then admit that and show them how you are going to fix it going forward and they accept that.
Early on we cleared a couple of inauthentics that way just by saying, "We don't have the receipt for these last three units and here is what we are going to do about it." One more thing is you definitely need to respond to every inauthentic but just because they kick back that response that says, "Thank you for your attempt to reply, we'll note your record." That doesn't mean that it is fully resolved. So this can be difficult sometimes.
It takes some persistence but what I generally do is keep responding. I have another canned response here. It says something along the lines of, "Thank you, can you please confirm that this is for ASON XXX? Has this complaint been fully resolved and can we continue to offer this item?" And sometimes it takes three or four or six times to get them to send me an email that has the ASON in it but that's what we need to know that it's actually been resolved.
[0:21:04.3] STEPHEN: Right. So what can Amazon sellers do to kind of lower their chances of getting inauthentic claims? I know it is not possible to wipe it out completely but what can we do to increase our chances that this doesn't happen to us?
[0:21:17.8] KIM: Right, so there is a couple of ways to address that. One is you just stay out of the riskier areas. For us clothes and shoes, we get most of our inauthentics on the well-known brands and it is not always the expensive items either. So we sell a lot of Nike, it is not the $200 Nike jackets that get us or the $200 Nike shoes, it is the $22 ball cap. So just be wary about certain brands when you are going in.
Polo Ralph Lauren, we get a lot of inauthentics on. So keep your ear to the ground, be in the Facebook groups, listen to people talking about where they have issues and stir clear of those groups of products if you really want to cut down your risk. More realistically, just be really, really self-conscious about the individual items that you are sourcing and how you prep them. People are buying new items, they expect them to look new, feel new, smell new. So make sure that you or whoever shops for you doesn't smoke in their car. You don't want any hint of cigarette smoke.
When you buy things that may have been tried on like shoes, pay really close attention to the soles and the inside, you don't want little pills from their white socks or you don't want dirt from the store. So it needs to never even catch the customer's attention. There needs to be nothing that's going to make them ask the question, "Is this new? Is this authentic?" It just needs to be totally as expected and you'll find that you have far, far fewer inauthentics.
[0:22:43.3] STEPHEN: Yeah that makes a lot of sense and if you happen to not prep your inventory yourself, if you outsource that with a prep center, you want to make sure that you use a prep center that is as thorough as you want them to be. They agree that that is part of their process of getting your inventory ready to send to Amazon is checking those things so that the new items that you are sending to Amazon are actual new condition, not just something that's been used a couple of times and then sold as new.
Now that is going to give you a lot of problems, you want to make sure that they are double checked. So make sure you think about that if you are using a prep center.
[0:23:16.4] KIM: Right because think about it, if you go to the grocery store and there is a dented a box of cereal, you're going to reach around behind it and grab the undented one. It is just natural reactions that people have and it is totally possible to buy something brand new that doesn't quite look new. So your best way to get around this to have as few complaints as possible is to make sure that your item presents the way that you want it to.
[0:23:36.8] STEPHEN: Yeah, absolutely. I know in eBay, you can get a little bit away with sewing something in new condition because on eBay most people think new equals not used but on Amazon it needs to be pristine quality, gift quality conditions even if it is a box of cereal.
[0:23:52.0] KIM: Yep and I think that is something that a lot of sellers have trouble wrapping their minds around initially because a lot of us did come from eBay and we don't understand that mentality of people who never bought off eBay, people who think of Amazon as a retail store. So again like you said, put yourself in your customer's shoes. What do they see when they open the box?
[0:24:10.4] STEPHEN: Yep, that's really good. Well if you are interested in learning more about inauthentic claims and how to properly respond to see templates that you could use to tweak and make your own with the video course that Kim Coghlan has put together for us, it is amazing I have been through it myself, if you go to fulltimefba.com/inauthentic, that will forward you to the page where you can get the course and don't forget you can use the coupon code, 'fulltimefba' to get 25% off the course.
And you can start going through that it is not a super long course but it is super effective and thanks for putting that together for us.
[0:24:46.1] KIM: Yeah, my pleasure and also we have a free Facebook group where we talk about a lot of these issues, all of the issues that come to sellers. So if you have specific questions about inauthentics, you can get feedback that way from other sellers who have been there, done that, can maybe help you troubleshoot answers or problems. So that is another place, networking is a really important way to learn how to address these concerns.
[0:25:08.2] STEPHEN: For sure and also if someone is looking to get some more one on one help with their issues, do you have a solution for that?
[0:25:14.5] KIM: Oh yeah I do. So we have a Calendly link, if you go to calendly.com, Perry and Kim, we have several one on one consultation options and one of them I set up specifically for inauthentics. So if you need help troubleshooting your own specific situation, I can walk through it with you and help you out there.
[0:25:32.9] STEPHEN: That's awesome, all right now it is the time of the podcast where it is the lightning round. I'm going to ask you three quick questions, I'd love to hear your answers because it's always insightful, are you ready for it?
[0:25:42.1] KIM: Okay, let's go.
[0:25:43.3] STEPHEN: All right question number one, what is your favorite thing to do when you are not working on your Amazon business?
[0:25:48.1] KIM: That's a hard one for me every time people ask because I love the business. Years ago, long ago before Amazon I think I had hobbies but right now work is my hobby.
[0:25:59.7] STEPHEN: Right that makes sense.
[0:26:00.4] KIM: So when I am feeling stressed, when I am feeling overwhelmed, I say, "I'm just going to go upstairs and do some work."
[0:26:03.9] STEPHEN: Yeah, I am the same way. I mean I do have a lot of hobbies but also one of the things I love doing in my spare time is working on my Amazon business.
[0:26:10.7] KIM: Yeah, it really helps relax me because usually the cause of stress is that I got these things in the back of my head, kind of pressing on me and what I really want to do is not ignore them but work on them. It makes me feel better to work on them and get them off my plate.
[0:26:22.4] STEPHEN: Yeah that makes sense. Question number two, what non-Amazon book are you reading or have read recently that impacted your business?
[0:26:29.5] KIM: Okay, when you say non-Amazon you don't mean non-business, right? Just not specific to Amazon.
[0:26:33.0] STEPHEN: Right, just not specific to Amazon.
[0:26:36.0] KIM: Okay, so I read Rocket Fuel and I was a huge fan of that book because Perry and I are together in this business and often on we've had some conflict about decision making and who is in charge of what and Rocket Fuel really clarified to me how and when we work best together and why we make a good couple, why we make a good business pair. So it was eye opening and I feel like we're able to work together a lot better now just having that framework to drop it into.
[0:27:05.8] STEPHEN: That's awesome. I've heard of that book, it is on my to-read list. I might have to bump it up to the top of the list pretty soon because yeah it sounds good especially with my wife and I working on our business together.
[0:27:14.9] KIM: Yeah and we have actually just hired a business coach who works from that angle too. We're excited where it is going to take us.
[0:27:21.3] STEPHEN: Yeah, definitely. Last question of the lighting round, what are you most excited about when it comes to the future of Amazon?
[0:27:27.4] KIM: I am not an excitable person so exciting is hard but curious, I am really, really curious just to know what Amazon is going to look like. It's evolved so quickly and grown so fast. I am really curious to see what it is going to look like just a few years down the road and what our piece in it will look like, what will our business model will look like because I feel like ours will always change and our relationship with Amazon is always changing.
Our business model, how we source, how we run things and probably in three or four or five years it is going to look nothing like it does today and so that intrigues me. I want to peak into the future.
[0:28:00.3] STEPHEN: Yeah, I totally agree with you because yeah, Amazon changes, Amazon's rule changes but then so are the tools and products that we can use to help save time or streamline what we are doing, those change and new stuff comes out, yeah I'd love to peer into the future and see how things are going to be different.
[0:28:16.6] KIM: Yeah and some people find that stressful that lack of stability but to me it just keeps it interesting.
[0:28:21.9] STEPHEN: That's cool. Well Kim, thanks again for hanging out with me, talking about inauthentic claims and what we can do to make sure that we are on the right side and are protected. I really appreciate it and thanks for hanging out with me. Where can people find more about you and what you can bring to them when it comes to Amazon reselling?
[0:28:39.2] KIM: My husband and I have a website. It's perryandkim.com and on there, we outline a little bit of our family story and some different services that we offer and we also have a Facebook group that is Perry and Kim's FBA Corner. We would love to have people join and add what they know, because we learned so much from other sellers. So I think networking is the most valuable way to grow your business.
[0:29:03.9] STEPHEN: Yep, absolutely and any other links that we talked about, you can find them on the show notes at fulltimefba.com/24 is where you can find all of the links, the links will have transcript of this podcast and a bunch of other goodies there for you on the show notes page for episode 24 of the Full-time FBA Show.
Thanks again Kim for hanging out, let's do this again sometime.
[0:29:23.5] KIM: Yeah, thank you so much for having me. This was fun.
[END OF INTERVIEW]
[0:29:29.2] REBECCA: Well I hope you enjoyed that interview as much as I did.
[0:29:32.7] STEPHEN: Oh yeah, it was a great interview and you can find on the show notes all the transcripts and the things that we talked about, the programs, the courses, the coupon codes, everything that we talked about at fulltimefba.com/24.
[0:29:45.6] REBECCA: If you weren't able to take notes, if you're driving or listening to this as you're doing something else, be sure and check out that transcript if you want to jot down some notes from it, it is very, very helpful I think. And also, we just wanted to let you know we are hoping to get Kim and her husband Perry back on the show in the future just to talk to them some more about how they run their business and how they got started because they're really neat couple and have a really interesting story.
And we love talking to people about how they made Amazon FBA their full-time job. So be looking for that in the future, we're not sure yet when that will be but hopefully soon and next week on this show, we are going to have a discussion about how you overcome imposter syndrome in your FBA business, how do you gain confidence if you feel like an imposter. If you are not familiar with imposter syndrome, we'll talk a little bit more about that next week. I know this is something that I personally have struggled with, how I fit into our FBA business. So be sure to tune in for that next week.
As always, we would love it if you would leave us a review or a rating and the podcast listener that you are using, we love that. It is so helpful for other people to be able to find The Full-Time FBA Show and get help with their FBA business. Thank you so much for tuning in and we will be back with you next week.
[0:31:00.1] STEPHEN: See you next week.
[OUTRO]
[0:31:04.1] ANNOUNCER: That is all for this episode of The Full-Time FBA Show. So head over to fulltimefba.com/podcast, where you will find the show notes and links from this episode. While you're there, subscribe to our newsletter where you'll get several free downloads of our popular and helpful Amazon FBA resources. Now, take action on what you have learned today so you can find success at turning part time hours into a full-time income with Amazon FBA.
[END]