After reading about the profit potential of selling bundles through Amazon FBA in our last post, are you ready to learn the basics of how to create your first profitable bundle?
In the rest of this blog post, I want to give you my 8 steps to creating a profitable bundle to sell on Amazon.
Come up with your bundle idea.
This might seem like an obvious first step, but you must have a solid idea in place before you start putting your bundle together. For this stage of the process, I recommend focusing on a niche that you're already very familiar with. If you're into camping, think about what kind of camping themed bundle you'd be interested in buying. If you have a small child, then think about a birthday party bundle focused around your child's favorite toy or TV show. The possible combinations of your bundle can be endless.
Pick a theme for your bundle.
Your theme can also have endless combinations. Examples of themes are "birthday party" or "household task." For the purposes of this blog post, we'll go with the example we started talking about in the previous post, a Teenage Mutant Ninja Turtle birthday party pack.
Pick your main item.
In Amazon's bundle guidelines, they state every bundle should have a main, centerpiece item. Every bundle on Amazon must belong to an Amazon category, so you must have a main item that helps determine that category. If your main item is a toy, your bundle will be in the Toys category. If your main item is a small kitchen appliance, your bundle will be in the Home & Kitchen category. Note: Be sure you read up on Amazon's bundle guidelines before you get started because bundles are not allowed in certain categories.
Pick the complementary items.
Once you have a main item for your bundle, you will need to choose the complementary items to make up the rest of the bundle. All of the items in the bundle must work together and complement each other in a logical fashion. For example, in my Teenage Mutant Ninja Turtles party pack I will need to make sure everything in the bundle fits with the TMNT theme; I shouldn't include a random board game that has nothing to do with TMNT.
Note: Some people might want to include candy or food items as one of their complementary items. I don't recommend including food or anything with expiration dates that you have to track once you send it to the FBA warehouse. Some folks like to make Halloween or Easter bundles and include a note in the listing "basket includes space for you to add candy," rather than including the candy in the bundle itself.
Buy in bulk.
If you go to the trouble of coming up with a stellar bundle idea and putting together a fantastic Amazon listing, you want to maximize the number of sales you can get from it. You want to be able to send as many bundles as you affordably can send to the FBA warehouse, and you want to be able to replenish your listing as needed. Buying in bulk will allow you to trim costs and maximize the number of units you can send to FBA. You'll need to look for sources where you can find multiples of both your main item and your complementary items.
Properly enclose the items.
You'll need to find a way to enclose all your bundle items in a way that makes sense for your particular bundle and that protects all the items. In some cases a poly-bag might be sufficient, but in others you'll want to use a box. These items are going to be handled fairly roughly by warehouse workers and UPS/FedEx/USPS workers, so you want to make sure the bundle is packaged tightly and protected from damage.
Once you have all of your bundle items properly enclosed in a box or bag, you should label it with a "Do Not Separate" sticker to notify the warehouse workers not to separate your bundle into individual items. You can print these labels yourself with a Dymo printer, which is what I typically do when I need a "Do Not Separate" sticker, or you can buy them here.
Create the Amazon listing.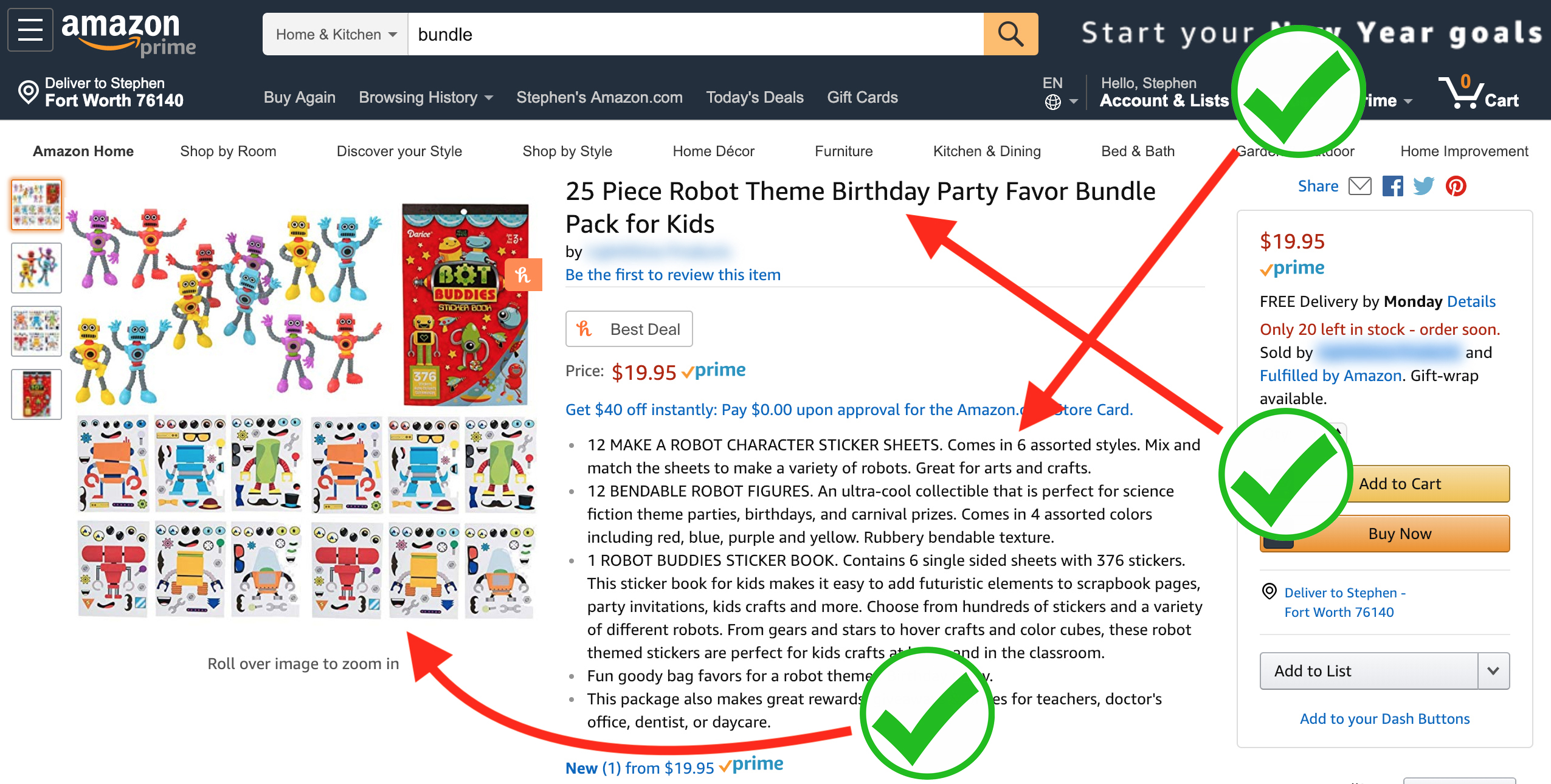 Last but not least, you will need to create the Amazon listing for your bundle. Here's a list of some of the key items you need to have on hand when you start to create your listing:
High-quality photos of your bundle. You can search "image requirements" in the Amazon guidelines for more information on how to ensure you are using the right photos in your listing.
A fantastic title, keywords, product description, and bullet points. These are the words that Amazon will use to help customer's find your bundle. Be sure yo use words that customers will use when searching for you bundle.
A unique UPC. Amazon only allows UPCs that are associated with one particular brand, and they must be a part of the GS1 database. When it comes to bundles, however, you might have included a couple different brands – so what do you do? You will need to apply for a GTIN exemption at this link. I know, that's a lot of acronyms in one paragraph!
Master creating profitable listings. I highly recommend the Wholesale Bundle System for learning how to create product listings that sell.
There you have it in a nutshell, how to create a profitable bundle on Amazon: come up with an idea; choose a theme; pick your main item and complementary items; buy enough to make multiple bundles; package the bundle well; label it well; and create the listing so you can send it off to the Amazon warehouse.
If you think bundles are a good fit for your Amazon business, I encourage you to try creating your first bundle and see if you can get those profits to start rolling in.
Now, I'd love to hear from you. Did this blog post spark some bundle ideas that you want to start creating sometime soon? How do you think selling profitable bundles will impact your business? Do you have any questions about what it takes to sell successfully bundles on Amazon? Do you already have some experience selling bundles? What other tips would you add? Comment below and let me know. I read every comment.
*Post updated for 2023

Bundle Webinar Reply
Recently, I hosted a free webinar where I've invited my good friend (and million dollar Amazon seller) Kristin Ostrander to come teach you how to add profitable wholesale bundles to your Amazon business. Wholesale bundles just might be the solution to many of your sourcing problems.
Watch the replay for a limited time: Adding Wholesale Bundles to Your Amazon Business


The Wholesale Bundle System Course
I once thought that creating bundles was not a good use of time, but then I discovered the video course, Wholesale Bundle System. After taking that course, my mind was opened to the profit possibilities bundles offer Amazon sellers.
This course showed me why some bundles sell frequently and why some are duds. The videos opened up my eyes on how to create professional looking photos without having to be a professional photographer. The Wholesale Bundle System also showed me how to find the most relevant keywords customers are using to search for the bundle I want to sell. The course really does tell you exactly what you need to do to create and sell successful bundles.

With step-by-step instructions for those who are new to bundling, as well as advanced tips for more seasoned bundlers, this course is filled with profitable strategies and suggestions on creating fast-selling bundles on Amazon. They even simplify and explain the sometimes confusing step of getting UPC exemptions for bundles.
A special bonus from me PLUS a $500 off coupon code!

I've personally been through the Wholesale Bundle System, and I know this is the real deal. So if you enroll on the Wholesale Bundle System, I'm going to throw in my own special bonus!
If you enroll in the Wholesale Bundle System, I'll give you access to my "Boost Your Bundles" master class! In this master class, I'll share with you the secret ingredient to Wholesale Bundle success.
In fact, if you enroll today just email me here and let me know you that you got the Wholesale Bundle System course, and I'll email you a link to the bonus master class. Just be sure you use the same email address to email me as you did to enroll in the course, so I can verify your purchase.
I don't know how long I'll offer this bonus master class, so take advantage of this opportunity today. If you're thinking of adding bundles to your Amazon business, and you want to be sure you're doing everything the right way, then I highly recommend the Wholesale Bundle System.
$500 off coupon code!
If you use the coupon code FTFBA at checkout you'll be able to take $500 off the cost of The Wholesale Bundle System course! But be sure to hurry, as the $500 off coupon code expires in only: