Almost every time I go out to source at garage sales, I see a certain item that I can buy for next to nothing and easily use to turn a few quarters into $20. What am I talking about? Expired printer ink cartridges.
If you have a Staples office store nearby, then you can take advantage of an easy program that lets you trade in ink cartridges for store credit. Currently, Staples will give you $2.00 per ink cartridge (up to 10 cartridges per month) as long as you are a part of their Staples Rewards program. To see the details of this program, just click here.
When I see ink cartridges at garage sales, I always look at the expiration date, and almost 100% of the time, the ink cartridges are expired. What makes me laugh is that the ink cartridges usually expired around 2007. Why people keep them that long is anyone's guess. The good news is that you can use the fact that these are expired ink cartridges as a way to get them for next to nothing. Here is the usual conversation I have at a garage sale when I see expired ink cartridges: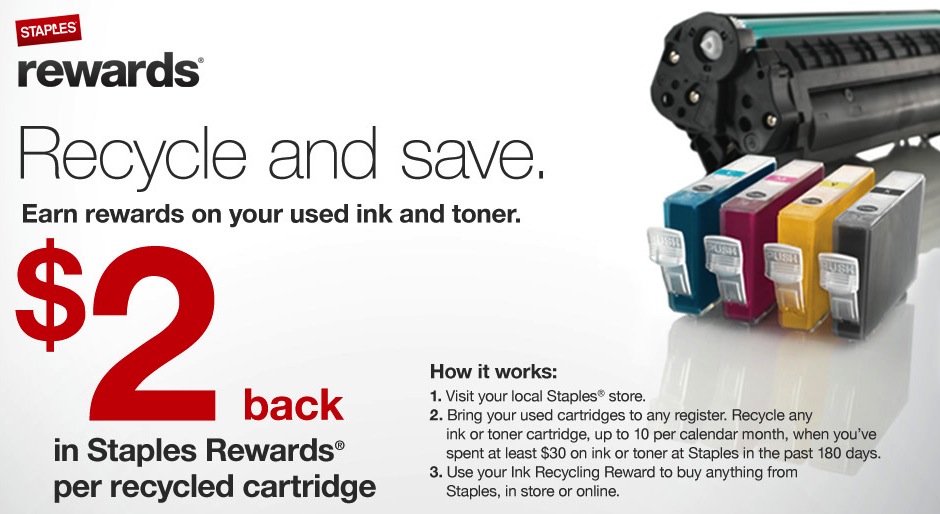 Stephen
– "I see you have a few ink cartridges that expired back in 2007. Would you take a quarter for them?"
Seller
– "Oh, I didn't realize they were expired. Sure, you can take 'em for a quarter."  
Sometimes the conversations even go like this:
Stephen
– "I see you have 5 ink cartridges that expired back in 2007. Would you take a dollar for them all?"
Seller
– "Oh, I didn't realize they were expired. You can just have 'em."  
See, sometimes I even get these money makers for free. As a rule, I never pay over a quarter for the expired ink cartridges. Even if they expired in 2017, I'll still just offer a quarter. Around 95% of the time, the seller will accept the quarter for the expired ink.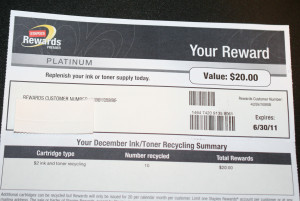 The next step is to take the ink cartridges to a local Staples store. Be sure you are a Staples Rewards member (it's fast and free to sign up). Tell the cashier that you want to recycle the ink and drop off the cartridges. If you drop off 10 cartridges (the maximum you can per month) then you'll eventually get a Staples store credit certificate for $20.00 sent in the mail. You just turned $2.50 into $20.00! If you do this every month, you'll turn a $30 investment into $240 in a year. That's a profit of $210!
The only catch is that you have to spend $30 on ink at Staples every 180 days (6 months) to keep yourself eligible for this reward. With all your FBA-related printing, this is easy to do, and you still come out making a great profit for all the quarters you spend on each ink cartridge.
If you don't have a Staples store near you, you can still profit off of ink cartridges. The site inkrecycling.org offers up cash for your ink. They want you to ship the cartridges to them (shipping is free), and then they'll pay you depending on what cartridge you send them.
Anybody else tried the Staples ink recycling program? Do you know other ways to make money off of expired ink cartridges from garage sales? I'd love to hear your ink stories in the comments below.

While I like buying expired ink at garage sales, my number one favorite item to buy at garage sales to sell on Amazon is board games! The awesome thing about board games is that they sell for really good money in both new and used (collectible) condition.
I find profitable board games almost every time I go out sourcing to garage sales and thrift stores. In fact, I have discovered the secrets to making hundreds of dollars a week selling new and used board games, and I want to pass on my strategies to you.
While I find profitable board games at garage sales and thrift stores, there are so many other great places to find board games to sell on Amazon. I'll honestly run out of money before I run out of board games to find and resell. It's because of this abundance of opportunity that I decided to create The Reseller's Guide to Board Games: How to Turn Play Money into Real Money.
This course is a combination ebook and video course that walks you through everything you need to know about making big profits buying and reselling board games. To find out more about the course, click here.