Finding profitable wholesale accounts is not as hard as you think it is. Most people make that assumption because they first focus on trying to secure wholesale relationships with super big name brands (like Lego, Apple, Nike, etc.), which is almost impossible for normal Amazon sellers. While landing a wholesale account with a big name brand might be hard, it's much easier (yet very lucrative) to find smaller, lesser known brands to start wholesale relationships with. I'll show you how in this blog post.
In my previous blog post I gave you my top 9 reasons why you should consider adding wholesale sourcing to your Amazon FBA business. You may have read that post and started thinking, "Great, Stephen, I'm convinced. I definitely want to try out wholesale sourcing, make my business more streamlined, and protect my seller account. Now where do I find profitable wholesale suppliers?"
That type of question is where we end up any time we want to make a change in our business. "OK, I see my sticking points, and I'm ready to press on to get beyond them. But how do I take that next step?"
With finding wholesale suppliers, your possibilities are really only limited by your creativity. Ultimately, you want to find unique wholesale accounts where you can develop a great business relationship with your supplier and provide an awesome product to Amazon customers.
Let's discuss the top four ways you can make that connection and find profitable wholesale accounts: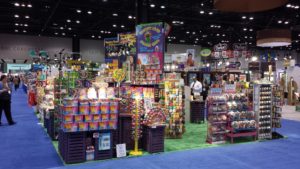 1. Trade Shows
All throughout the year you can find a trade show going on in areas all across the U.S. (Or in other countries! Don't limit yourself geographically) and in all niches of products. Think trade shows for toys, bridal products, baby items, kitchen gadgets, home and garden, crafts, you name it.
Beyond those niche trade shows, you can also find larger trade shows and markets where you can find products across all categories presented in one show. The biggest trade show out there is called ASD, and it happens in Las Vegas every March and August.
If you live in a big city, chances are there are trade shows and markets happening nearby throughout the year. I recommend doing a Google search for trade shows in your town or somewhere you can travel to, and check out what's coming up in the months ahead. Most of these types of shows are free to enter, and you can walk around the exhibits, talk with the exhibitors, and see what types of products are available at the different booths.
One thing you should keep in mind is that two different types of exhibitors set up booths at trade shows: manufacturers and distributors. A manufacturer would be a direct connection to the source of the product, without any middle man. If you get a wholesale account with a manufacturer, you will likely need to make purchases in larger amounts, but you will get a better price per unit. With a distributor, you are usually dealing with a middle man. You can make smaller purchases, but you will pay more per unit.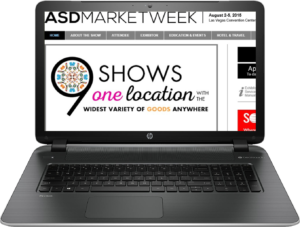 2. Trade Show Websites
Even if you can't attend a particular trade show, you can benefit from signing up for the show and doing research on the exhibitors. On the trade show website you can get access to the vendor list and their contact info, which you can then use to call or email for more information on the products they offer.
Whether you attend in person or make contact through the trade show website, it's all about making connections with the vendors, asking good questions, and developing a relationship that could lead to a mutually beneficial arrangement. You will need to have a resale certificate to open a wholesale account once you have made that connection, so be sure you have your certificate on hand before starting the process to open an account.
If you are interested in more details about how to maximize the opportunities on trade show websites, check out the book Trade Show No Show by Jim Peterson and Jim Cockrum.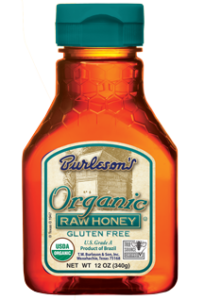 3. Product Packaging
This may seem overly simplistic, but finding wholesale sources really doesn't have to be that complicated!
Pretty much every product you can imagine is going to have the manufacturer's name and contact info printed right on the product's packaging. If you can only find the name or part of the contact info, use Google to find the rest of the info, and you're one step closer to making contact and finding out how to open a wholesale account.
If you have an awesome retail find that you would love to sell more of, check out the product packaging for that contact info and see if you could start buying that product at wholesale prices.
One strategy you can use to get an edge on your competition is to think of products that are made locally to your town or area. What is your area known for? Food products can be especially profitable, if there's a local favorite that can't be found in other parts of the country. Find these types of products on your local shelves, get the manufacturer's info off the packaging, and start making contact.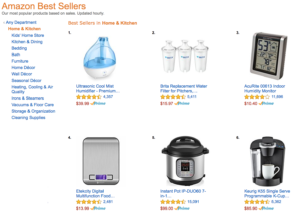 4. Amazon Best Sellers
Again, it doesn't have to be overly complicated to find great ideas for wholesale sources. You can research the popular items in your favorite category by checking out the Top 100 sellers and looking up their manufacturer's info online.
To make it even easier, we have created a quick link, fulltimefba.com/bestsellers, to take you right to the Amazon best sellers page, where you can drill down from the main Amazon categories. Once you find a product you are interested in researching, click to go to the product page, and you should see the name of the manufacturer listed below the product title. You can then do a Google search for their contact info and start the process of opening a wholesale account.
Note: I do not recommend opening wholesale accounts with companies when Amazon is selling the product. Even if you think you can get a great wholesale price, Amazon is likely getting an even greater volume discount, and it's too hard to compete. You should also check out the sales history on Keepa or CamelCamelCamel to see if Amazon is out of stock now, but might have been on the listing in the past. There are plenty of other products out there, so move on to ones where Amazon isn't currently on the listing or doesn't seem like they'll come back in stock in the future.
There you have it, my top 4 ways to find products where you can open a wholesale account. The key to getting those accounts is to just make contact. Get the door open, start a conversation, ask for a catalog, ask what you need to do to apply for an account – it really doesn't have to be more complicated than that. In fact, in an upcoming blog post I'll share with you exactly how to successfully land wholesale accounts.
Bonus Tip: Once you get a wholesale account, try to ask for an inventory spreadsheet from the company that includes the UPC and price. With this spreadsheet, I save it as a CSV file and upload it to OAXray. Then OAXray crunches all the numbers and finds out which items on the spreadsheet have the best rank and highest ROI. OAXray literally saves hours of time going through a wholesale company's inventory list. If you want an extended 10-day free trial, then click here and sign up for OAXray today.

For the longest time I had wanted to add wholesale to my Amazon business. I have actually gone through 3 different wholesale courses to teach me how to do it. Each time I went through a new wholesale course, I would try what was taught, and I kept coming up empty. It was extremely frustrating… then I scheduled a phone call with Dan, one of the guys behind The Wholesale Formula. That conversation opened up my eyes to things about wholesale I've never thought about before. I took his advice and began to find multiple wholesale accounts.
Would you have wanted to listen in on that conversation? Unfortunately, we didn't record the call, but Dan and his business partner Eric created a free video series focused on successfully adding wholesale to your Amazon FBA business. The content in that free video series is the same content that I heard in my phone conversation with Dan… and more! Right now, this free video series sign-up is OPEN, but I know it will only be open for a very short time. Click here now to sign up for the free 5-day wholesale workshop.

Do you have other tried-and-true places you like to look for profitable wholesale sources? If you would like to add to my list, we would love to hear from you in the comments!

The Wholesale Formula cart is OPEN!
SPECIAL BONUS PACKAGE
If you purchase The Wholesale Formula through my link you'll not only get The Wholesale Formula video course (with all the bonus videos, live webinars, secret Facebook group, etc.), but you'll also get THREE special bonuses from me.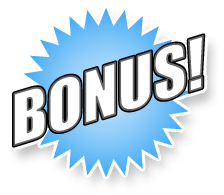 BONUS #1 – Access to ALL of my active digital ebooks and video courses for FREE!
You'll get:
JumpStart Amazon ($397)
Next Level Amazon ($177)
The Reseller's Guide to How to Keepa Camel ($97)
The Reseller's Guide to Selling Shoes ($87)
The Reseller's Guide to a Year in FBA ($117)
Married to Reselling ($27)
The Reseller's Guide to Board Games ($67)
The Reseller's Guide to Sales Rank ($14)
And our newest course launching later this year
That's over $1000 in bonuses so far (yes, there are more coming). These are not made up prices for items I never sell… this is over $1000 in real content that I regularly sell at full price all year long. You can get it all for free.
BONUS #2 – Exclusive access to this master class: How to Maximize Your Profits with The Wholesale Formula
In this exclusive master class, I'll teach you:
How to turn the wisdom of The Wholesale Formula into actual results
What to expect in your first few months of buying from wholesalers
How to overcome your fears of securing new wholesale accounts
Strategies to succeed with wholesale while still doing RA, OA, or both!
How you can outsource key parts of wholesale to free up more time
and so much more!
Again, this exclusive master class is only for those who purchase The Wholesale Formula through my link.
BONUS #3 – Exclusive access to The Wholesale Formula Viewing Plan
Another bonus? Why not!? If you get The Wholesale Formula through my link I'll also throw in The Wholesale Formula viewers guide. One of the few negatives that comes with purchasing any video course is feeling overwhelmed with all of the videos you need to watch and learn from. Which videos are the most important? Is there a video I can watch later rather than sooner?
In this exclusive bonus, I'll give you my Wholesale Formula viewers guide that will outline the best way to consume the training videos. I'll break all the videos down into a simple plan for you to follow to maximize your time and investment.
That's over $1000 in FREE bonuses just for getting The Wholesale Formula through my link.
If you're curious about what comes with The Wholesale Formula, you can click here to find out more. The package includes a full length wholesale video training course, replays of all the previous webinars, as well as access to new webinars that will be recorded live this year. You'll also get access to a secret TWF alumni Facebook group, video modules on how to train a VA to do wholesale sourcing for you, and so much more.
But hurry, as the cart to get The Wholesale Formula closes in only: