A quick question: Did you sell out of your entire inventory before Christmas? Neither did I. During Q4, many Amazon sellers get used to the abundance of  sales that come with the Christmas season. Actually, we get spoiled with so many sales per day that when January arrives, we get scared. All of a sudden the sales seem to stop, and for some sellers panic sets in. Some sellers think that the answer is to lower their prices ASAP in hopes of getting more sales, but is that really the answer?
One of the things I always try to remind people is patience brings profit. It's true that sales in January are usually not as good as December, but they still can be outstanding. The question I want to ask you is this: What is your business model when it comes to selling on Amazon? If you have a model that is focused on fast turns (items that sell very quickly once they arrive at a FBA warehouse) then you will price items much differently than if you have a business model based on patience.
I sometimes hear about Amazon sellers stating they lost money on an item they purchased in the fall and were hoping to sell during the Christmas selling season. The items didn't sell out and now the price has tanked. Sometimes the price has fallen so far that the current price on Amazon is lower than the price they paid for it back in the fall. This can be frustrating for any seller. So what is the answer?
If your business model is based on fast turns, then you might want to lower your price (even if you lose most of your money) so that you can get some of that capital back to reinvest in items that you think will bring a better and faster return. On the other hand, if you are patient, you might just see the price you want return to equilibrium and wind up making a profit. Since monthly FBA storage fees are usually around a few pennies per month per item, it would seem to me that patience could possibly pay off in the end.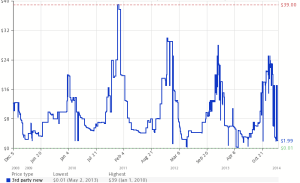 I've seen it happen often: An item is selling for a great price in December, but then falls drastically in January. A few months later, the price begins to rise again, and in December the price is back up where the profit margins are the best. Does this happen 100% of the time? No, but it happens enough that the few cents per month to pay for the item to sit in an Amazon FBA warehouse might be worth the gamble. Look at the image above. Almost all year long, the prices are low, but when Q4 approaches, the prices shoot up.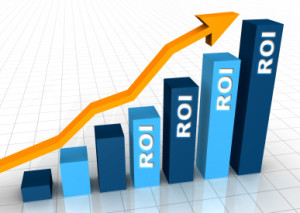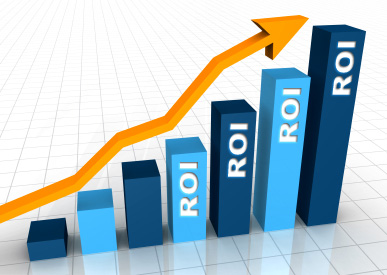 Sometimes, it's better to have $50 five months from now than $5 today. Why? Because I adhere to the balanced business model. I try to stock my inventory with slow dimes, fast nickels, and super slow quarters. What does this mean? It means that my inventory is loaded with items that will sell fast, sell slow, and sell super slow. I'm ok with making a 30-50% ROI (Return On Investment) on the items that sell fast. On items that sell slower, I want to get at least 100% ROI, and for the items that sell super slowly (think long tail items), I want the ROI to be well above 200%. The waiting game isn't always fun, but in this balanced business model, patience brings profit. 
I don't want to wait 11 months if the ROI isn't high enough. It all comes down to opportunity costs. The longer I have to wait to sell an item at a higher price, the higher the potential ROI needs to be.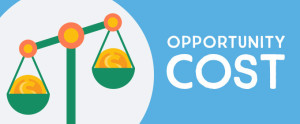 If I hold my higher price, I could sell it later and get more for my item… but if I lower the price and sell sooner, I could reinvest that capital into items that will sell much faster. Each item is different and will require a different pricing strategy. Sometimes it's good to hold at your higher price, because you've seen on Keepa that in a few months, that item will probably be selling at the higher price you have it listed at. On the other hand, if you've seen the Keepa data and it looks like the price will not recover soon enough, then it's a better idea to lower your price so you can get that capital back to invest in better inventory.
Bonus Tip: If you have multiple quantities of a particular product that hasn't been selling and suddenly begins to sell, check to see if you need to raise the price. You don't want to raise it so high that it won't sell again, but raise it up enough to match everyone else's price. If the items stop selling, you can always lower the price back to where it was.
So what about you? What works best for your business? Would you rather get your capital back to reinvest, or do you wait for the prices to return to what you'd like them to be?
*This article was originally written in 2014 but has been updated for January 2016