"How can I make a profit while adding value to the brand whose products I am selling?" This is the question you need to ask yourself when starting an Amazon wholesale business, according to Dylan Frost, co-founder of The Wholesale Formula, who has sold over 30 million dollars worth of products on Amazon! Dylan joins us on the show today to share some of the knowledge he has accumulated over many years of learning from his mistakes in the Amazon wholesale industry.
On the show, Dylan and Stephen debunk many of the myths that exist around Amazon wholesale selling, share examples of how you can create value as a wholesale seller, and explain how he and his partner found the "Goldilocks zone" companies which they have been growing alongside. Stephen's success is largely thanks to advice he was given by Dylan and his partner, and they are going to be sharing a lot of this information in a free webinar which has the potential to completely change your life – tune in to hear more!
Listen on the podcast player below.

Like what you hear? Tell a friend… and be sure to leave us a rating and a review. Here's how.
Key points from Episode 93: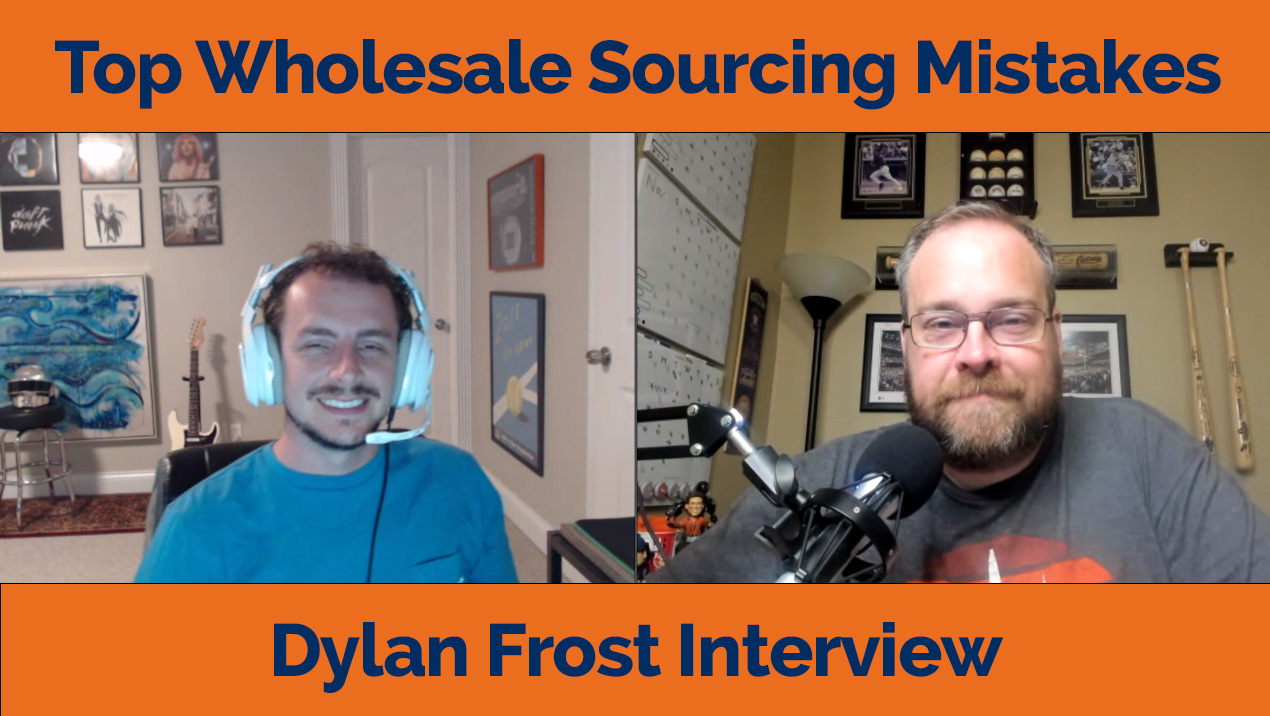 The total worth of the products that Dylan and his business partner have sold on Amazon to date.
Dylan explains why utilizing wholesale distributor sources isn't going to benefit your Amazon business.
The process Dylan and his partner use to source the products they sell.
Misconceptions people have around minimum orders when buying directly from brands.
Dylan and Stephen both share stories about mistakes they made before they realized they didn't need to buy from wholesaler distributors.
The "Goldilocks zone" of Amazon wholesale selling.
Differences between people who want to own real businesses and people who just want to make money.
Something you need to think about if your requests to buy from brands for resale on Amazon are being rejected.
Examples of catastrophic mistakes people make when advertising products on Amazon.
Simple, effective ways you can add value to the brands whose products you are selling.
The promise Dylan makes to those who take part in the free wholesale workshop he is hosting, and where you can sign up (which you absolutely should do!).
Amazon is huge — and growing — and there is space for so many people to make money through the platform.

And more!
Links and resources mentioned in this episode:
Right-click here and save as to download this episode to your computer.
More Episodes from the Full-Time FBA Show podcast:
Don't miss an upcoming episode! Subscribe, download episodes, and review the Full-Time FBA Show:

Discover the Secrets of Profitable Wholesale Sourcing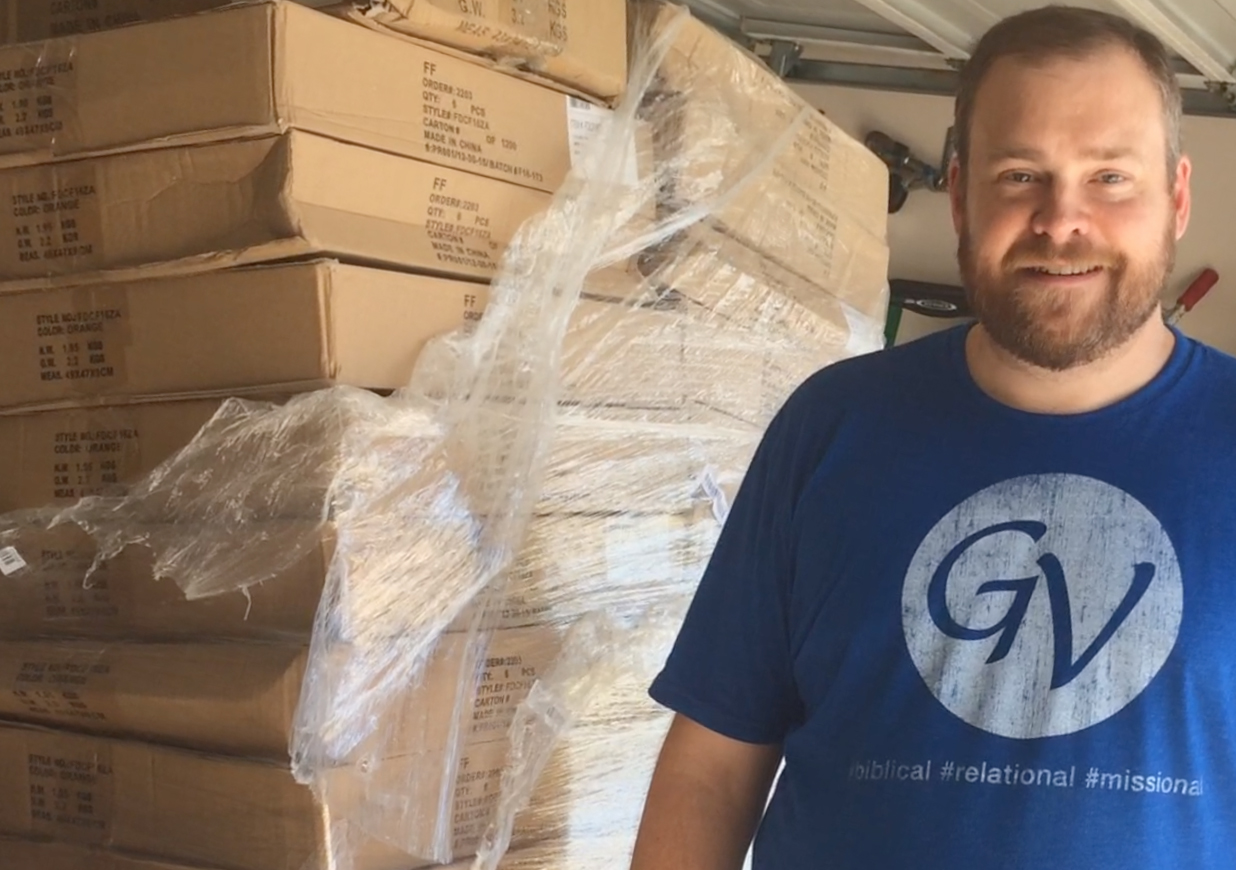 For the longest time I wanted to add wholesale to my Amazon business. I had actually gone through 3 different wholesale courses to teach me how to do it. Each time I went through a new wholesale course I would try what was taught, but I kept coming up empty. It was extremely frustrating… then I scheduled a phone call with Dan Meadors from The Wholesale Formula. That conversation opened up my eyes to things about wholesale I never thought about before (and was never taught). I took his advice and began to find multiple wholesale accounts. Not only did I find wholesale accounts, I was actually able to successfully land the wholesale accounts.
Would you have wanted to listen in on that conversation? Unfortunately, we didn't record the call, but Dan and his team have created something even better: a free webinar series focused on successfully adding wholesale to your Amazon FBA business. The content in this free video series is the same content that I heard in my phone call with Dan… and more!
Unfortunately, this free webinar series is currently closed, but if you want me to tell you when the doors are open to the free wholesale workshop again, then sign up for the wait list where I'll email you the moment the free wholesale workshop videos are available again. This free video series that will open your eyes to what is possible with selling wholesale items on Amazon, so take a moment, and sign up for the wait list.

Back to the main page for The Full-Time FBA Show

Episode 93 Transcript: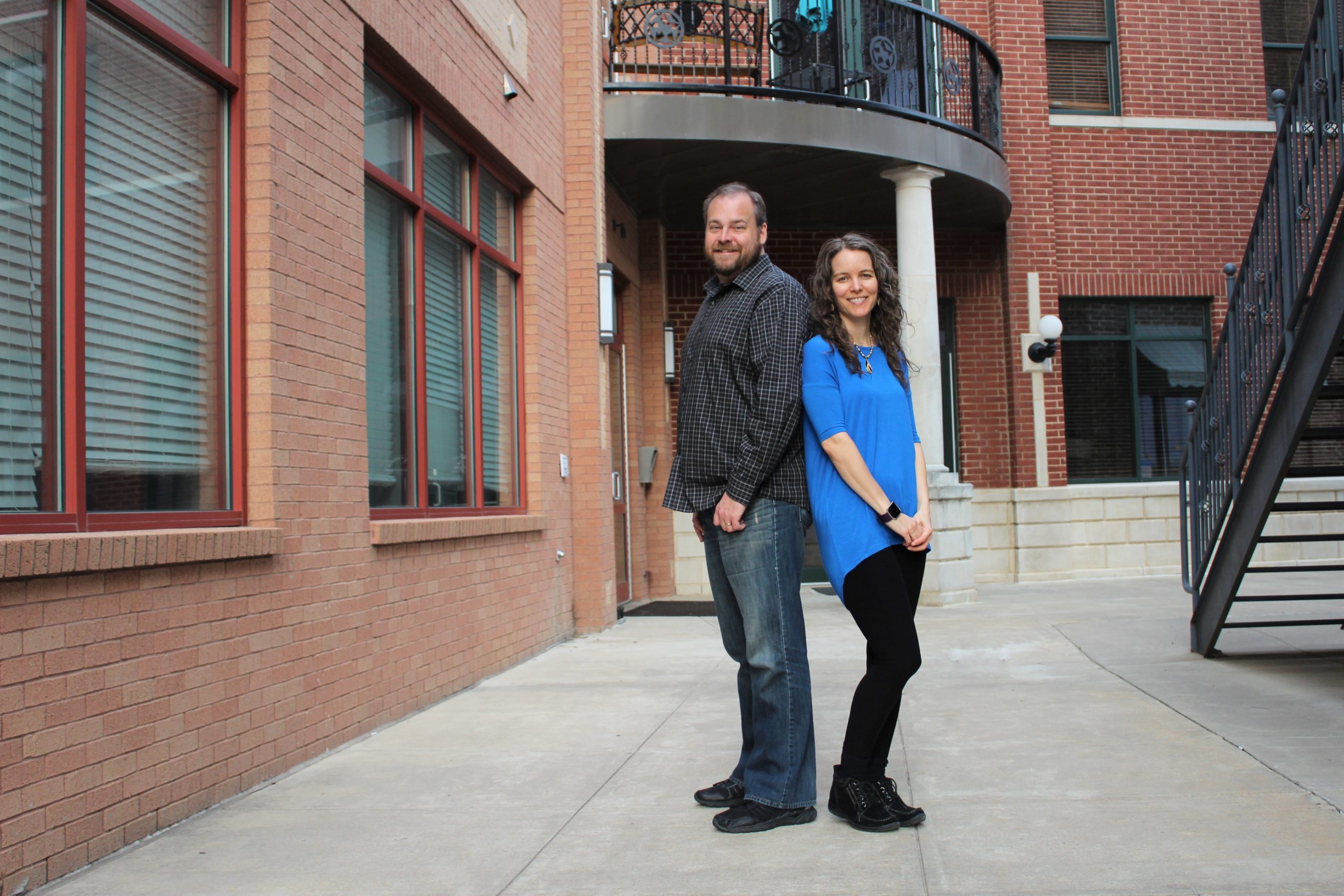 [WELCOME]
[0:00:01.8] ANNOUNCER: Welcome to The Full-Time FBA Show. In each episode, it's our goal to help you turn part time hours into a full-time income, selling almost anything on Amazon. Now, your hosts of the show, Stephen and Rebecca Smotherman.
[INTRODUCTION]
[0:00:21.3] REBECCA: Hello there and welcome to another episode of The Full-Time FBA Show. We're so glad you are here joining us today. We are going to be talking about the top wholesale souring mistakes that Amazon sellers make. These are sourcing mistakes that people make that make them want to quit sourcing through wholesale methods or quit selling on Amazon altogether.
It's a really big conversation, we're looking forward to hearing about that. Our conversation today is going to be Stephen interviewing Dylan Frost of the Wholesale Formula. We've had Dylan on the show before, it's a very popular episode, and we wanted to get him back to talk about this a little bit more. After the music, let's get into this interview with Stephen and Dylan.
[INTERVIEW]
[0:01:05.0] STEPHEN: All right, I'm here with Dylan Frost from the Wholesale Formula. One of my mentors who has helped me big time to succeed with wholesale. Today, we're going to be talking about wholesale mistakes that a lot of people make and these wholesale mistakes cause people to quit trying to buy and sell wholesale stuff on Amazon. Dylan, thanks so much for joining me today, how's it going?
[0:01:25.8] DYLAN: Hey, it's going great. I love being here, love getting to hang out and talk with you, one of my favorite people in the world, so really excited.
[0:01:32.6] STEPHEN: That's awesome. My heart is warmed, I appreciate you saying that. Wholesale, obviously, it's a big deal, it gives a big promise of what it can deliver when it comes to sales and profits and scalability and long-term success but you gotta know the right way to do it, that's what I love about The Wholesale Formula is there is a formula to make sure you get it done right.
Let's dig into, I want to read through some different excuses people have given me, the reasons why they quit selling on Amazon when it comes to wholesale and you can kind of break down what went wrong and maybe how to better do things the right way.
The first one, I hear people say, "You know, I go to Google and I just Google wholesale brands and I start looking at brands and trying to reach out to brands and I'm not really finding stuff that's profitable and I'm not really finding very many good brands and so I decided to quit." Where did things go wrong there?
[0:02:26.4] DYLAN: Yeah, that's a common one. Let me demystify this process a bit and start with explaining that, so my business partner and I, Dan, have sold over 30 million dollars worth of products wholesale, okay? On Amazon. That means we bought the product wholesale and resold it on Amazon at a profit of over 30 million dollars. We've got a lot of experience doing this and when we first started, it was really challenging to figure out. We saw some other people who were having some success with wholesale or a lot of people who were actually like us and didn't know how to figure it out.
We kind of stumbled upon this nearly by accident. Part of it was a trusted friend of ours who kind of like, led us in the right direction and said something that was really smart one time and then we were like, "Okay, we'll look into that." This whole process of like, if you go to Google and you're just like, "Wholesale sources," and you type them up, what you're going to get on there, it's a list of wholesalers or distributors. That's what you're always going to get when you do that, when you go looking on the Internet for wholesale sources.
What a wholesaler or a distributor is, is a big company that carries lots of different brands, hundreds or in some cases, thousands or even tens of thousands of different brand's products. They're basically a sales agent, they are a middle man who works with independent brands and they just have these big catalogs of products. This will be a long answer, it's important that we go through this one so that everyone fully understands what it is that we do and what are they effective ways to actually do wholesale especially with Amazon.
Wholesalers and distributors are basically, and they're still useful but they're mostly an artifact of the past. Let's think it's the year 1970, remember, it's the year 1970 and you're opening up a general store in your small town in Texas or wherever that that you live. To be able to fill your store full of goods, you had two options. You could either independently set up direct buying accounts with 350 different brands to fill your store and have 350 different invoices that have to be paid and shipped out and 350 different deliveries that have to take place for your store to be filled full of product, right? Your general store.
Or, you work with just one distributor, or one or two wholesalers, they have a catalog of inventory and all their connections, they've already done that for you so that you can just make one order to buy all these different products to fill your store with. That's what wholesalers and distributors were primarily used for and how they were valuable and effective.
Here's the problem with wholesalers and distributors when it comes with Amazon is that they are middlemen so they have a mark up on the product, which makes it more expensive, which makes it more difficult for you to profit when you use wholesalers and distributors.
Really, that's the number one reason right there in most cases. I mean, you can be profitable, it is possible to use wholesalers, it's possible to use distributors, I'm not saying that it isn't, that you can't have a profit, but it is superior to not use those middle men, to not use those wholesalers and distributors when you can avoid it because they do have to make money too, right? It's business.
They have their own markups on those products. We kind of realized this early on and so instead of going to these wholesalers or, even though wholesale is in the name, it's not that you're working with wholesalers, it's that you're buying at wholesale quantities. We're still wanting to do wholesale so what we decided was okay, instead of going to these wholesalers and distributors and that process is really tedious where you go to a wholesaler distributor, you ask to see what their catalog is, what products that they carry and then you have to go through this huge list and see, like, does any of this make sense to sell on Amazon? Would any of these be effective? It's very time consuming and arduous and lame.
Instead, what we started doing and where we started having success was we would look for products to sell on Amazon. We would scout and look on Amazon, we developed our own criteria which we call The Wholesale Formula now. Our own criteria to look through Amazon itself and identify great wholesale opportunities, great product opportunities.
We would find the exact product that we would want to sell that we know that we could make significant profit from and then instead of trying to find a wholesaler or distributor that sells that product, we would contact, and we still do this, we'd contact the brand directly. We would call them up or send them an email, the brand themselves, to open up a direct buying account with them, a direct account where there's no middle men involved. It's us buying directly from that brand and us being as an approved authorized seller and retailer of their products on Amazon.
Here's the great thing about this, when you're able to do that, you open up that direct relationship, that direct buying account, you're able to get the best possible price. When you have the best possible price, for any of you that have experience with Amazon, you get a lot more of the sales, or in some cases, all of the sales because if people can't compete with you based on your price because you're getting a better price, well then, you can get all the profits too.
It's very valuable and I'm sure we'll talk a little bit more about some of the other things, some of the other mistakes people make about how that's very possible for you to do because I'll also speak to another objection or thing that we used to have around that, we used to – We believed this in part because other people told it to us and without actually checking to see ourselves, we thought that you couldn't buy direct from brands because it would be too expensive or when I say too expensive, that their minimum orders would be too high. People would tell us, "Yeah, you're wanting to do brand direct wholesale like that, their order minimums are 15k, $20,000, $50,000, $100,000," and we just kind of believed the people that had told us that and they weren't lying. They were just telling us for companies that weren't in the wheelhouse of what we would be doing anyway.
They were telling us like, "Yeah, if you want to work with Hasbro directly, the minimum order is half a million dollars." It's like, that's not the kind of wholesale accounts we're creating, which I know we're going to talk about here in a little bit.
Many, many brands that would be very profitable for you on Amazon, their minimum orders are actually as low as $250, $500, a thousand dollars, it can be that low for you to get started brand direct if you are just targeting the right companies.
[0:08:43.0] STEPHEN: Yeah, that's one of my biggest mistakes with my very first wholesale order. I didn't realize I was buying from a distributor who was buying it brand direct and raising the price and I bought my inventory at the wrong time because it was just when other people were sold out on Amazon and so by the time my inventory got live after buying directly from a distributor instead of the brand directly, all those other people who bought at the lower prices were back in stock and I was like, "Oh my gosh," so I just tried to break even with the inventory that I had just sent in.
[0:09:15.1] DYLAN: We made that same mistake at a trade show once and it was a big mistake, it was like a $20,000 mistake at a trade show before we figured out this whole process for doing wholesale the right way. Luckily, we got to make those mistakes so the people that we've been able to work with, we could help them avoid that.
[0:09:30.0] STEPHEN: Right, that's why I wanted to talk about mistakes in this podcast episode because these mistakes cost us a lot of money, cost you a lot of money and so we want to help save other people from making those same mistakes.
The second mistake that I hear people say a lot or the excuse that they use why wholesale is not working is that, "Well, I reached out to Hasbro or Nike or Hamilton Bay," or all these other type of big name brands, "And none of them would even talk to me, I don't even have a brick-and-mortar store and they want me to have a brick-and-mortar store. These brands won't talk to me. How can I make money on wholesale when these big brands won't even talk to me?"
[0:10:05.8] DYLAN: Yeah, that's a really important part of this. I like to use the phrase, the goldilocks zone, okay? If anyone knows science a little bit, the goldilocks zone kind of, it represents the perfect temperature and, you know, the perfect life sustaining different components that enable us to be on earth and everything in life be able to be sustained here. It's the same kind of thing with wholesale brands and products, there is a goldilocks zone or there is a type of brand and a size of brand that is just right, okay? There are brands like Hasbro –
Any brand that you have almost ever heard of, that's kind of the way that I kind of start for people to understand is like, if you've ever heard of the brand before or, you know, it's something that you've heard of or that you know about, they're probably too big for it to make sense for you to do brand direct wholesale with. If a brand is – any brands that are doing over a hundred million dollars in sales a year, they're just too big. We have found that brands, it's hard for you to imagine, right? It's like, it's hard to quantify until you start really digging into it.
I've sold 30 million dollars worth of products wholesale on Amazon, it's very likely that whoever's listening right now, you've never heard of any of those brands or products before, never. Imagine that, there's so many brands that sell millions of dollars every year on Amazon that you have never heard of, and probably never will hear of, but there's a lot of profit that can be made with them and those companies, they may have two – They may have one employee, just the owner or two, three, four, five to 15 employees.
Companies that are under 20 employees, companies that are between, like the total company revenue is somewhere between a million and 15 million, that's really like our goldilocks zone of brands that we target. You get good at figuring out what brands are these things, that we can target and we have a really good chance of making a great relationship with them and working with them or buying direct and it would end up working out really well for us and for them.
Basically, that's what it comes down to, you're identifying products that are successful on Amazon, that you've never really heard of before, they're not major brands, they're not this big part of multi-conglomerate billion-dollar corporations.
Those are the gold mines, those are the best places where you'd be able to land great accounts that can pay you out and also, what's also great, we've been doing this a long time now, many of these brands, we worked with them when they were having initial success, five, six years ago and we've grown with them. We've been with brands where they were doing a hundred K on Amazon a year and now we're doing one and a half million, two million. We've been with them the whole way and so that's another great thing about it too, is you get to experience that growth and grow with them too in some cases.
[0:12:52.8] STEPHEN: Yeah, it's like our mind thinks, "Well, if I've never heard of this brand, it's not going to make me any money, I need to find a popular brand that everyone knows and everyone loves and everyone goes and looks at, wants to buy." But yeah, those are just way too far out of our league at this point and so yeah, you can find, like you said, like little mom-and-pop run businesses that they sell something really cool and have a brand, maybe they've got only five inventory items or products that are available. Maybe they've got 500, you know?
There's a different range but you can find the smaller brands are still potentially brands that you can make thousands of dollars every single month on Amazon over and over again. Yeah, that just opens up the doors when you finally change that mindset of, "I don't need a Nike or a Hasbro or something like that to really be successful, I can just have a whole lot of these smaller brands that add up over time and can sell very quickly on Amazon."
[0:13:46.6] DYLAN: Yeah, absolutely.
[0:13:47.3] STEPHEN: Yeah, all right. The next thing that I hear is one that almost every Amazon seller hears at one point. That's that people say, "I can't sell wholesale on Amazon because by the time I talk to the seller, the actual brand directly, they find out I'm an Amazon seller, they're like, "Nope, we're not accepting any more Amazon sellers," or "We don't sell to Amazon sellers." They say, "No, the door is closed and I can't do anything else after that so I quit, there's been too many people telling me no, they won't allow Amazon sellers to sell their brand." Why are they completely wrong in worrying about this reply?
[0:14:23.5] DYLAN: Really, this is like a mindset shift that people need to have and it's like, the difference between being someone that wants to just try to make money and being a person that wants to own a real business. And it's like, once you understand the mindset, or what business actually is, is when everything will be opened up to you and you'll certainly become wildly more successful than you ever were before ever could have been without realizing this. It's simple, right?
Brands are telling you that, if you're reaching out to brands and you're saying that – they're telling you that for a reason. Let's think about, the way I like to explain all that is like this, right? In the United States, the form of commerce that we have is capitalism. What is capitalism and what drives capitalism? That is competition. With competition, let's just extrapolate even further, what perpetuates competition? That's an exchange of value. There has to be a pretty fair exchange of value in all parts of the chain.
We have a brand for instance, right? We have a brand who has a successful product and it's selling on Amazon, and it's selling on Amazon regardless if you're selling it or not. Let's think about it this way, a brand has a successful product. Let's say you are selling it, Stephen, for them and it's selling 200 units a month. If I started buying from the brand and selling on Amazon, and I did nothing and I provided no value to that brand other than to just list it and sell it for Amazon, it's still going to sell 200 times a month.
Adding you as a seller in that instance provides the brand no value. Therefore, they are not incentivized to work with you. It's as simple as that. How you flip that script and fix and solve that problem is you have to be able to convince them, convince them, that's the important part, convince them and prove to them that you can be valuable to them as a retailer on Amazon and that you can take their sales from 200 a month to maybe 250 or 300 or whatever it may be and then if you can do that and provide that value and convince them, then they'll want to work with you and then it's symbiotic.
Because if you are not providing value to them, you're just someone who wants to put in an order then of course they don't want to work with you. It's about always remembering that you have to be able to provide value to get value back. You can't be a leech and just only extract value. That's not how capitalism works, that's not how competition works, that's not how building a real business works. I can't be just this person who isn't providing any value to anyone in hope that everyone is just going to grant me all of these golden tickets where I can sell these products and make money and be profitable. It doesn't work that way.
Once you understand that, "What can I give, what can I do to be of service or be of value?" There's a lot of things, a whole lot of things, then that's where it all starts to just really, the dam breaks open for you and you can just be wildly successful not just in wholesale but in a lot of things, when you realize the trade of value.
[0:17:20.3] STEPHEN: Let's break that down because the last thing that I want to talk about when it comes to the mistakes that people make, they're not providing that value. They are making the big mistake by not providing the value, so what are some of the value things that people like you and me, everyday sellers on Amazon, can provide to a brand to convince them to allow you to sell their stuff on Amazon?
[0:17:42.1] DYLAN: It's nearly unlimited, let's think about some of the really simple ones, easy ones to follow and understand. We could sit here and talk for hours or days about all the different ones that we've ever provided for a brand, so you don't need to be super knowledgeable. You don't need to be super smart. You just have to have common sense. If you have common sense, you can provide a tremendous value to a brand.
Really, and Stephen, you may be able to just throw up examples of this to people so that they can see. But if anyone ever spends some time shopping on Amazon and cruising through product listings on Amazon, many of them are absolutely terrible. Just mind-bogglingly bad in all aspects. Something that's an example that I like to use a lot to help people to really understand that one that's criminal and you see all the time is a food product. There will be a food product which will not include any photos of what the food looks like. It just includes – the only photo on the listing is a photo of the packaging. And the way that I like to explain that to people is, "Imagine that you went to a restaurant and you're looking at the menu and you know how sometimes the menu says pictures of the food to help you decide if you want that or not. Well, imagine if the pictures on the menu are pictures of the packaging that the food came in and you're trying to make your decision to eat."
That's what those Amazon listings effectively are. It's like, "No, no, no" right? If they were actually showing what the food looked like and what it looked like prepared in a delicious meal and so on and so forth, it would significantly increase its sales, its conversion where people would be buying that product because they would be more comfortable with it. That's an incredibly simple example, so if you find a brand like that who, they're selling decently but they don't have any photos of their food prepared or out of the packaging, that's something that you should talk to them about that would significantly increase conversion.
And how do you fix that? It's super simple, you just ask. Like the brand already has photos of their food prepared, I guarantee it. So you just ask them, or you could go off to their website or you just ask them to send them to you and you can upload them to Amazon in a matter of minutes. It's as simple as that. And that's another thing that's a misconception, people think you can't change listings for brands or for other products. You absolutely can, this is a huge myth that exists for some reason.
I can change the listing for nearly any listing on Amazon if I wanted to with all the methods that we know.
[0:19:58.4] STEPHEN: Yeah, there's multiple ways to do that and so if you just know one, yeah, it may not work one way but there are multiple ways to get that done for sure.
[0:20:05.3] DYLAN: Yeah, absolutely.
[0:20:06.5] STEPHEN: Yeah, so being able to provide value by improving those product listings. I know I was able to really impress a brand before because they had some negative feedback on their product that was actually feedback for the seller who sold their product not actually all about the particular product and so I was able to go in and get some of those negative feedback scores removed, which increased the search results for that product that helped them get better ranking when it comes to the search results for certain keywords because they had better reviews because some of the negatives were gone.
Little things like that can add up and yeah, there are unlimited numbers of ways that you can really provide a service to a brand to help increase the sales on Amazon, which will allow you to become a seller and then also help you sell more than if you just left it alone for sure.
We've talked about some ways that people have made wholesale mistakes in the past, how to kind of overcome that. Coming up next week, if you're listening to this when the podcast drops, coming up next week we have a free wholesale workshop. A webinar that's focused completely on how to add wholesale and sourcing strategies to your Amazon business. Can you talk a little bit about what that webinar is going to be on? What people are going to learn? I'll be sure to provide a link also where people can sign up.
[0:21:19.2] DYLAN: Yeah, definitely. We're going to go in depth on end to end how you can start searching Amazon yourself and identifying these great product opportunities that we've already talked about, not only identifying great product opportunities but how we use our Wholesale Formula system to identify not only what's a great opportunity but how good of an opportunity. Like all the way down to, you'll be able to pretty accurately estimate how many of these products that you could sell and even how much money that you could be making off of it if you were able to sell it.
Really, the promise is by the end of that training, you'll be able to go on Amazon and not only find how to start finding wholesale products just like that we've been able to sell over the years and brands where you can land them direct accounts so that they're replenishable products you order again and again every month. Once you get setup, it's as simple as, you just order every month or every couple of months, more product comes in, you send it into Amazon and so it's just this constant revenue stream for you that's very easy and simple for you to take advantage of after the initial setup.
Not only are we going to show you how we find them, we are going to give you strategies and things that you can put into practice to start landing those accounts and doing some of the things that we said and providing some of those simple values that anyone can do that brands desperately need. There are literally millions of products listed on Amazon and hundreds of thousands of different brands, so there's more than enough to go around for a lot of people and you just need one, two or three to be making a real income.
We've got accounts that literally bring in just a single relationship, a single brand direct relationship that brings in between 300 and half a million a year in profit. Just one. It doesn't – like in some cases, you can hit it like that. You can hit these gigantic, incredibly profitable accounts. They're out there, or just a few small ones that add up. There is a lot to it, so definitely make sure you don't miss it.
[0:23:16.1] STEPHEN: I want to just say that if you're thinking about coming to this free wholesale workshop, I want you to do whatever you can to sign up for it right now because this is information that they should be charging you money for. I mean, this is stuff that is going to be so good, you can easily pay really good money for this content but they're going to be giving it away for free. If you're on a jog, on a walk, if you're driving, pull over to the side of the road.
Stop whatever you're doing right now, go to the link, fulltimefba.com/wholesaleworkshop, and you'll be able to sign up for this webinar that's coming up. I mean, if you happen to be listening to this months after it drops, if you go to that same link, fulltimefba.com/wholesaleworkshop, you'll be signed up for a wait list to be notified if we do this again in the future because this webinar is going to be a limited time access. It is only going to be up for a short time.
It is not going to stay up forever so you want to do whatever you can do. This is must-see TV. This is, you have got to be there. If you sign up for the webinar, you'll get access to a limited time replay but you want to do everything you can to be there live and to take action. Again, fulltimefba.com/wholesaleworkshop. Again Dylan, you could be selling this but you are giving it away for free so I appreciate the generosity of you and Dan because that's one of the things I love about both of you and Dan.
Back in 2015, I was dabbling with wholesale, trying to get things to work and trying to learn how to do it. I took a wholesale course, it didn't work for me. I took another wholesale course, it didn't work for me. I read a book that I paid really good money for about wholesale on Amazon, that didn't work for me and I was ready to give up. And then I got on the phone with Dan, talked with him, he got me started and walked me through a lot of what we're going to be going through on this very first webinar that's coming up, fulltimefba.com/wholesaleworkshop and all of a sudden, the light bulb went off above my head and I saw, "My gosh, this is revolutionary."
Now, every year since then, you know, from 2015 on, every year I've been able to increase my wholesale profits and continually reorder stuff via wholesale on a month-by-month basis where I am able to send in inventory, it sells, and before it sells out, I reorder more, send it back into Amazon and it's just a lot of stuff is just on autopilot now because I just put in the hard work to find the wholesale account but then just kind of reorder every month or so and it just has been a huge game changer for me and my life.
I am thankful that you and Dan have come together to put together this wholesale workshop for us and are going to walk us through what we're doing because the possibilities really are endless. Thank you for putting this together.
[0:25:51.7] DYLAN: Yeah, you know we do charge for this. We actually charge for this throughout the year and lots of people sign up for this training and pay for it but we've known Stephen a long time and so friends of his, people, his audience that we're going to do this special and it will be limited time though that's the thing is because we do charge for this, we can't leave the replays and stuff open all the time and that sort of thing so that's why it has to be just a limited time thing.
[0:26:16.1] STEPHEN: Yeah and so again, like I said make this a priority because if you're like, "Man, maybe I'll do this next year," you're going to waste a year of your time without this information. This information really will revolutionize your Amazon business. It will help you open a lot of doors, help start to snowball your profits and give you the more freedom that selling on Amazon with wholesale items can provide for you.
Dylan, thanks again for hanging out with me, doing this interview with me. I really appreciate your time and we'll be sure to put all these links on our show notes page but is there any final words you want to leave everyone with when it comes to selling on Amazon or being curious about selling on Amazon when it comes to wholesale?
[0:26:53.4] DYLAN: Really, what stands in the way of you accomplishing whatever it is that you want when it comes to financial freedom, or even if it's simpler goals than that, with Amazon, what we have found to be obviously for us the best way has been through wholesale and this specific method of wholesale, working with brands directly. We've worked with people for about five years now and the people that we work with have combined to sell over one billion dollars on Amazon.
That's one billion dollars. But here's the thing about that, the people that we've worked with who have combined to sell one billion dollars, Amazon is doing hundreds of billions of dollars in sales every year and they are growing rapidly. I haven't looked at their stock price recently but I imagine, it's probably up still and continuing to climb and their revenues continue to climb. Last year was the biggest year of growth that Amazon has seen in quite some time, in the COVID year, and they are continuing to massively grow and take up more market share, which just means there is more and more opportunity for people like us.
We just continue to see our profits grow every single year because we are along for this ride of growth with Amazon and there's really no better way to take advantage of it than wholesale because it gives you the ability to be super flexible and fluid and take advantage of the marketplace no matter where it is at the time, so it's another reason why it's great.
[0:28:13.8] STEPHEN: Yeah, so if you're frustrated with retail arbitrage and trying to find your next big inventory haul, or if you are frustrated with online arbitrage, not knowing if you're getting a good deal on things and wondering where you're going to find the next inventory order for you, if you're able to get wholesale relationships, again, you can have consistent monthly sales that you reorder on a monthly basis all year long and it's awesome and amazing.
Thanks again Dylan for hanging out with me. We'll see everybody at the wholesale webinar.
[END OF INTERVIEW]
[0:28:42.7] REBECCA: Well, we hope you enjoyed that conversation between Stephen and Dylan and that it was helpful and you learned some things about wholesale sourcing mistakes that you perhaps can avoid. If you're interested in learning more on this topic, we do have a webinar coming up with Dylan Frost and Dan from The Wholesale Formula, so be sure and sign up for that at fulltimefba.com/wholesaleworkshop and that will get you registered for the webinar.
Also, as a reminder we always have any links that were mentioned in our show notes along with the transcript of this episode. You can find that at fulltimefba.com/93 because this is episode number 93. Next week, we have another episode coming up on this topic of wholesale sourcing and Stephen and I will be back together again talking about whether the wholesale formula is worth it or is it right for you as an Amazon seller, so be sure and join us again next week.
Thanks and we hope you have a great weekend until then.
[OUTRO]
[0:29:38.1] ANNOUNCER: That is all for this episode of The Full-Time FBA Show. So head over to fulltimefba.com/podcast, where you will find the show notes and links from this episode. While you're there, subscribe to our newsletter where you'll get several free downloads of our popular and helpful Amazon FBA resources. Now, take action on what you have learned today so you can find success at turning part-time hours into a full-time income with Amazon FBA.
[END]