This blog article comes from my friend Karon Thackston. You might remember her from this popular guest blog post last year about keywords in listings. Karon is back again with even more helpful insights into creating quality Amazon listings that bring in more customers and more sales. 

The 3 Most Common (And Wasteful!) Mistakes Sellers Make With Their Amazon Listings
You only have to write so many product listings before you start to see a pattern. That's how it has been at Marketing Words over the last few years. I thought it would be helpful to outline some of the most common mistakes we've seen when it comes to writing your listing and using keywords.
Mistake #1: Not Using Keywords Correctly
Amazon isn't like Google. With Google, there is a certain amount of repetition of keywords and phrases. On Amazon, however, you do not need to repeat keywords throughout your listing. Because they don't understand this, many sellers are ruining the way their copy sounds as they try to rank higher on Amazon. Use the keyword once and Amazon's got it.
That includes your Search Terms fields. If the keyword is in the title, brand, manufacturer and UPC, you do not need to include it in your search terms. It is a waste of space that could be used for additional, traffic-driving keywords.

Last, we see countless folks inserting keyPHRASES into the search terms fields instead of keyWORDS. Amazon doesn't work with phrases. They use literal keywords. Putting something like:
natural dog treats
100% wholesome dog treats
beef dog treats
dog treats made in the usa
nutritious dog treats
… leaves lots of wasted room that could accommodate other keywords. Because we don't need to repeat keywords and we do need to use individual keywords (not whole phrases), this should be reworked to this:
natural dog treats 100% wholesome beef made in the usa nutritious
That's 50 characters in the first field and 14 in the second. With five fields at 50 characters each (a total of 250 characters) that leaves you with 186 characters. If we remove any keywords that are included in our product name (aka, title) we'll have even more room. Here comes more traffic!
Mistake #2: Not Differentiating Your Products From The Competition
Think about your own shopping experience on Amazon. You show up on the site to search for olive oil and vinegar sets. I just did a search for that term and here's what came up…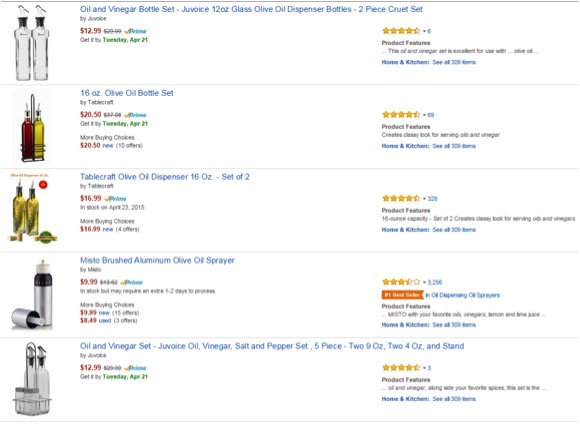 When I was scrolling down the page, it didn't take me long to figure out that they all appear pretty much the same. What if they gave some additional information or used words that were more enticing?
Here are some examples of how just a minor tweak can make a big difference. As a shopper, I would be more likely to click these search results:



The simple words "ribbed," "Italian collection" and "lead free" made my eyes perk up. I wanted to know more.
Mistake #3: Not Answering The Question "So What?"
With so many duplicate products on Amazon (especially when dealing with private labeling), you simply must fall back on a long-standing rule of copywriting: Answer the question "So what?"
When customers scroll down a page of search results looking at your title, or they click to your product page to learn more, you have to set yourself apart from all the other options. Maybe this means having more positive reviews. Perhaps it is the lowest (or highest) price. But, more often than not, that task depends on the bullets and product description.
Here are 30 ways to differentiate your products from the pack so you stand out and get more sales.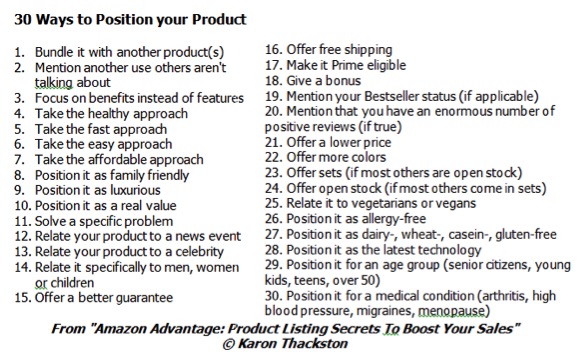 By correcting these 3 common mistakes, you eliminate the wasted space in your search term fields, bullets, and product description while setting yourself apart from the competition. And that always leads to more sales!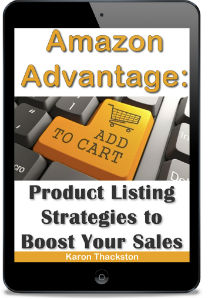 Want more in-depth help with developing product listings that drive traffic and get more sales? Karon's ebook Amazon Advantage: Product Listing Strategies to Boost Your Sales walks you through her best-kept secrets of creating product copy that earns you more money. Get your copy today!